Abdur Rahman Muhammad
Phillips is proud to partner with ARTEMARTIS for Birds of a Feather, an exhibition at 30 Berkeley Square, London, from 1-10 February 2022, featuring a range of works which bring new perspectives to an emerging scene. The Accra, Ghana-based art agency and collective supports and nurtures a diverse group of young artists from the local area, and ahead of the exhibition, we asked them to discuss the themes and inspirations behind their practices.
Looking at the exhibition as a whole, there emerges a uniting theme of youth and representation — what does it mean to be a young artist in Ghana today?

AWANLE AYIBORO HAWA ALI: It is very challenging but also promising at the same time, and this is more than just being a young artist living in Ghana. Being a young Muslim woman challenging social justice and fighting sexism and other struggles daily is a struggle, especially when we are not really given the opportunity to have good education or practice or develop our talents.
ARABA OPOKU: Being a young artist, especially being a young woman artist, means you have to undergo the stereotype of automatically assuming every artist paints figurative portraits. It means seeing an underrepresentation of women in the art industry and the underrepresentation of abstract artists in this sea of figurative artists. However, being a young artist also means a sense of solid community where your individuality is not drowned by coercion, but rather improved and brought forth by a support system of other artists. It also means having similar genesis stories with similar problems and struggles.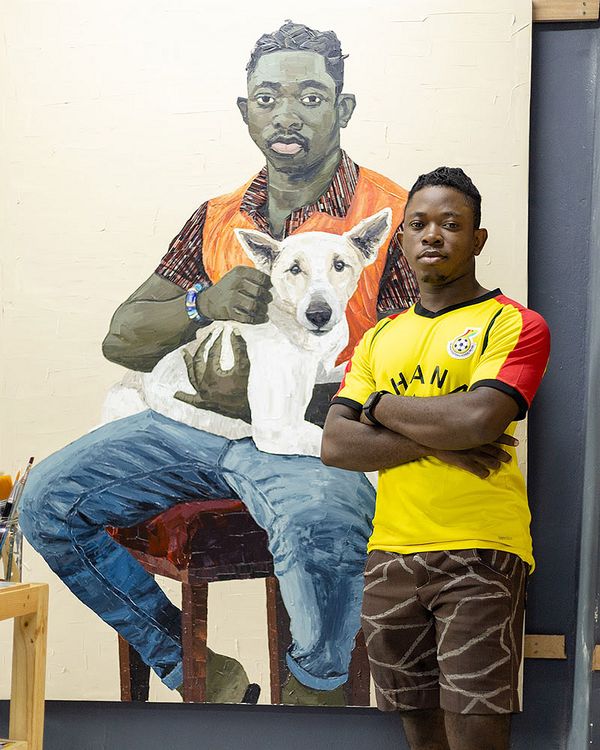 JAMES MISHIO: It is fascinating that the youth are beginning to have the opportunity to communicate life, be it past, present or future, from their perspective to the public through a platform that sustains a level of integrity, as well as contributing to Ghanaian history. I am grateful to be a part of this movement.
What challenges do artists face in the development of their practice?
COURAGE HUNKE: There are limited art schools to groom artists here so most of us would have to face the challenge of being a self-taught artist if you are unable to make your way through to study art at the few tertiary institutions that offer art.
ARABA OPOKU: The challenges an artist faces range from finding the right space or community to work in, to having access to a variety of supplies at probably a subsidized price, which probably stem from lack of true initiative, funding, and support from the government. Challenges also faced include a limited number of art schools in Ghana and the lack of well-rounded art schools in Accra to give artists the depth and breadth they need to grow their practices. There are many things that an artist grapples with, personally or internally. For instance, I battle with the insatiable need to be perfect or to make every work look right and I am sure many artists suffer this predicament.
ABDUR RAHMAN MUHAMMAD: Staying consistent, sales, and the right opportunity or platforms to show their works.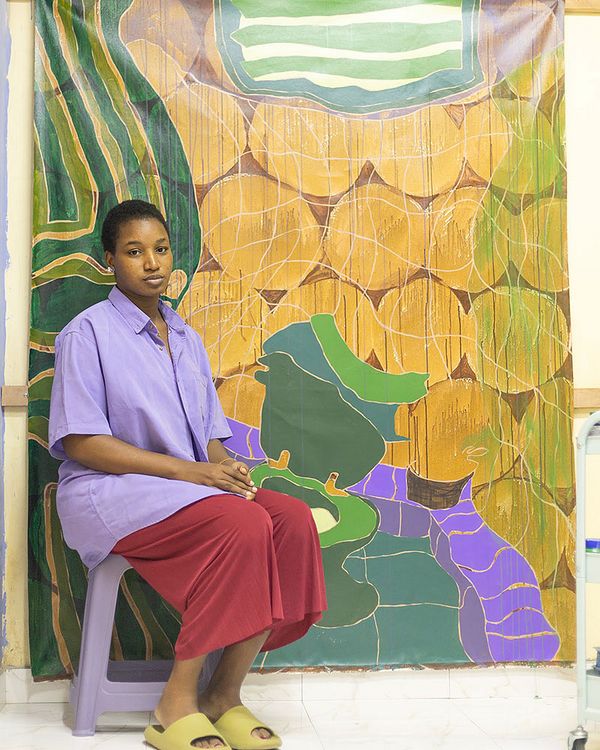 Can you tell us a bit about your pieces in the collection?
KWAKU YARO: My pieces are about the people of where I live, and I aim to use my influence as an artist to tell them to wake up from their dreams and pursue their dreams. I choose to use the sleeping/prayer mats as a way to relate to my people. The works also explore the fashion culture of the people of Labadi, a peri-urban town located along the coast of the Atlantic. I have spent my whole life in "La." The emotions the people in the town carry in everything they do serves as an inspiration to me every day, from the fishermen to the little children playing football after school. I am directly inspired by the way they dress, with how both the young and old are reinventing Ghanaian traditions with their fashion senses, merging orthodox clothing styles with foreign-influenced styles to create a culture of liberation and heart. The jute, cocoa sacks, smock and "Ghana must go" bags in my pieces portray the lifestyle of my people.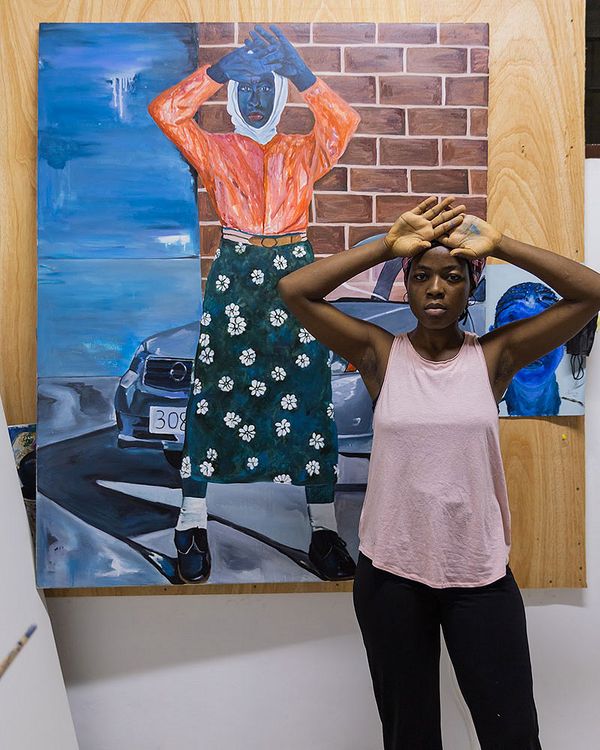 AWANLE AYIBORO HAWA ALI: The works rebel against all the standards the conservative Muslim community has set on women and young girls. The community I grew up in continues to see women as beings that are only limited to being housewives and childbearers, and I aim to change that narrative with these pieces. The pieces explore the lives of conservative Muslim women around the world who gets lost in thought, dreaming of the day they would not be looked at as incapable of accomplishing goals and aspirations. My pieces seek to draw attention and address the issues of young adult Muslim women living in a patriarchal society and to use art as a powerful tool to tackle the challenges that come with our experiences.
ABDUR RAHMAN MUHAMMAD: They are imperative in sharing the reality of young people from my side of the world. They explore how the race for acquiring money or "quick-cash" has led most of Accra's youth to delve into illegal scams, drugs and internet fraud activities, trying to bring their childhood dreams to life, but at a big cost — to most. I delve into the lives of young men and women and their love for money, most of whom are victims of circumstance. Oil and acrylic are applied in these works, an emphasis is placed on texture, portraying the emotions and hidden sadness of the "rich" youth in Accra.
What narratives do your works explore?
JAMES MISHIO: My practice and pieces are an attempt at bridging the gap between men with dreads and locks from violence and stigmatization. It is also an attempt to communicate the purity of our hearts as a fundamental source of being real and genuine, and rather not our physical looks, especially the hairstyle.
ARABA OPOKU: My works explore the complexities of basic necessities, as well as the need to draw other people like me together as a collective unit, creating an ecosystem of boundless, limitless expressions of self. I find myself continually returning to aspects that are often hidden or misrepresented in the society that we live in. I focus on the topics society talks about, but has minimum or no control over.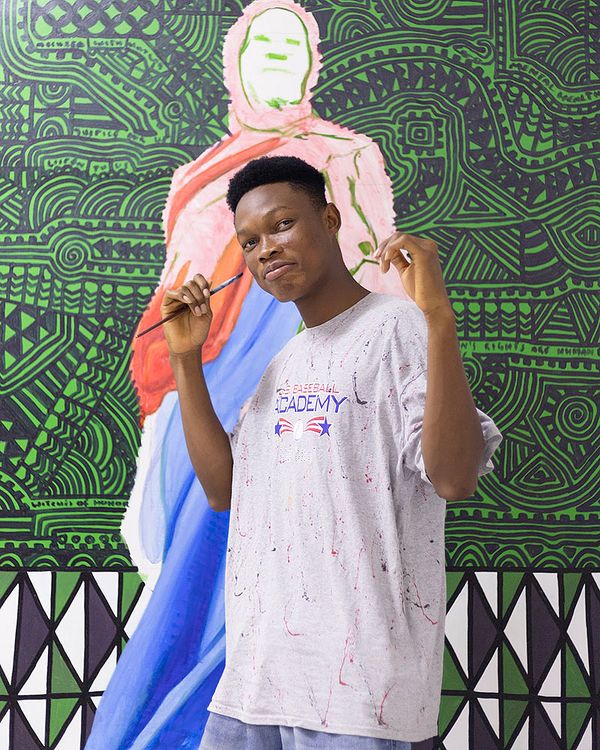 COURAGE HUNKE: My works explore the narratives of gender, identity, culture and social justice.
AWANLE AYIBORO HAWA ALI: Emotions of women, education, human rights, abuse, teenage pregnancy and childbirth.
How does collaboration factor into your practice?
KWAKU YARO: Collaboration gives me that sense that I can accomplish anything with the help of people around me. For example, I collaborate with the people in the community to get information and materials I need for my works. Most of the materials I use in my works are usually discarded after use, since they are mostly used as containers for foodstuff from the market, old clothes and fish from the sea. I took it upon myself to have discussions with some people in my town, talking to them about the environmental effects of discarding large quantities of plastic and the importance of recycling. Since then, most families give plastic and fabric materials to their children to bring to my home, which I then clean and use in my works, and this is my way of collaborating with my community to keep my town clean.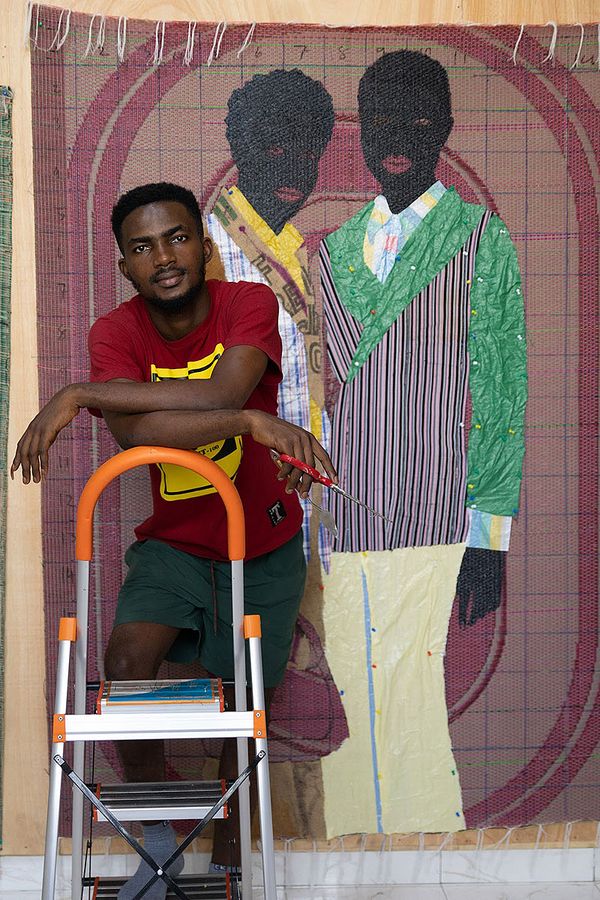 ABDUR RAHMAN MUHAMMAD: I love working with other people. I always view it as an opportunity to grow. There is always something you can learn from others, and I believe artists should never stop learning.
JAMES MISHIO: Collaboration plays a major role in my practice, as it unlocks new opportunities. There is often a greater availability of necessary resources, which are of greater quality. Sometimes, it helps broaden the understanding of art as a whole and eventually helps bring improvement in the skills of artists.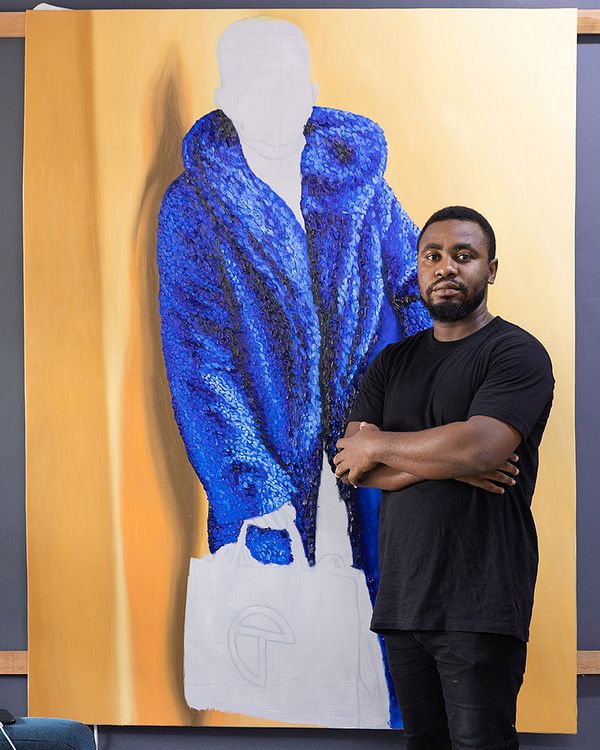 What do you want the audience to take away from the exhibition?
COURAGE HUNKE: I want the paintings to change the perceptions that people have about certain accepted norms in our societies. The work is a challenge to the status quo.
KWAKU YARO: I would like the audience to be challenged into changing and doing more for their communities and environment, as most of our artists' works focus on this.
ARABA OPOKU: People who visit our exhibition should see the thread of unity, our hardwork and the companionship -this is where collaborative efforts factors in- we found in each other over the past few years and during these months. Because ultimately this community has helped us grow our practices and a glimpse of that growth needs to be seen.
Discover More from Birds of a Feather >
---
Recommended Reading
Cooler by the Lake: Chicago Art 1965-1985 >