Futura 2000 et al., Untitled, 1982. 1970s / GRAFFITI / TODAY.
I. Across the Boroughs
1970s / GRAFFITI / TODAY, while vividly representative of the graffiti movement in New York and Los Angeles over the past half century, is by no means exhaustive. Often illegal and decried, graffiti is a highly innovative urban art form. Beginning on neighborhood walls and under overpasses, sometimes marking gang territories; then on subway cars (outside and in), oil tanks, telephone booths, mailboxes, and makeshift exhibition spaces; and then into galleries, museums, and private collections, the diversely styled evolution of graffiti has been pervasive, global, and significant in the development of contemporary art. Graffiti writing, the very making of this visual language, often became synonymous with a discontented youth culture producing (often at night) anti-authoritarian gestures small and large – from tagging to pieces (short for masterpieces) on walls and subway cars. It was, in part, its own subculture loudly accompanied by punk rock, rap, and hip hop, often coming out of the writers' own boomboxes. As singular works of graffiti penetrated another subculture, the art world, the accompanying sounds have been of bank wires and auction gavels.
For me, having grown up in New York, the words of Jeffrey Deitch, in the catalogue for his iconic 2011 LA MOCA exhibition Art in the Streets, were on point: "A subway trip could be an immersion into utter urban anarchy or a shot of explosive artistic energy – it was probably both." From the 1970s, new tags and styles of graffiti writers from every neighborhood were spread by the subway system, which carried not only the artists themselves, but itself became the underground (in some neighborhoods rising into open view) cinemascopic link to the boroughs. In 1977, LEE (Lee Quiñones) and his FABULOUS FIVE crew painted a whole train, ten cars, over two nights!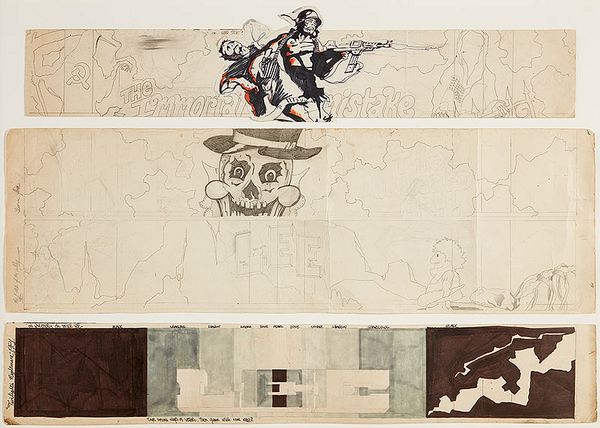 In July 1971, under the headline "'Taki 183' Spawns Pen Pals," the New York Times highlighted the work of a 17-year-old from 183rd Street. "His TAKI 183 appears in subway stations and inside subway cars all over the city, on walls along Broadway, at Kennedy International Airport…" Two years later, a New York Magazine article, "This Thing Has Gotten Completely Out of Hand," praised the innovation and potential of the graffiti movement. This notoriety encouraged graffiti writers throughout the city. No less than Norman Mailer blessed graffiti in his 1974 essayThe Faith of Graffiti. "What a quintessential marriage of cool and style to write your name in giant separate living letters, large as animals, lithe as snakes, mysterious as Arabic and Chinese curls of alphabet."
The famous Times Square Show in 1980, in a vacated former massage parlor, brought over a hundred New York graffiti artists together and gave me my first full exposure to the movement. It was Jean-Michel Basquiat and Keith Haring's first public exhibition together. Canvases had replaced walls. Shortly after, Fab 5 Freddy and Lee Quiñones were featured spray-painting in the video of Debbie Harry's 1981 song, "Rapture." The 1983 films Wild Style and Style Wars reconfirmed the explosive and highly contagious nature of graffiti and hip hop in New York and throughout the country. The graffiti and hip hop artists and advocates featured in the two films – Fab 5 Freddy, LEE, Lady Pink, Dondi, Futura, Crash, Grandmaster Flash, Debbie Harry, Patti Astor, among others, were the celebrated creators and heroes of these two identifiably American art and music movements.
II. Out of the Barrio
From the Bronx to Brooklyn to the East Side of LA and back again, complex calligraphic and pictorial languages emerged that identified neighborhoods and, in turn, those graffiti artists who, anonymously through their tags or style, received the fame they craved and deserved. Graffiti advocate and sociologist, Gregory J. Snyder, wrote in Graffiti Lives: "…it is important to understand that these young people's identities are largely constructed from their achieved status as [graffiti] writers..." Lee Quiñones summed it up, "If art like this is a crime, let God forgive me!" In Art in the Streets, Chaz Bojórquez wrote, "What's unique about LA is that we bring our culture into our graffiti. Cholo culture is Mexican-American culture, and our style carries our culture." In Los Angeles, graffiti writing traces back to the 1930s, when walls in LA were marked up to call out barrios, Latino neighborhoods. Often written by a cholo, or member of a Chicano gang, these placas, or plaques, designated their turf within a community. After the barrio was named, then came the names of associated gang members. Chosen to convey prestige, the cholo used a Gothic typeface, while later writers mixed up their choices. In 2006, photographer and historian of the LA graffiti movement, Steve Grody, wrote in his comprehensive book, GRAFFITI L.A., "It is safe to say that the current graffiti movement would have developed in Los Angeles with or without its gang writing predecessor of the 1930s." Grody further said that from the 1970s through the 1980s, along with hip hop, the existing LA punk and heavy metal scene contributed to the complexity of graffiti's emergence and growth in Los Angeles.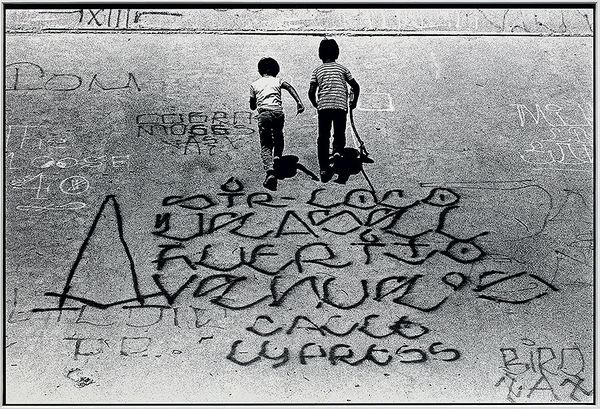 Gusmano Cesaretti, Chris and Miguel, Arroyo Seco River, 1974. 1970s / GRAFFITI / TODAY.
Based on cholo gang writing, Chaz Bojórquez created a new graffiti language and style. Without New York's subway system, the style was at first contained in East LA and minimally scattered elsewhere in the city. In the Art In The Streets catalogue, Bojórquez wrote "I only tagged in Highland Park [East LA]… when I see young kids hitting all over the place, that's New York mentality – me, me, me. It wasn't our tradition." Bojórquez continued: "We didn't hit churches or buses. When New York—style graffiti started coming in here around the mid-'80s, all the young kids went all New York gaga. The documentary Style Wars came out in '84, and it changed overnight." But before the cholo calligraphy of the 1970s morphed and became engulfed by outside influences, photographer Gusmano Cesaretti elegantly documented and importantly defined the cholo style in his first book, Street Writers in 1975.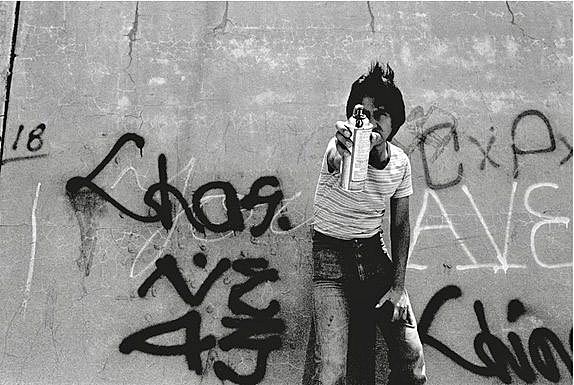 Gusmano Cesaretti, Chaz with spray paint can, East Los Angeles, 1973. 1970s / GRAFFITI / TODAY.
The films Wild Style and Style Wars, as well as New York graffiti writers visiting LA, were among the primary influences going forward. The 1984 book Subway Art by Martha Cooper and Henry Chalfant had enormous impact in LA, even without subways. By the mid-'80s influential crews came together to take on larger projects that one kid with a spray couldn't manage. Formed around those years were crews such as West Coast Artists (WCA), Kill To Succeed (K2S), and Modern Art Kids (MAK) who competed with one another throughout the city on graffiti opportunities. Mark Machado, aka Mister Cartoon, was one of those LA teenagers first drawn to cholo-style graffiti but then developed an approach influenced by New York styles that infiltrated LA. He branched out to painting lowrider cars and fully developed scenes using his sign painting and other skills, all clearly displayed on his famous Ice Cream Truck of 1995. LA graffiti artists of his generation soon became involved in multiple media and creative endeavors. To restate Steve Grody's observation, graffiti in LA went "aboveground," taking on new challenges and finding new audiences. LA graffiti artist Retna wrote: "The street art feeds the fine-art version of graffiti. To prepare for the gallery work, I first have to do street work, which gives me a different kind of inspiration."
III. Broken Windows to Gallery Walls
In 1981, Patti Astor opened a new gallery in the East Village, which quickly became a gathering place for "uptown" graffiti writers within the "downtown" music scene. For his show, Kenny Scharf named the space Fun Gallery, which went on to present new work by artists such as Fab 5 Freddy, FUTURA 2000, and many others. The already established Jean-Michel Basquiat and Keith Haring had their own solo shows at Fun in 1983. Serious uptown and European collectors found their way to the gallery and its artists. At the same time, and as far from the East Village artistically and socio-economically as possible, the blue-chip uptown art dealer and collector, Sidney Janis, opened "Post-Graffiti". Crash, Toxic, Fab 5 Freddy, Lady Pink, Daze, Lee Quiñones and others were on the same walls usually occupied by Mondrian, Paul Klee, and Jackson Pollock. However, in 1985, plagued by increasing rents and new galleries opening, Fun Gallery closed.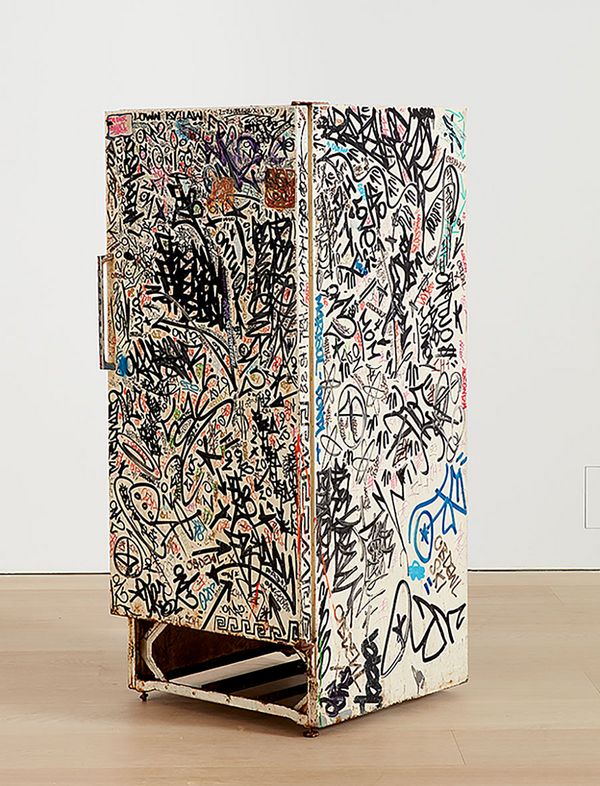 Jean-Michel Basquiat collaboration with Keith Haring, FUTURA, et al., Untitled (Fun Fridge), 1981-1985. 1970s / GRAFFITI / TODAY.
Graffiti artists were becoming central figures of gallery shows in New York, uptown and downtown, from Annina Nosei, to Tony Shafrazi, Mary Boone, and Barbara Gladstone. European museum and gallery exhibitions, importantly including DOCUMENTA 7 in 1982, appeared in London, Rotterdam, Bologna, and Munich. And in America from the 1970s through the millennium and beyond, photographers such as Gusmano Cesaretti, Martha Cooper, Cheryl Dunn, and Steve Grody carefully documented the always evolving movement. As many in the art world embraced the proliferation of graffiti, civic opposition also grew significantly. In his catalogue introduction to the 2020 MFA Boston exhibition, Writing the Future: Basquiat and the Hip-Hop Generation, critic Carlo McCormick wrote about the challenge: "Graffiti, though as condemned and reviled as any other symptom of disorder, became in the minds of many a kind of fever dream, an abject language of resistance that swarmed the senses with a visual vocabulary that was totally alien to the button-down sensibilities of the old city." The first serious program to eliminate graffiti on subway cars started by Mayor Ed Koch in 1984, when the New York City Transit Authority began its five year "war on graffiti". In 1989, the Transit Authority announced that the "war" was won – there were no longer cars in the subway system displaying graffiti. That victory was overstated as graffiti writers throughout New York looked on the situation as a challenge. Six years after the war on graffiti had been "won", Mayor Giuliani issued an Anti-Graffiti Task Force Executive order in July 1995 that renewed graffiti's indictment for criminal behavior:
WHEREAS, graffiti has an adverse effect on the quality of life in various communities in the City of New York, creating an impression of disorder and chaos; and

WHEREAS, graffiti vandalism can be a precursor to more serious acts of crime and violence; and…
Executive Order #24 garnered much publicity. However, it was instead graffiti's continuing art world success that substituted artist studios and gallery and museum walls for graffiti on subways. It was also a time when many opportunities in commercial art, design, and the continuing development of skateboard and streetwear culture existed. Also, new work from older artists and new artists emerged, such as Brooklyn-based Swoon. Lifelike, large block prints appeared all over lower Manhattan, on doorways and sides of buildings in ways they could not go unnoticed. Larger and more complicated public art projects and installations followed, often community-based. From an art-labeling perspective, Swoon was combining graffiti, street art, conceptual and installation work, and activism. Many of the artists in the exhibition, together with other important artists like Shepard Fairey and Banksy, have regenerated graffiti for a new time and place. The age-old culture of writing and calligraphy, inherent in graffiti, plus the unstoppable desire for self-identity and, indeed, fame, continue the spirit of the early "writers" and "aerosol" artists beginning a half century ago. Whether based in LA or New York, much of our contemporary art today took an important ride on the "D" train going back to Brooklyn from downtown in the very early morning.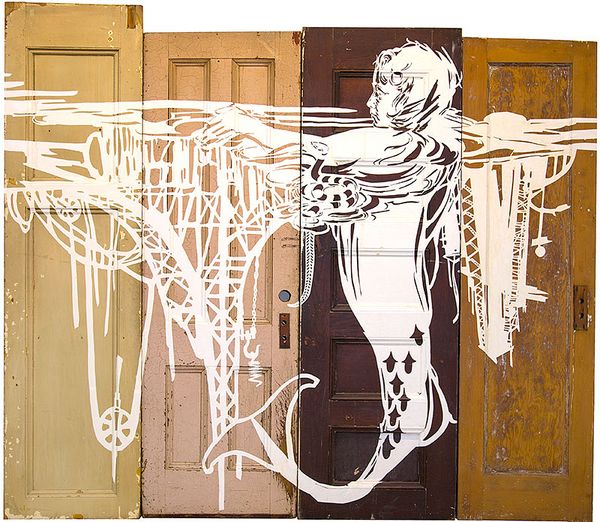 Discover More from 1970s / GRAFFITI / TODAY_>
---
Recommended Reading
Cooler by the Lake: Chicago Art 1965-1985 >
Phillips 2021: Your Favorites >