Alex Prager, Marianne and Pat, 2018. Evening & Day Editions London.
Awards season is here, and that means Phillips' 19-20 January Evening & Day Editions London Sale is just around the corner. To celebrate, we've picked a selection of works from the auction and imagined the films they might star in. Let's see who got the nod this year.
Alex Prager
Nominated for Best Cinematography
Synopsis: Something strange is happening in Laurel Canyon. Beginning with the disappearance of two friends, a series of uncanny events bring musicians Marianne and Pat to the notorious villa of a well-connected record executive, where an exclusive garden party is set to take place. What they find is more than they could have ever expected.
___________
One look at Alex Prager's Marianne and Pat and Hitchcock's theme should start playing. Existing in the midcentury landscape of film stills and cinematic dreams, her practice is exemplified by the drama of her characters' psychological expressions with meticulous attention to the setting and mood of each image. Prager's is a world of speculation, giving the viewer a sense of unease, even when the subjects are amalgams of leading ladies and femme fatales, lending paranoia and beauty in equal measure.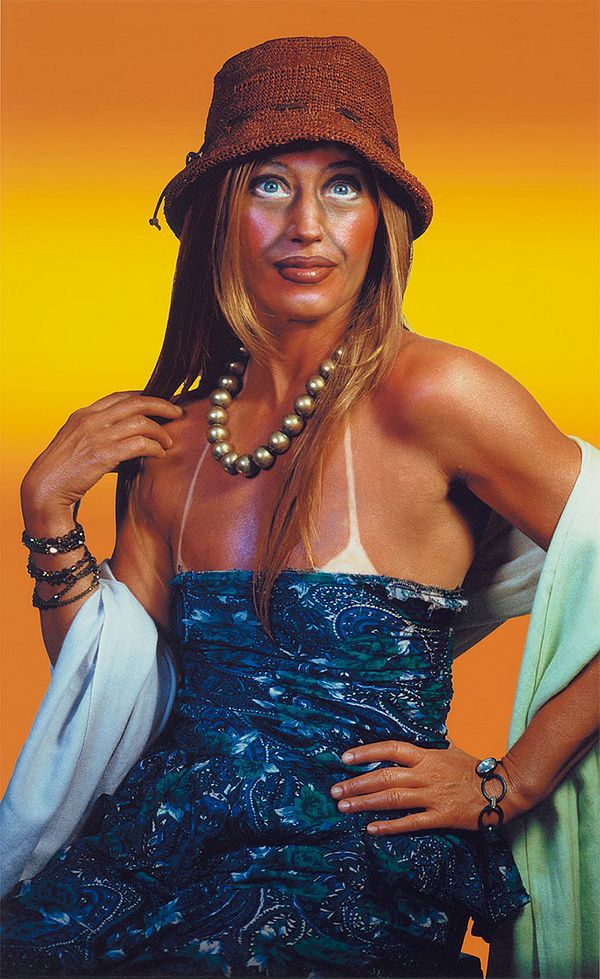 Cindy Sherman
Nomated for Best Costume Design
Synopsis: Los Angeles, 2003. Tanning salon owner and middling actress Cindy unexpectedly lands a role after going viral while eating falafel in the background of a Britney Spears paparazzi video. Now all she needs is the perfect bronze for the big screen, but to be the biggest star in Hollywood, she'll have to take on the brightest of them all.
___________
Cindy Sherman's irony-laden self-portrait photographs capture archetypical characters – or rather, caricatures – that expose the grotesque demands of contemporary culture presented at face value. We are now at least temporally beyond the world of Untitled (Self-Portrait with Sun Tan), but 2003 was in fact real, and it's rather difficult to find a more perfect encapsulation of the year than this portrait. Sherman presents the 2003 ideal of an atomic tan, bohemian accessories, and just-bitten lips, along with heavy makeup and sanpaku eyes, which all together seem farcical, but the look asks quite a simple, logical question: What if we did everything they told us to be beautiful?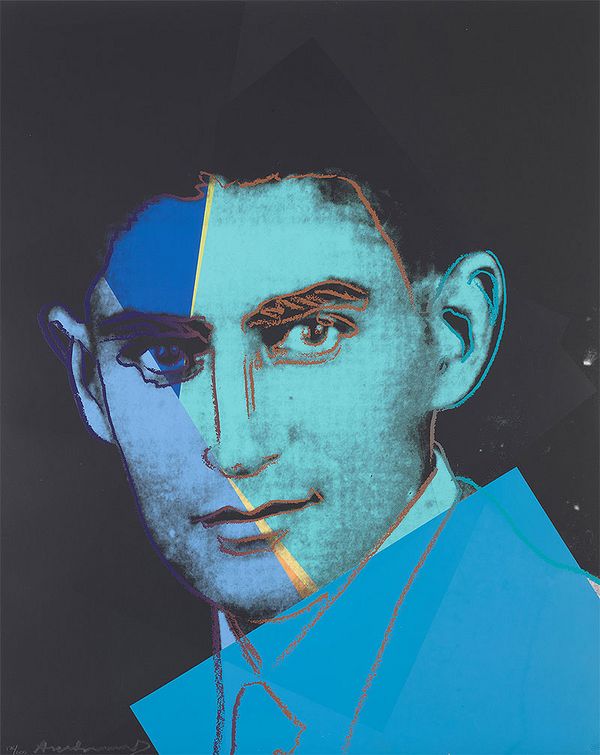 Andy Warhol, Franz Kafka, from Ten Portraits of Jews of the Twentieth Century (F. & S. 226), 1980. Evening & Day Editions London.
Andy Warhol
Nominated for Best Actor
Synopsis: Nothing is going right for W., a lowly clerk in an endless open floor office, where the flies above his desk buzz and die in piles in the blinking fluorescent light and the coffee machine never works. One morning, he is given an important document to have notarized at the far end of the floor, behind a door he's never opened, by a man known only as K., whose approval is the only thing keeping W. from losing his job. It seems simple enough, but every cubicle along the way has a favor to ask, and W.'s to-do list grows larger as he gets closer to the door.
___________
Andy Warhol's Ten Portraits of Jews of the Twentieth Century was a landmark series, courting controversy with its seeming detachment from the prominent subjects, but in typical Warhol style, the surface gleam belies an interior rich in dimension, and none in the collection typify that more than the artist's depiction of the writer Franz Kafka. The famously anxious and guilt-ridden novelist appears behind the modern veneer of Warhol's filtered shapes, caged by the alienation of the 20th century his works brought into focus. So to speak: As Franz Kafka awoke one morning from uneasy dreams he found himself transformed in his frame into a gigantic Warhol subject.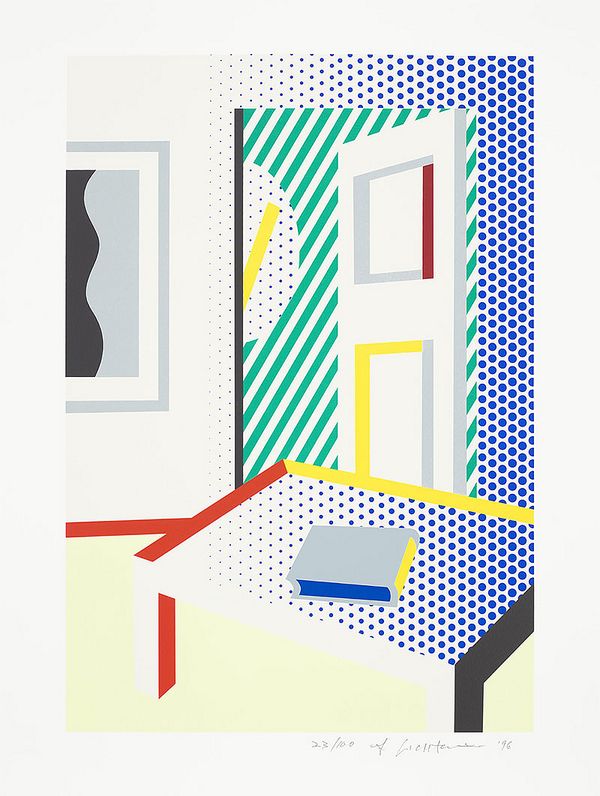 Roy Lichtenstein, Virtual Interior with Book, from the American Academy of Arts and Letters: Centennial Portfolio, 1996. Evening & Day Editions London.
Roy Lichtenstein
Nominated for Best Set Design
Synopsis: Fresh off a big promotion and even bigger breakup, upstart lawyer Helena's got a new flat on the West End with beautiful views, a spacious living area, and a newly moneyed house DJ living upstairs with no intention of quieting down. It's her straightlaced style against the rambunctious louts in number 4 – opposites don't always attract, but can they learn to live together?
___________
Inspired by the banalities of domestic settings, Roy Lichtenstein's Interiors series embraces a twofold notion of economy of scale, of mass-produced furniture made by mass-produced machines, digitized through mass-produced computers, a familiar Pop Art theme, but what gives the series its particularity, its Lichtenstein-ness, is the economy of movement it provides. The viewer sees a set, a 90s soundstage, and is presented with a range of options for a character to make their entrance for maximum effect. Will they enter through the door? Or the infinite space to the left of the image? From above for comedic effect? Or below for a jump scare? The empty room invites us to stay tuned.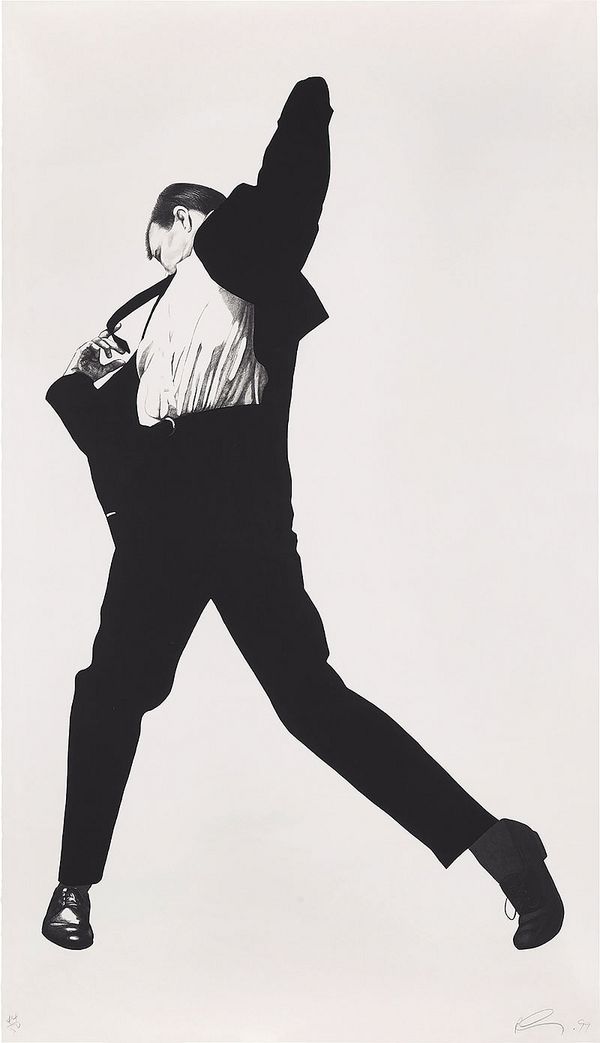 Robert Longo
Nominated for Best Choreography
Synopsis: Cooper Davies has walked into a trap. Locked in a warehouse with his robbery accomplices – each with only partial knowledge of the account information – and the armed lackeys of a corrupt financier, they must come up with a way to get out in one piece and get to the money before one of them cracks. When the captives are forced to dance at gunpoint, Davies sees an exit.
___________
To fully capture the movement of his subjects in Men in the Cities, Robert Longo threw objects at and tied ropes around his friends, taking photographs their reactive and evasive gestures. The cinematic quality of these highly orchestrated yet naturally performed scenes, like final shootout drops in slow-motion, focus on the desensitized image of death, made into a consumable form to witness and deflect, rather than feel, giving the series its emotional depth. Longo shows the image-making process as simultaneously political and entertaining, blurring the boundaries of each to arrive at a kind of staggering dance, well-dressed but faltering, held together but slipping away with each step.
---
Recommended Reading
Mirror Images: Inner Psyches Revealed in the Work of Francis Bacon >