Andy Warhol, Saint Apollonia (set of four), 1984. Editions London.
Andy Warhol Speaks to Saint Apollonia in His Upper East Side Townhouse
Written by Heather Fowler
Hear the story read by the author here.
"So, do you like soup?" he asks, this muttered as he adjusts his beige surgical corset and stares at the painted image from which she sprang, which resembles an altar.
"You're not that old," she tells him, "But you wear white makeup. From which old man did you steal the hair?"
"He wasn't Orthodox," Andy says. "But he was Italian. Paul Bochicchio. I got a deal. Anyway, keep your voice down. My mother's in the other room, with a toothache."
"Oh, I must go visit her!" Apollonia says. She holds up her glinting, tooth-pulling tongs, and he squirms, whether from fear or delight it's unclear.
"She doesn't need a pull," he says, but the corners of his mouth lift. He wonders if celestial music would play if her tooth were yanked, if her tooth would become part of a reliquary. He loves relics. And pilgrimages. And commerce. Except his mother needs more than a tooth pulled, so he repeats, "Uh, yeah. But do you like soup?"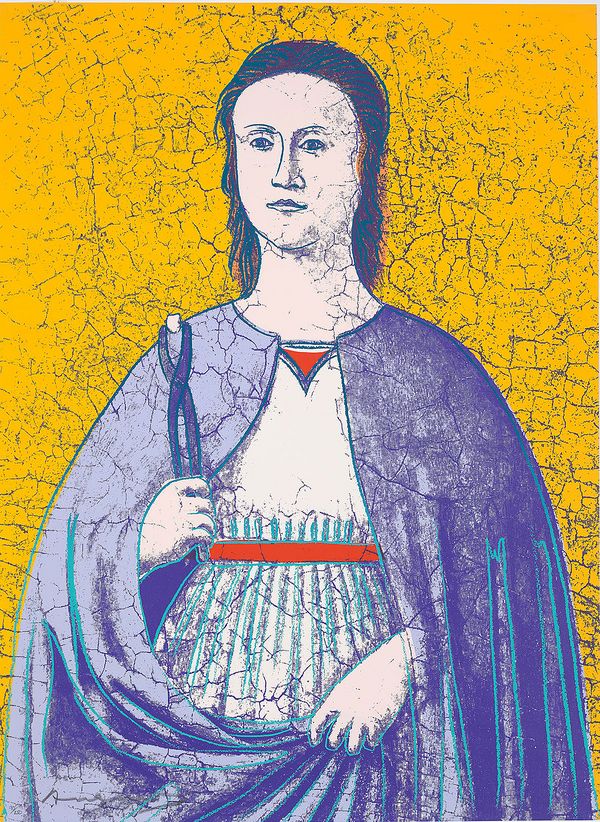 Andy Warhol, Saint Apollonia (set of four detail), 1984. Editions London.
She stares at him like this question should not be entertained, should never have been asked twice. Around him are collections of Navajo blankets, cookie jars, and Bakelite baubles. Some people think he's quiet, he knows, but he's just not as comfortable with them as he is with her. "You were old when accosted, middle-aged and late for stardom," he says. "Definitely no icon. Kind of long in the tooth. Or short, when your teeth were beaten out. You, a Christian virgin no one married — how did that come to pass?"
"Mr. Warhola," she says. "That's between me and God." But she wanders around in her floor sweeping dress, picking up his tape recorder, his boxes of Brillo, his leftover receipts from the morning. "Can you light a fire?" she asks. "It's cold in here."
Of course it's cold, he thinks, a frost bedecked New York winter. Outside, snow dusts the cars with a powder like a soap, but freezing. What's it like to not be freezing in January, he wonders, but he won't ask her, knowing she was burnt to death in February, and besides, bored, she turns away.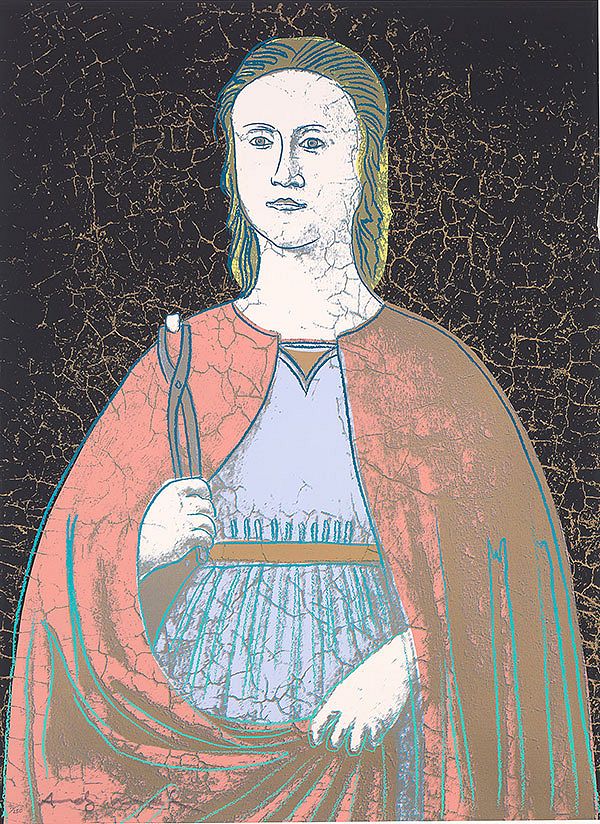 Andy Warhol, Saint Apollonia (set of four detail), 1984. Editions London.
"I made a movie once," he says. "Of my lover sleeping. I watched them for hours. They slept like the dead. I can't sleep. I take too much speed. But the bed was so flat—and the lover so beautiful."
"What's a movie?"
"It's a recording of a person in motion that never goes away, where you can watch them later, even if they leave you." When he looks at her this time, the wall behind her turns from yellow to black, then black to red, then red to beige.
Her look is stern, like some animal shits on his rug somewhere.
"I met the pope once," he offers.
She stares into his fireplace. "I want to tell you about jumping into fire for God," she says. "Do you know how it feels to fall into flames for Him? They wanted me to say impious words. I would not. So I sprang into fire. Do you know the difference between suicide and sainthood, Mr. Warhola?"
"A compromise between wishes," he supposes.
"No. Intention. After they broke my teeth, I felt the piercing pain of anointment. Have you ever known that kind of pain, the pain of cracked teeth and burning bones?"
"I got shot by a woman once," he says. "It seared my insides. They thought I was dead. Check out this cross of scars on my chest. I was doing a good deed, letting this madwoman act in a film. It was that moment, getting shot, that I realized nothing's real. Everything's facsimile. Like a movie or a show."
Andy Warhol, Saint Apollonia (set of four detail), 1984. Editions London.
Andy kneels on the floor, his surgical corset pinching but his organs held in tight, asks, "So, do you like soup? Do you want to see a brighter version of The Last Supper? Would you like to go to the grocery? It's magnificent! Everything's for sale. It's calming." He reaches into his pocket and downs another handful of speed.
He traces her with his hands and spills paint over her and even leaves the cracks in her background image. There's something gorgeous about keeping her so pristine, so close to life, almost like she walked out of the past. He imbues her with subtle colors, imagines her knowing how it feels to be a gay man who loves the Byzantine cross, virgin martyr as she is, outsider like him. While he watches her, he makes her a relic in silkscreen. "Take me," he says, reverently. "To God."
He says this with so much fervor, she puts down his aluminum foil, the image of his lover. She picks up her tongs, hands them over. "Fine," she says. "Help me first."
She spreads her clamped lips wide as if they're a curtain pulled back for revelations and shows him her shattered brown and spiky teeth from her beating. These make her monstrous, she knows, but she waits, serene, for him to relieve her suffering, whispers, "Yank them out." This, he realizes, is her version of a Mona Lisa smile, widening.
Unclear how to pull mangled teeth, he hands back her tongs.
She frowns, retrieves them, and yanks out her own tooth with a deep ecstatic scream, having chosen the tooth most whole, the one most unseen, most like a pearl at the back of her mouth. She lifts the tongs so he can see it. At closer glance, he then absorbs the char on her dress, on the wall behind her, on the hard button of her slim Alexandrian nose. "Yes, I like soup," she says, mouth filling with blood. "But it must be pureed. Like mashed tomato."
He kneels before her again, crosses himself the Orthodox way. And then he paints with red.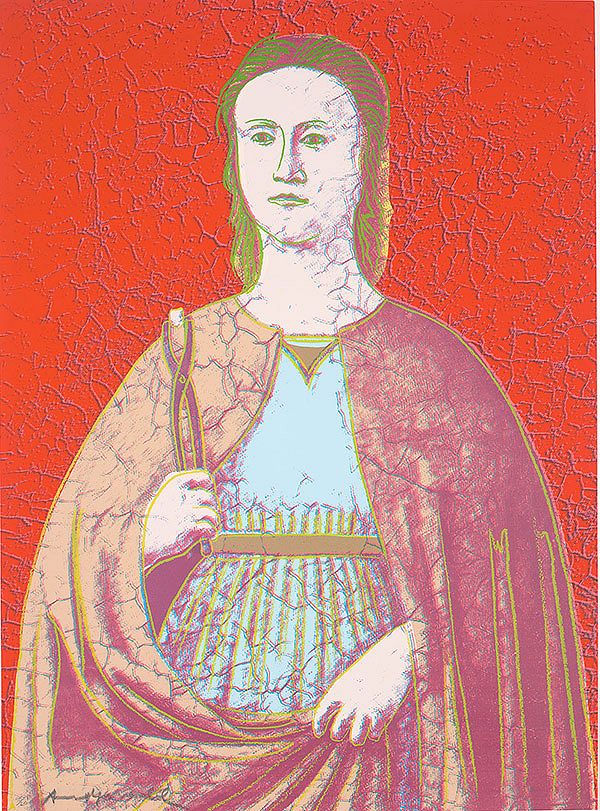 Andy Warhol, Saint Apollonia (set of four detail), 1984. Editions London.
Heather Fowler is a poet, a short fiction author, a screenwriter, a novelist, and a librettist. She is the author of the novel Beautiful Ape Girl Baby and the story collections Suspended Heart, People with Holes, This Time, While We're Awake, and Elegantly Naked in My Sexy Mental Illness. Her collector's edition of Suspended Heart, released in May 2019, was featured in the New York Times Book Review, which noted Fowler's work possesses a "bright and affectionate vision of mystical worlds" and "great ideas and characters." Fowler's People with Holes was named a 2012 finalist for Foreword Reviews Book of the Year Award in Short Fiction. This Time, While We're Awake was selected by artist Kate Protage for representation in the Ex Libris 100 Artists 100 Books exhibition in conjunction with the 2014 AWP Conference. Fowler received her MA in English and Creative Writing from Hollins University and an MFA in Creative Writing from the University of New Orleans, as well as a certificate from the UCLA Professional Program in Screenwriting. She currently co-hosts the literary podcast Booktails with Reine Dugas, which pairs custom book cocktails with author interviews and readings.
---
Recommended Reading
The Prompt: A Short Fiction Series for Authors Inspired by Artists >