Khari Turner, The Mountain, 2021.
Superposition Gallery and Artmatic Art Advisory are pleased to present House of Crowns, an inaugural program of group exhibitions sponsored by Phillips. Co-curated by Anwarii Musa of Artmatic and Storm Ascher of Superposition Gallery, the collection of art objects and concepts aims to facilitate mentorship and conversations between artists at all stages of their practice under the associative notion of the crown — the result is a wide range of expressions and styles respresented through painting, sculpture, photography and more. Ahead of the New York exhibition at Phillips' 432 Park Avenue gallery, co-curator Storm Asher spoke with the artists about the driving ideas and inspirations behind their work.
STORM ASCHER: What role does an artist play in exploring questions of identity and representation?
KHARI TURNER: The artist is always holding their own identity. It is said that every painting is a self-portrait and I feel this to be true. Regardless of how I want to perceive or show different narratives, my paintings are always a reflection of me. Being able to see a piece of mine, people readily know I made it. So the artist questions identity and representation through a critique and lens of themselves, which makes the role of an artist to be as honest as they can with themselves and who they truly are.
RYAN COSBERT: Artists have the power to make their viewers question and spark curiosity of life and reality while also enlightening them. We play a key role in documenting our current times and events. I think as an artist it is important to explore current and past histories.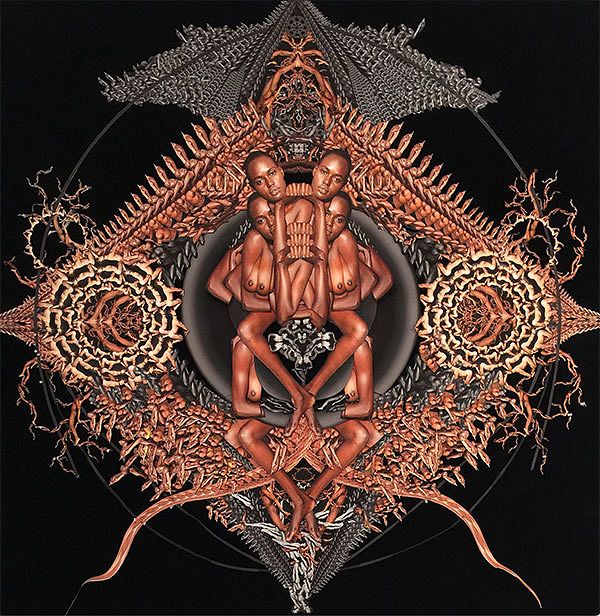 Renee Cox, Soul Culture Ajak, 2021.
RENEE COX: I am first and foremost a photographer, working in a medium that was traditionally a means by which a reconstructed racial knowledge was created. In the nineteenth and twentieth centuries, photography enabled the validation of racial classification and racist taxonomies. Colonial society and visual culture were built on hierarchies of power that rendered black women as a social and cultural threat, while pathologizing their sexuality. My work arises at this intersection: that of culture, race theory, and sexuality. In my practice, I work to deconstruct these stereotypes, to engage the viewer and to challenge their preconceived ideas about gender and race. I seek new and affirming self-representations for black diasporic peoples, as a visual corrective to both art history and history at large—transforming dispossession into self-possession. By deconstructing the black female body, I reveal the myths behind it.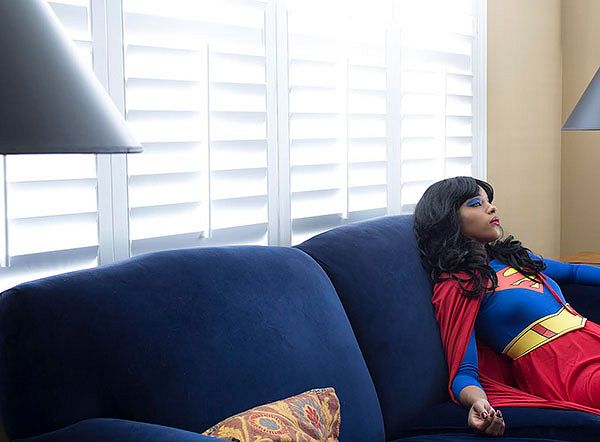 Haleigh Nickerson, S.B.W. #1, 2016.
MUNA MALIK: I believe artists and art help us understand ourselves and the world around us more fully. By doing so artists ultimately come to grips with their sense of "self" and how the work they create represents this found identity. This cyclical discussion opens avenues for viewers to do the same. Who am I? Who are we? How do we relate to each other?
HALEIGH NICKERSON: Identity is extremely multilayered. I think that an artist plays the role in the desire to make meaning or even sift through that compiled space. To make meaning how ever that may be or manifest. I seek to make meaning through explorations of embodiment and construction.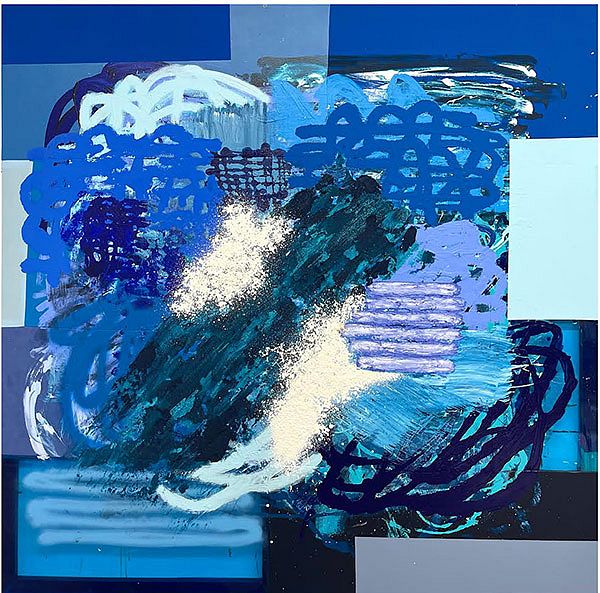 Patrick Alston, Kind of Blue, 2021.
SA: How do you approach some of the challenges facing your generation of contemporary artists?
PATRICK ALSTON: The growing digitalization of the art world is something that many artists are facing today. The essence of physical art works is to see and experience them in person. One thing I have noted over the years regarding audience's feedback to my work is the importance of physically experiencing them. I like to think it is impossible to understand my practice without this element. The effects of the pandemic further exacerbate this trend in the distancing of people and limitations to physical experiences. The rise of NFT's adds another layer to this topic and will further expand these challenges. For a large group of artists, the digitalization of art has opened the door for their ability to represent themselves to a large audience and sell work. I am sure that there will be spectacular achievements in hardware and software to make digital art more tangible in the physical world as well as digitalizing traditional art works and enabling a level of engagement with work to audiences globally that was once not possible.
HALEIGH NICKERSON: Overall, stay true to what you are doing even if at times it is challenging and even if the world hasn't caught up yet. Most importantly, create the spaces you wish to see or be a part of. I think that there is also the pressure or an expectation in this age of social media to always be sharing work with the world nonstop, at all times. In terms of that I would say: Move at your own pace regardless of what is going on around you. Prioritize the work and move at the pace that the work needs. Give it the time it deserves because it's all about the journey.
YOYO LANDER: Through guidance. There's nothing new under the sun. The only thing I can do is pay it forward. Give advice, be transparent, and educate and prepare another artist the same way my mentor educated and prepared me.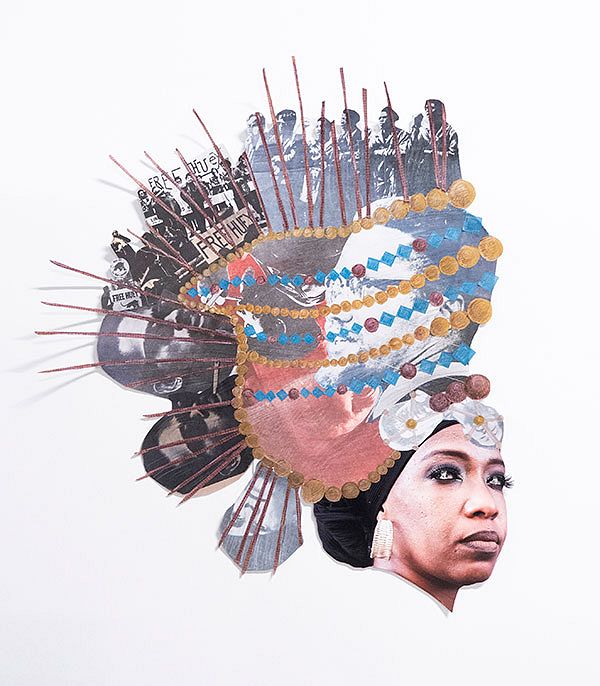 Helina Metaferia, Headdress 23, 2021.
SA: How has the pandemic shaped your creative thinking and the way you work?
HELINA METAFERIA: For me, the pandemic was initially a moment of introspection and rest, and then quickly picked up when the 2020 uprisings began around the country. I was already working with Black women activists through my By Way of Revolution series. Then, people began to care more about the work that I was doing as it related to a moment of national attention to Black lives. And so I got very busy, in a good way. I'm hoping this work can document more than a moment, but serve as a reminder of the labor of generations of Black women activists, and the causes that they tirelessly advocate for.
LAYO BRIGHT: The pandemic has made me think constantly about resilience, survival and care in a way that I wasn't as aware of prior to it. The little things like touch, seeing a smile without a mask, a hug. They're more amplified than ever. It makes me conscious of what's in plain sight, what often gets overlooked, and approaching my practice with deeper intentionality.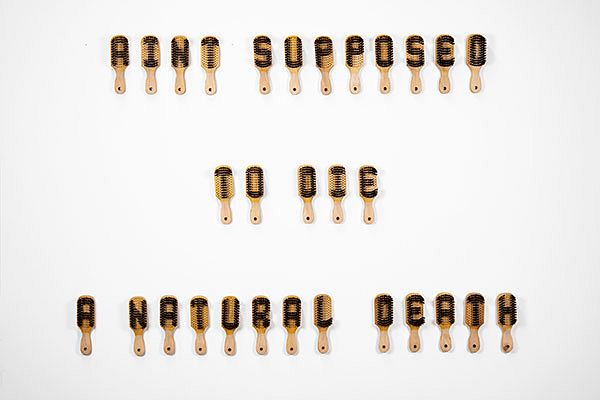 Felandus Thames, Black Existentialism #2, 2021.
FELANDUS THAMES: have always been very intentional in my thinking and process, but the pandemic forced me to act with a little more urgency.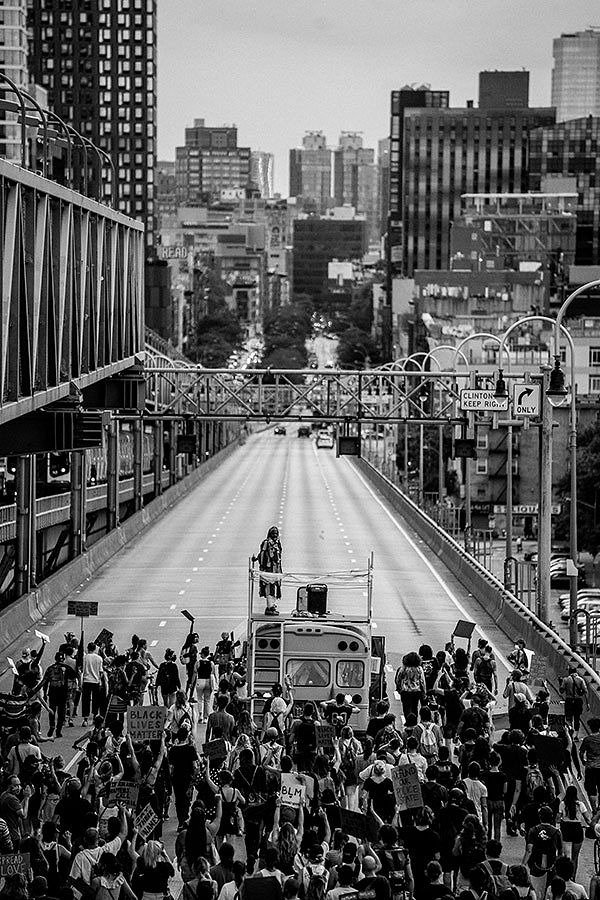 Steven John Irby, JUNETEENTH, 2020.
SA: Who is an artist or artists that deeply influence how you work?
STEVEN JOHN IRBY: Joseph Rodriguez, Ricky Powell and Jamel Shabazz has always been extremely influential to me and my career. Each one of them has a special quality in them and their work that I feel has some parallels to the way I create and see the world.
HELINA METAFERIA: Maria Magdalena Campos Pons (my former graduate professor), Betye Saar, Simon Leigh, Howardena Pindell. I was also deeply inspired by Haile Gerima's movie, Sankofa, which I watched as a teenager. He's an Ethiopian-American filmmaker, doing with moving images what I do in my interdisciplinary practice — retelling history through the lense of marginalized people.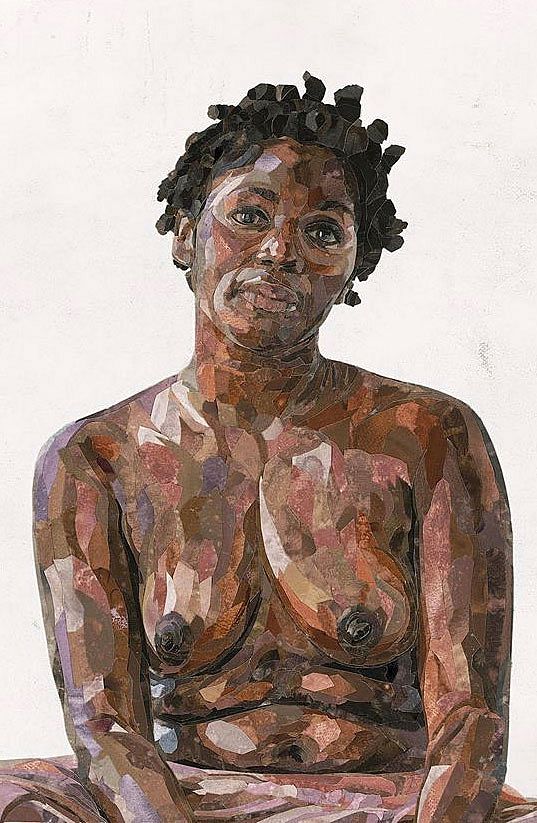 Yoyo Lander, Quiet Despair #2, 2021.
YOYO LANDER: Right now, I'm influenced by the work ethic of Amoako Boafo. From the outside looking in, he seems to have tapped into a nice balance of work and play.
ALTERONCE GUMBY: Jack Whitten, Robert Rauschenberg and Picasso were all true innovators to me in terms of boarding my perspective towards art making. I still study their work to this day.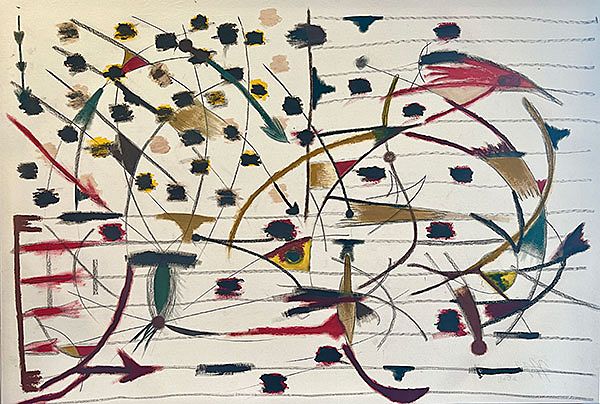 Muna Malik, False Flag, 2021
SA: What was the inspiration and process behind your present work?
MUNA MALIK: False Flag is the latest iteration of my ongoing series recreating the United States flag during times of political or social unrest. This piece was inspired by the poorly planned and executed U.S. withdrawal from Afghanistan. This distortion of the symbol of "freedom" is meant to resemble a hurricane or battle held under the guise of democracy. It's meant to invoke chaos and struggle. A reshaping of a recognizable symbol.
RENEE COX: My new body of work, Soul Culture, consists of digitally manipulated color, black & white portraits that display self-similar patterns. I continue to renegotiate the nude black body by neutralizing the sexuality of the subject. In this series, the nude black body is stripped of eroticizing connotations and presented as shape and form. The images are executed with precision, creating sculptural kaleidoscopes of the human body while exploring the power of symbols as elements of collective imagination. The inspiration for this new work comes from fractals, a mathematical concept centuries old (sacred geometry) and used by many ancient African (Dogon) cultures. The work has also been the result of my embrace of the digital world. Bridging the gap between the old and new technology has brought on new challenges and endless possibilities. As the digital world has transformed the medium, I have embraced it and integrated it into my process. Soul Culture has brought a new viewing experience. The simplicity and connectivity of the fractal concept seems to be engaging the viewer in a profoundly different way, bringing a certain peace, reflection and joy. I trust.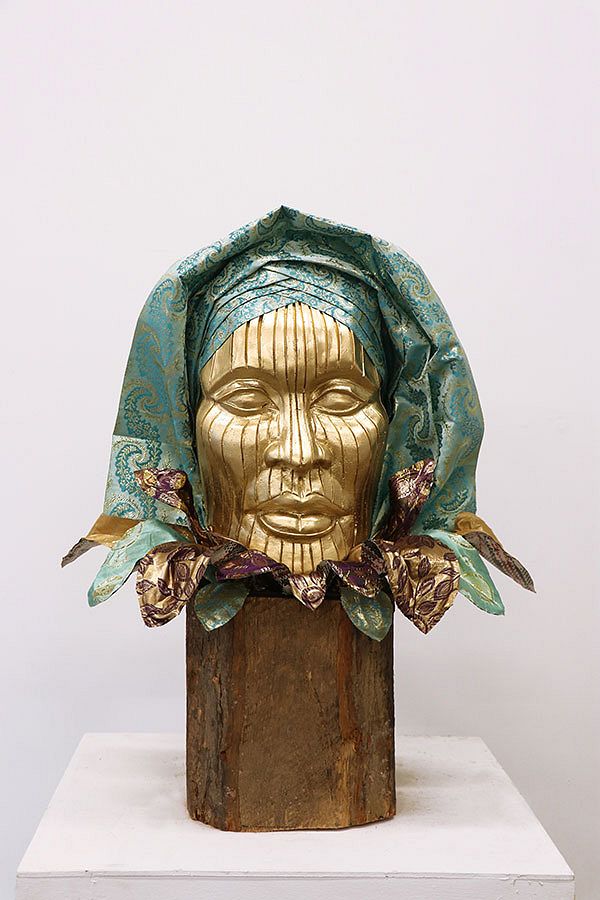 LAYO BRIGHT: My cultural background influences my works to a large extent. I grew up in Lagos, Nigeria, where adornment with headdress is a dominant item in identity, fashion, social gatherings, religion, and more. According to Yoruba (my tribe in Nigeria) belief, the head (Ori) is the seat of the soul — the life source controlling destiny and personality. I tether this to the natural world by situating the form within flora and wood, as well as materials related to migration.
LAYO BRIGHT: My cultural background influences my works to a large extent. I grew up in Lagos, Nigeria, where adornment with headdress is a dominant item in identity, fashion, social gatherings, religion, and more. According to Yoruba (my tribe in Nigeria) belief, the head (Ori) is the seat of the soul — the life source controlling destiny and personality. I tether this to the natural world by situating the form within flora and wood, as well as materials related to migration.
KHARI TURNER: The inspiration for The Mountain was centered around the use of the hands in the piece. I have been working on multiple faces as a conversation around transitioning and movement. My work is centered around bodies of water and the human as a body made mainly of water, connecting time and history. I wanted the work to be in physical relation with the viewer, drawing them in and holding them in the blue along with the body of water. The title The Mountain is a reference to hurdles felt in transition and to think about how some of our tallest mountains are underwater.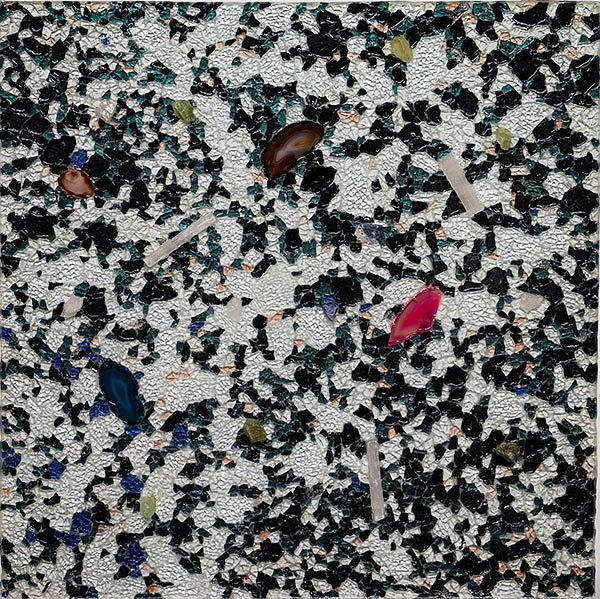 Alteronce Gumby, If I'm the stars, you're the heavens, 2021.
SA: What can you tell me about what you're working on next?
ALTERONCE GUMBY: Upcoming shows at Bode Projects, Zona Maco, and Nicola Vassell Gallery, which will take place in September 2022.
HELINA METAFERIA: I currently have a solo museum show at the Museum of Fine Arts, Boston, through April 3, 2022. I am working toward some upcoming solo shows and group shows for next year around the country, and some new public art commissions and performances.
STEVEN JOHN IRBY: My dream is to open up Street Dream Cafes in NYC, Tokyo and Europe over the next couple of years. Besides that, being in my mid 30s, traveling is therapeutic and being able to document and create memories in places that people in my family, from my block, would have never gone has been a blessing. Traveling and sharing my black experience is my next goal.
Discover More from 20th Century & Contemporary Art >
---
Recommended Reading