By Tiffany To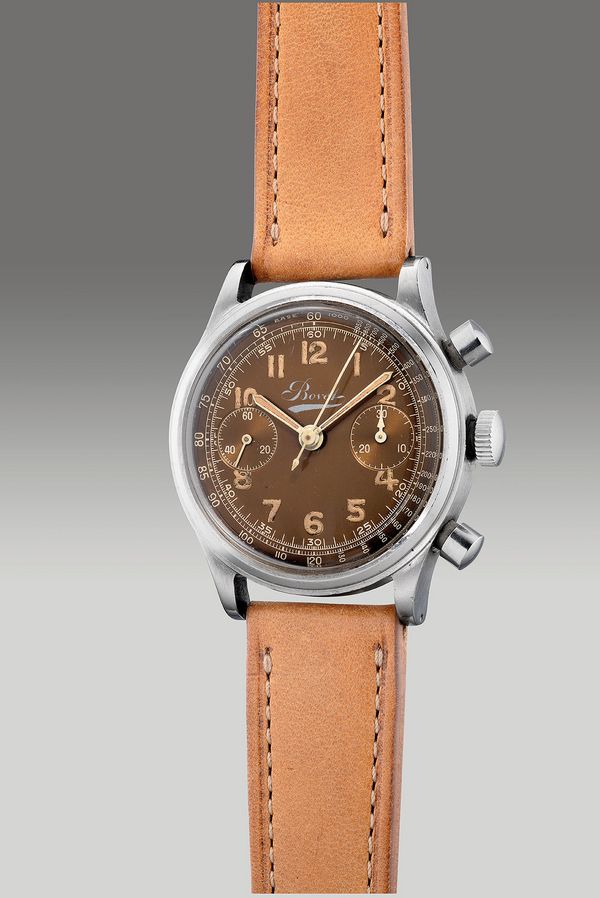 Lot 949 – Bovet: An attractive and rare stainless steel mono-rattrapante chronograph wristwatch with tachymeter scale and "tropical" gilt dial
How many watches can boast a mono-rattrapante chronograph movement, beautiful tropical lacquer dial, original luminous material and an incredibly crisp case – all under a sum of 15,000 USD? One of the most impressive watches in the sale for value, one gets so much "watch" from this lot. In 1936, Bovet created and patented a "mono-rattrapante" chronograph system that acted similarly to a split-seconds mechanism, however without the heavy cost to manufacture. The mechanism was operated through the top chronograph button, while the lower button would stop it and when released allowed the time to catch up to the actual time. This was done via tension in a hairspring that built up as the chronograph button was held, and when released the hairspring unwound.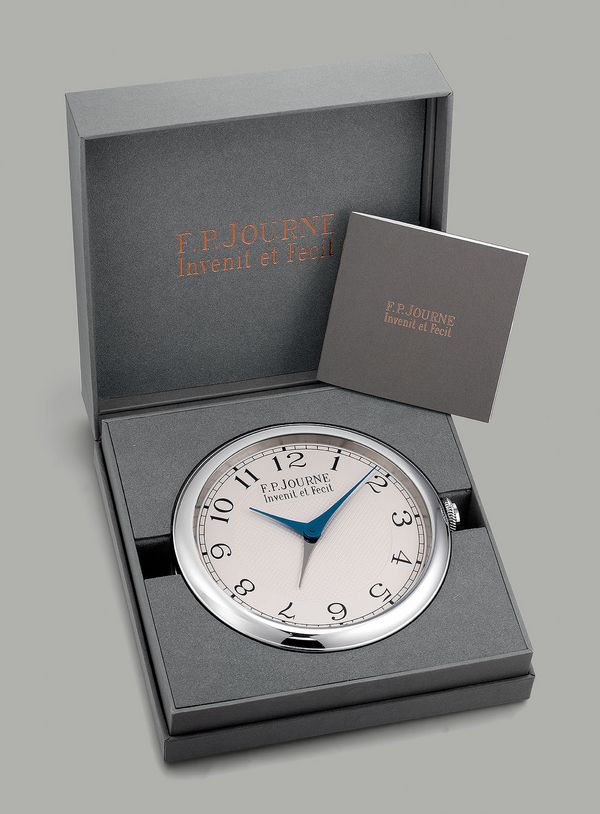 Lot 942 – F.P. Journe: A fine and attractive brass alarm table clock with guarantee and presentation box
This lot is perhaps the best valued F.P. Journe timepiece one can find on the market. Offered without reserve and offered in new condition, it is not only a striking desk timepiece, but also incredibly useful as an alarm clock. So rare is this clock that the boutique is reportedly sold out, with a waiting list that continues to grow.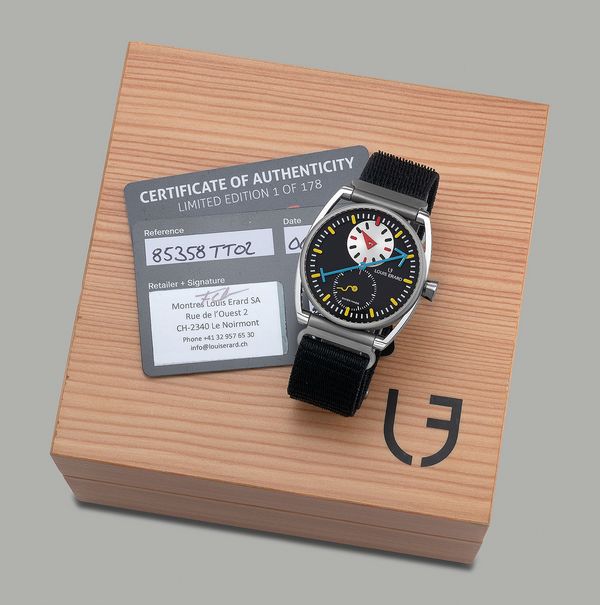 Lot 857 – the Louis Erard x Alain Silberstein: An attractive and unusual limited edition titanium wristwatch with small seconds, "regulator" style indication, warranty and presentation box, one of a limited edition of 178 pieces
Telling the time has been so playful - following the international success of the first collaboration between Louis Erard and Alain Silberstein in 2019, the duo decided to partner up once more, pushing the boundaries of their artistic ethos even further, on the creation of a triptych. Revealed this year, the Louis Erard x Alain Silberstein's holy trinity combines three watches: La Semaine, Le Chrono Monopoussoir and Le Régulateur II, such as the present lot. Cased in a 40mm brushed and polished titanium case with an almost childlike dial, Le Régulateur II allows its wearer to read the time in a joyful manner. Silberstein uses primary colours such as a red triangle to indicate the hours on a subdial at 12 o'clock, a large central blue arrow hand for the minutes and a small swirly yellow seconds hand at 6 o'clock. Limited to 178 pieces, Le Régulateur II (of which 78 were only available as part of the triptych) is a perfect example of Silberstein's a fun and quirky take on the regulator design.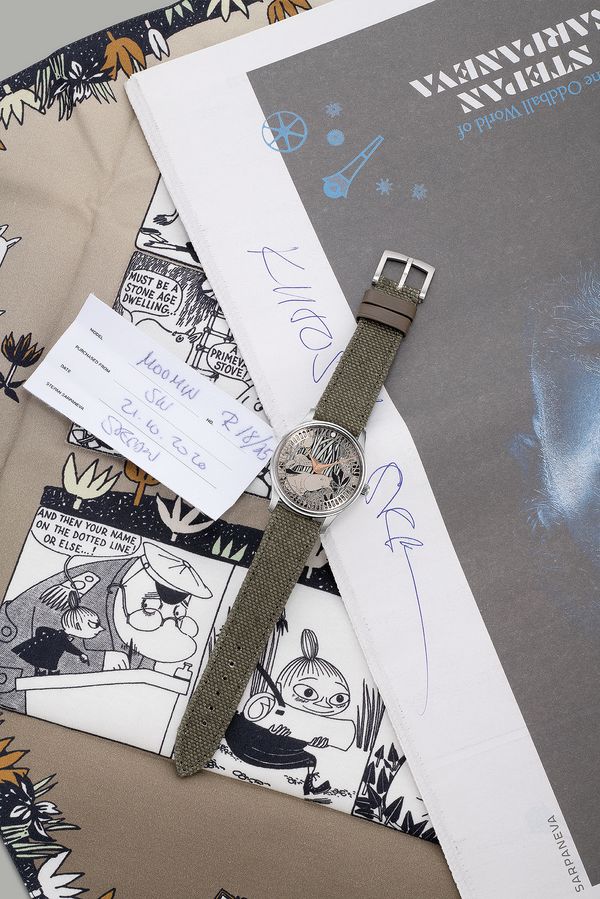 Lot 855 - Sarpaneva Watches: An impressive and playful limited edition stainless steel skeletonized wristwatch with Technicolour Super-Luminova dial and certificate, numbered 18 out of a limited edition of 25 pieces
Also offered without reserve, the present watch is inspired by the original black and white Moomin illustration by Jansson. Sarpaneva has injected his inventiveness and technical finesse to the fairytale of Moominvalley. The timepiece paid more than just a homage to the cartoon but surely a statement to the industry of implementing Super-Luminova as a form of art instead of applying it to tell time in the dark. Extremely clever and magical, the illumination of the dial is brought to life in a jaw-dropping explosion of color. Numbered 18 out of a limited edition of 25 pieces, this whimsical example is offered in absolute pristine condition with its complete accessories.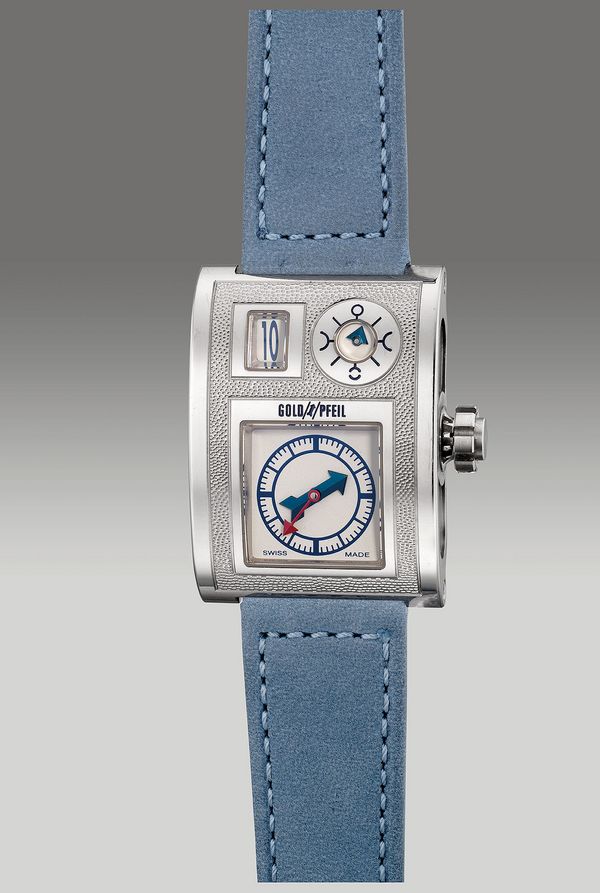 Lot 887 - Goldpfeil X Vianney Halter: A very fine, unusual and rare white gold rectangular-shaped wristwatch with jumping hours and moon phases
With the rise in popularity of watches by independent makers, the present watch brings enormous value. Manufactured in conjunction with Vianney Halter and Goldpfeil, this highly unusual timepiece is finely crafted from a block of solid 18k white gold. The present watch is part of a special project on cutting edge timepieces initiated by the German luxury company Goldpfeil and seven members of Académie Horlogère des Créateurs Indépendants. It features two apertures for jump hour and geometric moon phases, which automatically adjusted every 6 hours and is calculated to deviate one day every 139 years, making this complication one of the most precise ever created.