By Tiffany To
It is commonly agreed that the watch market is a fickle one, prone to swings and volatility. It is the result and manifestation of the mercurial collector, one who deems that what is "in" one season can also be "out" another. It is no wonder then, that a most sound advice is just to buy what one likes, trends be dammed. Yet given the collecting landscape of today, could there be a gap in the market for collectors to acquire some timepieces that bring immense value, not just in terms of dollars, but also rarity, workmanship and an overall recognition of how truly important some watches should really be?
A colleague who had previously worked in a jewelry department just recently asked me, "why does a steel watch make multiples of that of a watch with gold? At least gold has value!" His words struck a cord with me, and begs the question – has the watch market's fixation on stainless steel actually opened an untapped market for collectors to buy inherently precious watches that provide immense value, compared to where the market is today? Why does a white gold Daytona, lavished with rubies and sapphires, cost almost the same as a stainless steel Nautilus on the secondary market? It is inherently rarer, more precious, and unlike a stainless steel timepiece, one can actually attribute value to the material of the watch. This is not to say that I don't believe in the sports watch market in general – its popularity on the secondary market is absolutely merited. With changing tastes and an overall less formal lifestyle today, it is only natural that trends have evolved over the years. I am a full proponent of the free market, and the success of watches such as the Nautilus is well qualified– from its good looks, to its history, and the success of the brand and those who don such timepieces. I just believe that there are some watches which seem underappreciated and should be even more collectible and important than they are already due to the sheer rarity and scarcity of these watches. In fact, they were made in such small quantities due to the time needed to select and match stones, along with the laborious and time consuming process of creating such masterpieces.
As such, below are three pieces that completely stand out due to its rarity, preciousness and beauty, timepieces that are particularly collectible when one takes into account the trends and landscape of collecting today: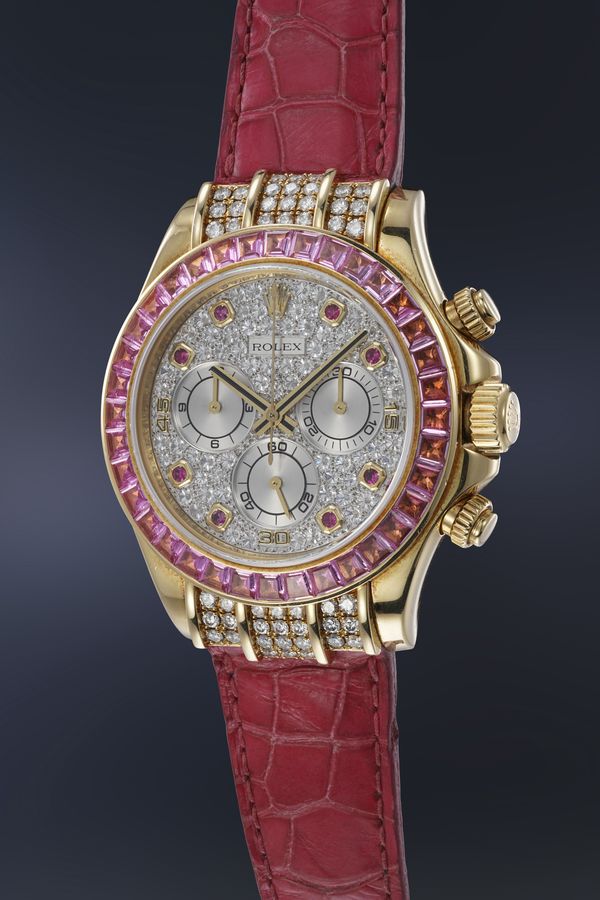 Adorned with 36 baguette-cut pink sapphires set uniformly on the bezel, this Rolex Daytona reference 116598 is a sight to behold. The technical prowess and rigorous standard in quality is incredibly impressive. The hoods between the lugs are also embellished with brilliant rows of diamonds and the dial is further fitted with brilliant diamonds. While most examples of the reference in yellow gold featured gold chronograph registers, the present example features a silver register dial. Analysis of the (few) pieces that surfaced on the market indicates that this version was indeed originally fitted with silver-colored subsidiary dials, most likely a style decision on Rolex part motivated by a better overall chromatic result.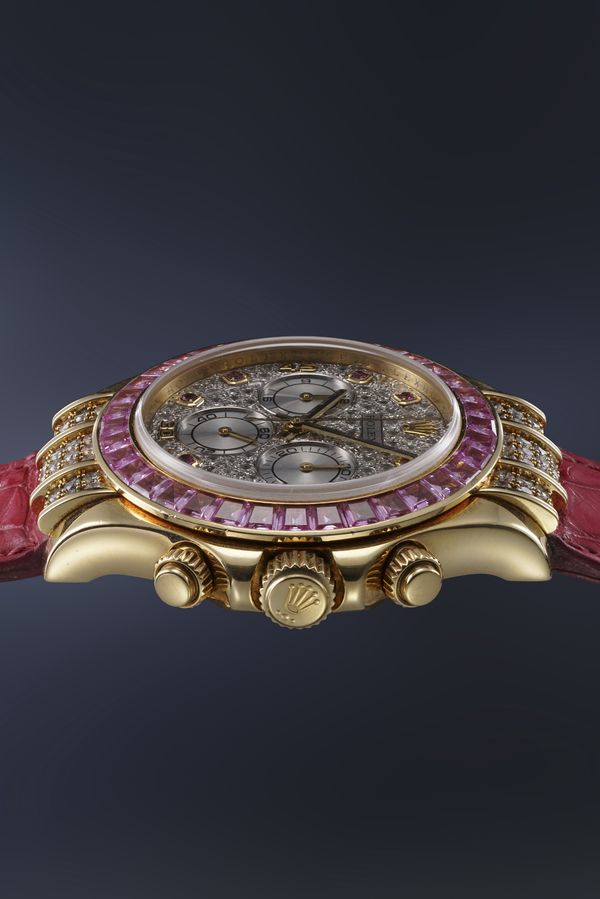 Thanks to their scarcity, statement power and undeniable good looks, monochrome gem-set Rolex Daytona models have become incredibly collectible. The present pink sapphire configuration distinguishes itself for its rarity even within this group of already scarce models. In fact, only 3 other examples are known from the public market.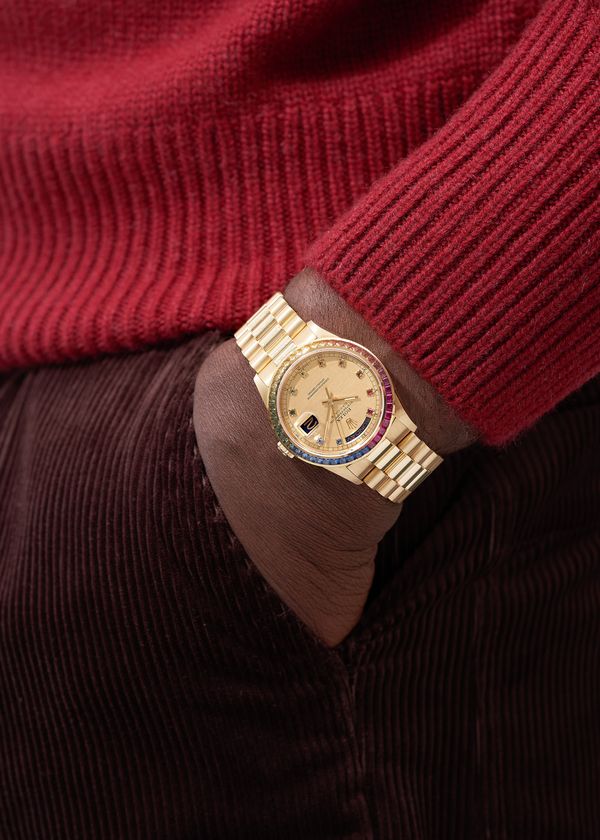 Launched in 1956, the Rolex Day-Date is one of the most recognizable and versatile wristwatches available in the market. It is a model that can be worn by both men and women, and over its 60 year history has been produced in a number of variations. Ever glamorous, the Day-Date model delights with its myriad of dials, bracelets, bezels and gold-finished designs. Apart from prototype models, the Day-Date has only been cased in precious metals, attesting to its glamor and prestige.
The present watch, previously unknown to the auction market, is most probably one of the most important Day-Date discoveries in recent years. It is one of the very first "Rainbow" models the manufacture ever made, probably even before Rolex had officially coined the model name. It is most notably adorned with a beautiful and impressive bezel, which is set with gemstones that graduate in hue to mimic the color spectrum. The tones range from a vibrant and intense deep red, and slowly morph to mauve, orange, chartreuse, green, blue and finally deep purple. The bezel's beauty stems from the well-matched, pure and bright colored gemstones. The colors blend together seamlessly, attesting to Rolex's technical superiority and eye for color. The dial also displays gemstones in a rainbow hue, referencing the colors of the bezel.
Most interestingly, the watch has a reference number completely different from other Rolex Day-Date models. Cased in yellow gold, it carries the reference number 18058. It is notable that the only other three vintage Day-Date models with a rainbow bezel are in white gold and carry the reference number 18059. It is commonly believed that white metal Day-Dates are rarer than their yellow gold counter parts, however for this particular rainbow model, the present timepiece is the only yellow gold example known. The present model is the direct inspiration behind the beloved Daytona and Day-Date Rainbow models of modern times, providing an extremely interesting historical aspect to watch scholarship.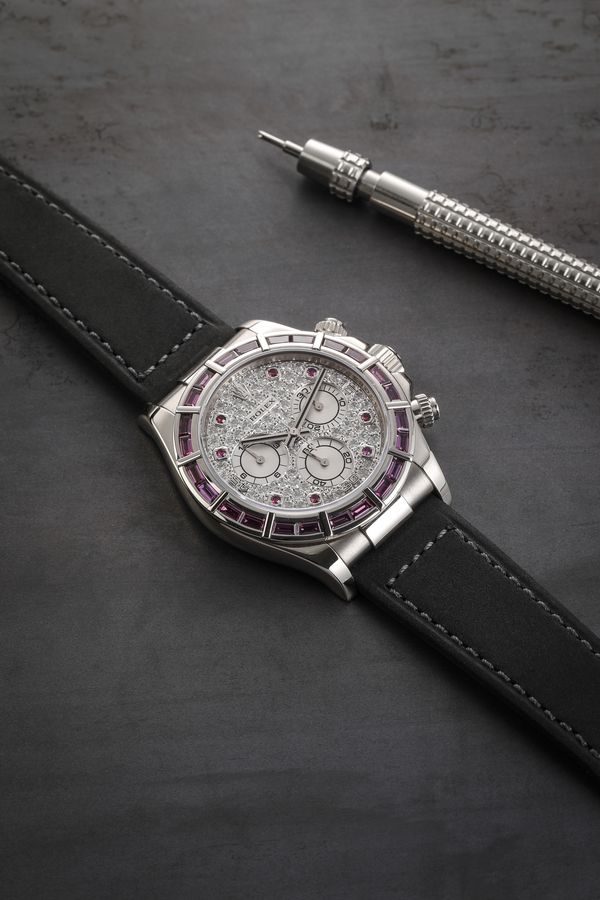 Rolex is incredibly imaginative in its use of precious materials. It has adorned its sports models with a variety of materials ranging from emeralds, rubellite, pavé work and even meteorite.
Heavy and luxurious, the present watch is fitted with a beautiful pavé and sapphire dial, which has been preserved in excellent condition throughout the years. The bezel is also set with violet sapphires. Powered by the Rolex caliber 4130, it is an incredible testament to Rolex's precision and flair for design. Rolex produced very little quantities of such models, due to the time consuming process of sourcing and setting precious stones. Each sapphire used is perfectly matched and exhibit the same, even violet hue.
Worn sparingly, the case is preserved in excellent condition with crisp and legible hallmarks beneath the lugs. All original factory finishes are present, furthermore enhancing this timepiece's appeal.