Jean Dubuffet, L'homme à la toque, 1956. Estimate $2,000,000 - 3,000,000.
Written by Hugues Joffre
A firm believer that art does not belong to the elite, Jean Dubuffet spent forty years relentlessly attempting to destroy conformist culture in painting. His interest in Art Brut reinforced his belief that, to be an artist, academic training was unnecessary. When Dubuffet began his Paris Circus paintings in 1961, he stated ''[I have] decided to start all over again from the beginning.'' This declaration aptly sums up his ever-evolving practice, which is simultaneously rudimentary, extraordinary, and extremely provocative. With more than thirty series comprising his œuvre, each is a unique exploration of new techniques aimed at affecting the mind, not the eye, through an alchemical process.
The Alchemy
For his Messages, 1944, he explored the existential fragility of materials. Rather than using traditional oil paint and canvas, he turned to real newspapers which physically deteriorate and become obsolete almost immediately. Having soaked the newspapers in water, Dubuffet further defaced them by scrawling fragmented messages across the pages.
In his Corps de dames, 1950, Dubuffet started with a paste of zinc oxide and varnish to ''prime'' the canvases. Before the paste could dry, traditional oil paint was applied in thin layers causing the oil to immediately be repelled, thus creating an uncontrollable and entirely spontaneous effect of human flesh.
In his La vie précaire series, 1954, haunting images of ghosts emerge across the canvases. To achieve such a result, Dubuffet swiftly applied thin layers of quick-drying enamel paints mixed with traditional oil paints. Since the two mediums have differing drying times, his alchemy enabled the materials to create, on their own, fantastical marbled effects for his bewildering figures.
For his Texturologies, 1957-1959, Dubuffet brilliantly borrowed the technique of Tyrolean stone masons to celebrate the earth. One could easily imagine him painting each speck of dust, grain of sand, or clump of earth, but no, instead, Dubuffet used a paint-soaked branch. By shaking it over the canvas, Dubuffet was able to scatter paint droplets to convey the appearance of soil, while simultaneously creating a texture evocative of the galaxy.
Giving life to living creatures and landscapes by arranging cut-out bits of painted canvases must have felt like the god-like act of giving life from raw matter.
Similarly, for his Tableaux d'assemblages series, 1955-1957, to which the present work belongs, Dubuffet embarked on another spontaneous material experimentation. With impulsive gestures he painted unstretched canvases with random shapes, marks, and textures using colours found in nature. Dubuffet then randomly cut organic shapes from the abstract canvases and arranged them to compose figures, plants, animals, and elements of landscapes. Derived from the Assemblages d'empreintes series and the butterfly-wings collages, Dubuffet duly remarked later that, "this new technique of assemblage gave [him], as soon as [he] started on it, the impression of lending itself perfectly to treating the subjects that had been so much in [his] mind… the roadbed, the grasses and little plants pushing through along the sides, the foot of a wall…" Giving life to living creatures and landscapes by arranging cut-out bits of painted canvases must have felt like the god-like act of giving life from raw matter.
During his 1951 lecture at The Arts Club of Chicago, Dubuffet famously declared, "I have a great interest in madness, and I am convinced art has much to do with madness.'' L'homme à la toque translates literally as ''The man with a cap,'' but bearing in mind Dubuffet's affinity for words and their duality, the title could easily be interpreted as a double entendre, referring to the French slang l'homme toqué (the crazy man). With this reading, given that Dubuffet executed portraits of his brother Georges Dubuffet au jardin (December 1955) and his wife, Madame au jardin (September 1956), one could even postulate that ''the crazy man'' in this picture is Dubuffet himself.
In his later series L'hourloupe, 1962-1966 and Coucou Bazar, 1971-1973, Dubuffet continued his investigations into disrupting conformist culture by transforming his sculptures into living paintings. Revolutionizing a painting's potential, Dubuffet embarked on several monumental projects. For example, Coucou Bazar used performers to animate sculptures while Closerie Falbala, 1971-1976 and his Cabinet logologique, 1967-1969 became three-dimensional paintings that one can walk through and inhabit when visiting the Fondation Dubuffet in Périgny.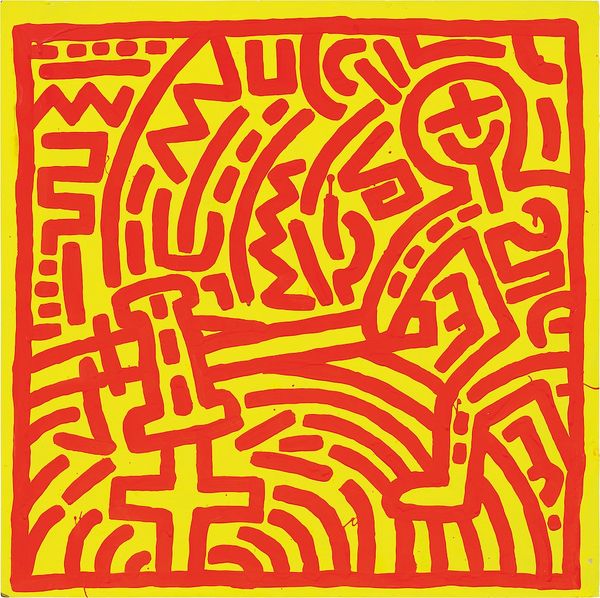 Keith Haring, Untitled (For John Sex), 1982. Estimate $800,000 - 1,200,000.
The Art
Unlike Pablo Picasso, Henri Matisse, and the other giants who emerged from the twentieth century, the œuvre of Jean Dubuffet is more relevant today than ever. He is an essential ancestor to the graffiti and street artists of the 1980s as well as an energizing force propelling younger generations of artists forward, with his fearless revolt against what it means to be a painter
Just as Dubuffet aspired to bring paintings to life with the Coucou Bazar series, Keith Haring sought to create movement with his celebrated dancing figures and body paintings. During the late 1970s, Keith Haring delved into art historical research in order to inform his work, ''I felt this strong need to get to know what other artists had done,'' he explained, ''I spent a lot of time at the library and came across Dubuffet. I was startled at how similar Dubuffet's images were to mine, because I was making these little abstract shapes that were interconnected.'' Haring gained rapid fame when his stylised drawings of figures and dogs were found in the New York subways. With quick, confident lines Haring infuses his iconography with social and political themes—Apartheid, AIDS, environmentalism, capitalism, inequality— while also believing that the performance of painting is as important as the resultant painting. Believing that any surface could be used for art, Haring made his work accessible to the masses through his Pop Shop while simultaneously using his imagery and public works to draw attention to important socio-political causes.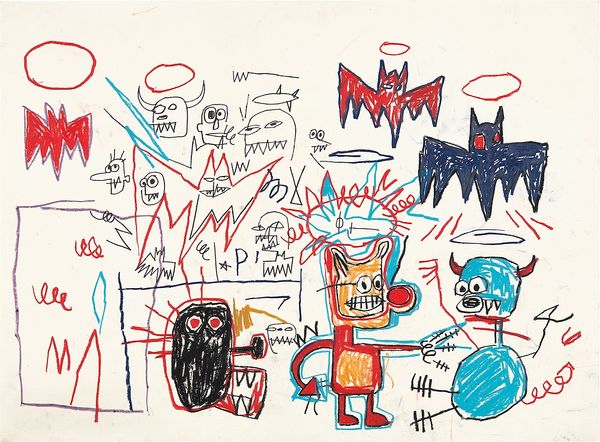 Jean-Michel Basquiat, Batman, 1983. Estimate $1,600,000 - 2,000,000.
And of course, let's not forget Jean-Michel Basquiat, who has often been described as Jean Dubuffet's child. Basquiat began engaging with Dubuffet's Art Brut concept during the 1970s after seeing works from Dubuffet's Théâtres de mémoire series at the Pace Gallery in New York. Clearly, Dubuffet's legacy flows through Basquiat's appropriation of words, fascination with the streets of New York and figuration, and his non-traditional approaches to art making. Just as Dubuffet had decades earlier, Basquiat began his own experimentations with collage by creating his own elements, cutting them up, pasting them onto canvas, and partly covering them with acrylic, spray paints and oil stick.
Was Dubuffet:
an Alchemist?
an Artist?
an Artist and an Alchemist?
Personally, I would affirm that Dubuffet was a great artist and a crafted alchemist!
Discover More from 20th Century & Contemporary Art >

Global Gallery Tour 20th Century & Contemporary Art
Join us on a virtual global gallery tour of Phillips' upcoming 20th Century and Contemporary Art auction being held in our brand new, state-of-the-art gallery at 432 Park Avenue in the heart of New York City. This sale features masterpieces by David Hockney, Wayne Thiebaud, Vija Celmins, Gerhard Richter, Mark Rothko and many more.
---
Recommended Reading
The Prompt: A Neat Lawn by David Hockney >
Whose Histories Should Be Commemorated? >