Sigmar Polke Untitled, 2000
"…lots of dots vibrating, resonating, blurring, re-emerging, thoughts of radio signals, radio pictures and television come to mind. In that perspective I think that the raster I am using does show a specific view, that it is a general situation and interpretation: the structure of our time, the structure of social order, of a culture."
—Sigmar Polke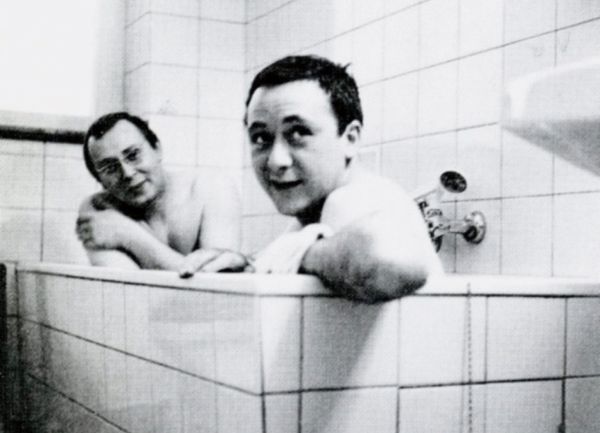 Sigmar Polke (in the back) and Gerhard Richter (in the front), 1966. Image courtesy Gerhard Richter Archive, © Gerhard Richter, 2014
Executed in 2000, Untitled exemplifies the wide range of styles and methods that Sigmar Polke appropriated and developed at varying stages of his career. This particular work brings together a variety of media on a stunning and impressive scale from the artist's trademark raster dots, first explored in his visual investigations of German Pop art in the 1960s to his explorations into abstraction in the 1980s. The formal composition of Untitled evidences the fundamental role that chance played in Polke's practice: the atmospheric washes of paint, dispersion and ink interplay with the variegated dots of his found imagery. The result is a work that playfully parries abstraction, figuration and modern mechanical means of illustration.
Untitled was one of a selection of large-scale works chosen by the artist to exhibit at his solo-show Sigmar Polke: History of Everything, Paintings and Drawings 1998-2003, at the Dallas Museum of Art in 2003, that later traveled to Tate Modern in London. The show brought together a group of works that drew on printing mistakes, images published in newspapers and historical engravings. Speaking of the artist's works on paper, such as Untitled, at the time of the exhibition, curator Charles Wylie noted that "they act entirely as do the paintings, and offer a concise summary of the qualities for which Polke has become internationally regarded as among the most important artists of our era: the seemingly random yet beautifully composed fusion of abstraction and figuration…swim in washes of color that Polke has masterfully controlled, creat[ing] an atmosphere on paper that is fully consistent with his more technically complex paintings with resins and other mercurial liquid materials."
Through its myriad of artistic processes, Untitled challenges the conventions of both seeing and comprehending art.
Through its myriad of artistic processes – neither photography, nor simply painting – Untitled challenges the conventions of both seeing and comprehending art. A compilation of raster dots act out a classical scene of nude, female bathers enveloped in swatches of white, yellow, red and blue paint. The fleshy, female forms appear to dematerialize within the oscillating mechanical pattern set against the maelstrom of painterly incident. The featured imagery appears to be a component from a larger Greco-Roman scene, which is typical of the banal subject matter and second-hand imagery that Polke excelled at transforming from trivial into epic. This work occupies a section of the artist's oeuvre begun in 1986 based on decorative motifs, empty Baroque frames and other ornamental forms. These works, like piece in our upcoming Evening Sale, powerfully exemplify Polke's trenchant position over his non-allegiance to the accepted conventions of form, technique and imagery.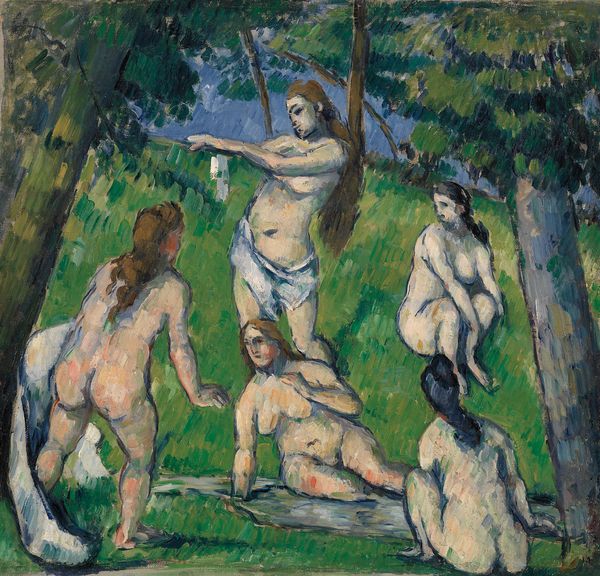 For comparison: Paul Cézanne Five Bathers, 1877–1878. The Barnes Foundation, Philadelphia/Bridgeman Images
Polke's lifelong preoccupation with the raster technique began in 1963 whilst a student at the Kunstakademie Düsseldorf. Polke, alongside fellow classmates Gerhard Richter and Blinky Palermo scoured department stores and other shops in post-war West Germany in search of new materials and media from which to derive their art. These works were presented under the name of "Capital Realism", a nod to both East German Social Realist art movement and Pop Art in America. It was in this fertile creative space that Polke first began to experiment with the raster-dot technique of printing as a way of subverting and bringing into question the apparent validity and purpose of media imagery. Striving for an equality of surface that screened and leveled reality, both Polke and Richter challenged the truth of imagery.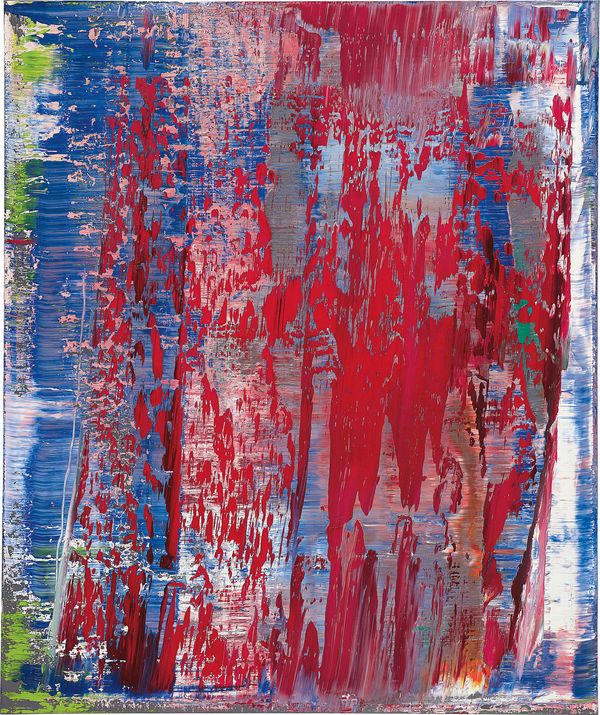 Gerhard Richter Abstraktes Bild (720-2), 1990
But as critic Bernard Marcadé explains, "While Gerhard Richter radically separated his 'figurative' paintings from his 'abstract' paintings, Polke always took great care not to favor one side over the other and to let these two pictorial paradigms interpenetrate and contaminate each other."