Salman Toor, Girl with Driver, 2013.
Estimate: HK$1,200,000 - 2,200,000
Lot 1, 20th Century & Contemporary Art Evening Sale, June 8.
Salman Toor
The New York Times hailed him as one of the "breakout stars of 2020." The Wall Street Journal called him one of the "entertainers and artists who will define 2021." And Time magazine included him on its list of 100 emerging leaders shaping the future. Pakistan-born artist Salman Toor is one of the most exciting figurative painters to emerge over the past few years. His tender brushstrokes of luscious oil paint are celebrated and intimately present the introspective nuances of everyday life.
Painted in 2013 and unveiled at the artist's solo show "The Happy Servant" at the Aicon Gallery in New York, Girl with Driver is an enchanting example of Toor's masterful ability to convey narrative through color and form. The painting brilliantly showcases the artist's unique amalgamation of references that seamlessly blend art-historical traditions with contemporary culture drawn from his experiences in both South Asia and New York.
Amoako Boafo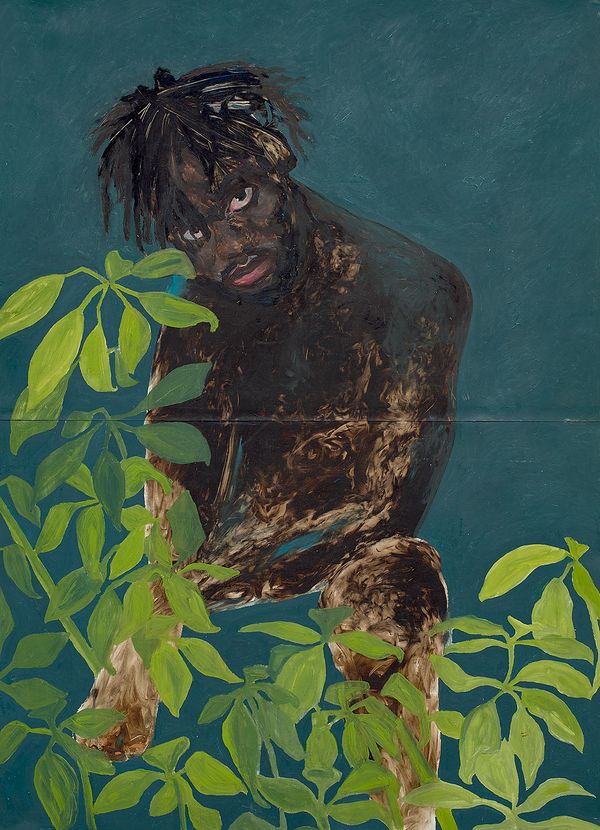 Among the cohort of emerging artists who have brought figurative art back into fanfare, few have enjoyed such a meteoric rise as Ghana-born and Austria-based contemporary painter Amoako Boafo. Recongized by Artsy as one of the "most influential artists of 2020" and included in Time's "100 Next" list, Boafo is known for his large-scale portrayals of Black figures rendered in bold, gestural, finger-applied strokes.
Gaze I was executed in 2018 at a pivotal point in Boafo's career. With dense brushstrokes that drench the backdrop in color, the painting is actually a self-portrait of the artist rendered in energetic whirls of ochre, burnt sienna and hints of deep blue. Although he is relaxed, the figure exudes confidence and poise as his stare meets the viewer's with a casual intimacy.
Sanya Kantarovsky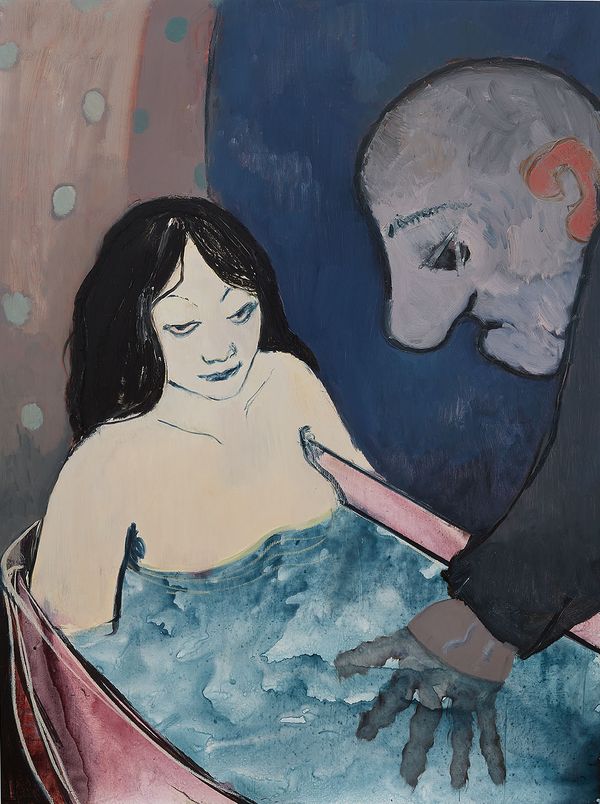 Surreal and complex, the distinctive figurative paintings of Moscow-born, New York-based artist Sanya Kantarovsky have drawn significant attention across the globe. The artist recently held solo shows at Kunsthalle Basel and the Garage Museum of Contemporary Art in Moscow. His works can be found in esteemed collections around the world, including the Hirshhorn Museum in Washington, D.C.; the Tate Modern in London; and the Whitney Museum of American Art in New York.
Kantarovsky has previously alluded to a fascination with the simultaneous and often contradictory truths in life, such as the intertwined nature of cruelty and love, and violence and beauty. This philosophy is manifested in Temperature. The clever and subtle ambiguity at play reflects Kantarovsky's ability to portray human nature, with the overlap of good and bad ubiquitous and at times indistinguishable.
Madelynn Green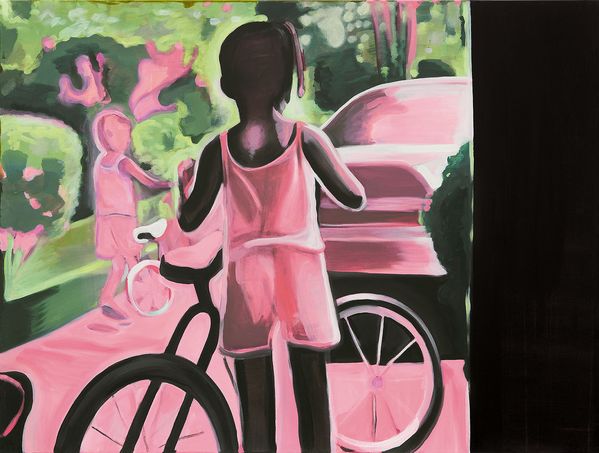 A student of political science before she moved to the UK to study art, Milwaukee-born artist Madelynn Green roots her practice in themes of memory, family and domesticity. Capturing the ambiguity of fading memories, Green's canvases present alternate visions of reality, with faces blurred, obscured and capturing fleeting emotions of tenderness, nostalgia and loss.
Green's works embody underrepresented histories, incorporating family photographs, archival video and photo footage. Biking captures a young girl at the threshold of her door about to take her bicycle out for a ride. Her candyfloss pink outfit melts into a saccharine glow bathing the trees, car and suburban driveway — a moment of sweet, fleeting childhood joy.
Alex Gardner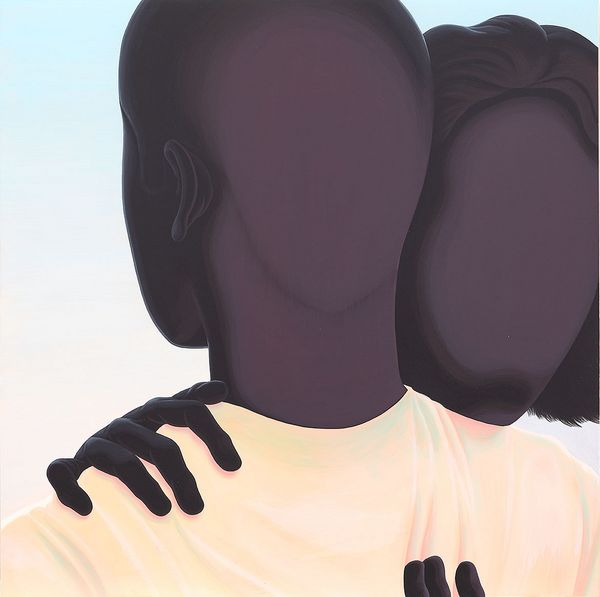 California-based figurative artist Alex Gardner has held solo exhibitions in New York, Los Angeles, Hong Kong and London. The Afro-Japanese artist's surreal paintings portray androgynous, faceless silhouettes. Polished ebony black bodies, devoid of any facial features, reflect no race and yet every race convincingly.
The moving depiction of a gentle embrace in It's Been Years offers a snapshot of an intimate moment. Entangled limbs and smooth featureless faces simultaneously evoke pleasurable feelings of the familiar and the dark twinge of the uncanny, speaking to issues of identity, desire, ethics and anxiety. Against subtle color gradients and thoughtful tonal shifts, Gardner's enigmatic subjects speak to universal human experience and invite viewers into their mysterious world.
Allison Zuckerman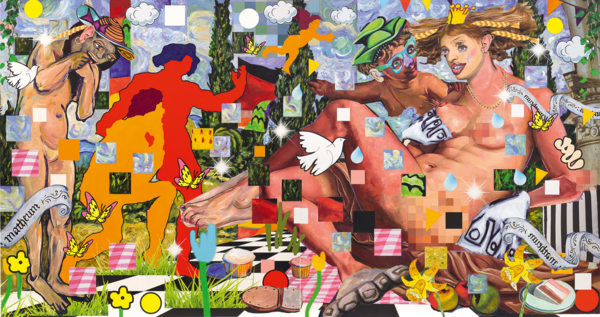 One of the most exciting young artists working today, Allison Zuckerman was discovered on Instagram shortly after getting her MFA at the School of the Art Institute of Chicago in 2015. She was invited to exhibit at Kravets Wehby Gallery and attracted the interest of influential art patrons Don and Mera Rubell, who purchased 22 pieces directly from her.
Her works take historical paintings and internet culture as their point of departure, utilizing both paint and digitally manipulated images to create acerbic, hybrid portraits brimming with cultural and societal critique. Her source material ranges from Old Master portraits to emojis, but Zuckerman's accomplished knowledge of art history and popular culture is deployed with sly ambiguity, alternating between reverence and shrewd criticism.
Eliot Greenwald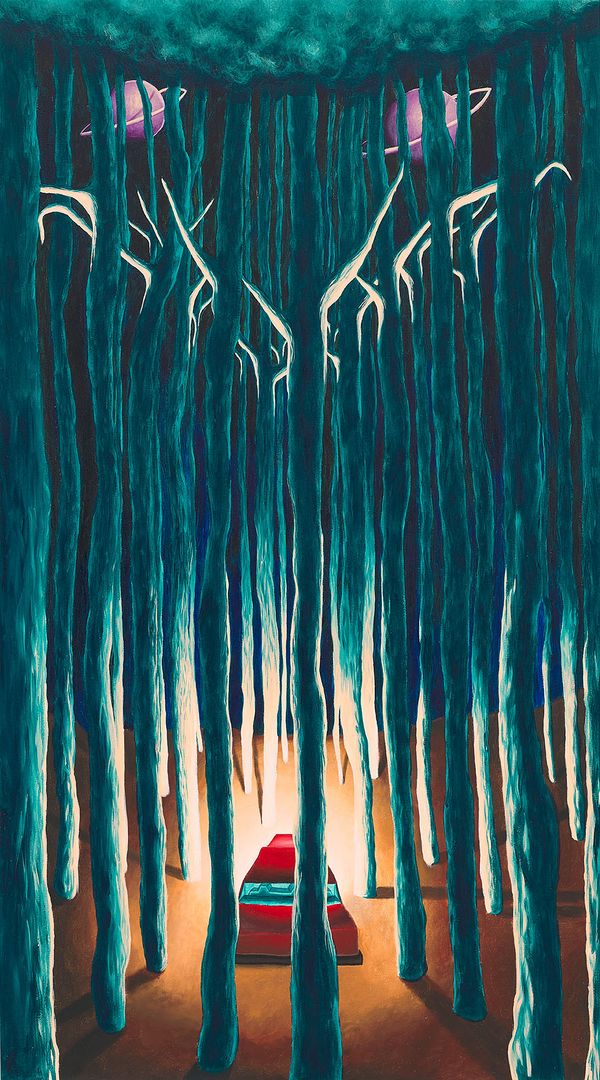 Eliot Greenwald is a self-taught visual artist from Portland, Maine,whose work has been featured in various publications including Artmaze Mag, ARTnews, Hyperallergic and Juxtapoz. Some of his exhibitions include most recently "Night Car" at Hesse Flatow in New York, "PAREIDOLIA" at the Emmanuel Barbault Gallery and "Year Zero" at Cunsthaus/Tempus Projects in Tampa.
Night Car (Tall Tree) is part of his Night Car series, wherein each work depicts a car in the dark of the night, its headlights beaming and illuminating its travels through strange, uncanny sceneries. Vibrant but simply composed, each piece depicts tall, vacant forests, illuminated by the glow of twin planets. Intentionally portrayed from a third-person angle, the disproportionately tall trees and daunting silhouettes lend both an eerie sense of mystery and familiarity as they bring to mind the scenes of a night drive. The exaggerated illogicality of his Night Car scenes reflect Greenwald's fascination with the absurdity and distortions of the human mind.
KYNE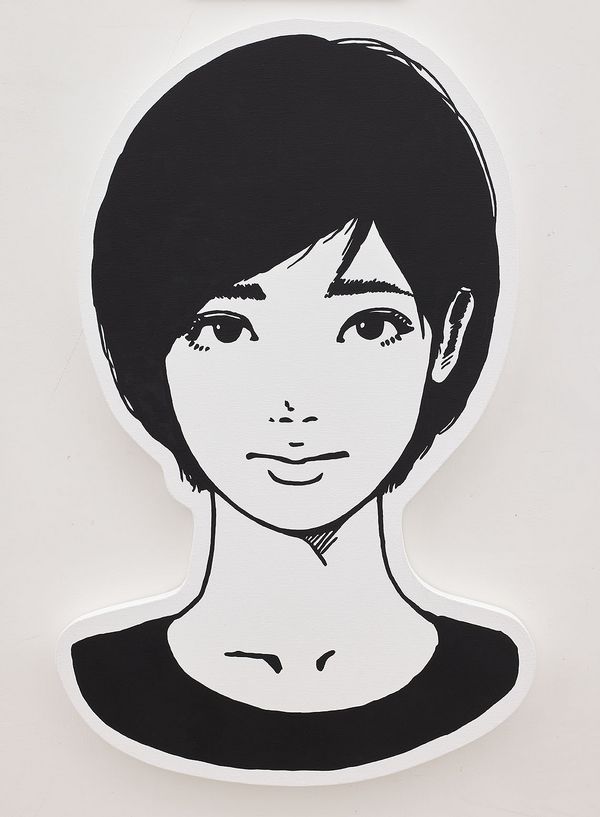 A rising star in the contemporary Asian art scene, Japanese street artist KYNE is known for his anonymous monochrome women with their steady, ice-cool gaze. Combining contemporary Japanese manga and anime culture with the flat, graphic simplicity of traditional Japanese woodblock prints, KYNE is able to provoke feelings of both the uncanny and the familiar.
Untitled is the artist's first work to appear at auction. With a nod to the pre-digital culture of the 1980s, KYNE's pieces embody the craftsmanship and visual beauty of the analog age, balancing its feel and brushwork with the simplicity of his graphics. The artist followed in his mother's footsteps, training in traditional Japanese painting, particularly with mineral pigment on washi paper.
Intrigued by the tunnels and underpasses of Fukuoka, Japan, and the work of graffiti artist ESK, KYNE developed a love of graffiti, which grew into an exploration of sticker culture and a decisive pivot toward a monochromatic two-tone style – a decision that would come to define his work.
Discover More from the 20th Century & Contemporary Art & Design Sale >

Recommended Reading
From Gallery to Auction: 4 Contemporary Masters in the Upcoming Hong Kong Sales >
Behind the Family Portraits of Zhang Xiaogang >