A self-professed "jack of all trades," French artist Hopare began his career by spray-painting murals on the streets of Paris. He has since branched out into canvas, sculpture and other mediums.
In this conversation with Isaure de Viel Castel, head of 20th century and contemporary art in Hong Kong, he talks about his work, inspirations and moving between the streets and the studio.
ISAURE DE VIEL CASTEL: We have two works at Phillips that will go on sale on June 7 in Hong Kong. We have a large canvas, a monumental portrait, of yours in the sale, and we have a sculpture, for the first time in Asia. Your work is mainly figurative. Can you explain the inspiration for your portraits?
HOPARE: In fact, I used to travel a lot before the pandemic. As a result, my portraits were usually inspired by my travels. But since the pandemic, I've had to reinvent myself a bit and look for new inspirations.
Now, I'm trying to tell more stories. The portraits I work on and even the bodies that I make are often linked to music albums that I listen to or stories that I read or listen to.
In fact, the two pieces that are installed at Phillips are both inspired by music. I work almost all the time with music, whether it's on walls or in the studio.
The portrait you have is actually called "Yiruma" in Korean, and it means "to realize a dream" in Korean. It's from an album, actually, of the artist Yiruma, who is a composer of classical music and a young prodigy who I think was born in the '80s in Korea and at the age of 10 went to England and was scouted by top schools in classical music.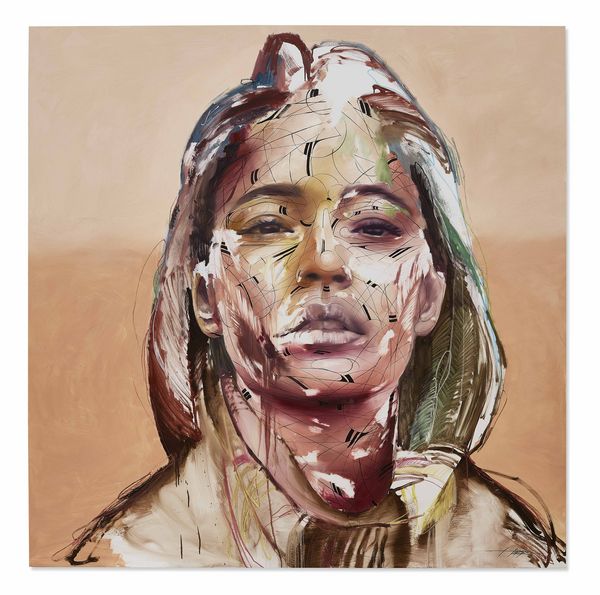 I saw a story about this guy that inspired me enormously, and as a result, I started listening to several of his albums in my studio, and I said to myself that when I reached the end of the albums, the canvas would be finished.
I didn't have the chance to go to art school or study art history, so I kind of learned everything late in life. I sort of made my own culture.
Regarding the title of the sculpture "Catharsis," it's almost similar to "Yiruma" in that it was also after listening to an album. The album is by Melan, who is an artist from the southern suburbs of Paris.
When I listened to his album, there was a piece called "Catharsis," and in his lyrics, he described his feelings and a bit about his mood, which I also found myself in at the time because I was in the middle of a period of doubt about my work.
I had just put aside canvas for a while in order to focus on sculpture. That's why this head is so tortured. We don't know if it's in the process of construction, being torn apart or deconstruction. We really don't know.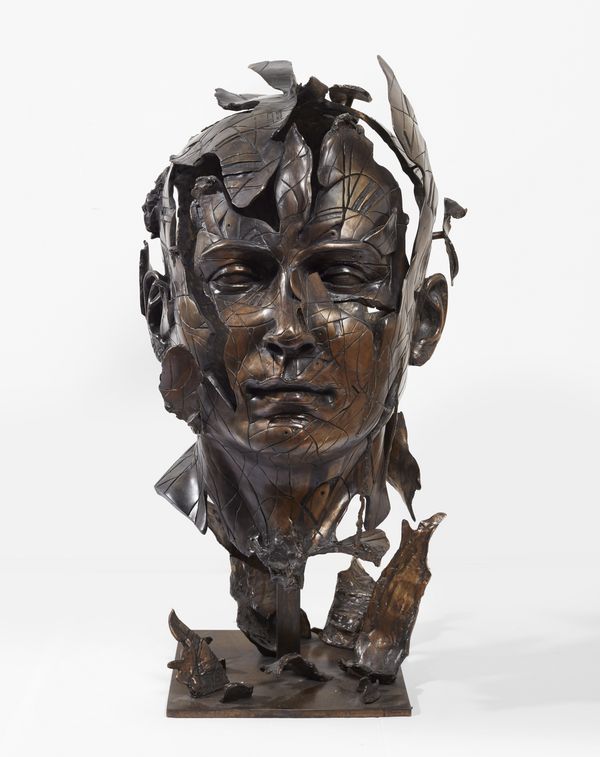 I didn't have the chance to go to art school or study art history, so I kind of learned everything late in life. I sort of made my own culture.
Picasso is, for me, one of the best references that I can have because I really find myself on his side as a jack-of-all-trades artist. He knows how to do everything. It reminds me of a phrase that he said: "I am always doing that which I cannot do, in order that I may learn how to do it."
This is a phrase that has guided me for a long time because I went from aerosol to oil paint, and then from oil paint to sculpture, from sculpture to engraving, pottery and so on. The two parts inspire me. The studio inspires me for my walls, and the walls inspire me for my studio.
Working outdoors allows me to work on a very large scale, to meet a lot of people and allow me, if I don't exhibit, to be able to put my work in front of everyone in the world, out in the open. So I have to keep one foot in the studio and one on the street.