Giancarlo Valle and Rob Wilson, Unique tête-à-tête bench, 2021. Estimate $4,000 - 6,000. Design New York.
We're excited to introduce these amazing pieces by Giancarlo Valle, who took the impactful artwork by Rob Wilson and reimagined them in a way that allows the message of equality to live on. – Marc Jacobs
A unique set of upcycled furniture, a design collaboration between architect/designer Giancarlo Valle, fashion designer Marc Jacobs, and artist/illustrator Rob Wilson, is being offered at Phillips' New York Design auction on 9 June. The project began in June 2020 when New Yorkers joined in nationwide protests against police brutality and racial injustice and, as a sign of solidarity, design curator Dung Ngo commissioned Rob Wilson to paint a mural on the boarded storefront of Marc Jacobs' shop Bookmarc, based on the poignant theme of "Unity Through Books." As New York City begins to reopen, the mural has been transformed—in order to make a contribution toward the advancement of equity for and inclusion of transgender and gender nonconforming people of color.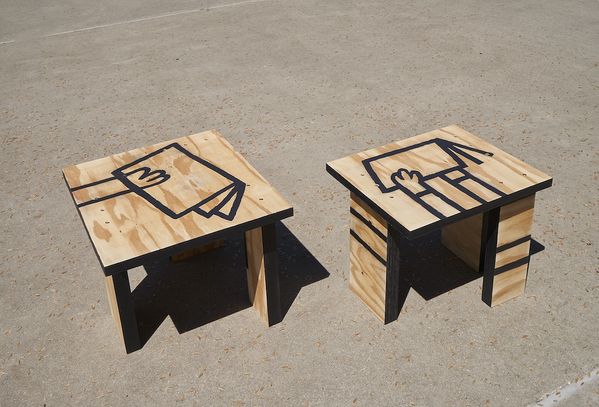 Giancarlo Valle and Rob Wilson, Two Unique Side Tables, 2021. Estimate $4,000 - 6,000. Design New York.
Ngo commissioned the architect/designer Giancarlo Valle to create unique furniture pieces from Rob Wilson's mural plywood board. The furniture—two benches and a pair of end tables—will be auctioned, with 100% of the proceeds benefitting RiseOut: the statewide LGBTQ advocacy initiative of New York City's Lesbian, Gay, Bisexual & Transgender Community Center.
In conjunction with the project, we asked our collaborators to select their favorite works from the design sale—the pieces they find inspiring, exciting, and joyful.

Rob Wilson, Illustrator & Designer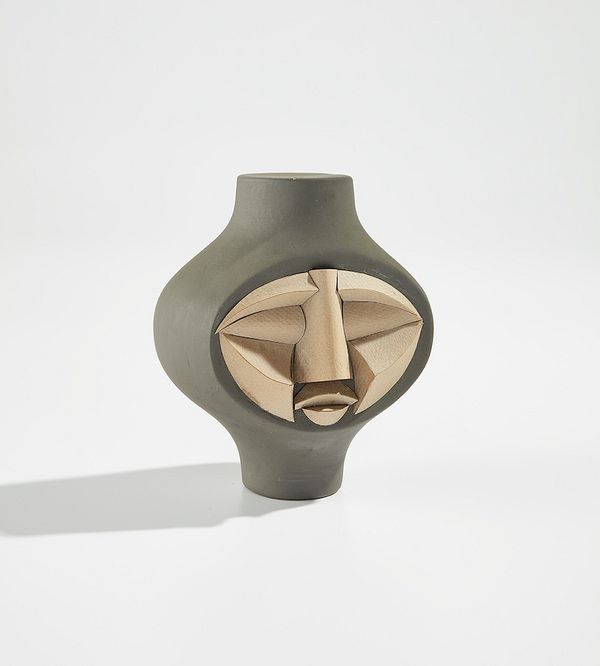 Irving Harper, Untitled, 1963-2000. Estimate $4,000 - 6,000. Design New York.
Irving Harper's delightful paper sculptures, incorporated into the ceramic clock frames he designed for Howard Miller Clock Company, continue to charm. By cutting, folding, and gluing paper onto the backs of the timepieces, he created eye, nose and mouth shapes that gave new meaning to "clock faces." The mini mid-century creations were products of Harper's fantastical imagination that he made in his spare time. But the playfulness of these works belies their inspiration of masks, historical references, art, and architecture. Their exquisite craftsmanship also attests to his deep understanding of artisanal techniques and materials. Altogether, these sculptures exude pure visual joy and wit, made more appealing by the intelligence of their creator.
Dung Ngo, Independent Publisher & Design Curator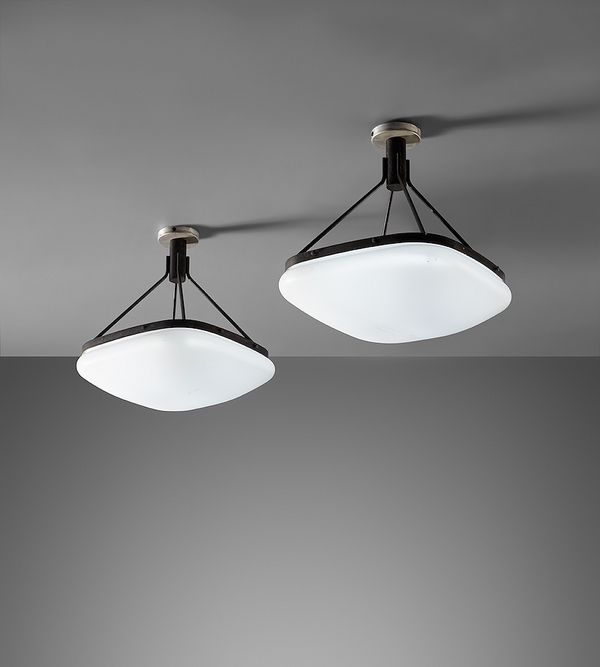 Studio B.B.P.R., Pair of ceiling lights, circa 1960. Estimate $25,000 - 35,000. Design New York.
Too often collectible designs are ascribed to singular authors, when in fact most designs are a collaborative process—not just between designers and manufacturers, but among designers themselves. Case in point is the pair of ceiling lights by the Italian design group Studio B.B.P.R for the Ottica Randazzo in Palermo.
B.B.P.R. was a group of four architects who formed their design office in 1932 and is most famous for the Torre Velasca which dominated the skyline of Milan for decades. They are also Instagram-famous for their now-demolished Olivetti showroom on Fifth Avenue in New York, a collaboration with the Sardinian artist Costantino Nivola, who contributed the sandcast wall sculpture that spanned the showroom.
Like the New York Olivetti showroom, the Ottica Randazzo was a collaboration with other designers and artists, including Roberto Sambonet and Bruno Munari, who designed the display cases. The pair of lights is one of many elements of the showroom that B.B.P.R. designed — from the storefront to the architecture of the ultra-modern eyeglass shop interiors. This range reflects the postwar Italian philosophy that designers should take on all scales of the built environment, "From the spoon to the city," as Ernesto Rogers, one of the four B.B.P.R. founders, famously said. Although the Ottica Randazzo showroom no longer exists as envisioned by B.B.P.R., these lamps contain the DNA of the very best of collaborative design.
Giancarlo Valle, Designer & Architect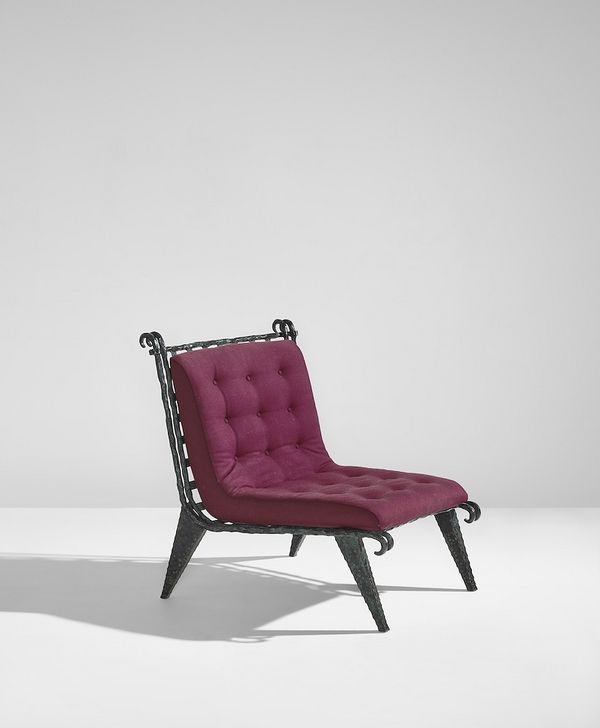 Elizabeth Garouste and Mattia Bonetti, Rare Chair, circa 1985. Estimate $8,000 - 12,000. Design New York.
Elizabeth Garouste and Mattia Bonetti are an infinite well of inspiration for my work and practice. Their inventiveness and whimsy manage to take the seriousness out of design while remaining incredibly rigorous about its execution and history. What I find fascinating is how difficult it is to pin their work to a particular moment in time; their collaboration always seems to move effortlessly between styles and periods, always bringing their surroundings into conversation. I hate to use the word timeless, but I think their work speaks many different languages and, for me, has great staying power.
Discover More from Design New York >

Recommended Reading

The Legendary Origins of a 'Grecque' Table Lamp >