- By Isabella Proia
Since entering the watch industry, I have seen collectors shy away from the bedazzled, embellished, - but at the same time I have seen the most fantastic jeweled pieces in the very best of collections. There can be a stigma around enjoying and wearing a gem-set watch – but why should there be?
Walking through the Geneva Watch Auction XIII preview in New York, I noticed the superior quality and quantity of "bling" watches represented in the timepieces coming up in May. We always have a few examples of the best of bling and have previously made the case for these watches, but the Geneva team this year pulled out all the stops.
While I love beautiful things, I bristle at the idea of wearing anything people think that I "should" be wearing. But as I spend more time in this community, I've learned more and more that you need to, above all, be true to yourself. The watches you wear and love should be reflective of yourself and absolutely no one else. If you've ever seen a gem-set watch and thought to yourself: "I'd love to wear this, but I don't think I can pull it off," I challenge you to rethink that approach, and I'd like to present a few pieces from GWAXIII that may tempt you to finally admit that you're a bling person – even if it's just to yourself.
Lot 109 - Rolex Day-Date Reference 18236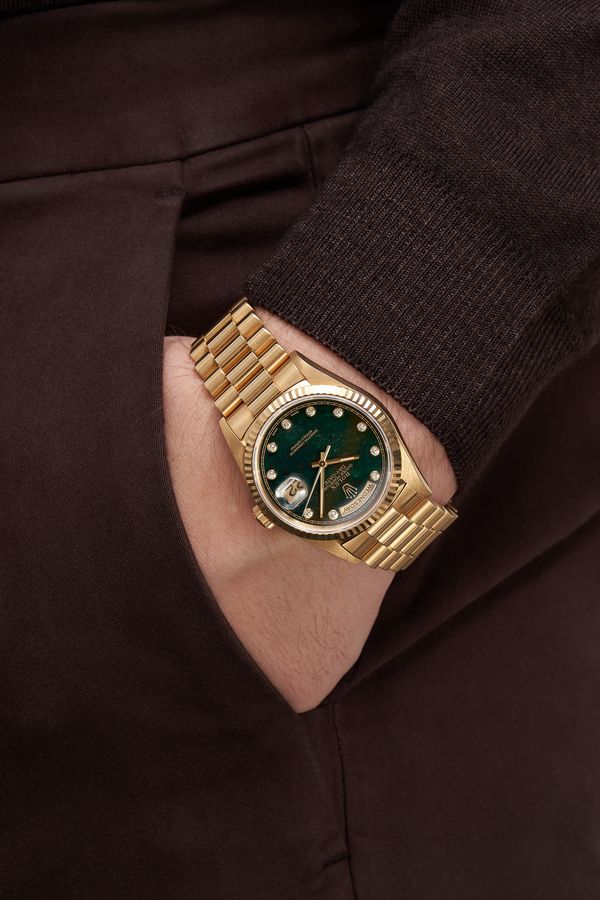 I often think of Rolex as a horological gateway drug, and in the case of bling, this is no different. Rolex, a brand known for its professional, utilitarian timepieces, actually leads the way when it comes to gem-setting. I've said it before and I'll say it again – no one does bling like Rolex. The crown excels in selecting perfectly matching stones, coming up with different degrees of bedazzlement to suit a future owner's tastes, and fitting them in a seamless way. Rolex uses only natural gemstones (as opposed to artificial stones grown in a lab) for their diamonds, sapphires, emeralds, and rubies – and the cut of these stones is weighed as heavily as the color and clarity, so that they fit together seamlessly in the decoration of the dial, bezel, case, or bracelet. It's a level of craftsmanship so elevated and meticulous that it is rarely rivaled in the horological arena.
An entire article – or a very vibrant coffee table book – could be dedicated to Rolex's choice and use of precious stones. But when Rolex pairs these superb gems with thin slices of semi-precious stones, collectors and specialists alike take notice. Such is the case with lot 109, a Rolex Day-Date (one of the most versatile models in Rolex's lineup) in 18K yellow gold paired with a bloodstone dial and diamond-set indexes. At some point in the 1990s, Rolex began using relatively large bezel-settings for their diamond hour markers, instead of simpler prong settings set onto the dial. In this example, the round brilliants are set in 18K yellow gold surrounds, harmonizing perfectly with the red hematite inclusions of the dial. They remind me both of the white gold surrounds used to encircle the luminous material of professional models and also the "Pyramide" carved stone dials.
Patek Philippe Ref 3970 with black diamond set dial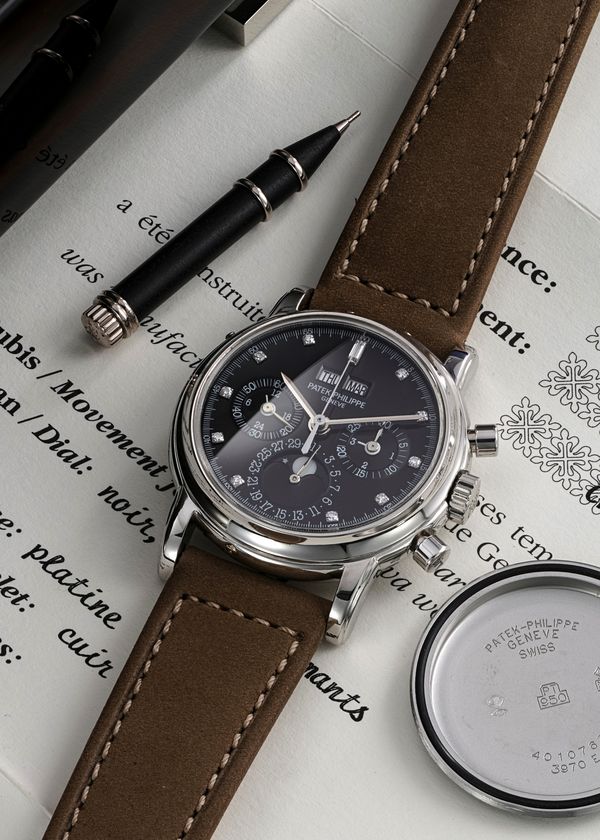 Continuing with the trend of minimal bling, this example of Patek Philippe's reference 3970E replaces the typical baton numerals with tiny round brilliant hour markers that glisten against an inky black dial. For the record, anyone who wears a modern platinum Patek Philippe wears a diamond-studded watch - all platinum cases are now fitted with a minimum of one diamond set between the lugs at six o'clock, so it's very discreet. Thirty-nine seventies are in general undervalued in my opinion, but this combination of a black diamond dial and platinum case to me just seems like the epitome of casual elegance. This watch is genderless and timeless, worn with a tuxedo or a simple cotton sweater and jeans. The coldness of the platinum gives the watch a modern edge, and a strap change would only serve to highlight its versatility (I am thinking a golden-hued calfskin strap for the day, and a textured Saffiano navy for the evening). The single baguette diamond at 12 o'clock adds a balance to the dial that I don't think would be achieved if there was a round brilliant was used instead – a subtle distinction indicating Patek knows its business (as if there was any doubt).
Lot 235 - Patek Philippe Nautilus Ref 3800/5 in yellow gold with diamond set bezel and bracelet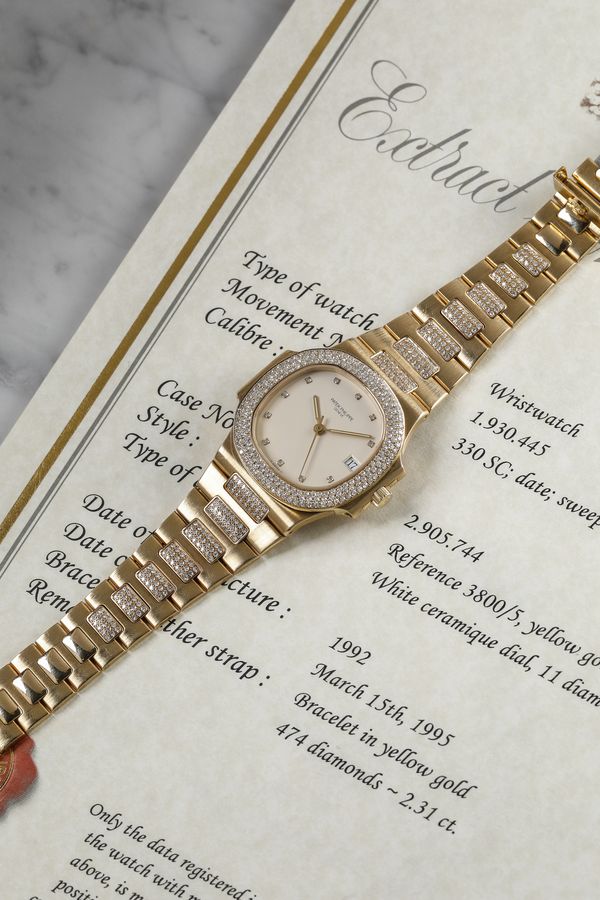 Here, we increase the degree of bling by adding diamonds to the bracelet and bezel, as well as the dial. As noted in the catalogue, Patek Philippe took creative liberties with the 3800 that they dared not to in the larger 3700, perhaps in an attempt to find a wider audience for this mid-sized reference – throwing the diamond spaghetti at the wall to see what sticks. From this imaginativeness the present 3800 was born – delicate pavé center links, a bezel with characteristic three rows of diamonds, and tiny diamond hour markers, all set against a cream dial otherwise unadorned. Three years between production and sale of this reference is indicative of the likely cost of such a watch at the time but also that this watch needed time to find its way into the right hands.
Lot 154 - Audemars Piguet Royal Oak Ref 14840BC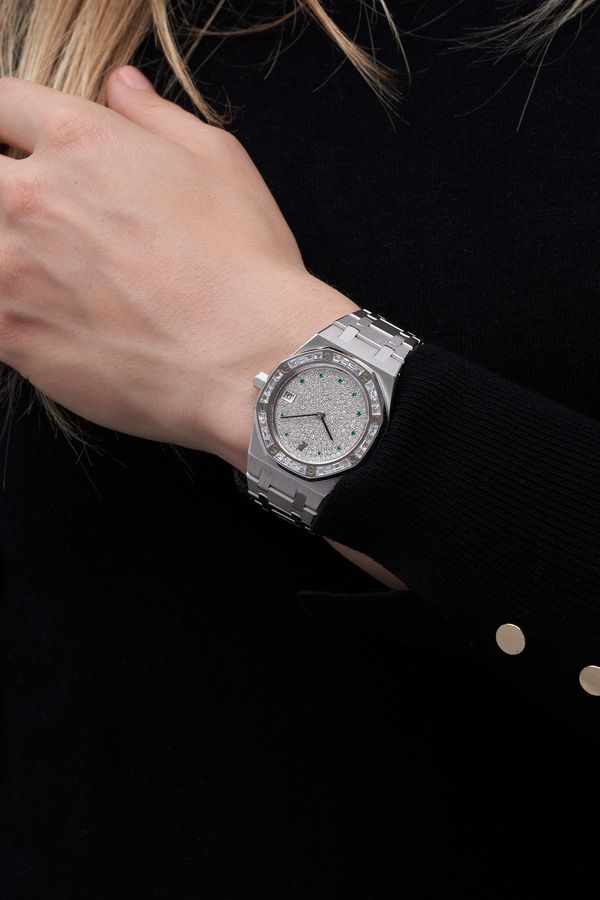 Audemars Piguet remains similarly dedicated to the mastery of exquisitely-set watches, especially their flagship luxury sports model, the Royal Oak. The present Royal Oak collection offers quite a few degrees of bling, but there really is nothing quite like the charm of a vintage Royal Oak set with precious stones.

I admit I am rather biased, so I would be remiss if I did not disclose that emeralds are my favorite gem to find on a watch, and the discrete emeralds on this Royal Oak from 2003 strike me as just a little wink – a flash of extra individualism in an already personable watch. Lavish, luxurious, resplendent – the watch invokes the adjectives of a watch cataloguer's dreams. Adding to the exquisite wrist presence – it measures 36mm in diameter and is wrought in the solid warmth of 18K white gold – the dazzling pavé diamond and emerald-set dial belies an automatic movement beating within.
One thing the reader is bound to notice with all these watches – they are variants of the most desirable models their respective brands produce and have produced for decades – Patek's perpetual calendar chronograph, the Royal Oak, the Nautilus, the Day-Date. These are absolutely iconic watches re-imagined in a fantastic manner for the most discerning clientele – but they do so without sacrificing the horological innovations and design trends that make them iconic in the first place. And that is where the quality of bling comes into the equation. You can encrust anything in diamonds (really, anything) but that doesn't make it desirable or ethereally beautiful. The stones have to be expertly set, they have to be of sufficient quality in cut and clarity, the stones themselves must be balanced in the choice of their size and shape, and their use intelligently applied thought out.

Now, these pieces may not be for you. I chose them because I personally love them and could see myself wearing each one. My heartfelt recommendation is that if you feel you can and you want to indulge in bling, then by all means, you should go right ahead.