Leong Leong, Unique 'Light Rocker,' 2018. Estimate $4,000 - 6,000.
On offer in our upcoming Design Online sale will be a group of exceptional works to benefit the Rhode Island School of Design (RISD)—one hundred percent of the proceeds of these works will benefit the Office of Intercultural Student Engagement within the Center for Social Equity + Inclusion. In conjunction with the partnership, we sat down with (aka Zoomed with) Tony Johnson, Associate Dean, Student Social Equity & Inclusion at RISD, to discuss the importance the program and how makers are uniquely positioned to shape our world.

PHILLIPS: I noticed that you studied at RISD, and you've been working at RISD for a number of years. Could you tell me about your trajectory?
TONY JOHNSON: So, I am a product of RISD. I originally came from Philadelphia to RISD in 1989, and I graduated in 1993. Identity has always played a large role for me, and during my time at RISD, I found that a lot of my work and a lot of my passion were around creating greater spaces of affirmation for minoritized or minority students, if you will. And doing that work as a student shaped the ways that I became excited about doing that for artists and designers more broadly, but I hadn't quite formulated that concept yet.
I graduated from RISD, and I went into the corporate sector for about five years. I returned to RISD in about 1998 to specifically be the first recruiter for underrepresented populations. And so, I went all around the country and a little bit around the Caribbean, beginning to create relationships with organizations and schools that previously we might not have recruited so heavily from, to develop those relationships. I did that for five years and was asked to come in-house to become the director of the Intercultural Student Engagement Office, which I then did for about another seven to eight years. I then moved into the Dean of Student Affairs role because I felt that my greatest work could be in thinking about systems. And the particular processes within the organization that, if adjusted in terms of where we were spending resources and the types of policies we had, would help embrace a diverse community. And so, I did that for about three to five years, and then I most recently moved into my role working directly within the Center for Social Equity and Inclusion. So, now I work with the Director of the Office of Intercultural Student Engagement – the office very much involved with this initiative with your organization.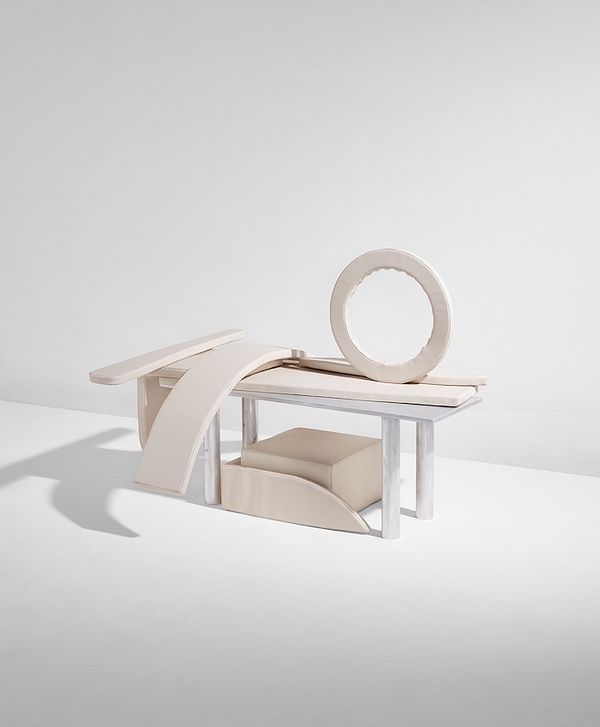 Andy and Dave, Unique 'Where is this?' Bench, 2018. Estimate $1,800 - 2,400.
P: You must have had an instrumental role in shaping the whole program from its origins?
TJ: To some degree—I mean we're really fortunate at RISD because this concept or this office of Intercultural Student Engagement, while having a variety of names, has been around since the late 60s. So, there is a rich heritage of having a resource on campus that is intended to respond to the needs of people who have a parallel journey through organizations. I'm proud to say that when I joined in the early 2000s, I was able to refresh and provide an upgrade in particular areas of interest. That was the beginning of our work having a commitment to our LGBT community. At that point we began to think more about religious diversity. But always, again, with the notion toward race and ethnicity, we began to expand our notions and definitions of diversity and inclusion. We had a very large international population, so we also wanted to support those populations as they came to the States, to make sure that they felt that this was a place where they were being heard and supported in their overall success. And so that was, I feel, my contribution in terms of building a few more structures in terms of how we connect it to the academic side of the house as well and not just thinking about ourselves as co-curricular, but to integrate our work with what the faculty were doing as well.
The general concept is one where we are in the business of supporting emerging artists and designers. Artists, designers are people who shape culture. So, an artist or designer must be aware of her surroundings, where her own identities are, any areas of privilege or any areas of bias. Understanding those things makes you a stronger thinker, it makes you a stronger designer, where you are potentially able to do less harm or even no harm, as you're designing children's storybooks, for example. We must think about as cultural makers, what is our responsibility to those we make for and the kinds of systems that we put in place? I'm super, super glad to have been involved in this work for over 20 years.
What is our responsibility to those we make for, and the kinds of systems that we put in place?
P: Could you tell me a little bit more about how the program actually functions and how you go about creating that space?
TJ: It's an office that is steeped in supporting two areas of where we want our students to grow. First, the individual introspection, that we like for all of our community members to do, where they think about their identities. We have programming around all of these core tenets that we have, but in ways that help students to think about and interrogate their own identities. Right? How they as people weave in and out of privilege, or how they weave in and out of experiencing oppression, on a daily basis. And to interrogate those and to think about those realities through the lens of social justice or social consciousness. And then to develop skills and strategies around how I engage that as a minoritized person, how do I engage with skills and techniques to help my success? As a person of privilege, how do I engage with skills and techniques to leverage my privilege to make room and space for others?
So whatever position a student is in, we're hoping to provide them with a set of skills. To provide reflective opportunities to build community, to build a strong inclusive community. So, one aspect of our work is helping our students understand who they are as people. And then secondly, as makers. We support those communities that historically have been underrepresented to support those communities that, once again, have a parallel journey through an organization. We do that through programming at the beginning and, actually, before students come. We'll have opportunities to connect them and we are, currently, having some conversations about a new summer program that scaffolds students into the college in ways that give them more time to understand what the college experience will be for them: as an African American male on a predominantly white college or as a Muslim woman coming to a predominantly a religious campus. We want to start from the beginning of their experience. Then we have programs that support, for example, our first generation to college population. We have a tailored orientation for them, that's about a week long. Then we work with them over the course of their entire four-year experience. That's something that we've just expanded, which we are excited about. It was a one-year program that we've expanded to four years.
We also employ students in positions that we call cultural programmers. So not only do we want to do this work throughout campus, but we also want to mentor students in how they can do this work. In part because this work is life's work. How do you build community? How do you do programs that invite people to consider difference, and their own relationship to it? It's by students, for students programming that we feel resonates with the community. We do one-on-one advising with students, should they have an issue that they want to talk through and think through. We do what we call cultural advising. So, students already receive academic advising. But we want to talk more about how do I navigate spaces, and working with students on how they do that. We partner with all areas of the college from admissions to faculty to human resources.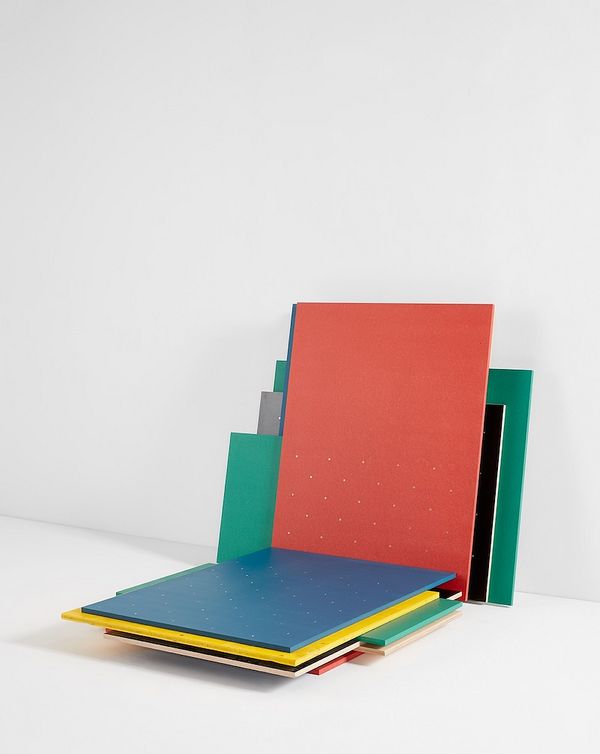 Architecten de vylder vinck taillieu, Kamer Frank (daybed 1), 2017. Estimate $3,000 - 4,000.
P: What is amazing about this is that it prepares students for post-graduation too.
TJ: Particularly when we think about a program like Project Thrive, which is our first generation to college program, it's built on a cultural wealth model. Often when students come to a campus that is well resourced, and they may not come from a well-resourced background themselves, or they may come from a background where their parents or guardians did not go to college and are not able to support them through the college process, many of those populations can arrive to college thinking about themselves through the lens of deficits – the things they don't have. So, the work that we aim to do is to help them understand that they do have cultural wealth. To help them understand that they do have capacities and skill sets, but that they just need to think about them slightly differently. So, we aim to help them think about resiliency differently, and how that is a tool that they can exercise. Again, it is very much about their life as a person in the world, but through the lens of being a maker. We try to help students develop these skills for life, and try to help them understand that once they leave RISD, these are values we want them to have even though the supports that they had on a college campus may no longer be present. And so how will they engage that if they are the only queer woman of color in their place of employment? We want to help them develop those skills and approaches on how to navigate that while they are in a four-year institution so they are prepared.
We need to think about resiliency differently, and how that is a tool that you can exercise.
P: Do you feel like the challenges that students encounter on-campus or after RISD change over time, or are they the same barriers, but in new forms?
TJ: I think it's a little bit of both. I think there are common themes that colleges can anticipate and this is in part why we created some of the pipeline programs that we have. For example, RISD has a program called Project Open Door that works with local high school youth. RISD brings students from various high school art programs to receive additional art experiences. The institution feels a sense of responsibility, right, that we have a school like RISD in the middle of Providence, and that we have so many schools with art programs that are under-resourced. So, the question arises, what does it mean to have an incredible Art and Design School in the middle of a city where some of its own citizens, its own students, are unable to apply or successfully obtain admission? The institution felt that it had a responsibility to do some access work around that. So, RISD created a pipeline program because we know we can anticipate the kinds of issues and challenges that lower resourced students might have, that lower wealth students might have, or first-generation students might have, or people of color might have on a predominately white campus.
Other things we can anticipate that will show up on a campus are based on the complexities of one's background. I think that there are new emerging realities that all colleges are facing. I think the cost of higher education for just about all families is new for our campus. Coming to an art school, itself, is somewhat of a privilege. The cost of doing art carries a certain privilege. So, we're finding much more disparity between students who are enrolled in the school, who may or may not have the resources to develop or realize their creative concepts. Here's where economics makes a difference. I may have a fantastic creative idea, and I have the resources to execute that idea with regards to the kinds of materials that I'm interested in. I may be able to experiment and play with my materials. Another student might have the same creative idea but have to jeopardize their concept because of their economic situation. So, their lack of resources may negatively impact their making. It can impact their choices in what and how they design. And then that all translates into a letter grade. The institution at large is starting to wrestle with this reality which I think is a newer commitment for us to be thinking about on campus.
I think students are also coming to campus committed to social justice in a way that I don't think was experienced 10 to 15 years ago. I think students come with another level of savvy and an expectation that the college is at a particular point of access, of skill building, of competency. We're finding students calling the college out to more aggressively realize its rhetoric around, inclusion, diversity, and equity.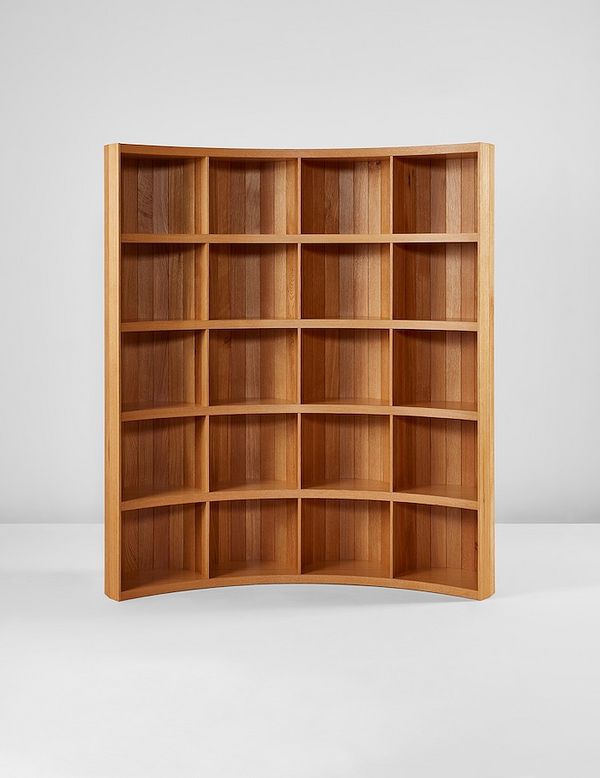 Ania Jaworska, Freestanding Bookshelf, 2017. Estimate: $10,000 - 15,000.
P: What will this gift mean for the program?
TJ: Our commitment is to supporting artists and designers to responsibly make for the world. We are committed to engaging our community - our student community, across difference, across sameness, across what it means to design across difference, whether it be architecture or products to industrial design or furniture or film. We aim to develop a level of sophistication around how to design for the global other. And this gift will absolutely allow us to implement strategies and increase programming that we've been looking forward to doing. It will help us to engage across difference in every sector possible. For example, we are beginning to engage cognitive difference and are working with campus partners who specialize in that work. In earnest, our hope is to very broadly represent all of the identities present at RISD in ways that we've not quite been able to do before from a resource standpoint.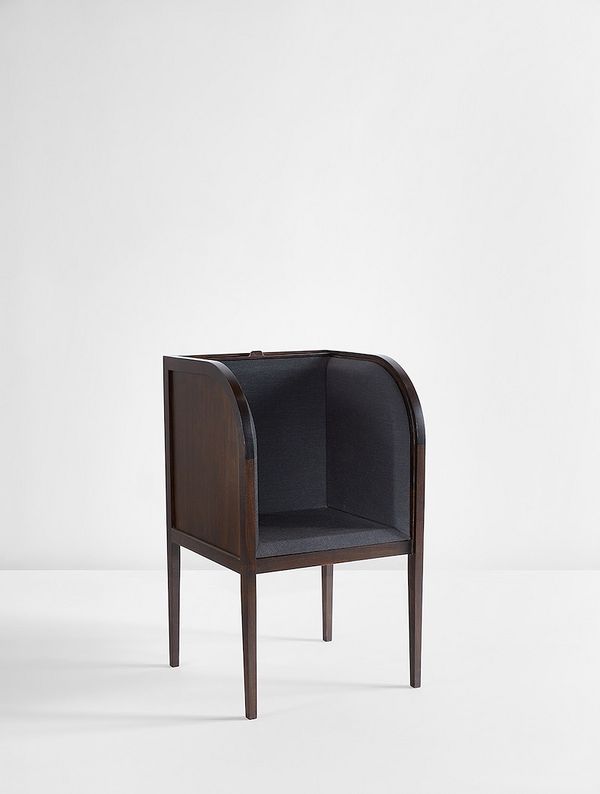 Norman Kelley, 'Young Americans' Roll-top Armchair, 2018. Estimate $6,000 - 8,000.
P: What you have been saying is so true—that artists and designers create spaces. They are more essential than one could possibly imagine.
TJ: One of our alums graduated, maybe four or five, about five years ago, but she was a first-generation college student she came through our Project Thrive model. The work that she was doing on campus was, was pretty wonderful anyway. But she went on to create a series of dolls by the name of Healthy Roots. Her name is Yelitsa Jean-Charles. She's creating dolls for girls of color that help them understand their own natural hair to eliminate or provide a counter narrative to the standards of beauty that currently exist right for Black and brown women. So, here's a prime example of a student saying I want to interrupt the cultural pattern of how non-white girls, see themselves and to create something that is used by little girls to empower them.
We see so many of our artists translate their disciplines into something different when they graduate. You can use Airbnb as another example—a furniture maker and an industrial designer, see a need because that's what you're taught. To see is to look between the dots and to create a system that interrupts the normal pattern. So, we're just so happy to be in partnership with you all.
Discover More from Design Online >

Recommended Reading
Gino Sarfatti's "Rational Lighting" >
Is Modernism the Pinnacle of Progress? >