An Important Sapphire, Diamond and Platinum Ring. Estimate $1,000,000 - 1,500,000. Jewels New York.
In a remote yet beautiful and severe location, high in the Zanskar Range of the Himalayas, "the region beyond the snows," is the exclusive terrain that is home to the famous and historic sapphire mines of Kashmir.
In 1881, a tremble of nature caused a landslide to reveal a pocket of gemmy blue corundum crystals. Today, we recognize these Kashmir sapphires for their superiority, their richly saturated blue color and velvety texture, which gives them their deserved legendary status. Avalanches and quakes are common in this geologically active and austere region. The local inhabitants were aware of several different corundum deposits, even fashioning the lower grade of opaque corundum crystals into crude tools. But it was not until 1882, when one of the spectacular corundum crystals, having traveled along an old trading route, was discovered by accident and identified for its exceptional quality. The blue of the finest Kashmir sapphires is referred to in India as the "peacock's neck."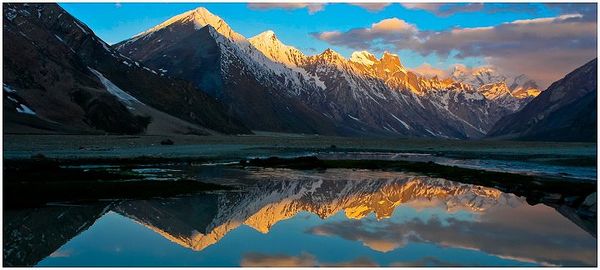 Zanskar Mountain Range. Photography by Narender9, 2013.
The spell was cast; nearly 150 years later we are still memorized and enthralled. The word spread quickly, and mining began immediately, despite both the extremely short three-month season and the dangerously remote location. By 1883, the Maharaja of Kashmir claimed ownership of the "Old Mine," which was worked extensively until 1887. These "glory days" yielded a trove of the finest large stones, some measuring 3 x 5 inches. As production dwindled, under the direction of geologist Tom D. LaTouche, a second location on the valley floor yielded additional sapphires, but nothing like the original find. From 1889 to 1905, mining was halted, but in 1906, the land was privately leased to Kashmir Mining Company, and some of the earlier deposits were reworked, producing only a few good stones. In 1907, preliminary diggings began in a new nearby location, later referred to the "New Mines," but in 1908, the harsh climate and difficult location forced the company to abandon the project. Since then, the land has been under various ownership and direction, and very little has been extracted with the exclusion of the "New Mines" production in 1927.
Today, the rarity and scarcity of Kashmir sapphires is undeniable. They are amongst the mostly highly coveted gems because of their unique and seductive characteristics. This sapphire, having been in the family since before the turn of the 20th century, captures the majesty and beauty from where it was mined and a will always occupy a rightfully special place geological history. A landslide on the other side of the world reveals Mother Nature's grandeur and capriciousness; today we are her beneficiaries.
Discover More from Jewels New York >

Recommended Reading
The Personal Jewelry Collection of Florence Knoll Bassett >