Lot 576: A Fine Jadeite Bangle. Estimate: HK$780,000 - 880,000
Fashion may come and go, but there are some things that will always be here to stay. They are the styles that have survived the eras, transition from day to night, complement any outfit, and are appropriate for any occasion. We round up the classics from our Jewels & Jadeite Hong Kong Auction to wear and love today and forever.
Charms & Amulets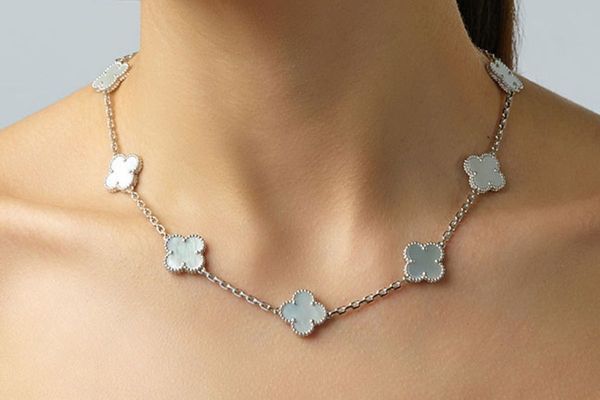 Lot 602: Van Cleef & Arpels A Gold and Mother-of-Pearl 'Alhambra' Necklace. Estimate: HK$48,000 - 65,000
The House of Van Cleef & Arpels is arguably best known for the Alhambra collection – a four leaf clover design that is as emblematic today as it was when it was first introduced in 1968. A beacon of good fortune, luck and hope, the quatrefoil has and continues to be a distinguished style icon for women worldwide.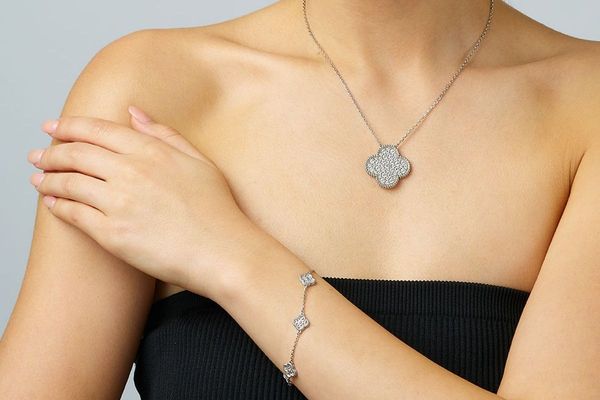 Lot 577: Van Cleef & Arpels A Gold & Diamond Alhambra Bracelet & Pendant Necklace. Estimate: HK$100,000 – 200,000
What Was is New Again
A truly timeless jewel, the jade bangle, has been a symbol of elegance and prosperity for over seven centuries in China and across Asia. Believed to possess life, jade has mythically been an amulet which protects and heals the body and spirit of the wearer. Jade bangles have recently enjoyed a nod-to-the-past revival, to become a popular item of jewelry once again for younger generations.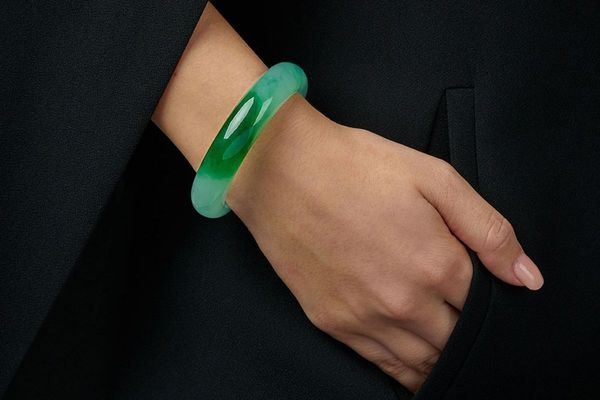 Lot 576: A Fine Jadeite Bangle. Estimate: HK$780,000 – 880,000
Trends have proven to be cyclical, and cultured pearls have made a comeback. From their traditional image they are stepping out of the old-fashioned arena, back into the iconic realm once again. Instead of a single row, multiple strings of nuaunced colors are the way to wear your cultured pearls today, pearhaps a modernized alternative to add to your jewelry look.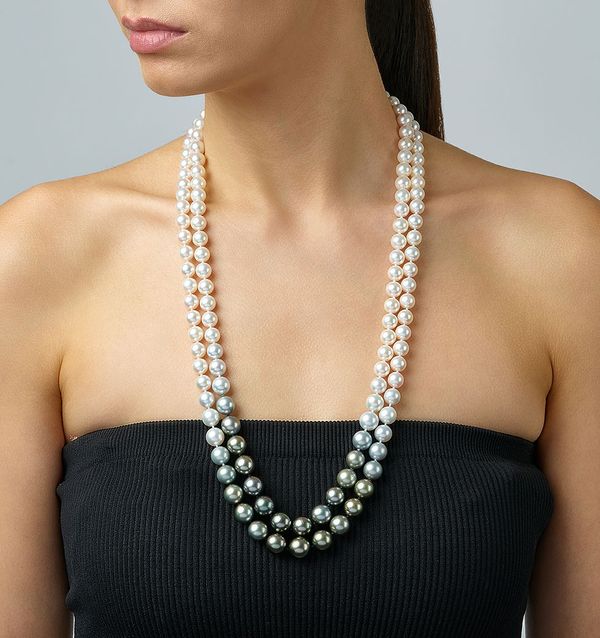 Lot 509: A Cultured Pearl and Diamond Necklace. Estimate: HK$95,000 – 120,000 (No Reserve)
Untamed and Unashamed Feline Fashion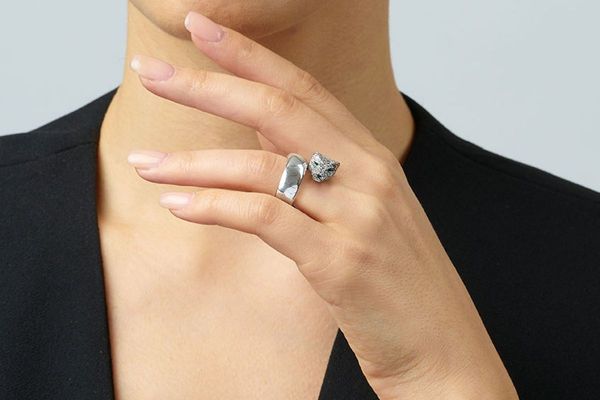 Lot 516: Cartier A Diamond, Emerald and Onyx Panthère Ring. Estimate: HK$65,000 – 95,000
Appearing in Cartier's collections for the first time in 1914, the Panthère has since represented playfulness, strength and seduction. The majestic feline motif has been reinvented time and time again. While the double panther head first leapt into the Cartier catalog in 1935, this version continues to be an iconic design of the House.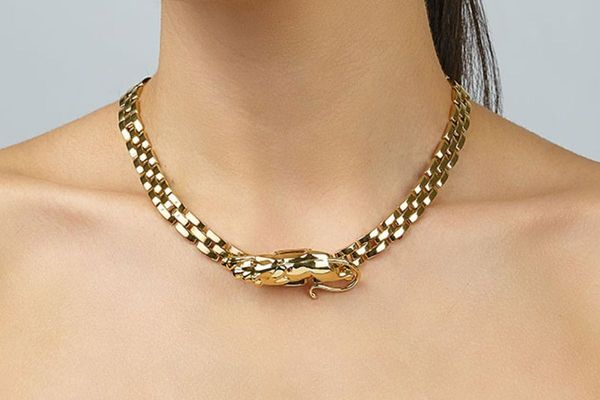 Lot 595: Cartier A Gold, Emerald and Onyx 'Panthère' Necklace. Estimate: HK$80,000 - 120,000
(No Reserve)
A Game of Solitaire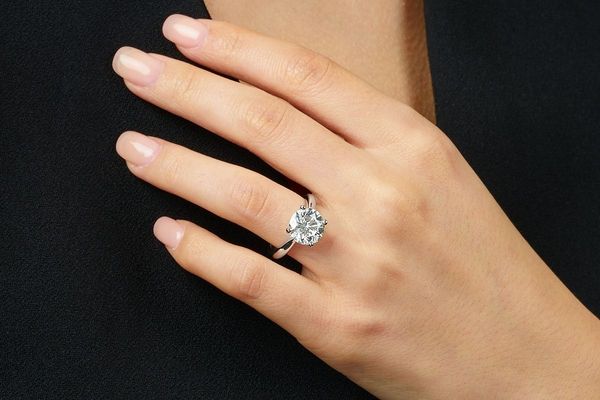 Lot 610: Cartier A 2.54 Carat F/VVSI Diamond Ring. Estimate: HK$180,000 – 280,000
Traditionalists will agree that less is more and nothing represents minimalism quite like the solitaire. One single diamond owns the spotlight and the stone does all the talking. The clean lines and simple silhouette of a solitaire accentuate the diamond's fire and brilliance. Ever since De Beers coined the slogan "a diamond is forever" in their solitaire ring advertisement back in 1948, the relevance and prestige of the solitaire diamond has remained entact until today.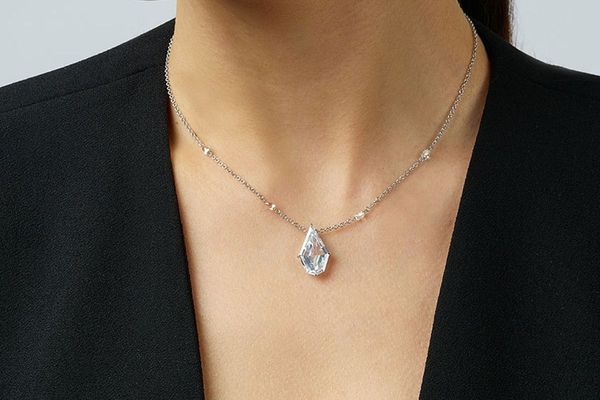 Lot 556: A 4.06 Carat D/IF Diamond Pendant Necklace. Estimate: HK$700,000 – 900,000
Down to Earth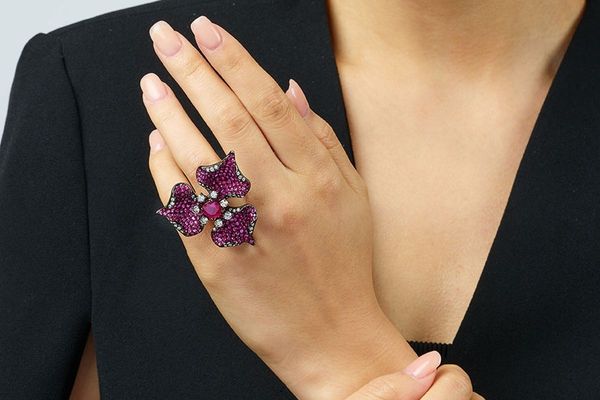 Lot 647: Alexander Laut A Ruby and Diamond 'Flower' Ring. Estimate: HK$60,000 – 80,000
For centuries, jewelers have dedicated their designs to mother nature and all its wonder. Amongst the world of flora and fauna, the most revered is the blooming flower which has proven to stand the test of time. While the beauty of a single flower may be short-lived, its jewelry interpretation remains forever. Colored gemstones make for vibrant three-dimensional encrusted petals in floral jewels that are easy to style and make a statement.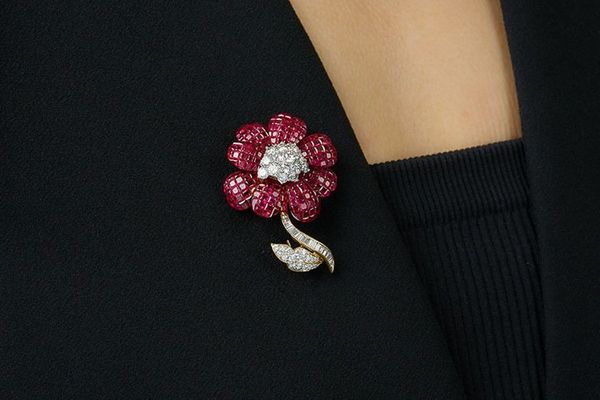 Lot 640: A Ruby and Diamond 'Flower' Brooch. Estimate: HK$40,000 – 60,000 (No Reserve)
Discover More
Forces of Nature: A Jewels Collection Inspired by the Forces of Nature
Dr. Michael Krzemnicki: Pearls of Wisdom
Feng J: Les Jardins de Giverny