Ken Price, Continuous Unobserved Eruption, 2006. Estimate £15,000 - 20,000. Wired: Online Auction.
The forms, colors, and shapes represented within this composition are a translation of the natural organic world: the bright reds representing boiling volcanic lava, the dark purples emphasizing the contours of the shadowy mountains, and the earthy browns enhancing the meandering hues of cracked soil. These strong colors—contrasted with the sky's soft blues and smooth oranges—reinforce a palpable tension. As in Hokusai's iconic imagery of waves and Mount Fuji, Ken Price's volcano works materialize nature's beauty and unpredictability in pictorial form.
Miraculous little things happen; it's all luck. Drawing was always a private activity for me, with nothing riding on it. –Ken Price
Celebrated for his body of biomorphic, lava-like sculptures, but also for his tumultuous and somewhat cartoonish compositions, the American artist Ken Price worked across a range of artistic media, comprising ceramics, painting, and drawing. A delectable work on paper uniting the artist's most recognizable visual tropes, Continuous Unobserved Eruption is from the artist's series of volcano drawings; the present work depicts a volcano erupting amidst a landscape of mountains, haloed by an ethereal sunrise.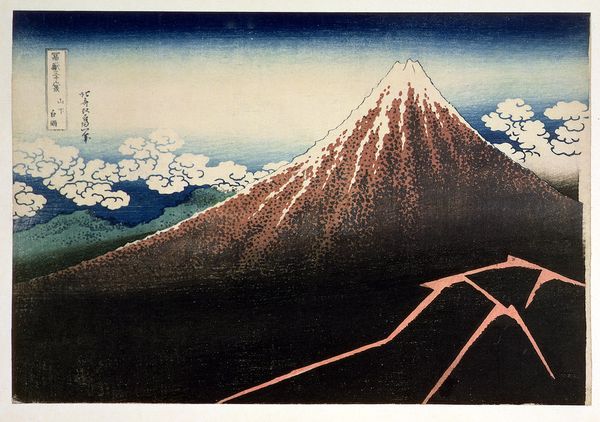 Katsushika Hokusai, Fuji above the Lightning, 1831. Fitzwilliam Museum, Cambridge. Image: Bridgeman Images.
Delineating bulbous forms in psychedelic hues, Continuous Unobserved Eruption serves as a two-dimensional embodiment of Price's creative intention, as well as an exquisite example of his draftsmanship. The fire within the composition notably references the construction of ceramics, metaphorically bridging two of the artist's preferred practices into a single image.
Interested in the spontaneity of clay and how it conveys the very essence of the earth, Price was exposed to the intense heat and light of the coastline while growing up in California. In a conversation with Douglas Dreishpoon for The Brooklyn Rail, Price stated, "When I was surfing, I saw a lot of things in nature, especially at Rincon Beach, incredible rocks of all shapes and sizes, some full of worm holes, really beautiful."
While working amongst a generation of creatives who established a new artistic landscape in 1960s Los Angeles, Price spearheaded a revolutionary shift in the traditional understanding of two- and three-dimensional media, notably ceramics, which, once seen as a purely functional medium, were being understood as a fine art. Price's move to Taos, New Mexico in the 1970s further informed his aesthetic, as the city's landscape seeped into the fabric of his own creations.
When the sculptures no longer require drawings, or any kind of markings, the drawings took off in another dimension. –Douglas Dreishpoon
In both his ceramic and pictorial endeavors, the artist regularly attended to the theme of nature—a subject matter that would be honored in a major posthumous retrospective held at the Los Angeles County Museum of Art, immediately following his death in 2012, as well as his 2019 exhibition at the Georgia O'Keeffe Museum in New Mexico. Changing the landscape of modern ceramics with his progressive unity of color and form, Price's oeuvre denotes earthiness, natural phenomena, and corporeality, while simultaneously elevating both his sculptural and pictorial craft.
Discover More from Wired: Online Auction >

Recommended Reading
Taking a Moment with Brian Calvin >
Nicolas Party: The Architecture of a Still Life >