The larger players in the watch industry are, to most of their customers, corporate entities. Every one of these timepieces though was brought to life by a team of designers, watchmakers, marketers, and suppliers, who, more often than not, will not receive credit other than the satisfaction of, perhaps, seeing the watch they worked on being worn on the wrist of a nameless customer who happens to be sitting at the next table in the restaurant. One brand has turned that methodology completely on its head, and rather than put these contributors in the appendix (if at all), they're put front and centre, and called friends, to the point where this is actually an integral part of the brand name: MB&F, which stands for Maximilian Büsser and Friends.
The creative heart of MB&F is certainly Büsser himself, who, beyond the incredible collaborations he has worked on since the brand was founded in 2005, has also found an avenue to explore the themes that inspired him as a child, the time when boundaries are not yet tangible, and your dreams overlap with reality. Cars, animals, robots, toys and more have become inspiration for Büsser's Horological Machines, where traditional watchmaking codes are thrown out the door and replaced with the embodiment of these dreams.
As a young graduate engineer, Büsser thought his career path would be in the corporate world, with one of the conglomerates such as Nestlé or Procter & Gamble, until a chance encounter with Henry-John Belmont, the CEO of Jaeger-LeCoultre, who convinced him to join JLC as a product manager instead. Belmont's time also coincided with that of Günther Blümlein, and both had a tremendous impact on Büsser. Although they recognised his talent early on, it's Harry Winston who came knocking on his door, and made him CEO of their watch division, when he was only 31 years old.
It was at Harry Winston that this concept of friendship came to the fore, when Büsser decided to give his friend, a certain François-Paul Journe, some help; Journe had been one of those nameless contributors for a number of well-known brands, and was just starting out with his own company, when Büsser decided that he could use Harry Winston's existing reputation to create a watch series that would bear the brand's name, but also the watchmaker that they collaborated with. The Opus series was born, and while it certainly did give Journe a boost, it also put Harry Winston on the map for the collectors, who started to anticipate the next watch in the line.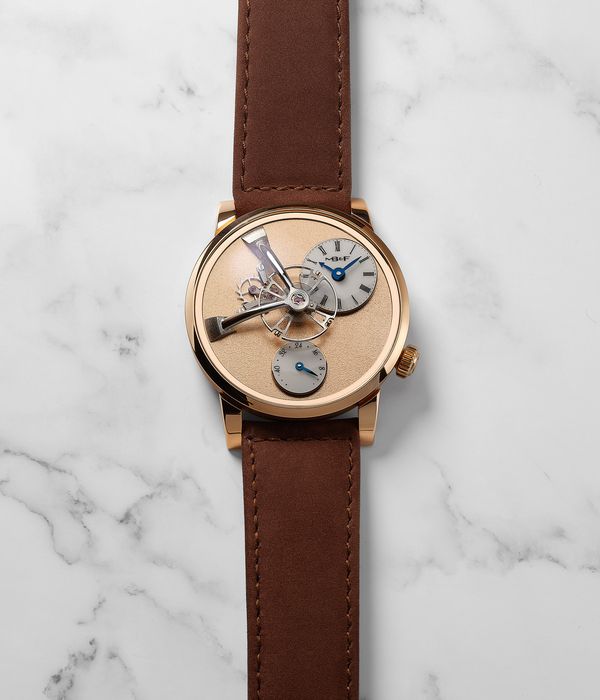 When Büsser decided to take the next step and found his own brand, the friendship extended beyond the crafting of the watches, as he had to rely on a number of retailers to pay a significant advance on his first Horological Machine, as the personal funds he had set aside would not be sufficient. Luckily, a few of them agreed, and when the HM1 was delivered in 2007, MB&F was able to start on its path of reinventing what friendship means within the watch industry.
If there is another theme within MB&F, it is unpredictability. For the brand's 10th anniversary in 2015, rather than try and stun the industry with a new complication, Büsser decided to thank all those collectors who followed him in the first decade and unveiled the HMX, which would be more accessible while maintaining the ideas that were established from the beginning. Inspired by Büsser's love of classic sports cars, the movement resembles an engine, and is proudly displayed through the sapphire glass, whilst the time is refracted through prisms so that the discs are visible from the side of the wrist, as if holding a steering wheel.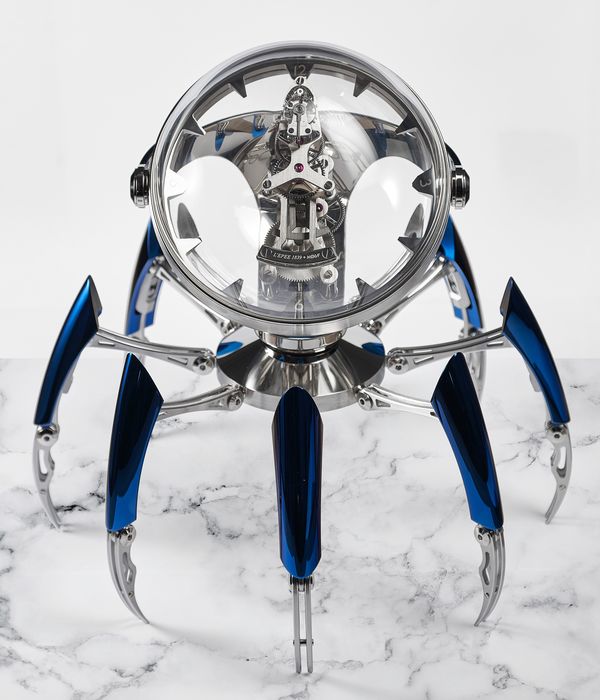 MB&F has also worked with established creators on other machines, such as the Octopod. To call it a table clock would be missing the point: co-created with L'Épée 1839, the machine resembles its namesake animal, the octopus, with articulated legs, while the time is displayed through the mechanical brain, highly visible within its rotatable glass sphere head.
There is another part of Büsser where he pays tribute to traditional watchmaking, which he does admire for its beauty; the Legacy Machines represent the MB&F vision of how the horological masters of yesteryear might create their watches today. Undeniably MB&F, but with a strong foothold in classical shapes, they are no less inspired. The LM Split Escapement is a perfect example, for it takes a keen eye to notice that, amidst a somewhat classical outlook, the balance wheel seems to be oscillating on its own, given pride of place above the time and date displays. The anchor and escape wheel are hidden from view, below the dial, and not an apparent assembly with the balance wheel as we are used to seeing.
So far, Max and his friends have managed to surprise and delight collectors for the past 15 years with each creation. They are not designed to please everyone; some might say they're an acquired taste that will appeal to non-conformists rather than traditional watchmaking enthusiasts. The fact is, they all provoke an emotional reaction, more often than not a smile, or a gasp. Perhaps they will have already piqued the interest of a young engineer or designer who will continue in Büsser's footsteps and, just as he's done, stretch the envelope of what watchmaking can represent.