David Hockney Pool Made with Paper and Blue Ink for Book, from Paper Pools, 1980.
In contrast to many of his contemporaries, David Hockney embraced printmaking very early on, creating his first print while still a student at Bradford School of Art in 1954. It was while he was at the Royal College of Art (1959-62), that he delved into printmaking with much fervor. After discovering that the materials in the print department were free, Hockney made a habit of enveloping himself in the college's studio whenever unable to afford painting materials. Continuing to work and experiment with various techniques and technologies over his lifetime - from etchings, lithographs and screenprints to paper pulp works, photocopies, faxes and iPad drawings - Hockney's prints have evolved alongside his paintings and drawings.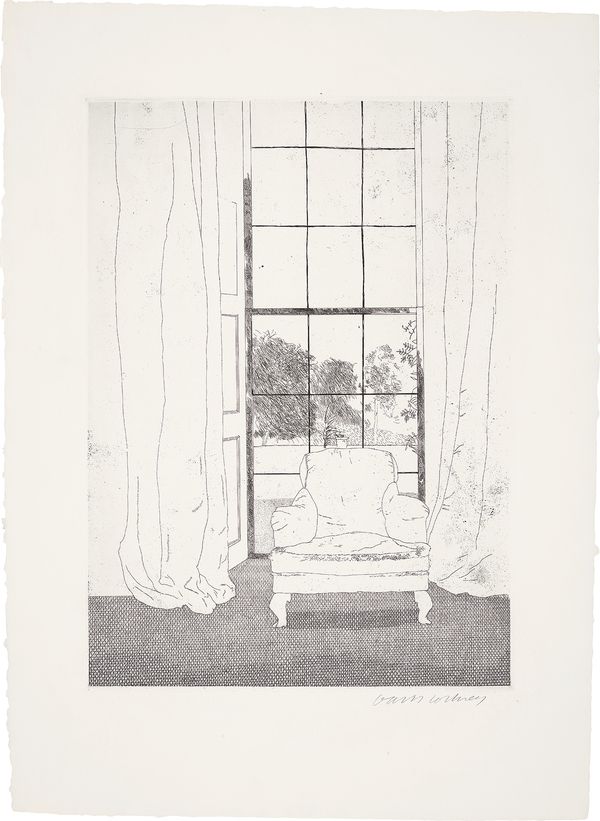 David Hockney Home, from Illustrations for Six Fairy Tales from the Brothers Grimm, 1969.
Hockney seriously started working with etching, the first of his two main print techniques (the second being lithography), in the 1960s. His love for this medium became evident when he dedicated over a year of his life to his second major print project, Illustrations for Six Fairy Tales from the Brothers Grimm. Putting painting aside between September 1968 and November 1969, Hockney traveled down the Rhine, researching all known illustrated versions of the Grimm fairy tales, photographing and drawing his surroundings for inspiration, and reading all 239 tales. He chose tales for the series based on how he would depict them and favored etching as it lent itself best to his illustrative style. Lot 19, Home, is the 18th image in this series. It captures Hockney's fine and purposeful transfer of line to the copper plate.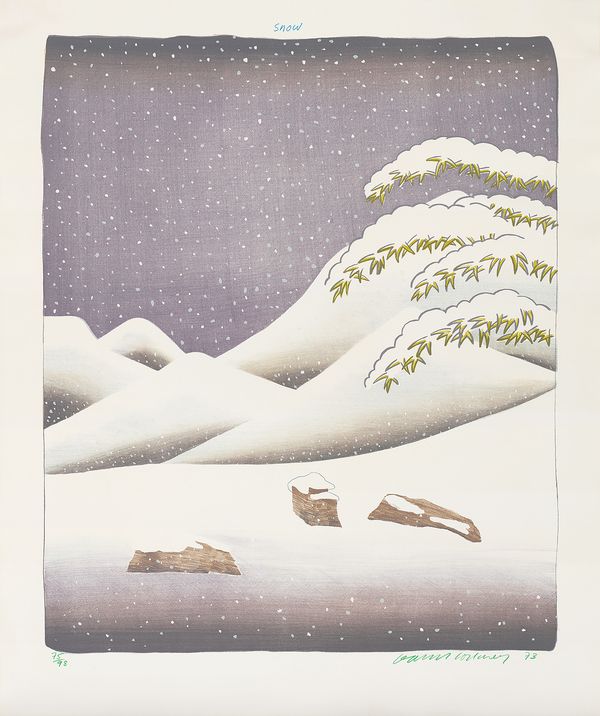 David Hockney Snow, from Weather Series, 1973.
Collaborating with master printmaker Kenneth Tyler in all four of his workshops, Hockney embraced lithography as an alternative to etching in 1965 and continued to use the technique as his primary printmaking medium through the 1970s and 1980s. Because of its painterly application and the flexibility of Tyler's working practices, Hockney took to lithography with ease. The medium allowed him to explore his interest in Japanese art, creating his popular Weather series in 1973. Working on the idea of depicting weather, Hockney found inspiration in the stylized effects of Japanese woodblock prints. This can be seen in Lot 18, Snow, in which Hockney used tonal gradation to suggest special recession. When commenting on the project Hockney said, "It's terrific getting into lithography again… Every little thing you put on a stone really appears. I've almost completed the first four. Rain, Mist, Sun, and Lightning, and hope to do four more – Snow, Frost, Wind, and a Rainbow."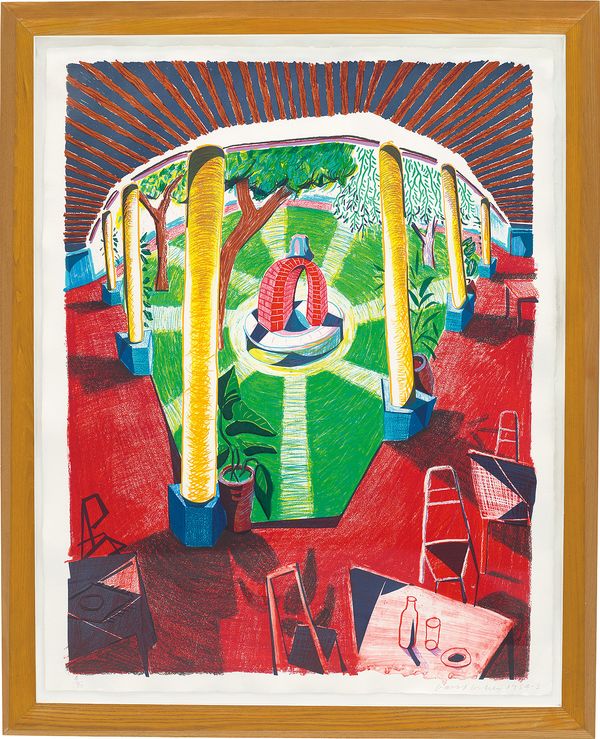 David Hockney Views of Hotel Well III, from Moving Focus Series, 1984-1985.
Working with Kenneth Tyler once more in 1984-85, on the over 25 lithographs created for his Moving Focus series (the artist's largest and most ambitious series), Hockney gave in to his preoccupation with space and perspective to explore its representation on-page. With reference to his study of Cubism and indulging the influence of Picasso, the series includes vibrant and textured interior views, chairs, views of a Mexican hotel and portraits. Hockney and Tyler invented a new method for printing this series which involved layering transparent mylar sheets to plan an image's color registration. The result was prints that look like drawings, richly depicted by Lot 22, Views of Hotel Well III.
David Hockney Snails Space, 1995.
As an artist with a pointed interested in new technology, Hockney embraced not only the methods presented to him by traditional printers but also those being newly developed through advances in the consumer market. After his initial venture into photography in the early 1980s, in 1995 Hockney undertook a project photographing his own works in his studio. Placing paintings in progress under various theatrical lights, further painting the canvas surrounds, and sometimes adding props to these "scenes," Hockney created works with an air of performance, the most famous of those being Snails Space. The artist captured these 'studio scenes', allowing the events to live on, by making digital inkjet prints on paper with Nash Editions (Lot 21).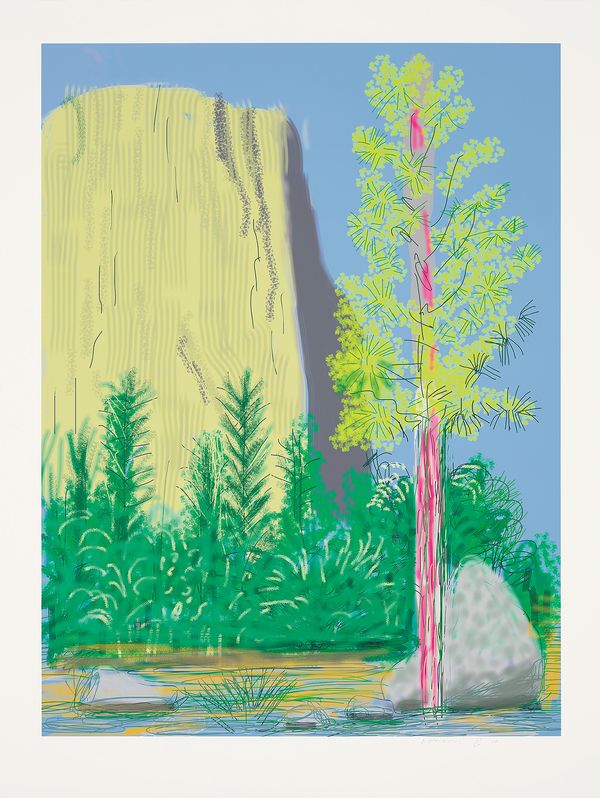 David Hockney Untitled No. 22, from The Yosemite Suite, 2010.
Continuing to embrace the rapid developments in digital technology (even at age 73), Hockney purchased one of the first iPads upon its release in 2010. He was excited to utilize the new device, having previously experimented drawing on an iPhone. That same year, Hockney visited Yosemite National Park and was enthused at being able to draw en plain air with the Brushes app, building an entire series of works on location, such as Lot 23. Likening contemporary artist's use of technology to the Renaissance masters' use of mirrors, Hockney welcomed the freedom of the iPad, taking advantage of the ability to go back and rework various "layer's" [sic] of a drawing.
Consistently responding to new technologies and printing possibilities, whether it be the etching, inkjet printer or iPad, Hockney has shown himself to be a printmaker of diverse capacity and evolution. Each new technique has offered an opportunity for the artist to explore new subject matter and develop his thought processes alongside his printing processes. Like Picasso, Hockney's 60-year career has shown him to be one of the most prolific and technically adventurous artists.