Shaun Leane's Porcupine Quill Fan Earrings. Photography by Ann Ray. Courtesy of Shaun Leane.
Shaun Leane redefined the dramatic and emotive potential of jewelry, both as an intimate adornment and a vessel for theatrical imagination. Rigorously trained by the English Traditional Jewellery workshop located in London's historic jewelry quarter, Leane famously combined his mastery of centuries-old techniques with an ambition to challenge those very traditions. In the early 1990s, he found an outlet via a chance meeting with Alexander McQueen, with whom he would collaborate for the next eighteen years, and, in 1999, Leane founded his own eponymous label, infused with his uniquely liberating, romantic, and dynamic energy.
Twenty-one years later, Leane's oeuvre has become a genre-defining touchstone, and, in celebration of his groundbreaking achievements, Phillips has partnered with Leane on the launch of Flawless, a new private sales platform showcasing 12 jewels from his archive, as well as new pieces exemplifying Leane's iconic signatures. Looking ahead, the collaboration will continue in 2021 with a retrospective exhibition and dedicated sale of a selection of Shaun Leane's body of work so far. The collaboration also coincides with the publication of Shaun Leane, which chronicles Leane's career and demonstrates the breadth of his achievements. Below, read an exclusive excerpt from V&A curator Claire Wilcox's essay, "BEAUTIFULLY DANGEROUS: Reflections on the work of Shaun Leane and Alexander McQueen."

Discover More from Flawless: Shaun Leane x Phillips >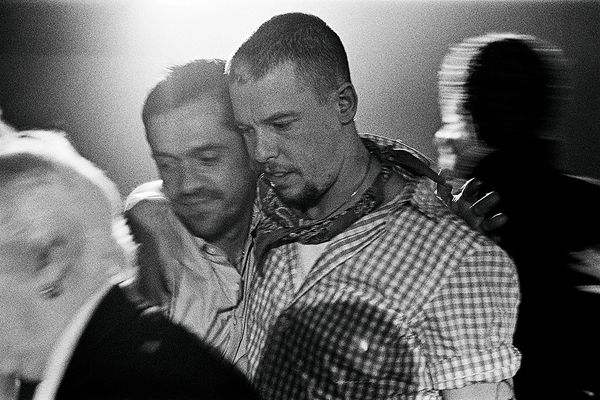 Shaun Leane and Alexander McQueen. Photography by Ann Ray. Courtesy of Shaun Leane.
Leane and McQueen were only 22 when they met, but from 1994—when Leane designed his first pieces for Highland Rape (AW94)—until McQueen's death in 2010, they were creatively inseparable. Metal, with its hard, reflective properties, became an essential part of the vocabulary of their collections in the form of both jewellery and body sculpture. McQueen was not a designer restricted to fabric, regarding anything from shells, plaster, feathers and glass to leather and wood as potential material that could be coerced and manipulated to the body. "Lee was always fascinated with metal," recalls Leane, "because...it is the opposite to fabric; it's such a formidable material; it's so strong, but yes, it can be delicate." In an interview in 2014, the goldsmith recalled his friend's first visit to his workshop at English Traditional Jewellery, where Leane spent his seven-year apprenticeship, moving up year by year through the metals—copper, silver, gold, platinum—followed by another five years creating high-end jewellery for prestigious Bond Street stores. "He was fascinated by what he saw. Our workshop was very old and very Victorian—it was like going back in time, like Oliver Twist. You'd go up these rickety old stairs and then there'd be this bench with half- moons cut out...with leather skins collecting the gold dust...it was quite romantic...old tools, the flames, very similar to how it was 100 years ago."
"And this was the powerful thing about working with Lee, because he never challenged you – instead he had a special way of making you challenge yourself."
Leane's second venture into the world of fashion was McQueen's show, The Hunger (SS96), for which he created silver stag antlers to be suspended across the body. It was also for this show that he devised his signature tusk earring; seemingly sharp enough to slice through flesh yet still elegant, it has been elemental to his identity ever since. Then, remarkably for a jeweller who had never made anything bigger than a tiara, McQueen asked him to make an exoskeletal corset with a spine and tail. "At first, I said 'Lee, that's impossible', and he said 'nothing's impossible'. And that's something I've carried with me ever since." Working with the sculptor Annika Hellgren, Leane cast human vertebrae and modelled the ribs in wax before rendering the whole piece in aluminium. "I actually said to him, 'You need a blacksmith or a sculptor to make that, I can't do that, I wouldn't know what material to make that in and I wouldn't know how to make it'. And this was the powerful thing about working with Lee, because he never challenged you—instead he had a special way of making you challenge yourself. And he said, 'That's a shame, because if you did make it, I know you would execute it beautifully.' And that was the gauntlet, thrown down right there..." Leane had stepped into a new artistic arena: "The spine corset opened the door...there were no boundaries then, there was no limit to what we could do."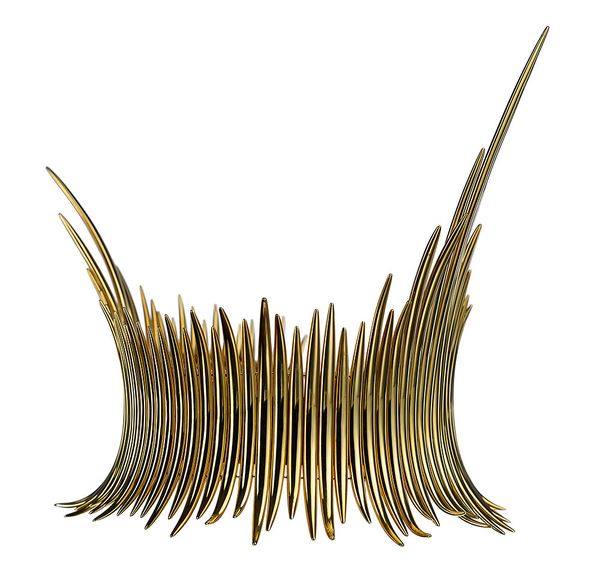 Shaun Leane, Couture Quill Choker. Courtesy of Shaun Leane. Flawless.
Whereas the coil corset emulated the curves of the model's breasts and torso, the rose corset (Givenchy haute couture, 2000) suggested skin had been replaced by metal, and life force was expressed not by blood but by the roses that grew from gashes on its surface. The juxtaposition between flesh and metal played on an uneasy fascination with hybridity and with the uncanny that had its roots in Gothic novels such as Mary Shelley's Frankenstein (1818). In the same vein, in Fritz Lang's science-fiction cinematic masterpiece Metropolis (1927), the same actress plays both the gentle heroine and the malevolent, silver-boned robot who takes on her identity, to chilling effect: 'The weird, incomprehensible smile, the slow irresistible movement, the basilisk motion of the head, the haunting loveliness of the "automaton".' This sense of alter-ego, or (wo)man and machine, was prevalent in McQueen's fashion shows, during which his models enacted and elaborated on the inherently robotic nature of catwalking. For those who agreed to perform their sometimes abhuman task, there could be danger. Leane recalls Karen Elson falling over backstage at VOSS (AW01) while wearing a spiked shoulder, which nearly pierced her neck. "She went down, and Lee was just screaming out my name and we started to get her out of the piece. But Karen didn't want to take it off, insisting, 'I'm doing the finale, I'm going out in it.' And she did and Lee held her hand as she walked out. And…it was funny because it was that moment Lee said 'no more spikes...no more spikes.' But we did, and I think it wasn't just about the spikes, it was about that organic danger."
"This accumulation of creativity relies on a tension between combat and self-protection, darkness and light."
For both Leane and McQueen, this futuristic sense was also melded with a 19th-century romanticism and lyricism that, ultimately, made the collections tender. The corsets and neckpieces employ soft, feminine curves that bely the rigidity of the aluminium; a silvered bow neckpiece resembles metallised fabric; soft macaw feathers and fragile porcupine spines emerge from silver spindles to form earrings that frame the face, exquisitely. This accumulation of creativity relies on a tension between combat and self-protection, darkness and light, epitomising what one historian calls the 'contradictory sense of imprisonment and liberation that informs [McQueen's] clothes'.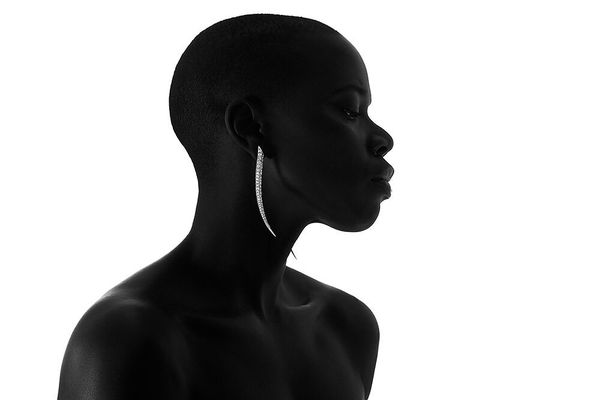 Shaune Leane, Sabre Diamond Earrings. Courtesy Shaun Leane. Flawless.
The relationship with McQueen imbued Leane with a sense of belonging to something that was greater than the sum of its parts and that allowed his own originality to flourish. "I watched him over the years—what I loved about him was he would talk to me, I would go off and create what I was creating, and he'd talk to Philip [Treacy]; Philip would create what he was creating, [then] he would talk to Katy [England]. We were all doing different things, but he knew how it was all going to come together...I would see the show come together backstage and realise 'that's why he did that, that works so brilliantly'. And he was like the conductor, he knew what we were all doing." Leane also recalls the backstage pressure as the teams worked against the clock: "We would do the fittings and sometimes improvise through the night and we would alter pieces and I would make them fit the girls. Then on the day...It was amazing the amount of people backstage who had to work like a team. I think that was the beautiful thing about working with Lee and all of us; there were so many components to create these wonderful looks and images. So, you had...this adrenaline and this overriding passion to make it perfect...and you know you've got this two-minute window and it's all going to kick off and oh my God even talking to you now I get anxious, my body remembers the emotions...[S]ometimes I would literally have to put pieces on as they were lining up." Working on the shows also gave Leane a sense of validation. "We're celebrating after the show and Lee's surrounded by press and I'm saying, 'I've got to get Laura out of the coil corset'...and he just came up to me and he grabbed me and said, 'Shaun, your piece blew me away'. And that for me was a moment. Because I had never had acknowledgement like that before."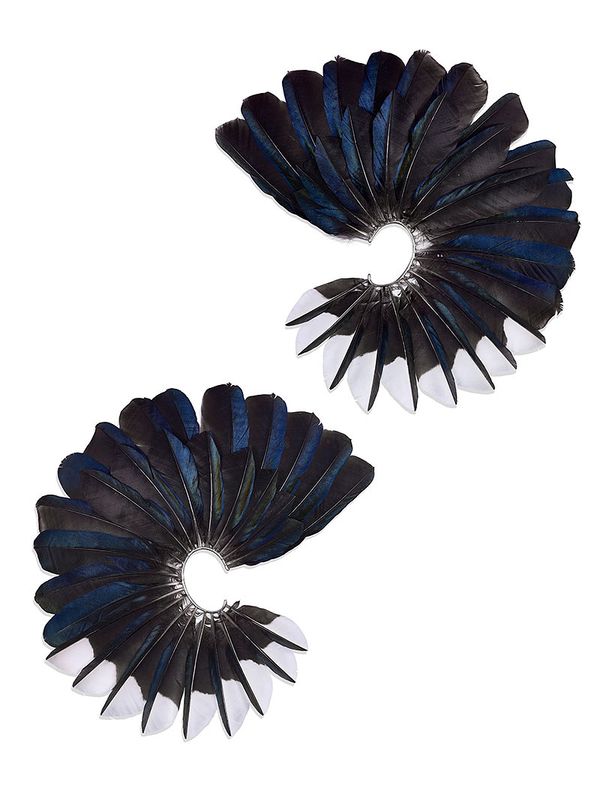 Shaun Leane, Couture Feather Fan Earrings. Courtesy of Shaun Leane. Flawless.

Excerpt from "BEAUTIFULLY DANGEROUS: Reflections on the work of Shaun Leane and Alexander McQueen" by Claire Wilcox, pp. 87-91.

Discover More
Vivienne Becker Meets Shaun Leane >
In Conversation with Alexis Vourvoulis >