Ettore Sottsass in India, 1988. Photo by Barabara Radice.
By Aileen Kwun
In Milan, the epicenter of Italy's design industry, the legendary and irreverent Memphis Group was formally active for just eight years, from 1980 to 1988, yet this short-lived period marked a highly influential period of Italian design, producing provocative works that continue to intrigue and challenge the viewer to this day. Forging historical allusions with popular culture and a cavalier attitude, the group's name took inspiration from a Bob Dylan song and combined discordant color palettes, brash graphic patterns, and industrial materials, such as plastic and laminate, to upturn complacent notions of modernist "good taste": an about face from the functional and streamlined, elegant styles that prevailed in Italy's Economic Miracle years.The dolce vita approach to postwar living had been exemplified by furniture manufacturers such as Cassina, Cappellini, and Fontana Arte, the lighting and furniture company cofounded by Gio Ponti, the prolific architect-designer who had an outsized influence on garnering international repute for Italian design, from the 1920s until his death in 1979. Ponti designed buildings in more than 13 countries, created products and furniture for more than 120 companies, co-founded and edited Domus magazine, taught and lectured widely, and established the Compasso D'Oro, Italy's first prize for the industrial design trade. In the process of this lengthy and multifaceted career, his five-decade output bridged neoclassical craftsmanship and Art Deco style with the abstraction, material innovations, and advancements in mass manufacturing propelled by the postwar landscape.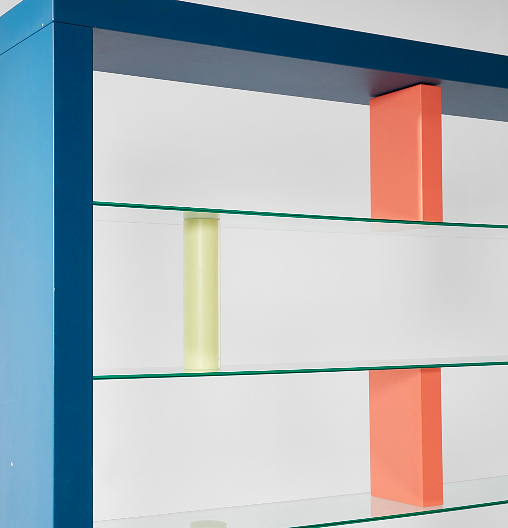 Ettore Sottsass, detail of "Giorno" bookcase, circa 1993. Design at Phillips New York, 29 July.
The youthful Memphis design collective, by contrast, mixed high and low, embraced kitsch and chaos; and placed form before function, making a controversial debut with a blockbuster exhibition during the Salone del Mobile, in 1981. At age 63, the group's founder, architect-designer Ettore Sottsass, Jr., was significantly older than many of the group's international members (which counted Hans Hollein, Arata Isozaki, Andrea Branzi, George Sowden, and Nathalie Du Pasquier, among others), and was then entering his third and arguably most visible act of his career.
By the 1980s, Sottsass had traveled to India and the U.S., briefly working with George Nelson, and had begun his three-decade collaboration with the Italian office and electronics company Olivetti, for whom he created the cherry-red Valentine portable typewriter — a cultural icon credited with infusing romance, whimsy, and soul into an industrial object. He had also served as the first artistic director for Poltronova, an Italian furniture startup that issued works by the Radical Design collectives of the 1960s and '70s, including Superstudio and Archizoom Associati, whose utopian-minded visions would, too, foreshadow the contrarian spirit of Memphis and the era-defining look that would dominate the 1980s. As curator Maria Cristina Didero writes in SuperDesign: Italian Radical Design, 1965-1975, this entropy and energy of this period presented "a blend of serious fun, engaged political vision, and an unbounded creativity originated a spectacular plurality of designs and actions, and plurality is certainly something to celebrate, as alone it bears the seed of freedom."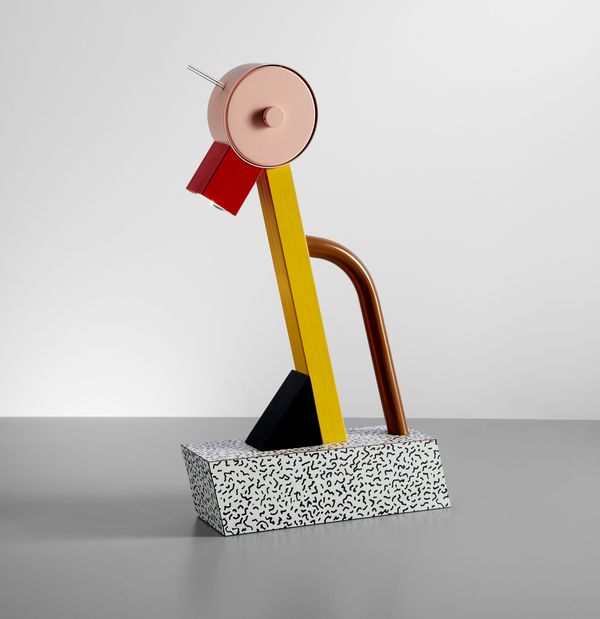 Ettore Sottsass, "Tahiti" lamp, 1981. Design at Phillips New York, 29 July.
Much of that broad context comes to bear when viewing the 1981 "Tahiti" desk lamp, which remains among Sottsass's best-known works from the Memphis era. The colorful, zoomorphic form and evocative name are suggestive of a rare bird from a tropical island, featuring an elongated neck, rounded swiveling head, and "beak," created from a collage of industrial parts coated in an array of solid colors. The lamp's squat, rhombic base is decorated in "Bacterium," a frenetic graphic pattern that surfaces in various Memphis designs, including the iconic Carlton bookcase. Expressed purely through industrial materials — tubular and contoured steel, laminate, and colored enamel — the overall presence of Tahiti is nonetheless energetic, playful, and totemic.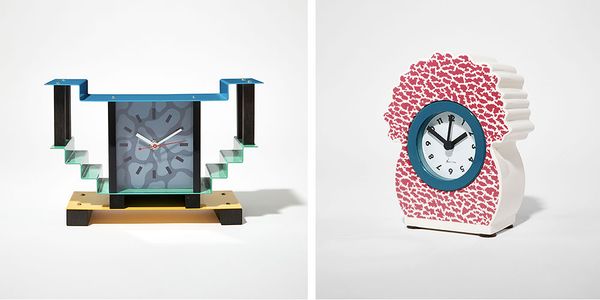 George Sowden, "Schrödinger" table clock, 1983. "Neos" table clock, circa 1986. Design at Phillips New York, 29 July.
While associated by a distinctive aesthetic, the Memphis Group members shared no formal, collective manifesto. As its resident design critic and chronicler (and later, Sottsass's second wife), Barbara Radice, then proclaimed, "the roots, thrust and acceleration of Memphis are eminently anti-ideological." There are, however, various through-lines and connections between its closely connected members. Prior to joining Memphis, the industrial designer George Sowden — an expat of Milan, the group's sole British member, and longtime partner and collaborator of artist and fellow member Nathalie Du Pasquier — had also worked with Sottsass at Olivetti, designing office electronics and computers. Knowing both designers' involvement at Olivetti, it is amusing to see both take household electronics to a more animated, expressive form in the Memphis years, with a marked playfulness that pushes against the utilitarian, functionalist aesthetic that the brand came to embody. Named after the physicist, Sowden's "Schrödinger" table clock, produced in 1983 as part of a collection titled "Objects for the Electronic Age," houses a rather staid clock face within a dynamic mini-architecture of ornamental elements that evoke staircases, columnar structures, and walls, while the frame of the "Neos" clock, designed for Lorenz in 1985, features a cutout silhouette of a vase brimming with flowers — a joyful centerpiece in which visual appeal goes beyond the service of stark legibility.
The roots, thrust and acceleration of Memphis are eminently anti-ideological. —Barbara Radice
Disbanding by 1988, the Memphis Group has remained influential in the decades since, polarizing detractors and garnering avid collectors (including David Bowie and Karl Lagerfeld) and impressing its irreverent ethos among a younger generation of millennial designers and makers. Nearly all of Memphis Group's surviving members remain active, their styles evolving with the years, and by the 1990s, perhaps disillusioned by pop culture's rapid co-opting of their once shocking, reactionary aesthetic — a visual style once characterized by the press as "a shotgun wedding between Bauhaus and Fisher Price" — many of them (including Sottsass, who died in 2007) went on to establish independent studios and continue to produce works.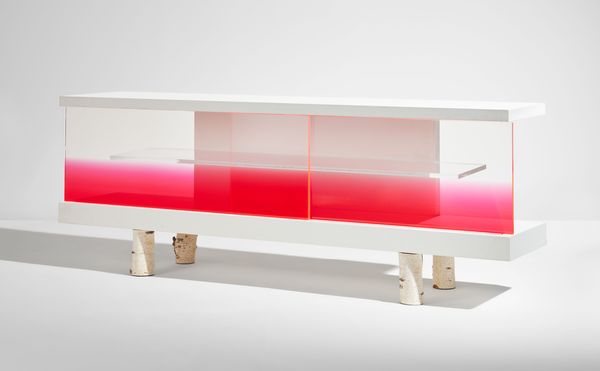 Andrea Branzi, "Evanescenze" sideboard, 2013. Design at Phillips New York, 29 July.
In his "Giorno" bookcase, produced for Fontana Arte circa 1993, Sottsass employs a more conventional geometry, no longer appearing to challenge and discomfort the eye with angled shelves and wonky proportions, as he famously did with the 1981 Carlton room divider, a Memphis design that remains in production. Made from a dark-blue painted birch frame with colored glass shelves and dividers, this later work, by contrast, exhibits a harmonic approach to color, proportion and a clarity of materials, stripped of pattern and surface ornament. Similarly, Andrea Branzi, one of the original founders of Archizoom in the 1960s, and who subsequently played an active role in Studio Alchimia, an "anti-design" movement of the 1970s, before joining the Memphis Group in the following decade, exhibits a subdued, sophisticated evolution in his later works.
Branzi's "Evanescenze" sideboard, produced in 2013, combines the precision of lacquered surfaces and Plexiglas cabinet fronts, treated in a shocking-pink ombre effect, perched upon raw birch branches as pedestals. In spite of its elegant allure and impressive technical craftsmanship that projects an outward display of rarefied luxury, Branzi's considered material juxtaposition offers a critical rumination on the conflicting relationship between the natural and the manmade — and is indication that, even in old age, the contrarian spirit of these radical 20th-century design figures is not easily put to rest.
Discover More from our international team of specialists and cataloguers