Edward Weston Dunes, Oceano, 1936. Estimate: $60,000-80,000.
Photographs, New York.
The American landscape is a defining factor in the national identity of the country, representing both an aesthetic ideal and the idea of possibility. The land has been a focus for photographers from the medium's early history when Carleton Watkins made his revelatory views of Yosemite. Since then, many American photographers have followed in Watkins' footsteps and explored the beauty and drama of the terrain while also examining man's influence upon it. Phillips' upcoming Photographs auction in New York includes a selection of American landscape photography which allows us to see how photographers have searched for meaning in the country's diverse terrain.
Edward Weston first visited the unique sand dunes at Oceano, California, in 1934 and was immediately captivated by their forms. In the coming years he created an unprecedented record of the ever-shifting landscape. Dunes, Oceano, frequently referred to as Black Dunes, is one of the most celebrated and distinctive from the series. It is remarkable for its preponderance of shadows which add depth and drama to the image, and for Weston's meticulous handling of sunlight to enhance the detail in the foreground and to delineate the ridge lines that recede into the distance.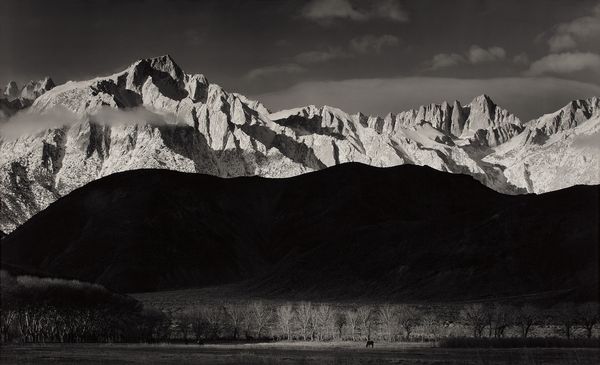 Ansel Adams Winter Sunrise, Sierra Nevada from Lone Pine California, 1944. Estimate: $300,000-500,000.
Ansel Adams was an ardent conservationist and became a major proponent for the preservation of the country's wilderness areas. His understanding of the drama inherent in the American western landscape can be seen his mural-sized print of Winter Sunrise, Sierra Nevada from Lone Pine, California.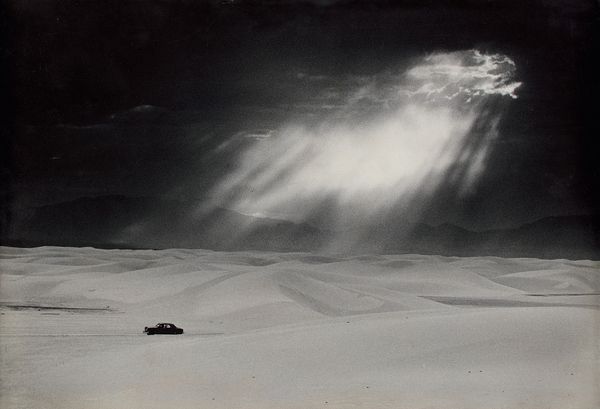 Ernst Haas White Sands, New Mexico, 1950. Estimate: $7,000-9,000.
Just as dramatic is the interplay between sunlight, clouds, and sand in Ernst Haas' White Sands, New Mexico, which captures a lone automobile traversing a landscape that is simultaneously alien and beautiful. This print was exhibited in The Museum of Modern Art's retrospective of Haas's work in 1962.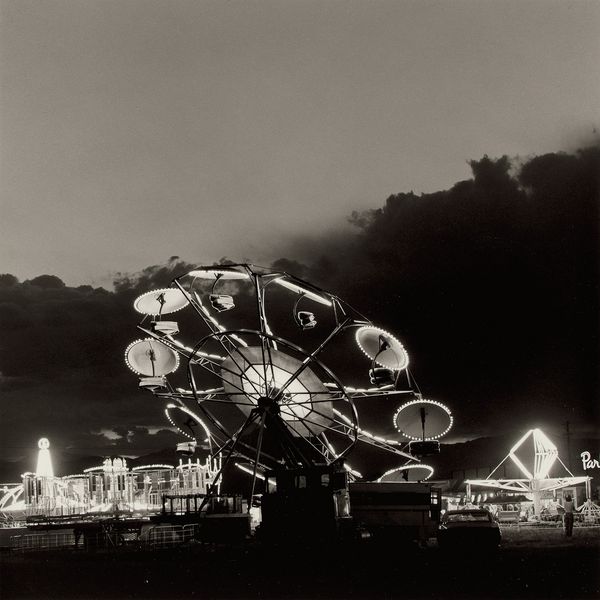 Robert Adams Longmont, Colorado, 1979. Estimate: $40,000-60,000.
Robert Adams brings a deep concern for the environment into his work. Photographing primarily in Colorado and California, and working with medium and large-format film cameras, he has created an oeuvre of images perfectly balanced between activism and poetry. He wrote that the "main business" of landscape photography "is a rediscovery and revaluation of where we find ourselves."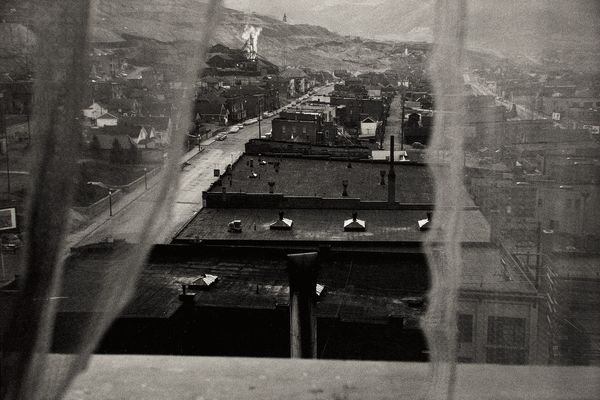 Robert Frank View from hotel window - Butte, Montana, 1956. Estimate: $65,000-85,000.
Robert Frank's view from a hotel room in Butte, Montana, gives us a glimpse of a landscape completely upended by the quest for mineral wealth. Frank visited Butte in 1956 on his epic series of cross-country trips funded by several Guggenheim grants. Butte was a classic Western town and home to one of the largest mineral mining operations in the world. In this photograph, Frank captures the town's close proximity to the diggings, with Montana's mountains rising in the background; the manmade landscape encroaching into the natural world.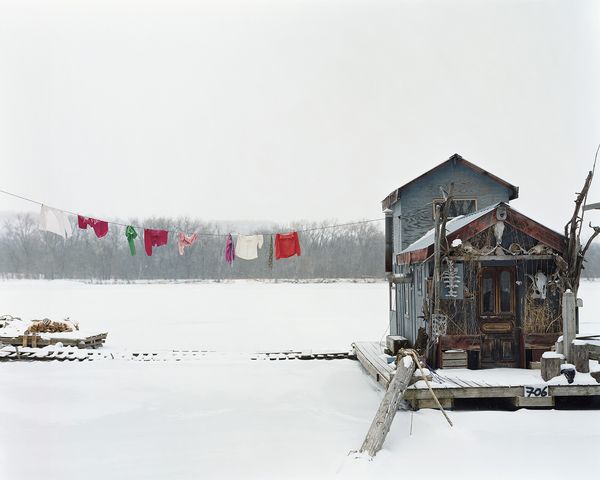 Alec Soth Peter's Houseboat, Winona, Minnesota, 2002. Estimate: $60,000-80,000.
Alec Soth's austere and fascinating Peter's Houseboat, Winona, Minnesota, documents a more organic relationship between the human and natural words. Like Frank, Soth is a traveler and the photographs he has made across the country, many along the expanse of the Mississippi River, provide an eloquent editorial comment on our relationship to the environment.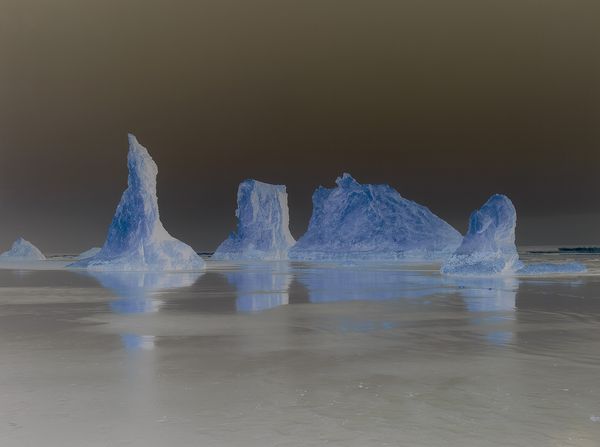 Richard Misrach Untitled, 2007. Estimate: $40,000-60,000.
Since the 1970s, Richard Misrach has concentrated on the American landscape and man's impact upon it, creating a body of work characterized by technical rigor and an unerringly ethical approach to his subject matter. His transition to digital photography in the first decade of the 2000s was both a departure from, and continuation of, his longstanding photographic concerns. He leveraged the new medium's ability to capture minute detail, and to maintain its resolution in large print sizes. Misrach's masterstroke was to render these prints as negatives, with reversed coloration and tonality. Unlike analog photography, in which a negative is a necessary intermediary between exposure and final print, digital photography requires no negative. The large-scale negative print offered here presents an entirely new vision of the American landscape while offering Misrach's commentary on the ever-changing medium of photography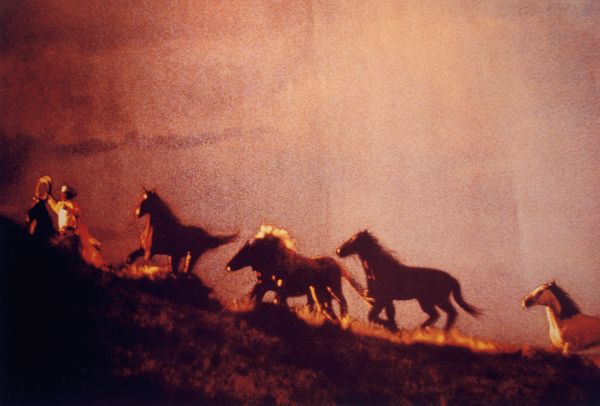 Richard Prince Untitled (Cowboy), 1993. Estimate: $200,000-300,000.
Pairing appropriation with a finely-tuned sense of American icons, Richard Prince brings the American landscape into Post-Modern territory with Untitled (Cowboy), in which a cowboy rides, lasso in-hand, amidst a herd of stallions. The sun-drenched scene is reminiscent of countless western movies in which the rugged and beautiful landscape shapes the destiny of the characters. Prince's photograph offers a characteristically subversive commentary on how the distinct appeal of the American landscape persists through time.