Invader Alias HK_43, 2015. Estimate: HK$450,000-650,000.
INVADER
French artist Invader is internationally celebrated for his pixelated ceramic mosaics that are found over the walls of cities across the globe. Working under a pseudonym inspired by the widely popular 1978 Space Invader arcade game, the artist's instantly recognizable practice yields rich, nostalgic interpretations of our digital world. Although Invader is undoubtedly considered to be among the most respected street artists around the world, his legendary oeuvre has been brought inside to numerous prominent venues that have honored the artist with solo exhibitions, including Wipe Out at the Hong Kong Contemporary Art Foundation in 2015. The exhibition showcased the mosaic compositions by Invader that had survived the artist's third "invasion" of the city after authorities controversially cleared the majority of them away. Originally installed in January 2014 on a concrete pillar located at Upper Albany Road in Central, Alias HK_43 was one of the unique preserved works that remained.
KAWS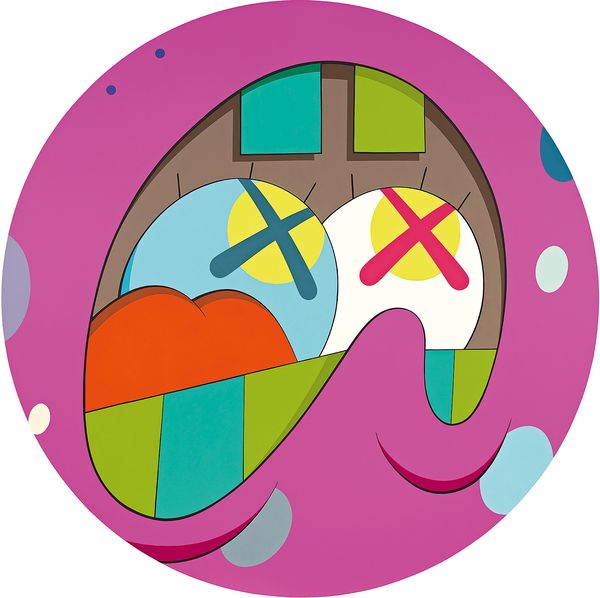 As one of the most prolific and innovative artists of our present age, KAWS has experienced a meteoritic ascent to international acclaim for his legendary practice that has avidly caught the attention of prestigious institutions, collectors, and industry giants worldwide The American artist is widely celebrated for exploring the visual language of mass media and popular culture in his oeuvre, building a unique visual lexicon through his playful and subversive compositions.
Fresh to the market and showcasing his instantly identifiable aesthetic that straddles both traditional illustration and expressive abstraction, the above work, UNTITLED is a compelling example from the artist's celebrated tondo series. Deriving from the Italian rotondo, or "round," the Renaissance term "tondo" refers to a circular work of art that historically allowed painters to emphasize the center of an image by containing a scene within a frame, thereby separating it from its environment. KAWS subverts the traditional characteristic of tondo compositions in the present work, as his spherical canvas seemingly offers a closely cropped focal lense into what appears to be a much larger cartoonish subject. As bulging eyes and colorful teeth fill the frame, the viewer is left to imagine for themselves how the monumental creature's form would extend beyond the constraints of the canvas and into the room.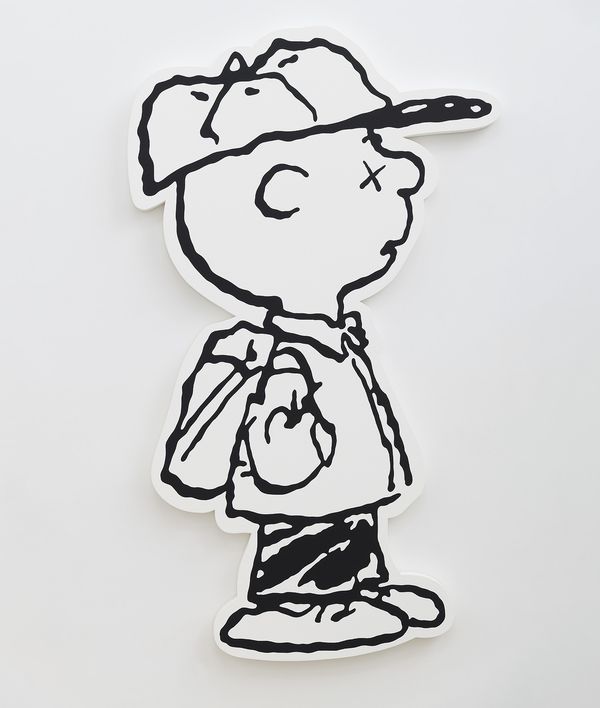 KAWS UNTITLED (MBFI10), 2014. Estimate: HK$2,000,000-3,000,000.
Drawing from the nostalgic potency carton heroes, KAWS appropriates characters from popular culture, inventively modifying their relatable and timeless appearances with grungy, brushstroke-free line and a monochromatic palette. In this case, UNTITLED depicts a well-known character from one of the world's best-known comic strips. Having expressed how he "found it weird how infatuated a cartoon could become in people's lives, the impact it could have" (KAWS, quoted in Murray Healy, 'Graffiti Artist Turned Gallery Artist Turned Art Toy Maker: KAWS', Pop, February 2007, pp. 260-265, online), KAWS employs the pervasive universality of this image to perfectly embody the notions so central to the artist's exploration.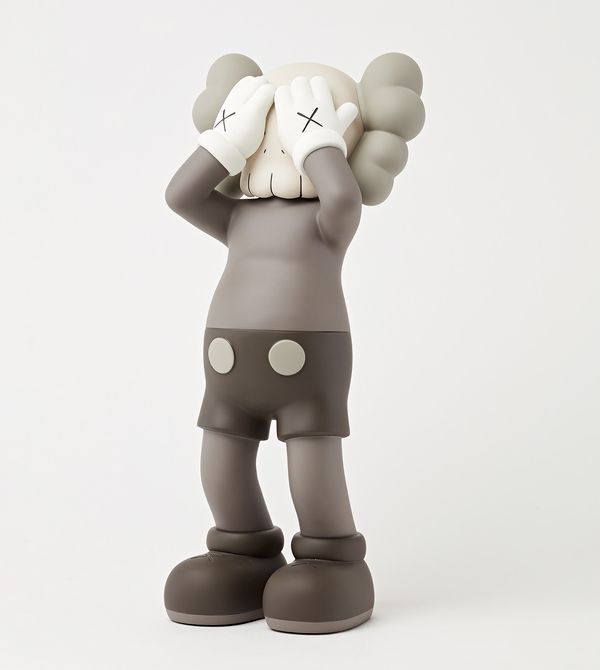 KAWS AT THIS TIME, 2016. Estimate: HK$800.000-1,200,000.
AT THIS TIME presents one of the most beloved figures within KAWS' visual lexicon – a stand-alone COMPANION with his head tilted backwards and his eye sunk in his hands. The COMPANION's posture conveys a myriad of contradicting emotions - spanning disbelief, rest, isolation and playfulness. Simultaneously endearing and sinister, the figure is captured in a state of loneliness on the opposite side of companionship, appearing sad and in despair. Nonetheless, KAWS' signature playfulness is not lost as the character's posture reminds the viewers of the childhood game of hide-and-seek. Conjuring a poignant vulnerability that summons universal empathy, the domestic-sized sculpture invites viewers into a visual universe infused with KAWS' instantly recognizable imagery.
MADSAKI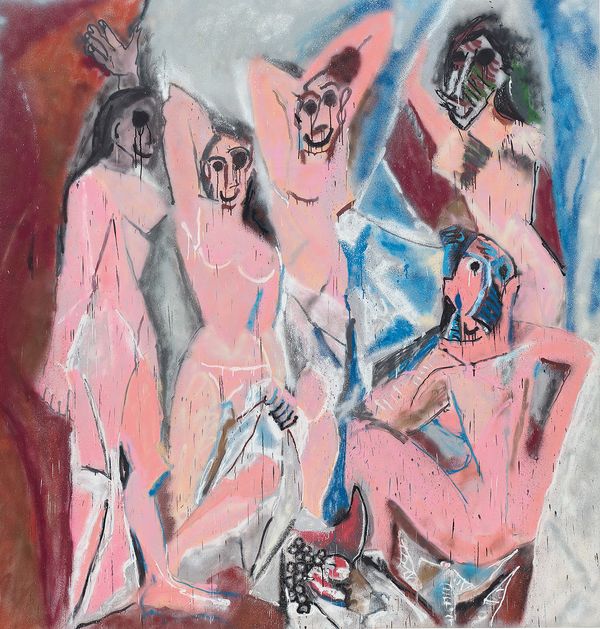 MADSAKI Les Demoiselles d'Avignon II, 2016. Estimate: HK$2,000,000-3,000,000.
Taking Picasso's words quite literally, in the present lot the rising Japan-born visual artist MADSAKI repurposes the modernist's famed 1907 painting, Les Demsoiselles D'Avignon, and drags it into the 21st Century with his trademark combination of spray paint as a fine art medium, and tongue in cheek interpretation of art history itself. In Picasso Avignon, the artist retains the same angular, proto-cubist nude women and the patchwork of contrasting colors utilized by Picasso in his original composition, but replaces their African masks with spray-painted smiley faces, intentionally oversaturated as to let the paint drip down the as to stamp his own creative style on the masterpieces, almost as an anarchist signature. Gone is the sinister sexuality that is present throughout the original, stemming from Picasso's paranoia of venereal disease, and in its place is a playful yet nostalgic atmosphere, one that seeks to amuse rather than forewarn while also presenting a classic painting within a contemporary street aesthetic. Like MADSAKI, Warhol also reinterpreted classical paintings, specifically Leonardo Da Vinci's Last Supper, in a similar exploration of the sanctity of tradition and heritage – though in his case it was religion rather than perceived artistic worth that was challenged. However MADSAKI is in fact more meticulous than his predecessor, recreating his paintings to their originals' exact sizes and compositions.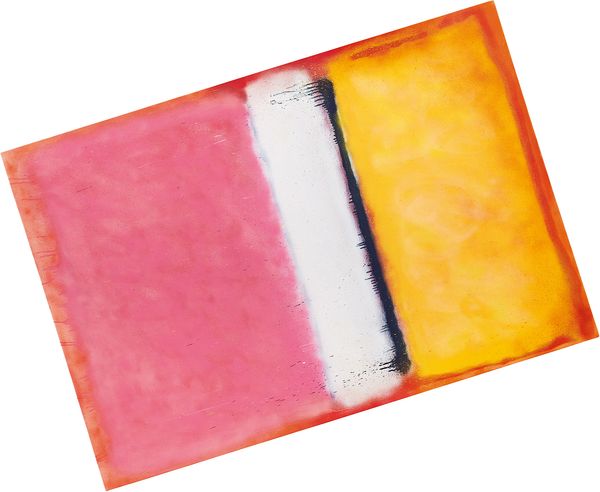 MADSAKI White Center II (Yellow, Pink and Lavender on Rose), 2015. Estimate: HK$500,000-700,000.
Particularly known for his Wannabe series, of which the present work is part of, the artist replicates and transforms some of history's most famous artworks, paying homage to the old masters through his trademark grungy imitations. The geometric composition of the present work is instantly recognizable as one of Mark Rothko's signature color field paintings. Depicting Rothkos' renowned work, White Center (Yellow, Pink and Lavender on Rose) (1950), the artist installs the canvas at a tilted angle, as opposed to the vertically straight orientation of the original work, drawing the viewer's attention to its uncanny resemblance yet revealing an entirely different painted texture upon closer inspection. Imbuing the original work with a witty attitude that is unique to MADSAKI, the artist provocatively "[adds] his own flavor" to the rectangular panes of pink, white, black, and lemon yellow, demonstrating a masterful control of his aerosol can medium (MADSAKI quoted in MADSAKI: If I Had a Dream, exh. cat., Galerie Perrotin, Hong Kong, 2019, online). Forcing viewers to engage with it from a new perspective, MADSAKI ingeniously claims the work as his own in his satirical yet sentimental version, as he introduces new interpretations through distinct differences in execution, tone, and feeling.
Futura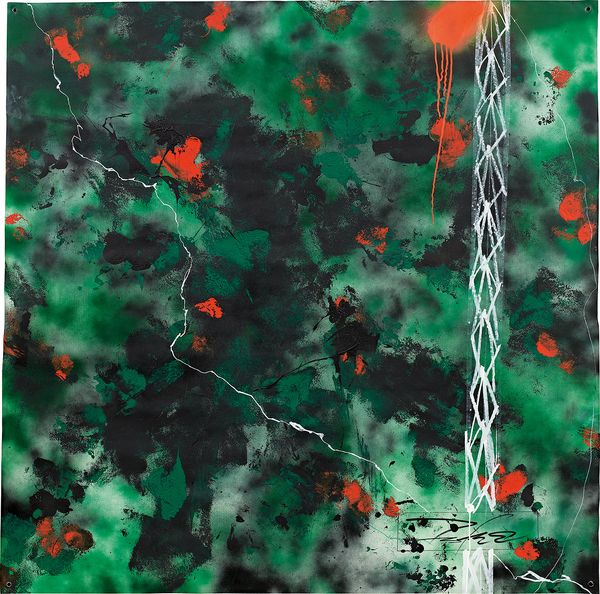 Futura Untitled, 2019. Estimate: HK$180,000-280,000.
Coined as the godfather of contemporary graffiti, Futura, also known as Futura 2000, defined the graffiti movement of the 1970s through introducing abstraction to an entirely letter-based medium. He transitioned from making New York-based subway graffiti to exhibiting at the Fun Gallery in the 1980s alongside contemporaries such as Jean-Michel Basquiat, Keith Haring, and Kenny Scharf. Striking examples of the artist's unique aesthetic across two different mediums, Untitled and FL-003 are a testament to the artist's ability to break down and blur the boundaries between hip hop culture, graffiti, high art, punk and avant-garde, forming a microcosm of his own.
Executed and finished during a two-week residency at The Culture Story in Singapore in May 2019, Untitled was part of 30 works exhibited as part of Constellation at the Gillman Barracks, marking the artist's debut showcase in Southeast Asia. Rendered in bright green and red hues, Futura demonstrates deftness in deploying impossibly thin aerosol lines on canvas, juxtaposing them on thicker areas of paint yet retaining a sense of balance amidst this highly retro-futuristic composition. It is particularly fitting that this piece was created site specifically, calling to mind the artist's earliest live-painting sessions in the 1980s during British punk rock band The Clash's concerts. Furthermore, Untitled then went on to be exhibited alongside the relaunch of his streetwear Futura Laboratories at Dover Street Market Singapore in June.
Futura FL-003, 2019. Estimate: HK$38,000-58,000.
Futura's pioneering art practice also extends to his sculpture as seen in FL-003. Meticulously cast in bronze with a baking finish, this work was unveiled as part of various other figures in the Generation Z exhibition at The Mass in Harajuku, Tokyo. Similar to his iconic Pointman figure, FL-003 is a brand new character "39Meg" from an edition of 40, instantly recognizable and carrying a sense of futurism.
Cleon Peterson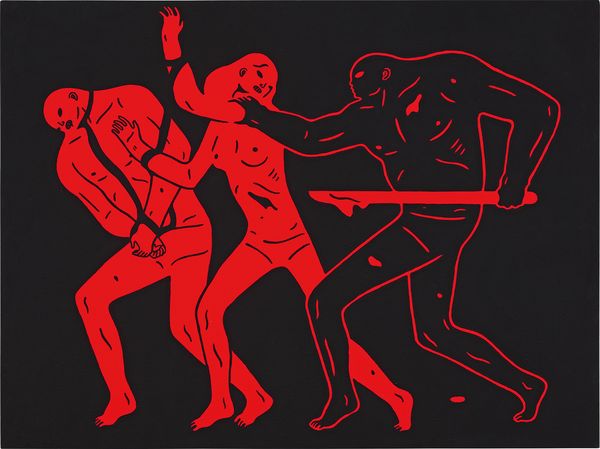 Cleon Peterson CP006 The Converter, 2015. Estimate: HK$150,000-250,000.
The lawless world depicted in Los-Angeles-based artist Cleon Peterson's critically acclaimed practice is one where deviance has become the norm, inhabited by anonymous protagonists who clash in scenes of combat that are equally as mesmerizing as they are disturbing.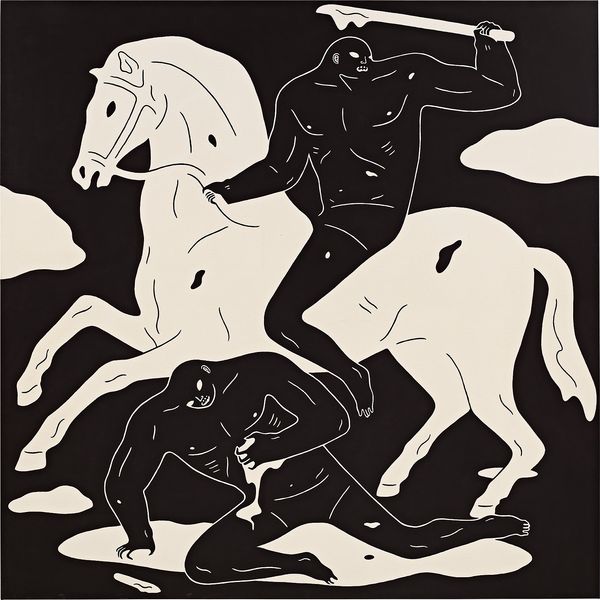 Cleon Peterson The Nightcrawler, 2015. Estimate: HK$300,000-500,000.
Executed in 2015, The Convertor and The Nightcrawler both featured as part of the artist's inaugural solo exhibition in Hong Kong, hosted by Over the Influence in 2016. Purity showcased a series of paintings that in the artist's own words, portrayed "our new reality, a world where humanity is divided by war and chaos [where] at the heart of all of this is an impulse to make the world PURE." Masterfully composed in the artist's signature style of threatening mercenaries rendered in flawless line against a nondescript flat background, both works are bold and emotive, and immediately draw the eye in. Whereas The Nightcrawler is strictly black and white, depicting a victorious brute sat atop a horse with his conquest slain in pooling blood below, The Convertor's color-palette of scarlet and black recalls both '80s punk, and the "authoritarian colors used in propaganda, uniforms and symbols from the past." (Cleon Peterson quoted in "Cleon Peterson's new exhibition Blood & Soil attacks American politics head-on," It's Nice That, 6 July 2018, online). Sophistically executed, both The Convertor and The Nightcrawler are compelling examples from Peterson's instantly recognizable oeuvre that showcase his continuous investigation into the darkest recesses of mankind.