Chopard. A Unique and Exotic Gem-set and Diamond 'Peacock' Bangle, circa 2018.
Jewels & Jadeite, Hong Kong.
Throughout history, peacocks have been appreciated for their magnificent plumage which has long been considered something of a spectacle. Originating from India, the giant bird was associated with Argus in Greek mythology, who transferred his hundred eyes to the peacock's tail upon his death.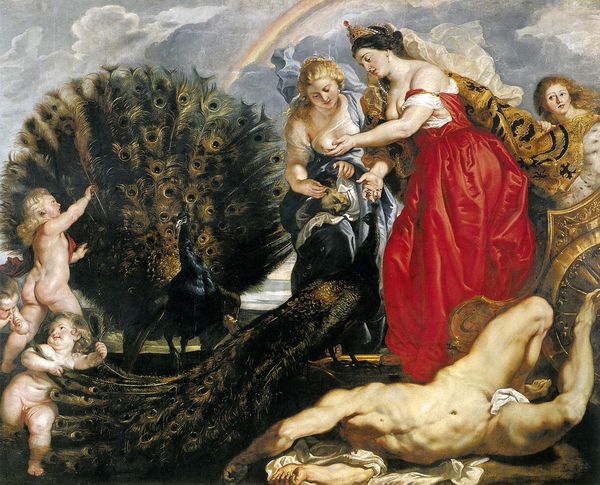 Juno and Argus by Peter Paul Rubens from the 17th century, featuring a peacock in the background.
Peacocks were also displayed as a curiosity in the gardens of the Romans. Later, in the second half of the 19th century and turn of the 20th century, they were kept in the aviaries of aristocratic homes and public parks. The bird came to symbolize luxury, vanity and pride in Western culture, whilst representing beauty and nobility in Asia.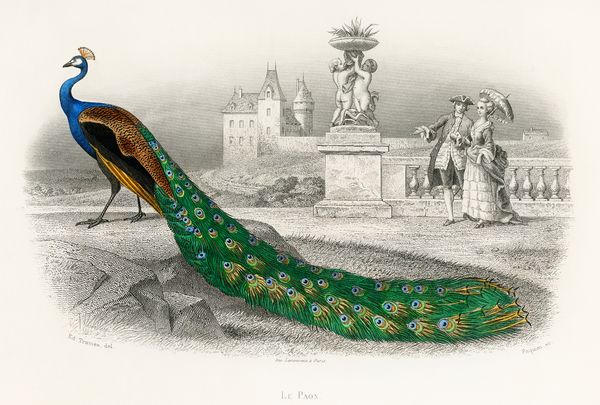 Work by French watercolorist Edouard Travies (1809 – 1876) depicting lovers watching a peacock in a park.
During the mid-19th to mid-20th century, birds were a very popular motif among jewelers who used them to portray a desire for freedom, liberty and the ability to fly. By turning them into a piece of jewelry, humankind could prevent them from flying away and observe them in greater detail. Jewelers, in turn, could focus on the bird's body, plumage or movements through a combination of colored gemstones, by defining curves, emphasizing asymmetry, volume and layers. One of the most famous peacock jewels from the 19th century was a brooch commissioned by Empress Eugenie in 1868, made by Mellerio. It was a naturalistic rendition of a peacock feather, with rows of diamonds, emeralds, rubies and sapphires, typical of jewels at that time.
During the Art Nouveau period, peacocks reigned superior since their colors allowed artists to experiment with plique-à-jour techniques to heighten the beauty of the magnificent creature. One could almost say that the peacock was an emblematic bird of that time. As years went by, jewelers also introduced other gemstones such as opals and enamel to show their beguiling colors. During the Art Deco period when geometry played a major role in designs, jewelers placed an emphasis on the symmetry and pattern of the peacocks' tail feathers.
Up to this very day, the peacock is considered a highly intriguing and challenging subject for masterful artisans and designers, where exquisite metalwork and the ingenious use of gemstones boast the power of imagination. Though many forerunners chose to render the magnificent bird in brooches, Swiss high jeweler Chopard decided on a completely different approach. The figurative depiction is highlighted by resplendent tail feathers that wrap around the wearer's wrist.
This truly spectacular design is marked by numerous details that are worthy of closer study and appreciation. By keeping the peacock's head and torso at a relatively small size, its scale and ratio were carefully established to emphasize the dramatic effect of the bird's tail. Its head turns at an angle that follows the sinuous curves of its gradually expanding tail. Tiny gemstones of violet, brown, green and blue colors were meticulously set to outline its torso feathers in subtlety. The graduation of cool hues on the feathers is accurately executed, allowing the openwork structure to gleam in intricate opulence.
To realize this very design, Chopard's team first had to overcome two basic challenges - the method to open up the bangle for wearing and the articulation required so the wearer can freely move their arm and hand.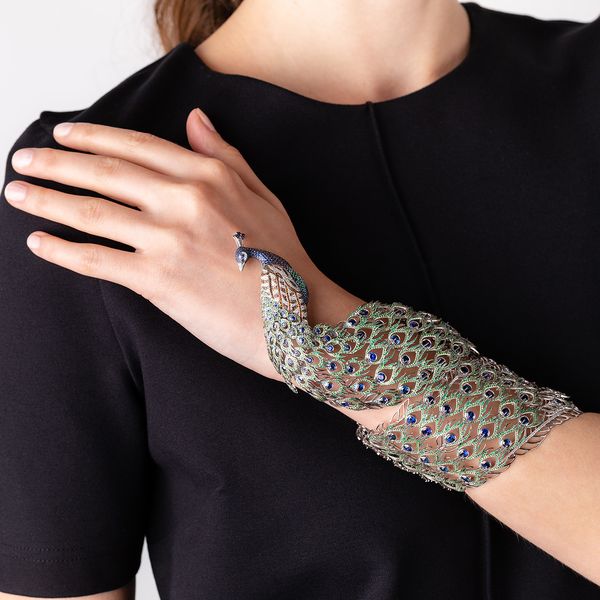 Similar to a traditional hinged design, this bangle opens upon the release of a concealed bolt, a simple mechanism that is at once discreet, efficient and secure. Chopard kept the metal to a minimum and made it almost invisible in the matrix of fine feathers. As for the articulation, Chopard's team focussed on the part where the peacock's torso begins to grow into tail feathers, so the peacock nods ever so slightly when the wearer moves their wrist. Each overlapping feather at this point is supplely linked, every angle perfectly adjusted. A misstep in any calculation might have caused the peacock to lose all liveliness or on the contrary, resulting in discomfort to the wearer.
It is not difficult to imagine the thousands of hours that went into the conception, study and realization of this magnificent design. Needless to say, this is a one-of-a-kind high jewelry creation that was singularly produced by the Maison. Its openwork structure keeps this masterpiece at a manageably lightweight, so its lucky wearer can enjoy a fun and unique jewel while dining, or even dancing. One thing is for certain, no one can miss this conversational piece. This remarkable and majestic animal will happily rest on your arm if it is yours to keep.