Yoshitomo Nara Wisdom Tooth Fever, 1999. Estimate: HK$10,000,000-15,000,000.
20th Century & Contemporary Art Evening Sale, Hong Kong.
The iconic works of cult artist Yoshitomo Nara, one of the leaders of Japan's influential Neo Pop movement, reflect the experiences of a generation of artists who grew up during the post-World War II economic boom in Japan. Nara's works are characterized by a search for identity amidst an influx of popular culture from the West, fusing Japanese visual traditions and Western popular culture to create adorable yet complex characters possessing a startling emotional intensity. Today Nara's characters are as instantly recognizable as Warhol's screen-printed portraits and Lichtenstein's Benday-dotted heroines. This season at Phillips Hong Kong, we will be offering a cross-section of Nara's entire oeuvre, with a number of key works spanning various media and eras in the artist's practice.
Nara was born in Hirosaki, a small town in rural Japan known for its traditional Edo Period architecture and cherry blossom trees. The youngest child of working parents, he experienced an intensely solitary childhood with only his imagination, comic books and family pets for company: "I was lonely, and music and animals were a comfort," he admitted (Yoshitomo Nara, quoted in Gareth Harris, "Interview: Japanese artist Yoshitomo Nara," Financial Times, 10 October 2014, online). Upon graduating from the Aichi University of the Arts, Nara moved to Germany to undertake a six-year artistic apprenticeship at Düsseldorf's Staatliche Kunstakademie under the mentorship of the Neo-Expressionist painter A.R. Penck, before setting up a studio in Cologne between 1994 and 2000. Language barriers in Germany plunged Nara back into a period of acute solitude not experienced since his childhood.
Seeing the children or animals as my other self, it signified me leaving the familiar confines of Japan and liberating myself from my surroundings.
— Yoshitomo Nara
Seeking relief, Nara began plumbing the depths of his subconscious through his art, his profound sense of alienation during his years in Germany manifesting itself in his iconic sulky-child portraits. Wide-eyed and innocent at first glance, these kowa kawaii ("scary cute") little children were depicted in poses reminiscent of the anime and manga cartoons Nara read as a child, yet each was underpinned by a sense of tension and unease evocative of traditional Japanese otafuku and okame theatrical masks. Beneath their luminous, almost comical faces lies a spirit of mutinous, childlike defiance; at other moments they betray a distinctly adolescent melancholy.
Wisdom Tooth Fever, amongst the rarest works on canvas by Nara to come to auction, is one of the most accomplished examples of the artist's distinctive lyrical and abbreviated figurative language forged in those crucial years in Germany. Wisdom Tooth Fever was exhibited as part of the 1999 Nuremberg Kunsthalle group show Forget the ball and keep playing - the image of the child in contemporary art, featuring artistic reflections on children and childhood from 15 international artists including Julian Opie, Paul McCarthy and Martin Kippenberger. The concept of childhood, with its contradictory ideas of utopian purity and lost paradise, functions as a near-mythical space somewhere between fiction and reality. Nara explained at the time that Wisdom Tooth Fever meditated on the idea of childhood pain, where the pain becomes all-encompassing and displaces all other thoughts: "pain is everything - no other outer world or surrounding," the work's collector recalls Nara explaining of its subject. In Nara's touching portrait of childhood, the face of a young child crowds the vast canvas, the faintest traces of a furrow between the squinted jellybean eyes and lips pursed mid-thought as he peers out. The emotional, dream-like mood is intensified by the subtle layering of thin, semi-translucent paint layers, a technique reminiscent of the acclaimed painter Peter Doig, who later became an influential tutor at the Kunstakademie Düsseldorf.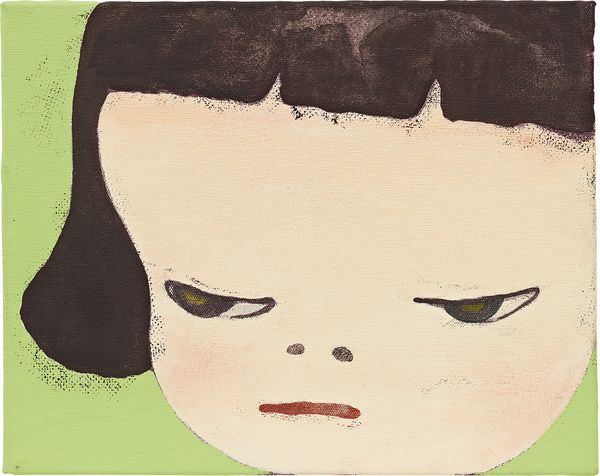 Rendered in pastel hues of pistachio green, blush pink-toned cream and deep chocolate brown, Wheels Go Round is another exquisite example of Nara's most acclaimed subject. Executed in 1994, the luminously-painted cartoonish head of a little cherub fills the frame in the present work, featuring Ukiyo-e style slanted eyes, a snub nose and slightly downturned mouth. Although this minimal aesthetic is reminiscent of traditional Japanese ink painting's focus on the void, Nara's influences are far-reaching, including children's literary classics such as Antoine de Saint-Exupéry's Le Petit Prince, and Japanese fairy-tales from the 1940s and 1950s. Ostensibly innocent at first glance, the child's look is concurrently defiant and mischievous, calling to mind universal child memories and perfectly demonstrating the global allure of Nara's most enduring motif.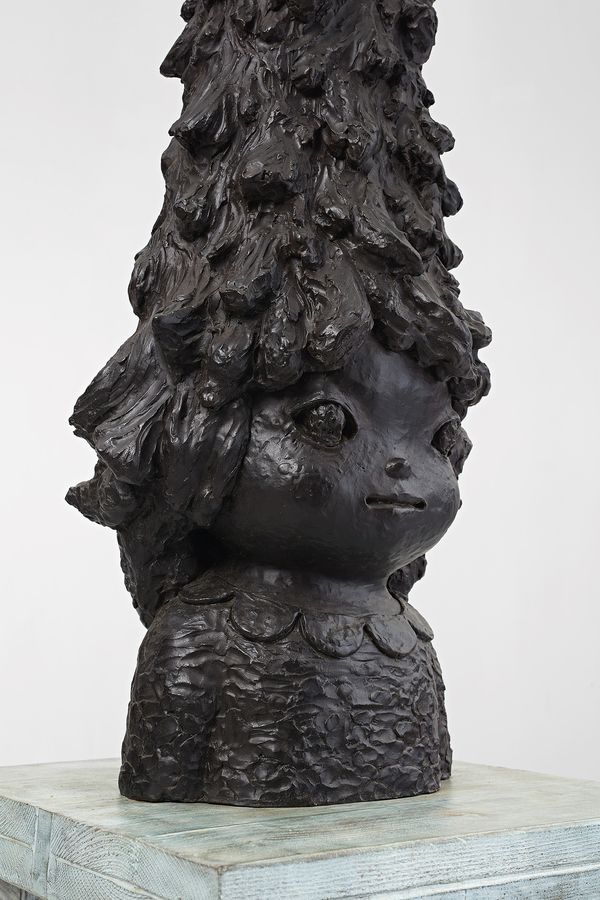 Craving permanency in an environment overrun with instability and uncertainty, Nara transitioned his practice to include sculpture in the 2000s. The present work, Miss Tannen, was part of a series of bronze sculptures exhibited at his seminal 2012 exhibition, A bit like you and me, at the Yokohama Museum of Art. Unlike his instantly-recognizable portraits of menacing child-like figures, the work has a shy demeanor, one of quiet contemplation that echoes the spirituality seen in ancient Buddhist sculpture, such as the seventh-century Kadura Kannon, and the serenity of Jizo sculptures. Fittingly this lot, as well as others in the same series, was cast at a Buddhist foundry in Toyama, Japan. Through such experimentations with bronze, Nara is able to translate the emotional complexities present within his paintings into a more concrete medium, allowing for a longer-lasting manifestation of these fleeting sentiments. As with his paintings, Nara does not use models for his sculptures, instead drawing from his imagination in an unadulterated expression of his artistic ethos.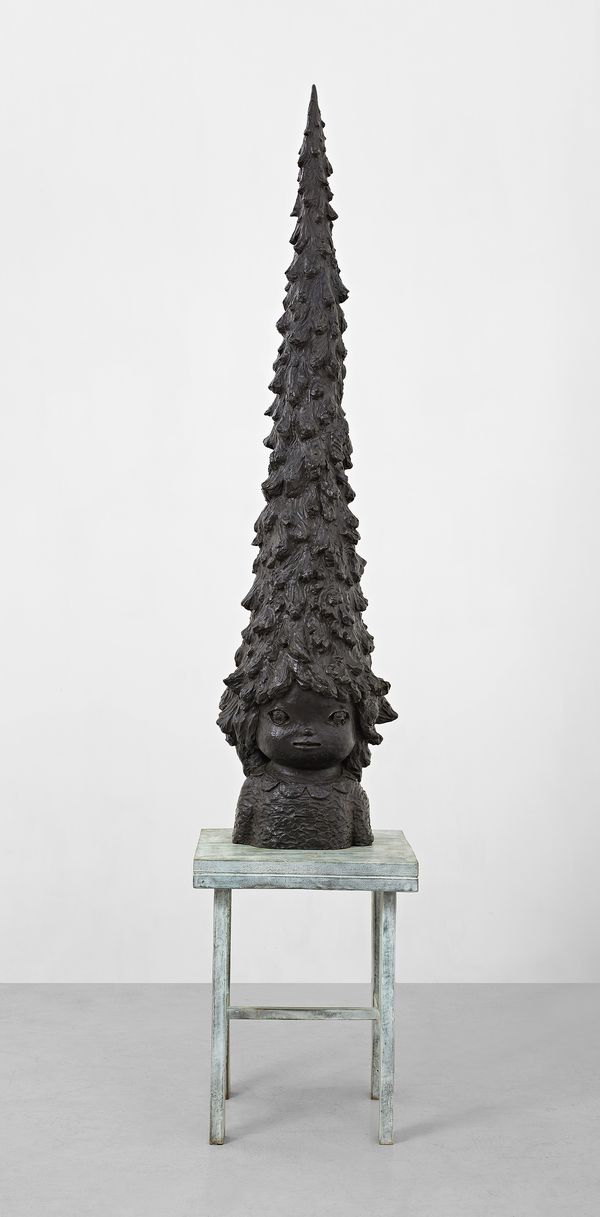 Standing at almost seven-feet tall, Miss Tannen holds a commanding, yet unobtrusive presence. The uneven surface of its conical hair, not dissimilar to the technique of Alberto Giacometti, bears traces of the artist's hand, which provides a visceral and tactile insight into the creative process of the artist. With Miss Tannen, Nara presents us with a striking example of his mature, refined style; a towering vehicle of self-reflection and exploration, whilst drawing us into his own discourse between the physical and the invisible.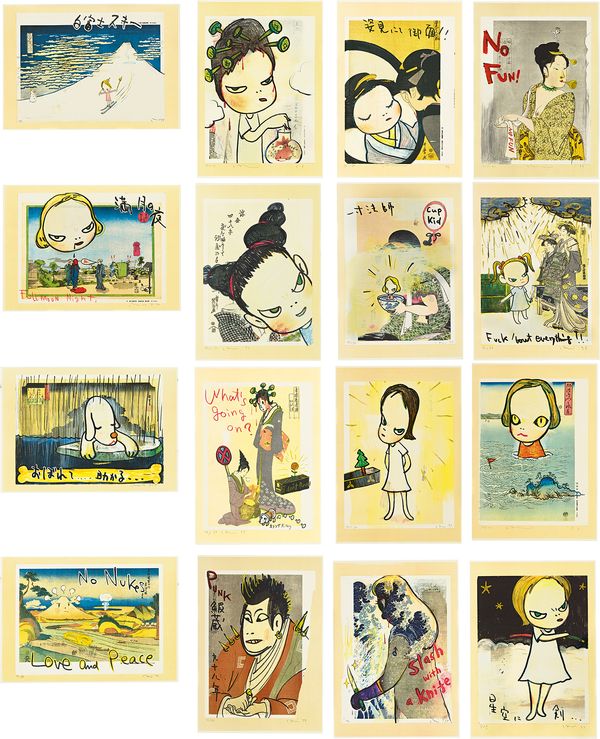 In the Floating World is the largest and most important complete portfolio of Nara prints to ever be offered at Philips. The present work presents the viewer with altered reproductions of sixteen famous woodblock prints from the traditional Japanese genre of Ukiyo-e. Widely popular during the Edo period (1603-1868), Ukiyo-e artists created works that showcased the people and environments of the cities' pleasure districts. In particular, this included sumo-wrestlers, courtesans, warriors, teahouse mistresses and other characters from the literature and folklore of the time. Nara's versions share unique tales of their own, as he infuses traditional aesthetics with his prolific artistic vision to offer new interpretations, such as in the reworked woodcut by Chōkōsai Eishō where the head of the courtesan Shiratsuyu is replaced with that of a mischievous child, and the courtesan's hairpins have been substituted for nails dripping in blood. Some of the appropriated prints are humorous whilst others offer a more critical social comment, led by protagonists who are rendered in Nara's signature cartoon-esque aesthetic, with looks of defiance, melancholy or confusion on their otherwise too-cute faces. As embodied in the playful nature of the present work, it is through these subjects that Nara has enthralled the imaginations and garnered the respect of museums, collectors, and a loyal following worldwide.