REFRESH:RELOAD is Phillips Hong Kong's first cross-category online auction.
Delissa Handoko: Associate Specialist and Head of Online Sales, Asia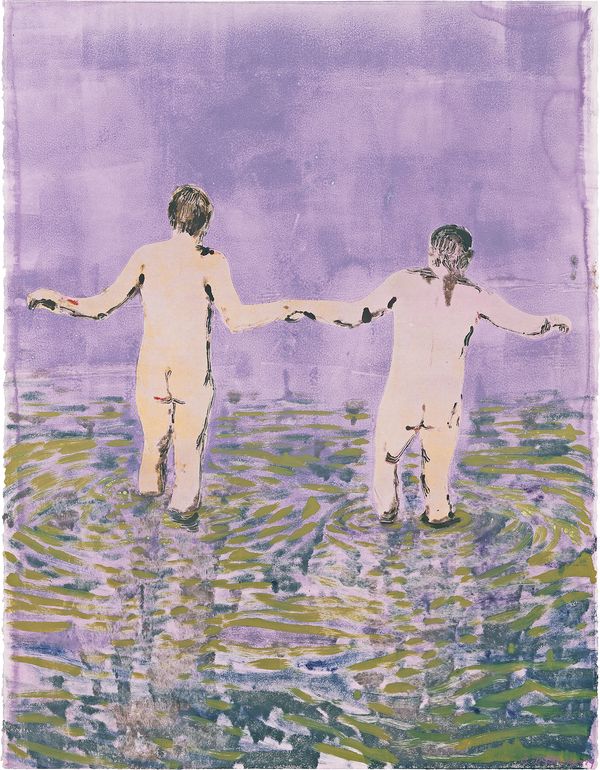 Claire Tabouret My Waves, 2019.
LA-based French artist Claire Tabouret uses the body as her main subject to ruminate on vulnerability in human relationships and the passing of time. In this work, one of my favorites in the sale, the artist explores the ebb and flow of desire using the constant movement of the water as a metaphor for the ever-changing tides of romantic attachment. Tabouret's transparent and fluid layering of color washes creates this luminous, dreamlike composition of a couple wading through a body of water, the details of their reflection within the rippling surface silently conveying waves of emotional and psychological depth.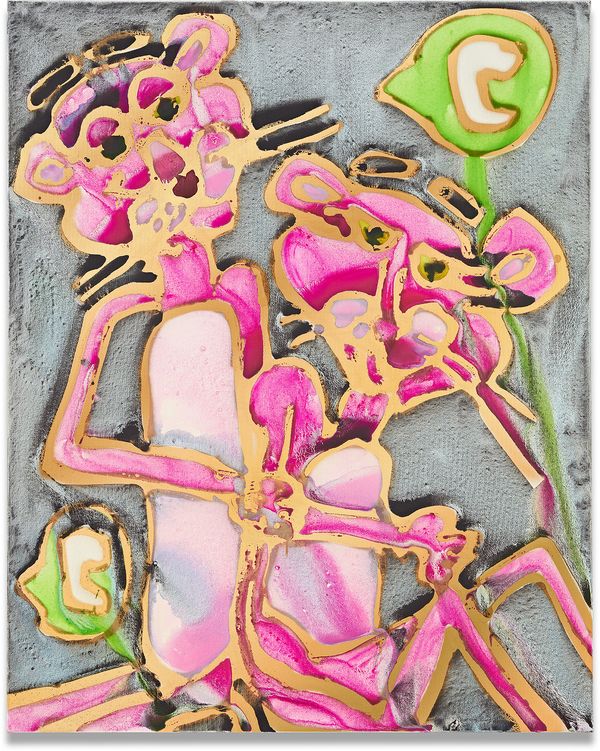 Katherine Bernhardt Fake Love, 2019.
The present lot references one of Brooklyn-based artist Katherine Bernhardt's favourite cartoon-character icons, the Pink Panther. Rendered in fluorescent magenta and outlined in metallic gold, a pair of panthers are framed by the logos of the ubiquitous messaging app Whatsapp. Perhaps alluding to the search for a real connection in an age dominated by text messaging and social media (hence the title), underneath Bernhardt's electric colours and playful aesthetics is a reflection and commentary of present day contemporary culture.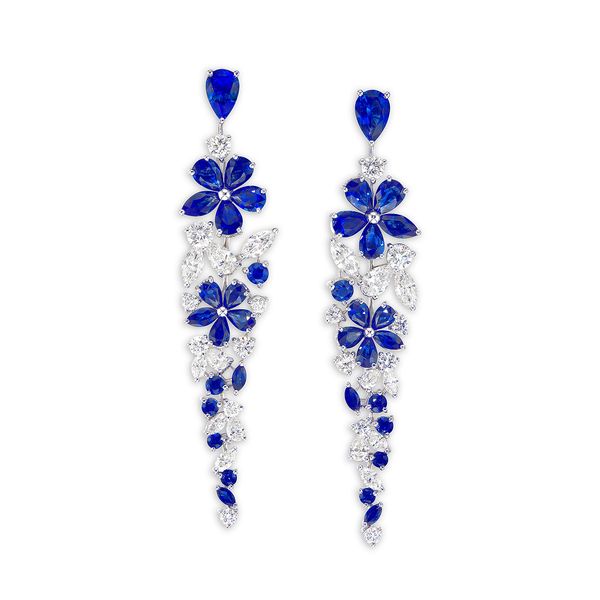 Graff A Pair of Sapphire And Diamond "Carissa" Ear Pendants.
The Greek name for "beloved," the Carissa flower has long been translated by Graff into a range of jewelry designs spanning necklaces, earrings and bracelets. These ear pendants are made up of an arrangement of pear-shaped and marquise gemstones totaling 10.10 carats, and I love how the vivid blue of the sapphires creates an image of cascading blossoms. Not only is this luxuriously elegant, but the graphic quality of the floral design also adds a touch of whimsy.
Yoki Chan: Junior Specialist, Jewels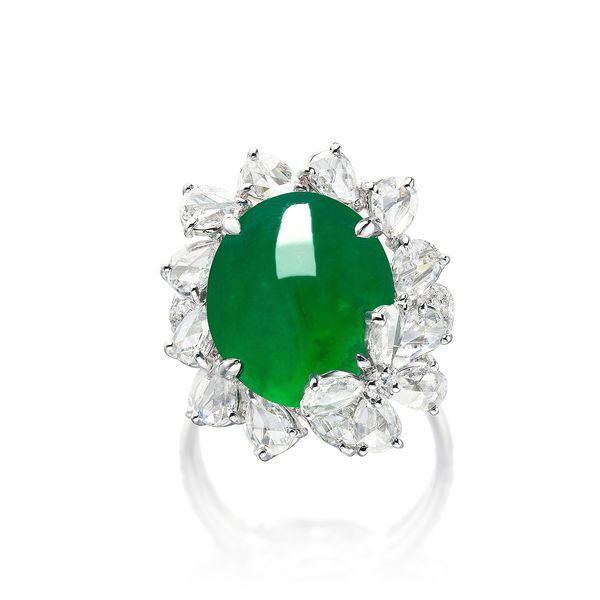 A Jadeite Cabochon and Diamond Ring.
This ring is set with a thick-domed oval jadeite cabochon of even, brilliant emerald green color and high translucency with a fine texture. With a stylized mount set with rose-cut and brilliant-cut diamonds, the cabochon's watery luster is contrasted with the scintillating fire of the white stones, heightening the elegance and beauty of natural jadeite.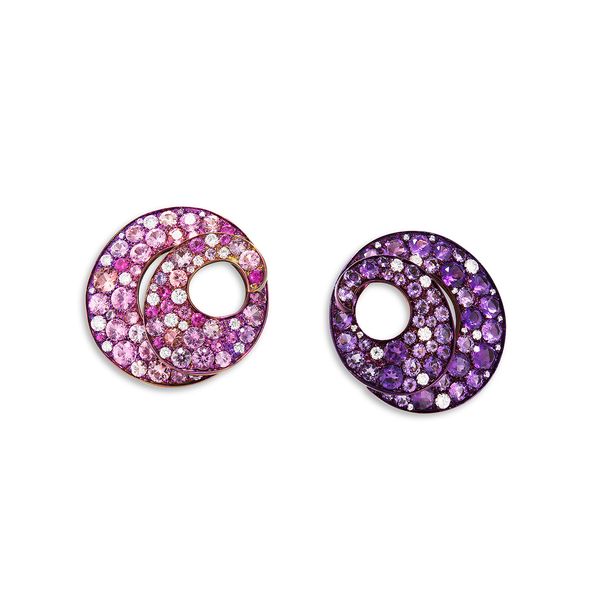 Margherita Burgener A Pair of Amethyst, Colored Sapphire and Diamond Ear Clips.
Each of these Margherita Burgener earrings presents as an individual, contemporary, lightweight circular-hoop set with pink sapphire and amethyst. Titanium is an incredible fusion of lightweight strength that will not tarnish and is very easy to wear. The pink and purple colors make this pair of earrings charming for daily wear!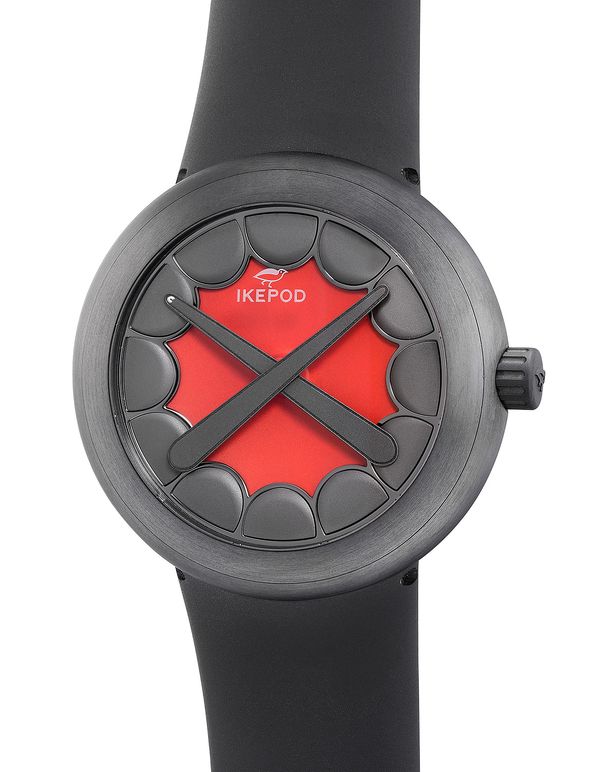 A very fine and rare blackened titanium wristwatch with certificate and box, made in collaboration with KAWS, designed by Marc Newson.
This watch was reconceptualized by KAWS in 2012, with the popular model of his signature circle teeth motif emblazoned across the black dial, while the hands are shaped in his trademark "X Eye" motif. Ikepod's iconic pebble-shaped water-resistant case is coated in black titanium. This watch captures KAWS's style in an understated and playful way. In addition to the X on the dial, there are double X markings on the rubber strap near the special Ikepod clasp.
Shoyo Kawamura: Cataloguer, Watches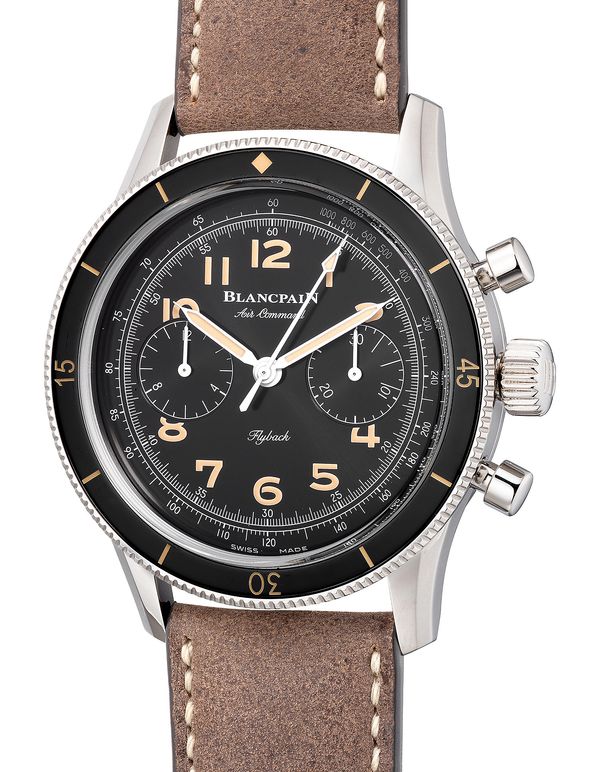 Blancpain Air Command A fine, attractive and well-preserved limited edition stainless steel flyback chronograph wristwatch.
Originally from the 1950s, the Blancpain Air Command is one of the most sought-after chronograph timepieces from the aforementioned era, initially designed for the U.S Military. We sold a beautiful original example from the 1950s at our Phillips & Blackbird: SPORTS 2019 auction (Lot 814) for a world record. In the same year, Blancpain launched the reedition of the fathomed model and was executed to perfection and in my humble opinion, it is the best new edition of a timepiece in recent times. The present example offered is presented in "New old stock" condition.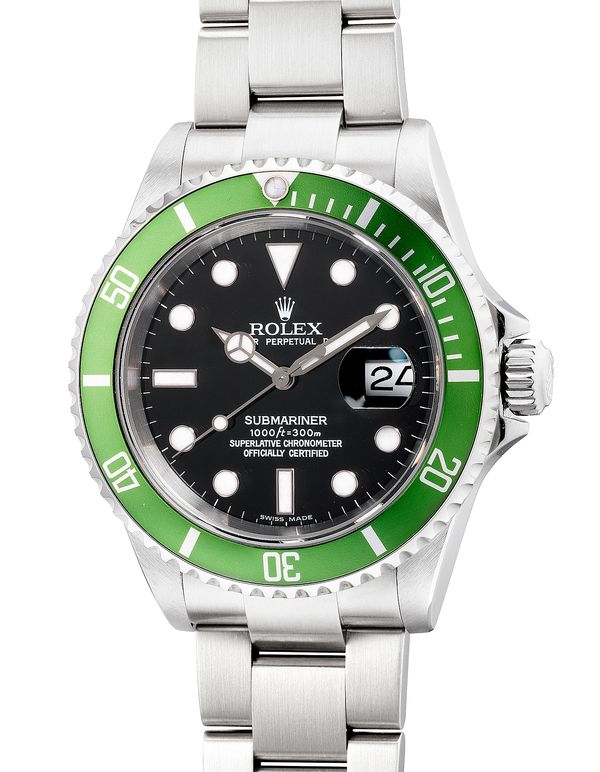 Rolex Submariner ref. 16610LV "Kermit, Flat Four".
The "Kermit, Flat Four" is with no doubt one of the most iconic sports wristwatches of our time. Launched to celebrate the 50th anniversary of the Rolex Submariner in 2003, only examples produced in the first year bears a "flat four" bezel insert, making early examples rare. Highly sought after by connoisseurs, the present example from circa 2003 bearing an "F" serial is further enhanced by its excellent overall condition with an unpolished case and accompanied by the full set of accessories.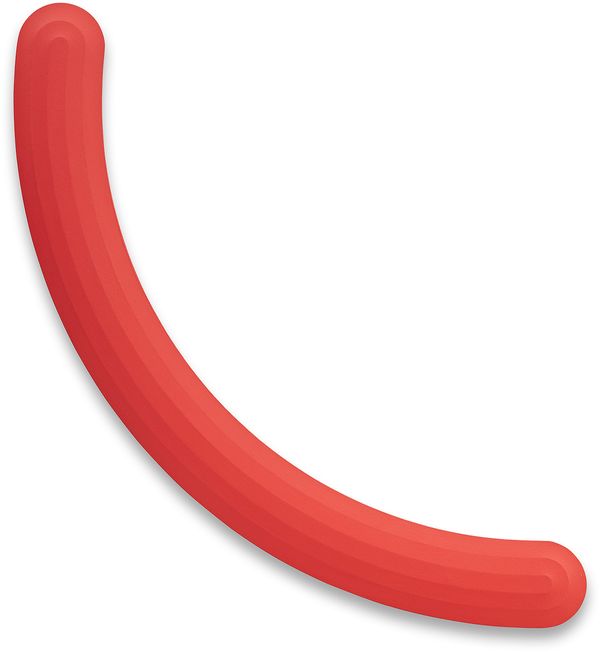 Josh Sperling Red Squiggle, 2015.
New York-based artist Josh Sperling has established a name for himself for his unique practice that blurs the lines between painting and sculpture. Although Sperling's signature geometric compositions have a distinctive graphic immediacy, his visual vocabulary of abstract forms through shaped canvases and saturated colors evokes a dynamic quality that draws viewers in. He is an artist that I recently came to know about through a friend and has captivated my attention ever since.