Specialist, 20th Century & Contemporary Art, Alice Trier. Photo courtesy of MADAME.
Specialist Alice Trier joined Phillips four years ago, following a lifelong passion for the arts instilled by her family. Based in Cologne, Alice serves as the regional representative for all of Germany and works closely with our 20th Century & Contemporary Art department throughout Europe and beyond. We spoke with Alice to learn more about her background, Cologne's lively arts scene and her tips for new collectors.
PHILLIPS: Tell us how you first discovered your passion for art. What was your path to working in the field?
ALICE TRIER: I was very fortunate to grow up in a family where I was always surrounded by art and artists. In the 1960s, my father Eduard Trier was a committee member of the first documenta exhibitions in Kassel, commissioner of the German Pavilion at the Venice Biennale and director of the Düsseldorf Art Academy. My uncle was the artist Hann Trier. Even my grandmother, Grete Brabender, was a famous restorer of medieval sculpture.
But art is more than just a tradition in our family, it's a passion and our elixir of life. I knew from very early on that contemporary art would play a vital role in my life.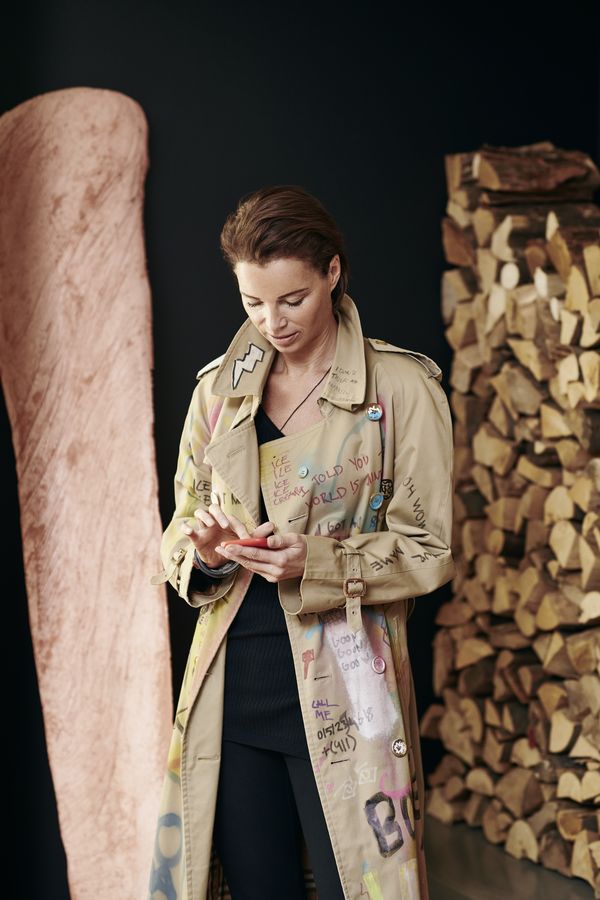 Photo courtesy of MADAME.
P: When did you join Phillips, and why?
AT: I joined Phillips four years ago after Martin Klosterfelde, who was at that time our rep in Berlin, kindly introduced me. I was quite often in London as I had the position of being a VIP Consultant, Germany, for Frieze. After having worked for many years in the restoration studio of my brother, Michael Trier, and in the contemporary department of the German auction house Lempertz I was ready for the next step.
I've always appreciated that Phillips is uniquely focused on 20th century and contemporary art with a very curated view. I like the idea of creating a cultural identity and making people aware of what is relevant. In this time of increasing digitization people want that personal touch. At Phillips I could always feel the diverse cultural connection points in the context of art, architecture and design; these fields complement each other perfectly.
P: You're based in Cologne, which is home to one of Europe's most developed art ecosystems. What is special about being a part of that world?
AT: Cologne does indeed have an extremely rich culture – and that has been the case for more than 2000 years. Just think of the famous Dionysos mosaic here, which decorated the villa of a Roman merchant.
In the 20th century, important collectors such as Josef Haubrich, Wolfgang Hahn or Peter Ludwig made a crucial impact. Galleries such as Galerie Der Spiegel by Hein and Eva Stünke were absolutely avant-garde and ensured a lively axis between Cologne and Paris even after the war. It was through them that artists as Jean Arp, Max Ernst and Hans Hartung came to Cologne. Through the 60s Cologne continued to be very progressive, and in 1967, the first Kölner Kunstmarkt opened its doors. It was the world's very first fair for modern and contemporary art, founded by Hein Stünke and Rudolf Zwirner. Because of that fair, Cologne became the perfect breeding ground for more galleries. Artists such as Keith Sonnier, Richard Serra and Mel Ramos showed their work here for the first time in Europe.
But speaking about Cologne in the 60s you also have to mention our neighbor Düsseldorf, because Düsseldorf had the famous art academy - Joseph Beuys, Gerhard Richter and Sigmar Polke all lived there. At the beginning of the 80s, artists like Richter and Polke moved over to Cologne which again became the hotspot – due in part to the lively music scene.
Today I'm afraid that Cologne has not been able to maintain its progressive status since the early 2000s. I would say we rested too much on our laurels. What has remained, however, is a certain playful open-mindedness that I do not see in other German cities.
P: When looking back at your time with Phillips, which project or initiative brings you the most pride to remember?
Being the sole representative for Phillips in Germany is quite a challenge. Staying in touch with many different clients requires my constant commitment and dedication. I would not be able to do my job without real discipline and inner balance, and I'm proud of what I've achieved here.
Otherwise, I am very pleased to have built a fruitful partnership with Outset Germany_Switzerland. We highly appreciate their vision and philanthropic support of established and emerging artists, and we've organized several charity auctions for Outset. In February of this year, we held an auction in St. Moritz at the legendary Dracula Club under the patronage of Rolf Sachs. This was, of course, spectacular. The incredible commitment and input of the Outset Director Bettina Böhm cannot be praised enough. In the most recent issue of the Outset magazine, they published a fabulous interview with our very own Cheyenne Westphal.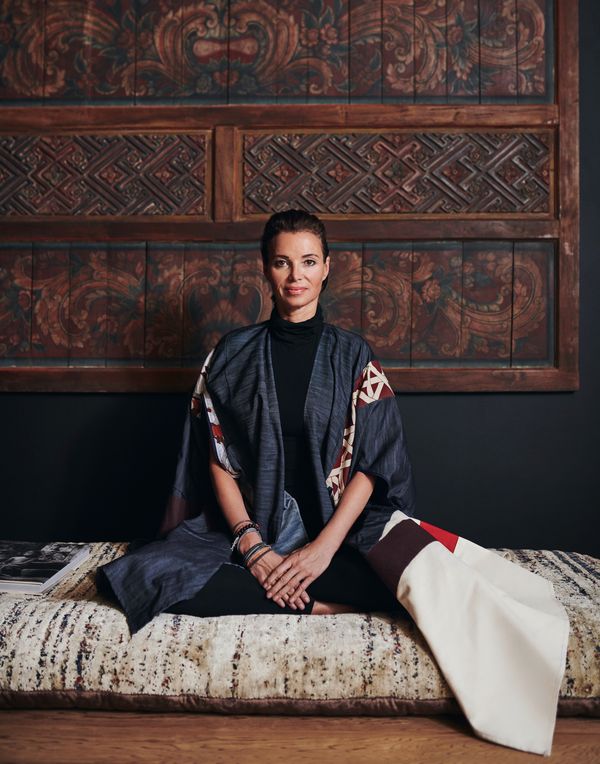 Photo courtesy of MADAME.
P: Are you a collector yourself? Who are some of the artists you find most inspiring?
AT: I am too shy to call myself a collector. This is a big word. But as you can imagine, in my life it has been an incredible privilege to be surrounded by great artists and to be close with them.
My own collection started many years ago. In the very beginning, I didn't have the means financially to collect but sometimes received works of art as a gift or as payment. Later on, my first husband and I bought works of art from friends like Andreas Schulze and Georg Dokoupil. Much later, I had a studio that I gave free of charge to artists like Owen Gump, Tobias Hoffknecht, David Ostrowski and Grayson Revoir to work there, like a small artist's residence program. Melike Kara was the last artist, and she stayed for almost two years in my studio. It's a joy to witness her increasing momentum in the market, as she's had solo shows at Peres Projects in Berlin, Yuz Museum Shanghai, Witte de With in Rotterdam, Kunstverein Göttingen and Galerie Jan Kaps in Cologne.
Looking at my little collection, I can say it is a huge privilege to be surrounded by art and design from medieval times through today. All the works I own are, however, united in concept and aesthetic. My partner Marc Meiré is a radical conceptualist who runs an independent design agency and creative consultancy. We believe that the things you surround yourself with also shape you, and that it is therefore extremely important to be demanding and consistent in order to make your own aesthetic and ethical credo visible.
P: What advice would you give someone who is new to collecting?
AT: First of all, listen to your instincts and develop an attitude to the things that concern you instead of just buying what a top ten list will tell you. Buy art that really touches you.
In case you fall in love with a work that is out of your price range, try to track down less expensive works like prints or works on paper, but by the same artist.
And of course, I frequently advise young collectors to look around in our online-only and New Now sales. We offer such a large number of works by emerging artists at affordable prices – there are always exciting discoveries to be made.