- by Arthur Touchot
Ask any contemporary, independent watchmaker, when they first began dreaming of being able to present a model bearing their name, and more often than not they'll point to the Antiqua. A highly unusual wristwatch, blending steampunk aesthetics to high-end and hand-made watchmaking for the first and possibly last time, the Antiqua may be a divisive watch to the casual observer, but it is a watch that unified a small group around the idea that watchmaking could, and should in the very best of times, be a liberating exercise. An idea ushered by Vianney Halter.

Many have supported it, most notably Harry Winton, whose "Opus" series is specifically designed to promote the work of independent watchmakers through collaborative pieces that encourage unique designs. It was therefore only a matter of time before Harry Winston (and its then-CEO Maximilian Büsser) invited Halter to contribute his own watch to the series, the third of 14 (and counting).

For many reasons, including the time it took to deliver the first pieces, the Opus 3 is now one of the most well-known in the series and today we revisit its iconic design with its creator.
Arthur Touchot: Many big brands relied, especially during the 90s and 00s, on small independent structures in order to offer new and innovative mechanisms. For you, these names include Audemars Piguet, Breguet, Jaquet Droz and so on… What lessons have you learned from this experience, and how did these help for the launch of your own brand in 1998 and the introduction of the "Futur Antérieur" collection?
Vianney Halter: In the 1990s the only way I knew to work independently was to offer my services to the industry. It worked until 1996 when a financial crisis hit South East Asia. The watchmakers whom I had a relationship with then stopped providing me with work and I used my newly available free time to make a timepiece which I would use to promote my qualities as a watchmaker. I made Antiqua, a perpetual calendar, whose conception of the complication did not fit into a conventional architecture, assembled in a box that showed that my work did not restrict itself to the mechanical side. It was by chance that this watch became the first serially made watch to bear my name. Vianney Halter watches are therefore a consequence of this crisis, a career surprise.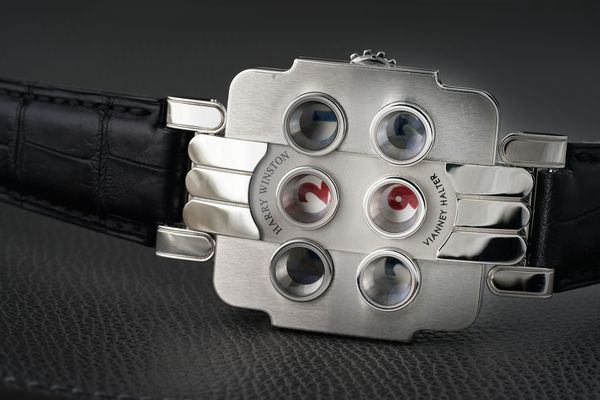 Lot 142 of The Geneva Watch Auction: XI - link
AT: From the very beginning, you show an interest in major complications with the Antiqua, a perpetual calendar presented in what will be called an OHVI (Unidentified Watchmaking Object) with a unique design language. What is your inspiration for this watch and the ones that follow, and do you think your time as a restorer had any influence on the design language you developed?
VH: The inspiration for Antiqua comes directly from the world of marine chronometers. While restoring this type of device, I was immediately seduced by their quality and the history that accompanies them: cutting-edge technology, conquering the planet, competition between watchmakers and the states. This period - the 18th and 19th centuries - represented a time of continuous progress for humanity. This period represents a unique moment of development when an individual could undertake whatever it was possible to imagine, without constraint. Imagining watches like those in the "Future Future" collection is a tribute to this freedom, they are the watches I think could have been created at that time if wristwatches had existed.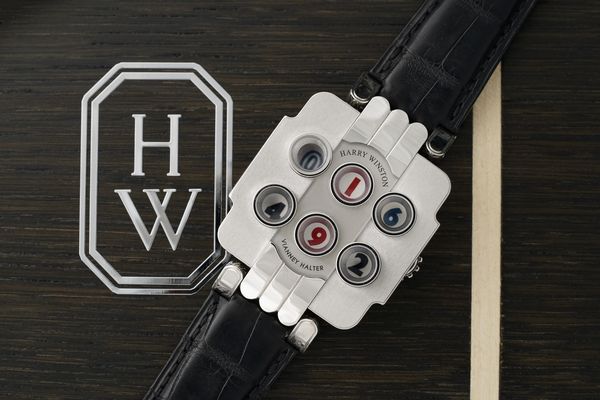 AT: In the early 2000s, you were contacted by another big name in modern independent watchmaking - your friend Maximilian Büsser - to design a watch for Harry Winston in the Opus collection, whose objective is to support the independents and show what they can achieve to a wider audience. Can you tell us about your first exchange with Mr Büsser, how you come up with the Opus 3, and how you work together on this project?
VH: When Maximilian Büsser launched the Opus "cycle", he was looking for "real watchmakers" to support the promotion of the Harry Winston brand. He gave me the opportunity to work on the third Opus and I accepted, because I've been dreaming of working for Harry Winston since I was a young boy. More on that later. However, when I presented my watch, the feedback was more than mixed. Maximilian organized a meeting in my Sainte-Croix workshops with Ronald Winston (the son of Harry Winston) to change my design. The result of this meeting was that not only Ronald Winston understood the meaning of this creation, but he left by ordering an Antiqua!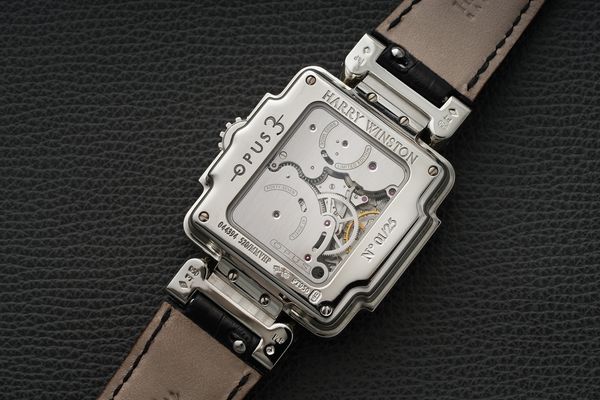 AT: Unlike the watches you may have developed for other houses, the Opus 3 features your name on it (at the back). Do you have a different relationship with this object as a result?
VH: I have had a very special relationship with the Harry Winston brand which began during my childhood. Indeed, at the age of 10, I watched the film "The world, the Flesh and the Devil" (The World, The Flesh and the Devil), by Mac Dougall, with Harry Belafonte and Inger Stevens. It's a science-fiction film and, when I was very young, I was already fascinated by this "genre". In one scene, Belafonte offers an exceptionally large diamond to Stevens. Harry Winston's name appears in big letters on the screen. I was dazzled by this stone and I thought it came from a world that was and would be forever inaccessible. Who would have thought that, about 40 years later, my name would rub shoulders with this prestigious name on the face of a watch that I had conceived ...?
AT: Can you explain the success of Opus 3 almost 20 years after its release, and its popularity within the Opus collection among collectors?
VH: I think that the Opus 3 looks like no other wristwatch, and that is precisely what makes it unique, not only within the Opus series but in all that is done in watchmaking. I created it without any business or strategy intention. It appeared for the sole purpose of paying homage to the things that inspire me, with the sole purpose of having fun. This piece represents everything, except a constructor's delirium or the "shadow" of a previous invention.
To learn more about the present Harry Winston Opus 3, designed by Vianney Halter, please visit our online catalogue.