Daniel Arsham Ash & Pyrite Eroded Porsche, 2019.
20th Century & Contemporary Art Evening Sale, Hong Kong.
New York-based multidisciplinary visual artist and architect Daniel Arsham has created a universe of the future – one that traverses the boundaries of archaeology and the passage of time. Pursuing an ongoing "inquiry into the fate of humanity," which began with his iconic Future Relics series, Arsham re-imagines everyday objects as artifacts unearthed in a futuristic geological dig, years of material damage from the elements captured in ghostly, intricately crystalized erosions.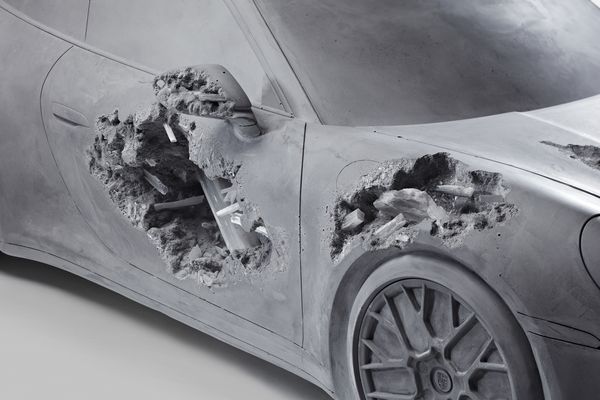 Daniel Arsham Ash & Pyrite Eroded Porsche, 2019 (detail).
With Ash & Pyrite Eroded Porsche, Arsham pays tribute to one of the most acclaimed sports cars of all time, the Porsche 911's distinctive two-door, rear-engined silhouette, still instantly recognizable after more than three decades of modifications. Working with Porsche was a childhood dream come true for Arsham, which he recounted in a 2019 interview with GQ magazine:
"You know, when I was a kid we all made drawings of certain things and I was often drawing sneakers and cars. I have these very old drawings of these Eighties 911s and I got connected with the brand through a friend of mine about a year and a half ago and I started thinking about posing this project to them."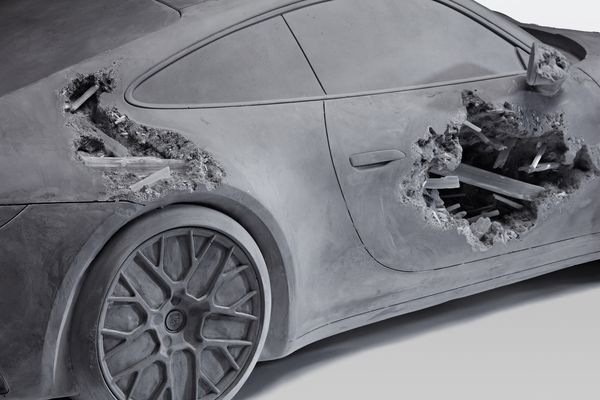 Daniel Arsham Ash & Pyrite Eroded Porsche, 2019 (detail).
Designed with volcanic ash, Arsham re-imagines the car as a witness to a devastating natural disaster, its ashy grey body abruptly gouged and delicately encrusted with Arsham's signature crystal erosions. Like the victims of Pompeii, frozen in time under several feet of volcanic ash and debris when Mount Vesuvius erupted cataclysmically in A.D. 79, Ash & Pyrite Eroded Porsche is a reminder of when, as ancient historian Pliny the Younger recalled, "darkness fell, not the dark of a moonless or cloudy night, but as if the lamp had been put out in a dark room."
Enigmatic and ever-compelling, Arsham's practice continues to explore dichotomies between reality and fiction, as well as destruction and creation in his apocalyptic world of the future. Ash & Pyrite Eroded Porsche was unveiled at The House by Daniel Arsham installation at London's Selfridges' Corner Shop in December 2019. Reimagining a typical family home in the distant year of 3019, Arsham collaborated with household brands as diverse as Rimowa, Wedgwood, Heinz and Dior Homme to create a dystopian, post-consumerist vision of domestic life.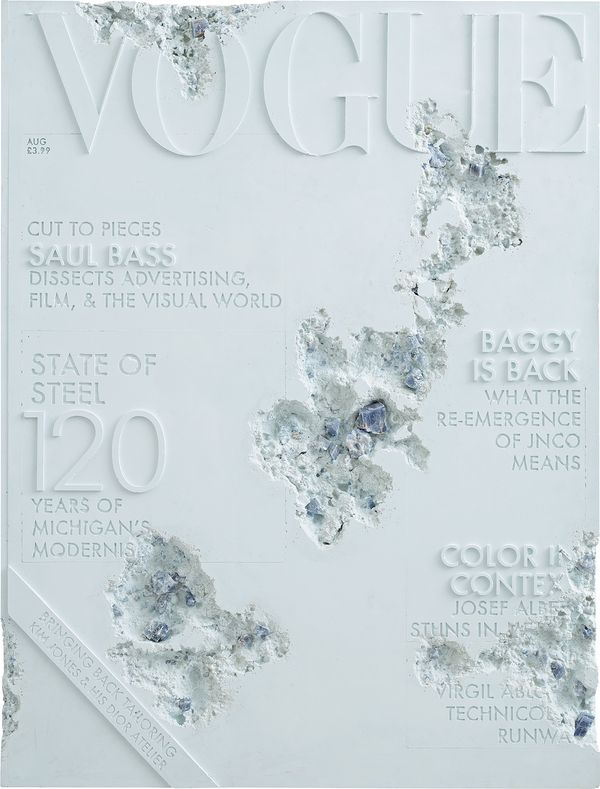 Arsham's sculptural works are a poetic juxtaposition of form and material. Created with materials such as volcanic ash, rose quartz, obsidian, and glacial rock, everyday objects of contemporary life and pop culture are imagined as if they have been 'uncovered on some future archaeological site'. His work is almost universally devoid of color but relies solely on the physical manipulation of basic materials to confer new meaning.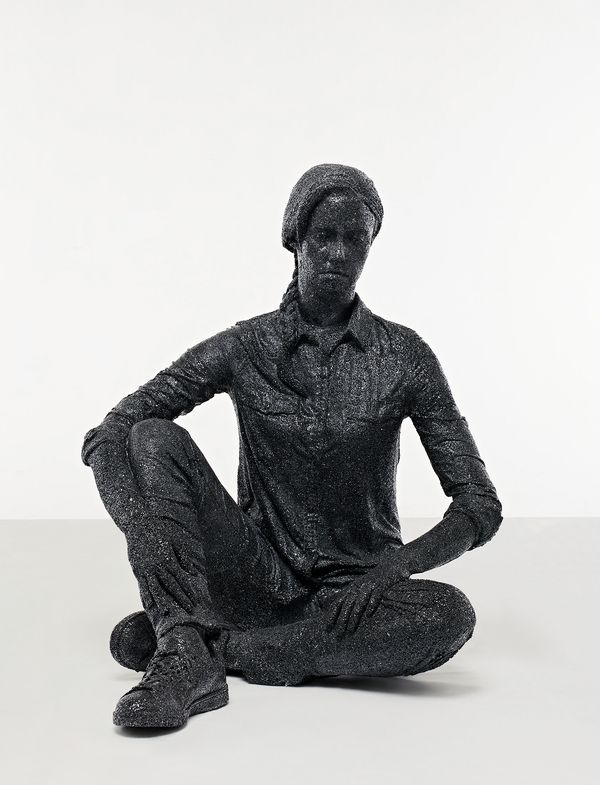 The present work was included as part of Arsham's first retrospective Connecting Time at the Moco Museum in Amsterdam. It is an exemplary testimony to the artist's mastery of this technique, depicting a realistic, seated female figure in contemporary dressing encrusted in black, glittering glass shards. Exploring the dichotomy between destruction and creation, in Arsham's own words: "The glass is really about taking this broken useless material and reforming it back into something that has intention and purpose."
Arsham has been honored with solo exhibitions around the world, including most recently at the HOW Art Museum, Shanghai (2019). The past couple of years have also seen Arsham exhibit at venues including Galerie Ron Mandos, Amsterdam (2019), as well as Galerie Perrotin in New York (2018) and Tokyo (2018).