- By Arthur Touchot

When Phillips announced that it had secured Paul Newman's Rolex Daytona for Winning Icons, Aurel Bacs immediately started thinking about the best way to showcase the watch to the public. Bacs set his sights on the Raptor – a high-end mechanical display case without any glass, that instantaneously hides the watch it is showing when someone tries to touch it.
The only problem? Hublot has exclusive rights to the case, so Bacs called Jean-Claude Biver, then President of the LVMH Watch Division, to see if something could be done. Soon after that call, the case was on its way to New York, and Phillips would be the first company outside of the LVMH group to welcome the Raptor through its doors.
Open any watch catalogue produced by Phillips since 2015, and you will find Biver's name in the bottom right corner of the fourth page among a list of other extremely well-known figures of the watch industry. Together, they form the Phillips Advisory Board, and they've advised the Watches department on some of the most important watches ever offered at auction.

They have also acted behind the scenes more than once to enhance the experiences of our clients during auction previews. Almost two years after Winning Icons, clients still remember the playful disappearing act of the Raptor and Paul Newman's watch. More than anything though, the members in our board are people who absolutely love watches, and want to communicate that feeling with others.
"I am a collector at heart," says Jason Singer, a prominent American watch collector and one of the original members of the Phillips Advisory Board. "I specifically enjoy collecting vintage watches for their nostalgic utility, beauty, mechanical complexity and academia," he says.

The members sitting on Phillips' advisory board have been attending watch auctions for more than 30 years – they still regularly participate and attend preview exhibition and panel discussions organized around the auctions – and during that time they've witnessed the emergence of an entire community of collectors of which they've involuntarily become figureheads.

"I started collecting wristwatches in the 1970s, and to be honest it all began as a pure hobby" says Kenneth Wong, a board member from Hong Kong. "Back then, I just considered the watches to be toys that I could wear on my wrist — something that I could bring with me and that intrigued me," he says.
Biver, one of the watch industry's most famous executives, has devoted his life to watches, leading several manufactures towards profitability and launching some of the most innovative models along the way.

Watches also occupy most of his free time. "I have been in the watch industry since 1974 and watches are my passion," said Biver. "It was only normal that I develop a very special interest for vintage watches."
If Phillips turns to its board for guidance, feedback, and recommendations it's also because its members have seen many of the most iconic, most desirable, and rarest watches in the world – some of which reside in private collections that only they have access to.
Their curiosity for historically important watches has led to many deeply meaningful conversations with our specialists, and it's not unusual for these meetings to bring to light new scholarship in the field of watches.
"Put simply, I collect watches because holding a great watch in my hand gives me a feeling like no other," says David Lou, the latest member of our advisory board.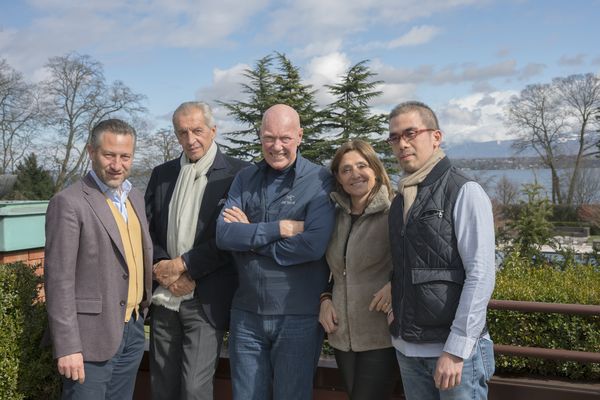 Advisory Board members Auro Montanari, Jean-Claude Biver, and David Lou, meeting Aurel Bacs and Livia Russo in Geneva.
The son of art collectors, Lou began following auctions from a young age and developed a strong interest for vintage watches. Having first spent time focusing on pocket watches, Lou would later shift his attention to vintage wristwatches.

"Back in the days, sports watches were not very popular, unlike today," says Wong. "Many collectors, including myself, devoted our collection and attention to dressier models, such as the Rolex Prince and "Bubble Back", or vintage Patek Philippe. These watch models were considered classic and very coveted back then."

Today, collectors are paying attention to different models, and they're placing greater importance on things like quality and provenance.

"Vintage watch buying has become incredibly popular in recent years, thanks to a community of savvy collectors, and great online resources for both learning about and buying old watches," says board member Auro Montanari.
A veteran watch collector, scholar, and prolific author who uses John Goldberger as a pen name, Montanari has been on Phillips' advisory board since 2015 and has witnessed first-hand the growing interest in watch auctions. He believes they're getting more and more exciting and competitive.
"It was one of the most thrilling auction of my long time collecting life," he says, recalling Winning Icons, the auction that featured the record-breaking Rolex Daytona Ref. 6239 "Paul Newman" formerly owned by the American actor.
With such a large number of new buyers coming into the field, the role of auction houses has never been more important according to the experts.
"The role of the auction house is to find and provide an interesting array of timepieces that are thoroughly vetted and described in a forthright and honest evaluation" says Singer. Moreover, the auction house should provide academic guidance and foresight to the hobby.
Collectors can now purchase vintage watches almost anywhere, at any time, in the world, but "it is always advisable to buy from the purest and most professional source," says Biver.
When it comes to buying watches at auction, the experts are adamant. "First and foremost, buy what you love," said Lou.
The experts agree that collecting is a deeply personal experience and the best way to ensure a pleasurable experience is to follow one's heart. However, "try not to purchase the first watch you like," warns Henry Chan. The Hong-Kong based collector, who joined Phillips' advisory board in 2015, recommends focusing on the condition and finding the best example of the watch you're after.

"No one can predict the future of watch collecting with 100% certainty of course," says Montanari, "but a smartly built collection of watches will at least do better than the current interest rates of your savings accounts."
Collectors won't always get it right, according to Singer, but that's also the point. Tastes evolve and sometimes change dramatically during the course of your collecting career.
"Let this happen," Singer says. "Evolve, transform and learn to appreciate what is specific to your needs and wants. Be patient and be disciplined!"

In other words, buy what you enjoy, and enjoy what you've bought.