Lot 22: Shiro Kuramata 'Miss Blanche' chair, executed 1991. Estimate: £200,000-300,000.
Design at Phillips London, 19 June.
Shiro Kuramata first exhibited his now-iconic Miss Blanche chair at KAGU Tokyo Designer's Week, Axis Gallery Annex in 1988 and in Paris the following year in a solo exhibition of the designer's work at Galerie Yves Gastou. The design initiated a series of works in Kuramata's late career, which explored the expressive potential of acrylic. Experimenting with the material's transparent 'non-existent' quality, often combined with industrial materials such as aluminum as seen in the present work, Kuramata created objects imbued with feeling and memory, which carried a meaning beyond their practical function. Reflecting Kuramata's poetic approach to design and affinity for experimenting with new materials and innovative technologies, these works demonstrate a sensitive exploration of light, color and form, considered within the surrounding space. Describing the present design, Kuramata explained, "This chair has no details. Or rather, please think of the whole chair as a detail. This work has been designed in homage to Miss Blanche DuBois in A Streetcar Named Desire written by Tennessee Williams" ("Details of furniture: Miss Blanche," Shitsunai, no. 409, January 1989, p. 43).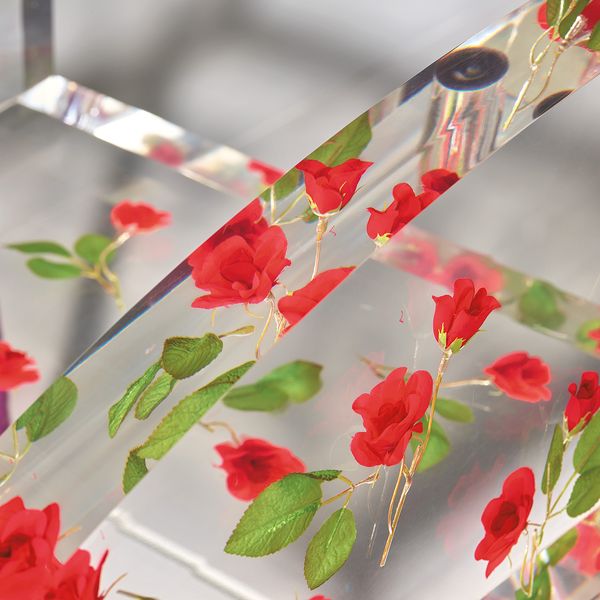 Shiro Kuramata 'Miss Blanche' chair, executed 1991 (detail).
The year of the chair's design in 1988, Kuramata had seen the 1951 film adaptation of Williams' Pulitzer Prize-winning play. It has been suggested that the floral printed dresses or corsages worn by the film's heroine inspired Kuramata's use of roses in his design for the armchair. While any direct motivation remains unknown, Kuramata's inclusion of red roses introduced a figurative vocabulary to an otherwise abstract and seemingly "unmaterial" form of the chair's seat, comprised of acrylic blocks simply supported by tubular aluminum legs. Western culture has historically assigned symbolic meaning to the rose; associated with Aphrodite and Venus in classical antiquity, carrying through to Williams' use of roses to symbolize Blanche DuBois' desire to preserve her beauty and later in the play to signify the character's tragic downfall.
The red-colored rose is specifically understood to convey a heightened emotional state. Appearing suspended in space, the red roses contained by the acrylic blocks in Miss Blanche obscure the prevalent "narrative" of the chair's largely transparent, abstract composition—which communicates a clarity of construction—and alters the viewer's perception of the work. Describing Kuramata's Miss Blanche chair, Tasahi Yokoyama explained, "Once again he had succeeded in creating a chair that could be appreciated without even being sat in… It is because it took the form of a chair, an apparatus designed to carry people, that we are able to project an image of our own being upon it when we look at it." Defined only in part by its physical function as a chair, the work has a contemplative and ephemeral quality, which extends into the surrounding space and the viewer's imagination, and illustrates Kuramata's interest in denying materiality, or gravity, and the idea that design could embody many things at once.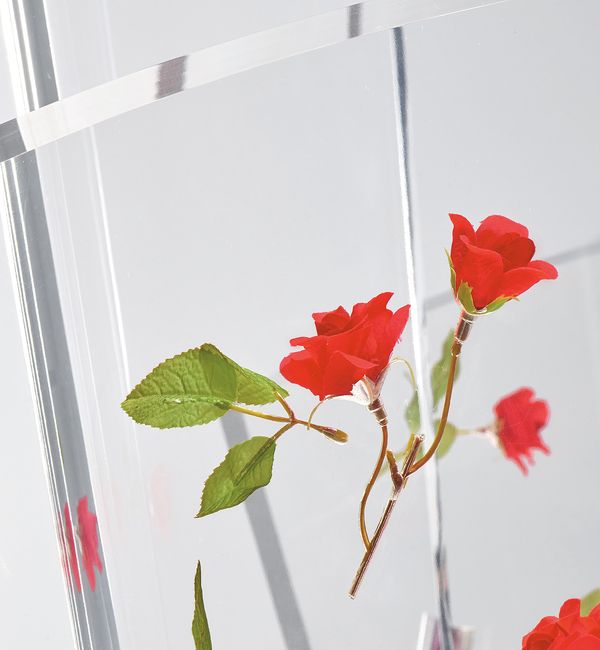 Shiro Kuramata 'Miss Blanche' chair, executed 1991 (detail).
The design of Miss Blanche also demonstrates Kuramata's ability to defy the conventional "naming" of objects, instead questioning these identifications by using new materials to create his own distinctive forms, rather than designing work to fulfill the roles of "named" objects. Kuramata's work, particularly towards the end of his career, explored historical visual references, recalling the juxtaposed realist and dream-like quality of Metaphysical art, and the subsequent Dada and Surrealist movements with ideas of the unconscious. Kuramata's use of inexpensive artificial roses recalls Marcel Duchamp's readymades, in which the artist presented ordinary, commercially available objects as art. The influence of the "assisted" readymade is more directly evident in the designer's Homage to Josef Hoffmann Vol. 2 (1986), in which Kuramata modified a 1970s reproduction of an easy chair designed by the Viennese architect in 1911, enhancing the design by replacing the chair's piping with tiny light bulbs. As with Duchamp, Kuramata's designs reveal their sense of humor, however, the designer does not withhold the 'retinal' quality, exploring both conceptual and formal concerns in his work.
Kuramata also described the influence of Italian design on his work, which he admired for its richness of expression and the ability of Italian designers, foremost Ettore Sottsass, Jr., to transform existing objects, liberating their work and its users. Kuramata was invited by Sottsass to join the new design collective Memphis in 1981 and he participated in the group's inaugural exhibition that same year held at the Salone del Mobile, Milan. The Memphis group's postmodern visual language, characterized by bold colors, playful forms, and geometric and often plastic-laminated surfaces—which had its own ephemeral quality—offered a deviation from the linear furniture Kuramata had previously created ("My relationship with Italian design," Soshoku Tairu Kenkyu, July 1986, pp. 24-25). In Miss Blanche, the chair's arms and backrest comprise gentle curves, whilst the overall structure retains an angularity and the quality of sharpness of Kuramata's earlier work. However, the armchair's exacting structural form is interrupted by the asymmetrical pattern of the artificial flowers. The incorporation of light, creating floral shadows, alters the chair's symmetrical outline.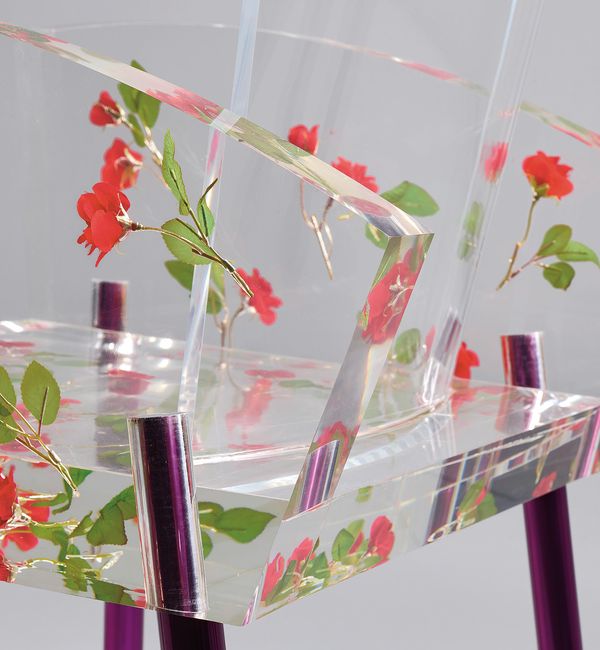 Shiro Kuramata 'Miss Blanche' chair, executed 1991 (detail).
While exploring the potential of industrial materials, Kuramata's designs were not conceived for serial production and were produced in limited numbers, reflecting the importance of craftsmanship to his work. Kuramata developed close relationships with the highly skilled craftsmen and manufacturers that produced his designs, notably Takao Ishimaru who made many of his works and with whom Kuramata experimented with acrylic. The tranquillity of the present design conceals the traces of labor required to make this carefully executed work. The 60 mm thick acrylic resin sections, dynamically intersected by metallic purple aluminum legs, convey a sense of elegant weightlessness whilst the synthetic roses appear suspended in space. To achieve this expression of apparent simplicity, the designer and craftsmen painstakingly experimented with different materials, initially glass blocks and natural roses, and varied techniques. Different artificial flowers were sourced from across Japan before deciding on the present acrylic version, which best retained their color and shape. The resulting process required the craftsmen to pour the acrylic resin into four molds in several stages at which point each flower was held in place with tweezers whilst the surrounding resin hardened adequately. In addition to informing the technique for Kuramata's subsequent designs in acrylic, the process inserted a humanness into the work. Combined with the optical effects of the transparent acrylic, this human quality transformed inexpensive and industrial materials into a precious object. The form of the design's tubular aluminum legs became an element of Kuramata's late visual language, which he reimagined in vibrant colors with variations in shape in order to support tabletops, lighting, the display of clothing and natural flowers.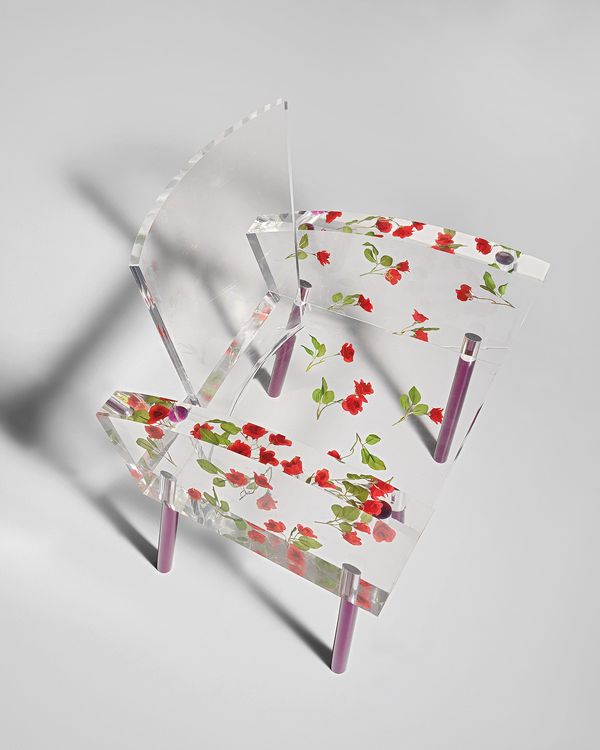 Shiro Kuramata 'Miss Blanche' chair, executed 1991.
Reflecting Kuramata's age at the time of his death, 56 Miss Blanche chairs were produced between 1988 and 1998. The design embodies Kuramata's career-long exploration of surface and transparency, material and light. The considerable weight of the minimalist acrylic blocks, which enclose the composition of roses—possibly inseparable from a larger context, whether the symbolic association or the surrounding space—result in a design that appears both fixed in form and ephemeral. Through his poetic and idiosyncratic approach to his work, Kuramata created designs that were never definitively defined by their physicality or ideology, as they continue to incite feeling or memory.
The present Miss Blanche chair is number 21 from the edition of 56, executed in 1991—the year of Kuramata's death.
Examples of the Miss Blanche chair are held in the permanent collection of international museums, including the Vitra Design Museum; Museum of Modern Art, New York; Museum of Modern Art, San Francisco; Philadelphia Museum of Art; the Dallas Museum of Art; Nakanoshima Museum of Art; M+ Museum; and ADAM - Brussels Design Museum.