Julie Curtiss Four Buns, 2019. Estimate: £80,000-120,000.
20th Century & Contemporary Art Evening Sale at Phillips London, 13 February.
Launched to widespread acclaim following her first solo exhibition at Anton Kern Gallery in spring 2019, Julie Curtiss has since been the subject of heightened critical praise. With great verve and painterly prowess, the artist has created enigmatic yet compelling compositions that center on the human body. She begins with "a feeling, a gesture, a paradox, a story, a memory," and subsequently navigates towards the real, portraying locks of hair, high-heel shoes, and painted nails.
Presenting four buns of auburn hair spiraling in almost perfect symmetry, Four Buns, 2019, perfectly encapsulates Curtiss' ability to evolve from abstract ideas and portray tangible and recognizable elements of the world. Profoundly allegorical, the painting's subject matter recalls Charles Baudelaire's infamous poem La Chevelure, 1859, which twines the French poet's feelings of lust within his loved one's locks of hair. "O curls, O scents which lovely languidness exhale!" Baudelaire wrote; similarly, Curtiss' portrayal of four buns transcends the titular chignons' indexical appearance.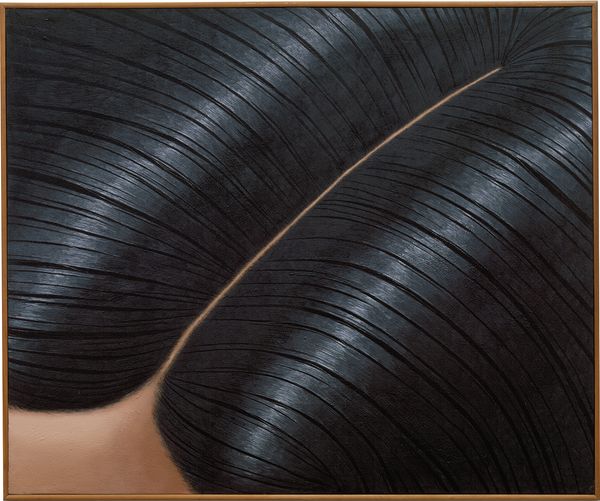 Domenico Gnoli Left Side Partition, 1969, acrylic and sand on canvas,
Stedelijk Museum, Amsterdam. © Domenico Gnoli, SIAE / DACS, London 2020.
Image: Collection Stedelijk Museum Amsterdam
Growing up in Paris to a Vietnamese father and a French mother, Curtiss commenced her artistic studies at the Art Institute of Chicago in 2004, following her reception of the Louis Vuitton Moet Hennessy Award. Later, she became acquainted with the art of the Chicago Imagists, who she confesses an indebtedness to in her recent work. Bearing a specific resemblance to the paintings of Christina Ramberg, Curtiss' work similarly touches on spatial compression and the permeating allegorical allusion to female sensuality, defined most strikingly by her use of hair as an object of both fetishistic desire and revulsion. Curtiss explained, "Hair itself is amorphous, but you can shape it; it's inert and alive at once. On women's heads it's a sexual asset, but on her body, it's considered 'abject'… interesting to observe how some people recoil at the presence of human hair, as if in the presence of a corpse" (Julie Curtiss, quoted in Evan Pricco, "Julie Curtiss: Where the Wild Things Are," JUXTAPOZ, 2019, online).
Transcending the theme of femininity as it has traditionally been envisioned in the canon of art, Four Buns also points to the woman's frequent invisibility in the face of an appearance-driven society; one that focuses on hair and nails – attributes that can be tamed and groomed – without ever delving into the complexities of the soul. As remarked by the artist, "My artworks are psychological. […] I am interested in the various aspects that female identity can take. I like to represent smoking teacups and cigarettes, objects that call to mind a domestic, tamed image of women. On the other side, organic, ambiguous body parts allude to the archetype of a woman fused with nature and her animalistic drive" (Julie Curtiss, quoted in Emily Burns, "Artist Statement," Maake Magazine, 2019, online). With Four Buns, though the hairs' owners are concealed from view, one is able to capture a symbolic construction that contains within in it all the glory of femininity.