Edward Quinn Picasso with a wicker bull mask originally intended for bullfighters' training, he becomes a living Minotaur. Beside him is a sculpture made of scrap wood with the features painted on it, La Californie, Cannes, 1959, including Femme debout, 1953, and a Teotihuacan mask
© edwardquinn.com. © Succession Picasso/DACS, London 2020.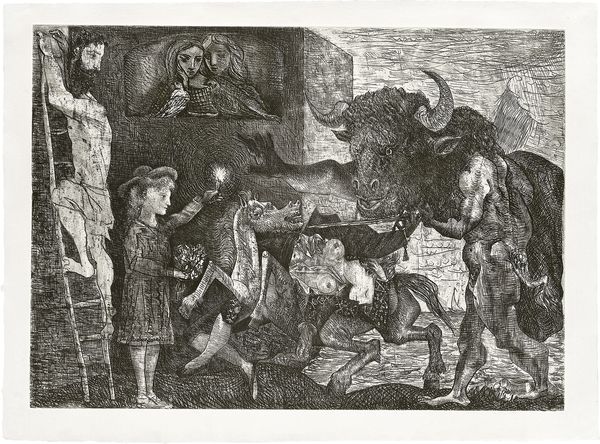 Pablo Picasso La Minotauromachie, 1935. Estimate: £800,000 - 1,200,000. Evening and Day Editions at Phillips London, 23 January.
In La Minotauromachie we are faced with Picasso at his most coded and personal. If the 1930's were the richest and most complex of Picasso's artistic career (1), then this emblematic etching is the zenith of this decade; condensing and refining ten years of images of bullfighting in all its varied aspects alongside the amorous presence of Marie-Thérèse. At 53 years old, this image is also seen as a retrospective of the artist's career up to this point. Additionally, its great power lies in the artist's use of symbols universal in Western Art Historical and Christian iconographies for eros, violence, death and redemption, through which we can unravel this tableau vivant of diverse characters of whom, as Emmanuel Benador describes, "everything can be seen, but nothing known, and whose presence there is inexplicable" (2).
Structurally, Picasso's image has clear comparisons to Albrecht Dürer's etching, Melancholia I, from 1514 – the 'heaven and earth' ladder, block-shaped building, land and sea setting, and the notion of artistic struggle and pessimism.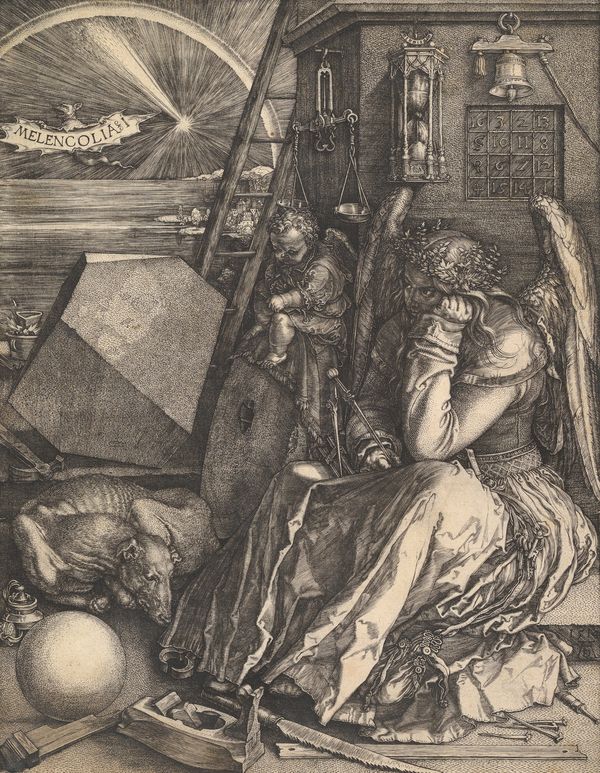 Albrecht Dürer Melancholia I, 1514. Metropolitan Museum of Art, New York, USA / Bridgeman Images.
At this point in Picasso's life, the artist's marriage was breaking down in the face of his all-consuming attraction towards the seventeen-year-old, Marie-Thérèse Walter, whose mesmeric Grecian profile and athletic build were the antithesis of Olga Khokhlova, Picasso's ballet-dancer wife and mother to his young son. His affair with Marie-Thérèse burst through the cage of bourgeois domesticity that he felt married life had become, and awoke in Picasso the unbridled lustful urges that led to a dangerous and illicit affair, leaving Picasso to grapple with his own moral code as well as societal traditions and expectations. Following on from the exploration of classical mythology that he had begun in the mid-1920's, Picasso seized the Minotaur as a symbol for the terrible impulses he could not control. As explained by Deborah Wye, "the mythic Minotaur became Picasso's alter ego…[and] gave him a vehicle for depicting sexuality and violence, and for expressing rage and guilt" (3). Picasso – not averse to literally donning a bull's head and playing the Minotaur – knew that monstering himself was both a boast and a confession.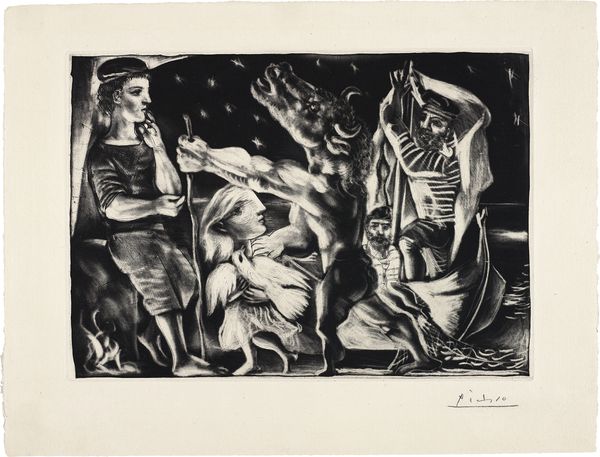 Pablo Picasso Minotaure aveugle guidé par Marie-Thérèse au pigeon dans une nuit étoilée (Blind Minotaur Guided Through a Starry Night by Marie-Thérèse with a Dove), plate 97 from La Suite Vollard, 1934 © Succession Picasso/DACS, London 2020.
The adventures of the Picasso-Minotaur were well documented prior to La Minotauromachie in La Suite Vollard (1933-36), of which an entire chapter and fifteen plates were dedicated to the Minotaur's seduction, wrangling, often violent coupling, drinking and dying. Throughout the suite, the Minotaur's actions and roles are complex: he is seen as a tender lover, and a rapist, as wounded and vulnerable, as the sculptor's companion, but always hunted by and haunting the figure of Marie-Thérèse. In the early 1930's, Picasso obsessively returned to the same subjects, producing numerous drawings and paintings alongside this etching suite, indicating how fixated he had become on this visual biographical metaphor.
It is in La Suite Vollard that we find an anticipatory version of La Minotauromachie - the previous scene before the stage revolves: Minotaure aveugle guidé par une filette dans la nuit (Blind Minotaur Guided by a Little Girl in the Night), 1934. Here, the young girl wearing the face of Picasso's lover and holding a dove of peace, gently leads the blind and impotent Minotaur through the pitch of night. He is steered away from his vessel and the seashore, faithfully following the innocent child seemingly toward the entrance of a building or city.
The artist-as-monster is led to the scene we find in La Minotauromachie, but the cast of characters who brought him there, and even he himself, have undergone an Ovid-like transformation (4). Here the Minotaur, monumental and archaic in his proportions, has recovered his sight and stares forward past his colossal right arm, which stretches across the center of the image toward the hypnotic flame of the candle. His bearing is hunched, with the bull's head so disproportionate and disconnected to the human figure that we are more aware than ever, of the man existing behind the mask.
Michelangelo Buonarroti The Fall of Man, from the Sistine Chapel Ceiling, 1510,
Vatican Museums and Galleries, Vatican City/ Bridgeman Images.
The torso and legs of the Minotaur appear to be transforming and mutating between forms as he steps forward, not unlike the sprouting fingers of Bernini's Daphne as she flees the grip of Apollo (5). In their basic form and structure, the figure resembles archaic Kouros statuary from Delphi that Picasso had seen reproduced in a volume on Greek art published by his friend, Christian Zervos (6). Picasso borrows from the Kouros their walking stance and pairs it with a burly outstretched arm worthy of the musculature rendering of Michelangelo. The defensive arm and hand gesture can be found on the figure of Adam in Michelangelo's ceiling fresco of the Sistine Chapel (1508-1512) as he protects himself and prepares for damnation - providing a prototype to Picasso of a gesture that expresses the horror of (self-) knowledge (7).
The knowledge from which the Picasso-Minotaur is trying to protect himself is revealed by the other transformed character from the previous Blind Minotaur scene: the young girl with the face of Marie-Thérèse. She stands, not unlike an archaic Kore herself, serene and steadfast with her arms held stiffly in a pose of offering or announcement.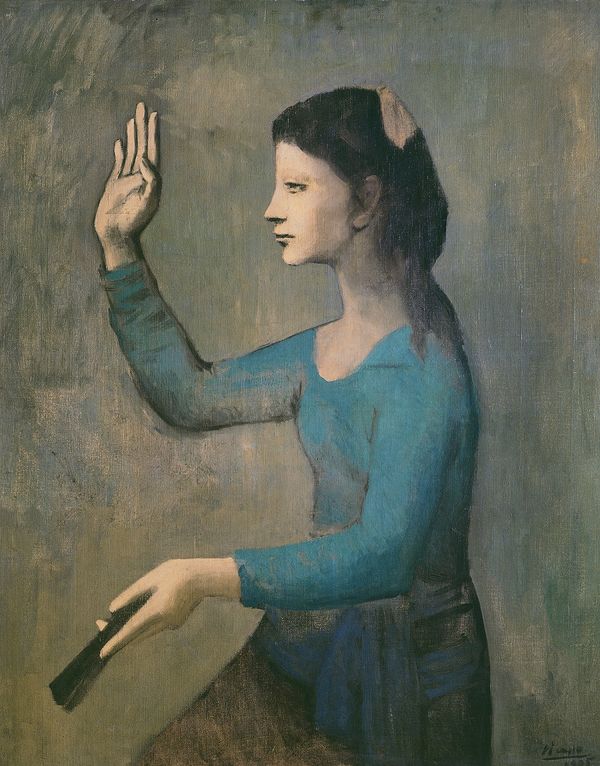 Pablo Picasso Woman with a Fan, 1905, National Gallery of Art, Washington, D.C., USA/Bridgeman Images © Succession Picasso/DACS, London 2020.
Her posture, like that of the Minotaur's, can be found in numerous art historical antecedents and has been likened to the pose and attentive sympathy (8) of Primavera in Botticelli's Birth of Venus (c. 1486). The gestures of her arms can also be read in Picasso's painting Femme à l'éventail (Woman with a Fan) from 1905 and in a sculpture from 1933 Femme au vase (Woman with Vase), a fertility idol and another portrait of Marie-Thérèse, which was presented in 1937 with Guernica in the Spanish Republican Pavilion of the Universal Exhibition, and later placed on Picasso's grave at Vauvenargues (9).
Most importantly, however, this figure resembles depictions of the Archangel Gabriel from Christian iconography, who announces both the birth of Christ to Mary, and later, the approaching death of the Virgin. In La Minotauromachie, she holds her candle aloft, with her hat as a halo, making visible and announcing to the world the result of Picasso's indiscretions, revealed on horseback at the center of the etching.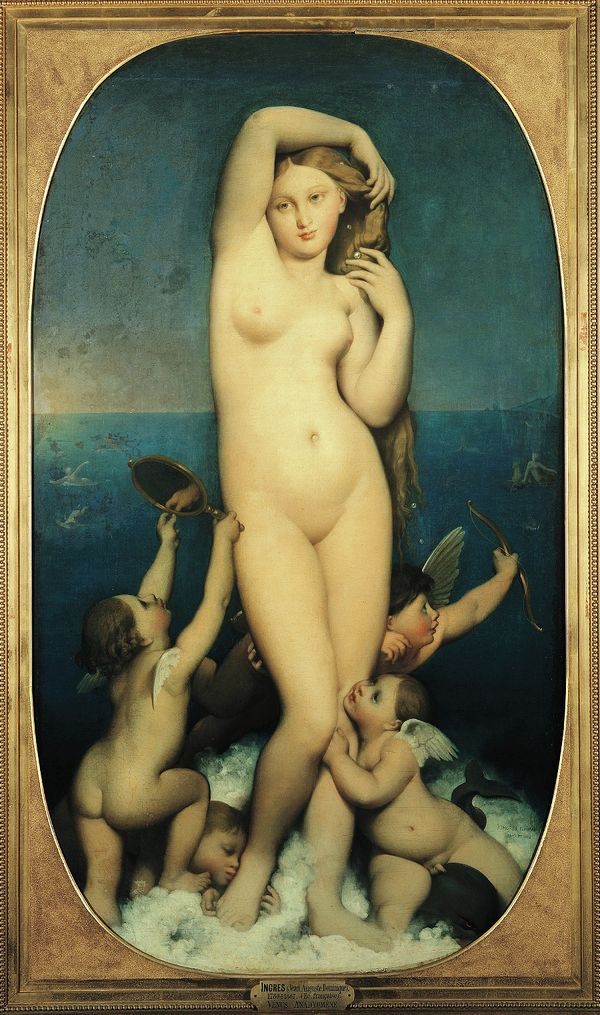 Jean Auguste Dominique Ingres Venus Anadyomene, circa 19th century.
Musee Conde, Chantilly, France/Bridgeman Images.
At the heart of this composition, Picasso depicts a horse in the throes of agony with its belly slit open, upon which is draped a serenely sleeping woman clothed as a Spanish torera and carrying a sword. As with all the women in this etching, she bears the facial features of Marie-Thérèse and her pose in slumber, with an arm thrown over her head, echoes that of Picasso's etching from the previous year, Garçon et dormeuse à la chandelle, where she is similarly revealed by candlelight. Her supine figure and arm position also echoes that of Ingres' Venus Anadyomene, 1848 demonstrating Picasso's amorous feelings towards the torera by casting her in the role as the goddess of Love. Her shirt is unbuttoned to reveal her stomach, swollen with child as the horse's stomach beneath her is emptied of its contents, symbolizing birth and death as one (10).
The birth this coupling of characters refers to is of Marie-Thérèse's illegitimate child with Picasso and the source of the artist's conflicting emotions towards his young lover. As explained by Brassaï in 1966, "…in the eyes of a man yearning for his muse, the pregnant woman – and expectant mother – loses the charm of the 'ideal' lover because it is clear that she will, henceforth, have to divide her attention between the child, the father of the child and the man for whom she is life's companion. On the one hand, Picasso loved Marie-Thérèse enough to want to live with her and their child. On the other hand, doing so would have meant the end of an artistry based on restlessness, candor and repeated renewal" (11).
Overlooking the torrid scene below we find two women watching from an arched window, reminiscent of the arcades along the upper rows of Spanish bullfighting arenas. Their bearing like melancholic putty, these women 'read' the symbolic dramatization as it plays out beneath them with an air of detached interest. Both girls wear the face of Marie-Thérèse and each is accompanied by a dove, a bird that Picasso had gifted to his lover and often painted her holding. The two women represent the duality of human character and their light and dark countenances hint at the forces of good and evil, truth and denial at play below.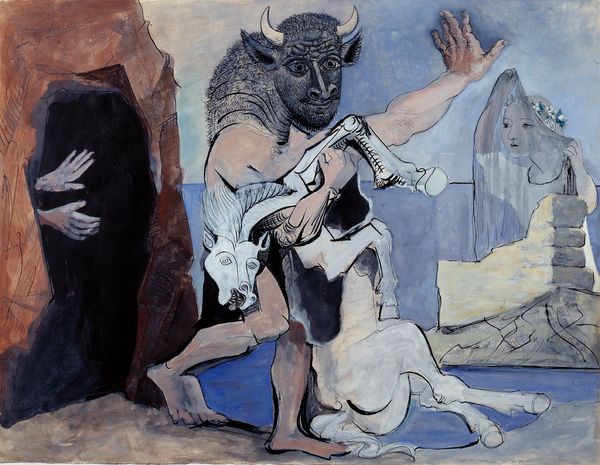 Pablo Picasso Minotaur and dead mare in front of a cave facing a young girl in the veil, 1936, Musee Picasso, Paris. © PhotoJosse/Bridgeman Images
© Succession Picasso/DACS, London 2020.
The faces of the women in the window look directly upon the focal candlelight, held up towards the advancing Minotaur. The once blind beast who had been led, crutch-dependent like Rembrandt's Blind Tobit (12) towards a childlike Marie-Thérèse, now puts up a beseeching hand to the light she turns upon him, warding off (as had Michelangelo's depiction of Adam before him) the knowledge she reveals. He does not want to see what she sees, to know what she knows, that (even as an artist) his actions have consequences. No longer an innocent child, now the teenager she was when Picasso met her, and dressed in the sailor suit and beret that she wore at their first meeting, Marie-Thérèse returns the artist's sight and with it reveals the truth of his actions, which he cannot abide to admit.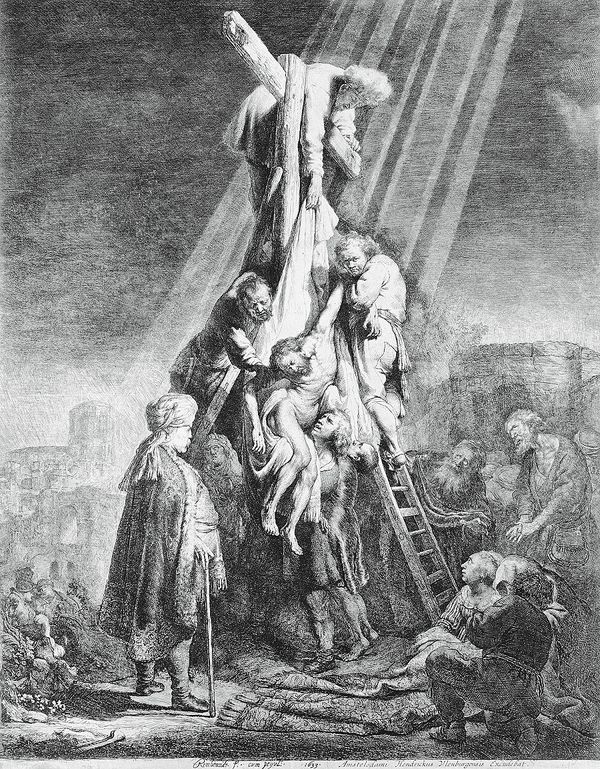 Rembrandt Harmensz van Rijn The Descent from the Cross: Second Plate, 1633.
Private Collection / Bridgeman Images.
Past the interlocked horse and torera, the sinking sailboat on the horizon, beyond the unflinching stare of the girl-as-annunciation is the promise of the artist's salvation. It begins with the sun's rays beaming down from a cloud to the Minotaur's neck signaling a divine fertility and creative force, as is the one etched line traveling further along his arm signaling his artistic Godliness. At the opposite side, a Christ-like figure wrapped in a loincloth and bearing the stigmata at his side, climbs a ladder up and out of the top left corner of the image. The ladder has a specific significance within the framework of Christian iconography and depictions of the Crucifixion, suggesting that its use here also implies the possibility of redemption through sacrifice. Of particular influence on La Minotauramachie may have been Rembrandt's Descent from the Cross, in which the artist portrayed himself as the man standing on the ladder, giving an art historical precedent for Picasso to take his place on the steps to freedom. Perhaps, if he can pass beyond his current conflict between wife and lover, Picasso can ascend the ladder to a spiritual haven, escaping the labyrinth of his own making, his personal bullfight where the only certainty is death.
With special thanks to Emmanuel Benador, Sebastian and Herma Goeppert and Marie-Laure Bernadac for their research and writings on this work.
Citations:

1. Marie-Laure Bernadac, Pablo Picasso, La Minotauromachie: all VIII states, Gagosian Gallery, London, 2006, p. 5
2. Emmanuel Benador, Picasso Printmaker: A Perpetual Metamorphosis, 2005, p. 71 (see complete text for thorough exploration of this work)
3. Deborah Wye, A Picasso Portfolio: Prints from the Museum of Modern Art, The Museum of Modern Art, New York, 2010, p.46
4. The Metamorphoses is a Latin narrative poem on the themes of transformation by the Roman poet Ovid. Considered his magnum opus and containing over 250 myths, it has inspired authors and artists throughout Western culture, particularly during the Renaissance. Picasso produced a series of 30 etchings inspired by this text that were published by Albert Skira in 1931, entitled Les Métamorphoses d'Ovide.
5. Gian Lorenzo Bernini's Apollo and Daphne (1622-1625) depicts the transformative climax of one of the myths from Ovid's Metamorphoses wherein Daphne mutates into a Laurel tree to escape the amorous clutches of Apollo.
6. see Sebastian Goeppert and Herma C. Goeppert-Frank, Minotauromachy by Pablo Picasso, Patrick Cramer, Geneva, 1987, for a detailed iconographical analysis, as will be referenced throughout this essay as 'Goeppert', in this instance, p.47. 7. Goeppert, p. 49
8. Goeppert, p. 71
9. Bernadac, p. 10
10. Goeppert, p.67
11. Brassaï, Picasso and the Minotaur, Doubleday, New York, 1966, p. 85
12. Art Historian Lisa Florman notes the resemblance between Picasso's sightless minotaur and Rembrandt's Biblical figure in The Blindness of Tobit, 1651 in Myth and Metamorphosis: Picasso's Classical Prints of the 1930s, Cambridge, MIT Press, 2000, pp. 151-2.