Eva Hild "Single Track", 2008. Estimate: $30,000 - 40,000.
Design at Phillips New York, 17 December.
Eva Hild is a sculptor known for making monochromatic works with swooping organic forms. Hild's work does not focus on a utilitarian purpose, but rather, she meditates on her own life through the clay, making use of her own inherent sense of geometry and space. Compared to a diverse range of artists from Jean Arp to Louise Bourgeois, Hild continues to live and work in southwestern Sweden and has been the subject of solo exhibitions across Europe, North America and Asia. "Single Track" comes to Phillips from the collection of Trudie Styler & Sting, and will be presented at auction this December in New York.
PHILLIPS: Why is clay one of your preferred mediums and how does it enhance your overall design concept?
EVA HILD: Clay is sticky, heavy, plastic, and multifaceted—a wonderful material in every aspect. Clay has been my main material since I started my artistic education and career. It has been the prerequisite for my exploration of themes ending up in sculptural shapes. I like how the material can be used in different ways and transformed into something totally new and unexpected. I like the bodily connection—working with my body, working with abstract bodies—and the long-term relationship during the process, from the first clay-lump to the ready-made sculpture. My shapes have strong spatial and architectural qualities; from smaller clay models I develop my large scale outdoor sculptures in metal materials.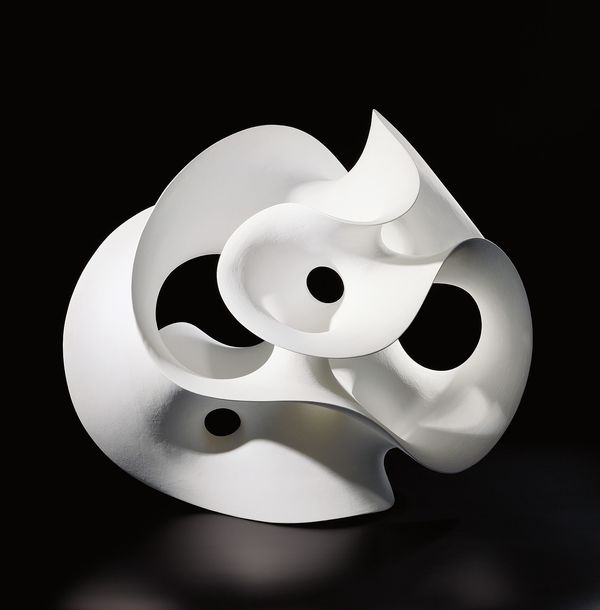 Eva Hild "Single Track", 2008
P: You have described your sculptures as expressive of both "strength and fragility" as well as "presence and absence." How does 'Single-Track' represent these seemingly contradictory ideas?
EH: I am fascinated by the relation between inner and outer reality and the dualism between inside and outside. The actual sculpture is the membrane, the in-between. I use my own life, experiences, and emotions and describe this relation. On one hand, it is the mass in thin layers, running in a meandering movement. On the other hand, it is the empty space, air and light forming the volumes. The construction is really made of the absent. The clay material also contributes to this duality. The actual wall of the sculpture is strong and fragile like an eggshell.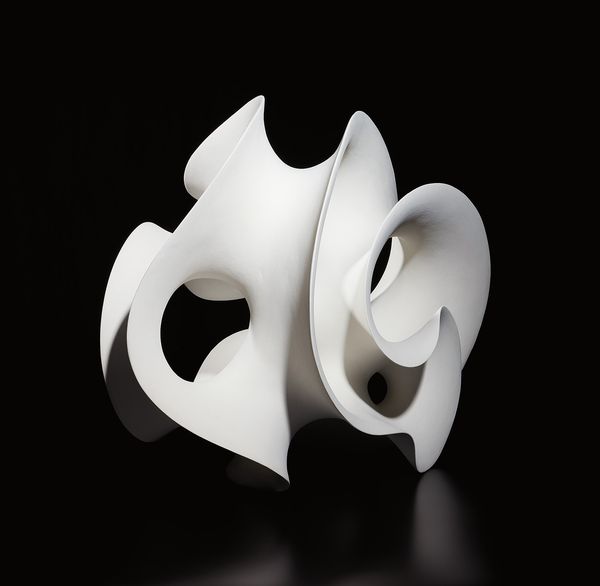 Eva Hild "Single Track", 2008
P: Many collectors may be familiar with your organic forms in which thin layers of clay delicately envelope and fold onto each other. How has this practice evolved over the last two decades? And where does 'Single-Track' fall within this trajectory?
EH: My work is very much connected to my life—the everyday practice and overall happenings. It is a constant and slow change and an ongoing development. I am continuously exploring my themes in different materials. My starting points could vary, but I do have a red thread in my storytelling. I work with the material in a close, intimate, planned, and still intuitive way. It is an interaction between brain, body and material. Single-Track is a sculpture from an early stage of the "Loop" series of work, where one line is moving around in the piece. The structure is open and airy with a strong and clear movement.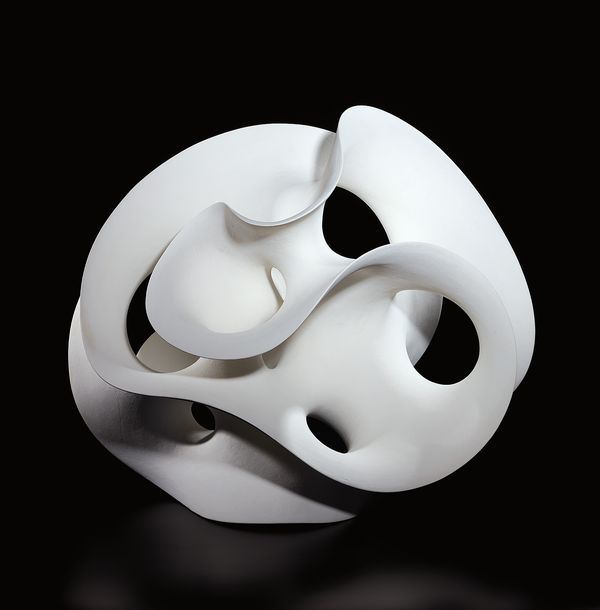 Eva Hild "Single Track", 2008
P: How did you decide on the title of this piece?
EH: I strive for titles that are easy to perceive and that describe something in the actual sculpture, both visually and in content. Preferably I find different meanings in one word. Single-Track has a strong, circular movement kept together without deviations.