Lygia Clark Bicho - O antes é o depois, 1963. Estimate $800,000 - 1,200,000.
20th Century & Contemporary Art Evening Sale at Phillips New York, 14 November.
Executed in 1963, O antes é o depois is a rare work from Lygia Clark's acclaimed Bicho series, which represented a critical juncture in her practice as she shifted away from painting towards metal sculpture and performance. Carefully constructed from malleable strips of aluminum, O antes é o depois inscribes geometric line in space. While engaging in dialogue with Russian Constructivism, the work also reflects the organic dimension of Clark's art, rooted in mid-century Brazilian countercultural ideas on the body and living things. A founding member of the 1950s Brazilian Neo-Concrete movement, Clark's conceptual legacy has long been celebrated in Brazil, where she is credited for her radical investigations into the relationship between the object and the viewer.
Clark's turn to the three-dimensional began with her studies in Paris in the early 1950s, where she became deeply influenced by Piet Mondrian's exploration of spatial compositions. Following the return to her native Rio de Janeiro in 1953, Clark began to move away from abstract painting, and commencing in 1960, the artist created around seventy Bichos, translating colloquially to "critter." This concept drew upon avant-garde Brazilian thought that imagined the country as a cultural cannibal, enlivened by its absorption of diverse European and indigenous cultures. "Each Bicho is…a living organism, a work essentially active," Clark wrote in 1960.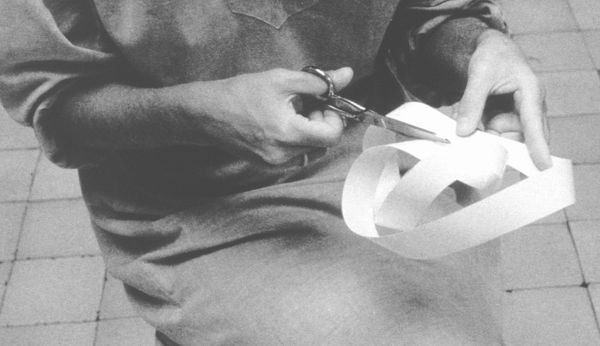 Lygia Clark making a Caminhando (Walking), 1963, with paper and scissors. Digital image © 2019 The Museum of Modern Art, NY/ Art Resource, NY, Artwork reproduced courtesy Associação Cultural O Mundo de Lygia Clark, Rio de Janeiro.
The esteemed Brazilian poet and author Ferreira Gullar recalled in an essay about the inception of the Bichos, "When faced with a blank canvas she adopted an attitude even more drastic than Malevich's…a new three-dimensional object in real space, but which was not a sculpture, since it was born from the painting, from the crisis of pictorial language, from the deconstruction of easel painting, and which I named 'non-object.'" The central idea behind the objectlessness of the Bichos was that they animated themselves through their relationship with the viewer. In the initial phase, Clark's creatures were activated by their structure of articulated plaques and hinges, allowing each sculpture to change its shape depending on how the viewer handled it. While O antes é o depois is composed of articulated plaques, its flexible design without hinges signifies a breakthrough from the early, mechanical Bichos towards a more organic, participatory form of art. Clark's process crystallized in the 1963 proposition Caminhando (Walking), a performance act in which Clark cut a Mobius strip to capture the movement of line beyond geometry and into space. "In the end, the path is so narrow it can no longer be cut…In being the work and the act of making the work itself, you and it become completely inseparable," Clark wrote.
I am a totality… I already exist before the after. The after is what anticipates the act. The after is the moment of the immanent act. – Lygia Clark
Over the past few decades, Clark's legacy has been re-examined internationally, celebrating her remarkable practice as a bridge between the legacy of the modernist avant-gardes and contemporary sculpture. The present work was exhibited in a traveling show throughout Europe beginning at the Fundació Antoni Tàpies, Barcelona in 1997, while more recently another variant featured prominently in Clark's major retrospective at The Museum of Modern Art, New York in 2014. Notably, the San Francisco Museum of Modern Art just acquired one of the Bicho works for their collection earlier this year. As Glenn D. Lowry, the director of The Museum of Modern Art, writes, "Clark was a pioneer in dismantling a long tradition of centering art in the materiality of objects…Hers was a truly foundational accomplishment that pushed the boundaries of art beyond art towards a new psychic and physical understanding of the human self."