Genieve Figgis A Social Portrait, 2014. Estimate HK$120,000 - 180,000.
20th Century & Contemporary Art Evening Sale at Phillips Hong Kong, 24 November.
In true contemporary fashion, Genieve Figgis' career began on Twitter when her artworks on the platform caught the attention of celebrated American artist Richard Prince. After starting a family, Figgis began studying fine art at the Gorey School of Art in Wexford at the age of 30, mesmerized by the experimental nature of painting and the medium's long attachment to history. "Painting is about pleasure. If it weren't pleasurable, I wouldn't do it. For a long time I've been pouring paint – the medium's unpredictability is the addiction for me…" explains Figgis (quoted in Olivia Parkes, "The Irish Artist Attacking the Female Figure with Paint", Vice). Influenced by a wide array of contemporary female artists such as Jenny Saville, Marlene Dumas, and Lynette Yiadom-Boakye, Figgis strikes a balance between figuration and abstraction, combining apparent pictorial banality with an underlying otherworldly quality in turns both funny and subversive.
I love looking at ideas of the past in Old Masters. They were made to tell you a story. Some of the portraits have the authority and theatricality... I enjoy looking at people from the past and how they portrayed themselves.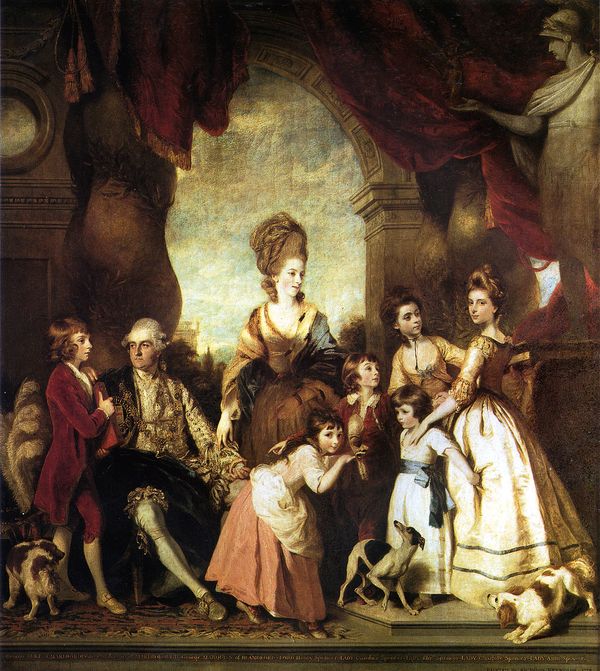 Sir Joshua Reynolds 4th Duke of Marlborough and Family, circa 1777-78. The Duke of Marlborough Collection in Blenheim Palace, Oxfordshire, England.
Painted in 2015, A Social Portrait is nastily entertaining and distinctly representative of the artist's interest in history as a starting point for her work. In A Social Portrait, Figgis paints a traditional aristocratic family portrait in a domestic setting, reminiscent of a Georgian country house. Throughout the canon of art history, male artists have championed the notion of the home as a way of reflecting lineage and identity. These works embodied the hierarchical system of virtues of how women should behave, as in Sir Joshua Reynold's 4th Duke of Marlborough and Family created in the 17th century. Contrary to this, A Social Portrait, while taking to history as a source of inspiration, puts Figgis' own contemporary spin on the classical subject, playfully knocking down the ideals of the 'stiff' domestic setting through the pose, appearance and attire of her figures. Figgis renders all of her historic characters with equal importance, each confronting the viewer directly with a haunting yet humorous gaze. Figgis dresses her characters in distinctly Georgian attire, yet deliberately picks dresses and hairstyles that were considered to be progressive and contemporary at the time – painting the women in 18th century-style chemise gowns, deemed to be immodest and informal, but considered as in fashion by forward-thinking aristocrats; and the men, bewigged and dressed in dark, well-cut and fitted overcoats. From the women on the far left to the dog in the center and the men on the right, each character is painted with skull-like, animalistic features, bathed in rich colors that bubble, ooze and marbleize into a creamy pool, calling to mind spectral forms and leering ghouls. A far cry from a stately portrait, Figgis has instead created a darkly humorous send-up of the bourgeois values those works purported to represent.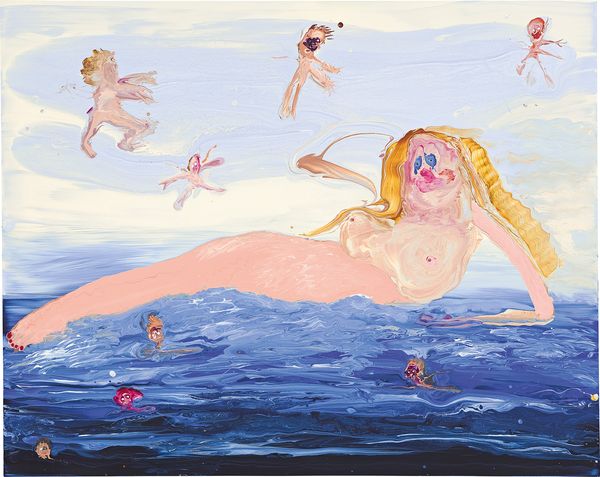 Genieve Figgis Birth of Venus (After Alexandre Cabanel), 2018.
Estimate HK$250,000 - 400,000.
20th Century & Contemporary Art & Design Day Sale at Phillips Hong Kong, 25 November.
First unveiled as part of the third installment of the international biennial, L'Almanach 18: Genieve Figgis, at the Dijon Consortium Museum in France, Birth of Venus (After Alexandre Cabanel) is another prime example of the artist's exploration of history. One of the many alluring nudes on view at the Paris Salon of 1863, Alexandre Cabanel's Birth of Venus (1863) was received in triumph as it perfectly embodied the ideals of academic art, with highly idealized bodies carefully modeled in silky brushstrokes, and more importantly, set against the backdrop of a mythological and allegorical pretext. While Cabanel's Birth of Venus was shown to great acclaim at the official Salon, one other work caused great controversy at the Salon des Refusés (the Salon for the rejected), Manet's Le Déjeuner sur l'herbe, where he featured a female nude in a contemporary setting seated with two clothed men in the countryside, thereby transgressing the rules of academic painting and scandalizing the day's morals. Looking to Cabanel's masterpiece as her main source of inspiration, Figgis puts her own contemporary spin on the classical subject that was once seen to embody the perfect ideals of academic painting, not shying away from questioning the validity of taste and bringing home the importance of non-conformity when it comes to originality and the personal vision of the artist.
Reinterpreting the classical female character in a whimsical and humorous manner, Figgis renders Venus with skull-like, even animalistic features, bathed in rich candy colors that seem to melt through the paint like candle wax. "The women in the paintings are reinventions of historical portraits. I like to paint them as more vibrant characters, braver, more color and alive" she explained. It is this very coexistence of the whimsical and macabre that makes the present work all the more charming, as Figgis' Venus hovers between an ancient deity and a modern dream. While Figgis never sets out to intentionally portray grotesque or comedic in her work, the painting is her stage and the story she paints happen by chance, allowing her to invent as she goes along, with a blend of continuous and sinuous acrylic brushstrokes, with no idea of how it will end. She produces a fascinating moment, in which a bygone era reflects modernity with wit and charm.