Maria Lassnig at her studio, Vienna. Photography, 1998. Photo by Imagno/Getty Images, Artwork © 2019 Maria Lassnig
For over half a century, Maria Lassnig pursued a singular approach to painting that insisted upon the body as an instrument of self-realization. Her prolific oeuvre, which consists almost entirely of self-portraits, traces the artist's 70-year career, which took her from her native Austria to Paris, New York and, ultimately, back to Vienna where she passed away at the age of 94 in 2014. Though Lassnig received widespread recognition in her home country, having been the first female artist to win the Grand Austrian State Prize in 1988, it was not until more recently that her work garnered attention on an international stage. In the past five years, Lassnig's work has been the subject of solo exhibitions at renowned institutions such as MoMA PS1, New York and Tate Liverpool, and in 2019, she was honored with a large-scale retrospective at the Stedelijk Museum, Amsterdam.
In 1948, Lassnig created her first "Körperbilder" or "body awareness" paintings, illustrating sensations experienced by her body to define her relationship with the outside world. Though self-referential, her paintings are not self-portraits in the traditional sense. Lassnig depicts only the parts of her body that she can actually feel while working, resulting in idiosyncratic, and often abstracted, compositions. "At first I called my body awareness 'paintings', then 'introspective' experiences," she explains. "Later on I did not call them anything at all after I had been ridiculed for claiming that my blobs and piles of color were 'self portraits.' I recommend my body awareness paintings as an ideal application of art because the subject matter can never be exhausted" (Maria Lassnig, quoted in Maria Lassnig, Friedrich Petzel Gallery). Discussing Lassnig's insistence on the body—specifically the female body—as the foundation of her conceptually diverse oeuvre, artist Carrie Moyer writes, "Lassnig seems to have spent much of her career groping for tangible images—both representational and abstract—to convey the experience of being an ambitious woman artist caught between outdated societal mores and the mirage of liberation" (Carrie Moyer, "The Pitiless Eye", Art In America).
Figuration comes about almost automatically, because in my art I start first and foremost with myself. – Maria Lassnig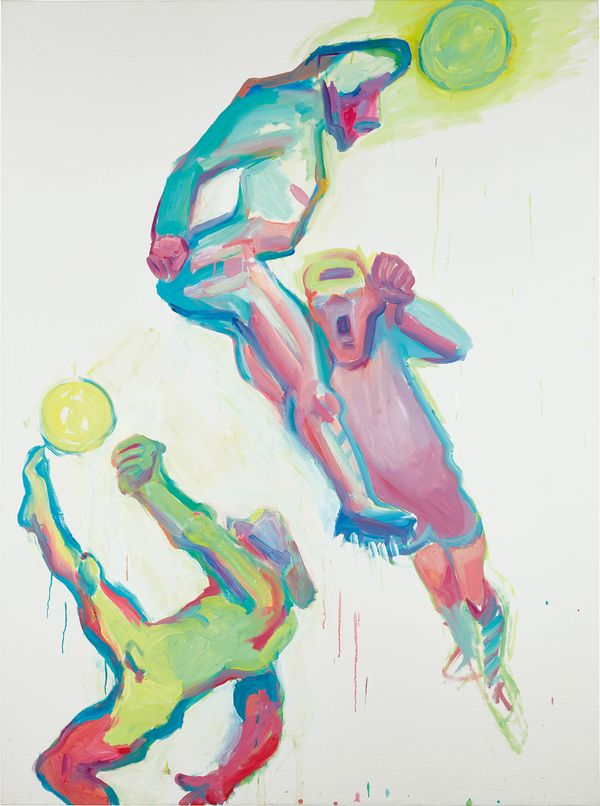 Maria Lassnig Competition III, 2000. Estimate $280,000-350,000.
20th Century & Contemporary Art Day Sale, Afternoon Session at Phillips New York, 13 November.
In Competition III, 2000, Lassnig paints three soccer players actively engaged in athletic pursuit. Lusciously rendered in a palette of neon greens, crimson pinks, acerbic yellows and turquoise blues, her figures quite literally leap across the canvas. Surprisingly—as Lassnig was 81 years old at the time of the work's execution—all three athletes are based on the figure of the artist herself. With their muscularity and vivacious energy, the subjects do not reveal any sense of the artist's age. Flourishing with dynamism and vitality, they are pure, gestural articulations of her internal sensations and inner awareness—the players are both "rude and funny, sometimes grotesque but also treated with a great tenderness" (Maria Lassnig, Friedrich Petzel Gallery, New York).
Lassnig approaches her paintings with little premeditation, reflecting only upon the sensations she feels in a given moment. This unpredictability in her approach lends an energy to her compositions—in Competition III, expressive figuration and fluid brushwork, sublime hues and multilayered emotional effects, coalesce with striking intensity. Though Lassnig paints herself with athletic zeal, she insists her paintings are not inventions or fantasy: "the images already exist in my head. Imagination and fantasy are very different; fantasy has nothing to do with reality, but imagination is connected to an awareness of the body as well as what you see inside your head" (Maria Lassnig, quoted in Sarah Kent, "Maria Lassnig Baring the Soul", Art World).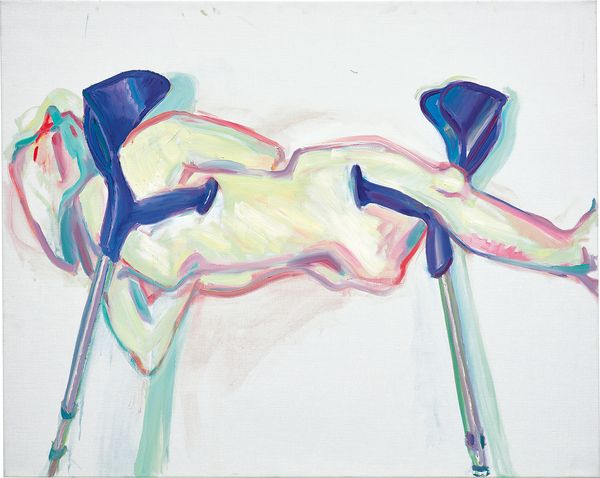 Maria Lassnig Untitled (Horizontally on Two Crutches), 2005. Estimate $150,000-200,000.
20th Century & Contemporary Art Day Sale, Afternoon Session at Phillips New York, 13 November.
Painted just five years later, Untitled (Horizontally on Two Crutches), 2005, depicts the artist in a very different state. No longer embodying the vitality of her Competition paintings, Lassnig here renders herself sustained by two crutches, highlighting the fragility of her body threatened by illness and age. Having lived through the trauma of World War II decades prior, Lassnig explores the lasting effects of such experiences on both mind and body. Yet despite such misanthropic overtones, Lassnig imparts humor in the work. The hospitalized figure's hyper-unrealistic pose—splayed horizontally across two crutches—lends an exaggerated air to the painting, contradicting the otherwise agony-ridden scene. "Imperfections may be overcome through humor," she explains; and indeed, Lassnig here achieves absurdity in the grotesque (Maria Lassnig, quoted in Maria Lassnig, Friedrich Petzel Gallery, New York).
Signature of Lassnig's canvases, the artist leaves the background of Untitled (Horizontally on Two Crutches) unadorned, explaining, "background creates mood and atmosphere and I don't need that" (Maria Lassnig, quoted in Jackie Wullshlager, "Still Angry After All these Years", Financial Times). Painted with lush brushwork that gives way to vibrant outlines of reds and blues, the figure is the focal point of the composition, leaving little room for distraction. In stark contrast to the monochromatic white background, the two blue crutches pop off the canvas, reminding us of their indispensable support.
Lassnig's uncanny ability to convey such heightened, raw emotions in her paintings is a testament to her artistic fervor, which only accelerated in the later years of her life. "Lassnig's oeuvre is formally and conceptually diverse precisely because she insists on her physical body as primary source. This position has given her license to freely hybridize figuration with abstraction as a means toward full sensory and psychological expression, and has engendered some of the most darkly perceptive imagery of the past century" (Carrie Moyer, "The Pitiless Eye", Art In America).
Learn more about A Discerning Vision: Property from an Important Private Collection >