Philip Guston in his studio in Woodstock, 1975. Photo by Denise Brown Hare. Artwork © The Estate of Philip Guston, courtesy Hauser & Wirth
Dr. Kosme de Barañano is an internationally renowned 20th-century art historian and Philip Guston scholar. The former Executive Director of IVAM, Valencia, Spain, de Barañano also curated and wrote the accompanying monograph for the exhibition Philip Guston & the Poets at Gallerie dell'Accademia, Venice (May – September 2017).
Philip Guston's oeuvre reached an apex point of critical recognition shortly before his death. First his work was powerfully presented at New Painting/New York, Hayward Gallery, London, 1979, then in a retrospective organized by Henry Hopkins at the San Francisco Museum of Modern Art, 1980 and finally in a show dedicated to his late works at The Phillips Collection, Washington, D.C., 1981, where Morton Feldman proposed a reinterpretation of the artist's oeuvre.
Shortly thereafter, a wave of international exhibitions disseminated Guston's work outside of the United States: a solo show organized by Nicholas Serota at Whitechapel Art Gallery, London, 1982, and a major traveling exhibition opened at National Gallery of Victoria, in 1984. In addition, Robert Storr published a monograph on the artist in 1986, and, in 1988, The Museum of Modern Art, New York, hosted an exhibition of his drawings, followed by an exhibition in 1992 that presented works donated to the museum by the artist's widow Musa McKim. Further retrospectives were launched at Museo Nacional Centro de Arte Reina Sofía, Madrid in 1989; Kunstmuseum Bonn, in 1999; Modern Art Museum of Fort Worth, in 2003; and most recently, my own 2017 exhibition Philip Guston & the Poets at the Gallerie dell'Accademia, Venice.
Many exhibitions of Guston's painting were based on or explored the idea of the artist's distinct "periods"—from social realism to abstraction to rough figuration or "bad painting"—as if there was no continuity to his body of work. My exhibition in 1993, Philip Guston: Roots of Drawing, at Sala Rekalde in Bilbao, attempted to better explain the phases of each new direction in his work. Presenting 135 drawings, the exhibit sought to demonstrate that there is but one Guston, whose originality is based precisely on the pictorial style of his lines. The oeuvre of this American artist is not a series of leaps, but a vital process manifested in different mediums, as draftsmanship is the scaffolding for Guston's work in color.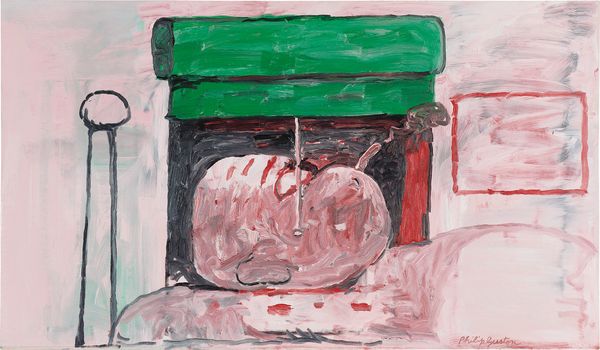 Lot 11, Philip Guston Smoking II, 1973. Estimate: $6,000,000-8,000,000.
20th Century & Contemporary Art Evening Sale at Phillips New York, 14 November.
In the 1960s, the American social climate took the accomplished painter back to the Scottsboro Boys and the actions of the Klu Klux Klan, which he first explored in the 1930s. At this point, a new period of figuration began, expressed in At the Table, 1969, and led to large scale canvases such as Smoking II, 1973. In At the Table, two hooded figures stare at one another, confronting each other while separated in a flat space. In Smoking II, we find a reclining self-portrait with a cigarette, the darkness of night peering through the window.
Guston's painting comes into being—is created and crafted—at night, as his daughter Musa Mayer recounts in her beautiful book, aptly titled Night Studio, 1988. Similarly, the pianist Glenn Gould would only record at night, and Nobel-prize winning poet Eugenio Montale speaks of the fervor of working at night in his essay Intentions (Imaginary Interview), 1946. At night, the poet realizes the distance between life and words, as the painter realizes the distance between life and images. In the uncertainty of night, that which Guston will paint in the morning ferments: a shape, or a sentence of indecipherable objects that make up a still-mysterious poem.
I am a night painter, so when I come into the studio the next morning the delirium is over.
— Philip Guston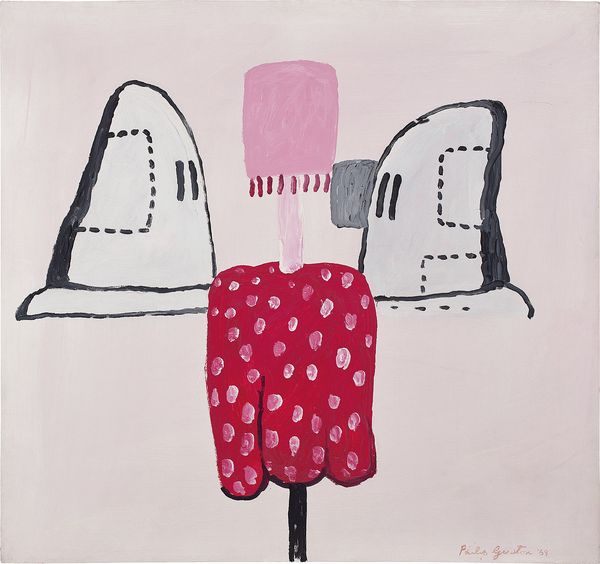 Lot 12, Philip Guston At the Table, 1969. Estimate: $1,800,000-2,500,000.
20th Century & Contemporary Art Evening Sale at Phillips New York, 14 November.
Guston's images are not fantasies, nor are they didactic or moralist messages. Symbols make their appearance, and the painting relates itself to us. However, these are not symbols from the cosmos or beyond, but rather enigmas of a handful of shocks, as strong as they are fundamental. Rendering truth stripped of sentiment, Guston slowly deciphered the lines of Hesiod's Works and Days in the form of painting. Guston did not represent objects taken from models, but rather created the objects in his own pictorial experience. He himself has alluded to this process, similar to what is often referred to as the "abstract experience," in his October 1970 interview with the poet Bill Berkson, which ran in ARTNews: "This 'thing' is recognized only as it comes into existence."
Guston's painting drags the observer into this thematic terrain from which it is composed, into this dark fabrication that fascinates us for its newness and strangeness. Where does it come from? Where is it going? Toward the satisfaction of restlessness which elicits in the author his own history? Toward a storyboard of nightmares?
These images do not seek to get the spectator to understand them, but rather to assume their breathing and emotional forcefulness.
Thus emerges a series of powerful images that summon the presence of a universe all its own, which open themselves to us in the moment that they capture us only to release us once we are no longer the same. Guston's images are immersed in a sinister place of faltering breath, subjected to the cold of the simple grayish, pinkish or white primer. They contain no impasto or terrain that allows for context. The results are symbols like geographies shattered by a feeling halfway between desolation and claustrophobia. They resemble an acidic X-ray scan of a time of defeat, an existential psychodrama just as in Francisco de Goya's Black Paintings.
For Guston, the only certainty is death and from that conviction arises his pictorial thinking: after his social figuration and murals, after his abstraction, came his images that sought not only a degree of emotive intensity but also a sense of universality. These images do not seek to get the spectator to understand them, but rather to assume their breathing and emotional forcefulness.
Learn more about A Discerning Vision: Property from an Important Private Collection >