Works from 24/7 on display in our Hong Kong galleries
Daniel Arsham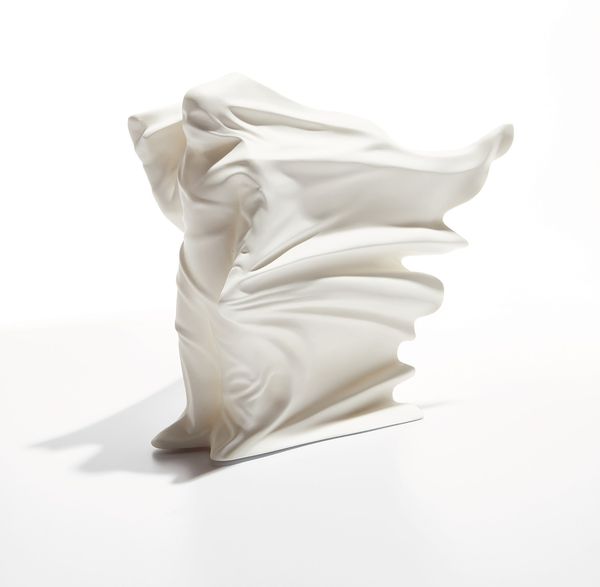 Daniel Arsham Hollow Figure, 2018
With a noteworthy career spanning over a decade, New-York based artist Daniel Arsham has established a name for himself that rejects any niche or discipline, masterminding a multidisciplinary practice that exists between art, architecture and performance. The one thread that ties his work together is that of inevitability: that objects in the present reflect ideas from the past, and are destined to be transformed by the future. Renowned for creating "future relics" in his practice, Arsham also explores dichotomies between reality and fiction, as well as destruction and creation.
As the first limited edition artwork based on his Architectural Anomaly series, the present lot portrays the likeness of a figure shrouded in blowing fabric, revealed to be empty when viewed from behind. The larger version from which this iteration is scaled has playfully deceived viewers globally, in museums such as The Fabric Workshop Museum in Philadelphia (2012), the Carré d'Art de Nîmes, France (2009), and the Museu Oi Futuro Rio de Jainero, Brazil (2017).
Arsham has been honored with solo exhibitions around the world, including most recently at the HOW Art Museum, Shanghai (2019). The past couple of years have also seen Arsham exhibit at venues including Galerie Ron Mandos, Amsterdam (2019), as well as the Perrotin Gallery in New York (2018) and Tokyo (2018).
Austin Lee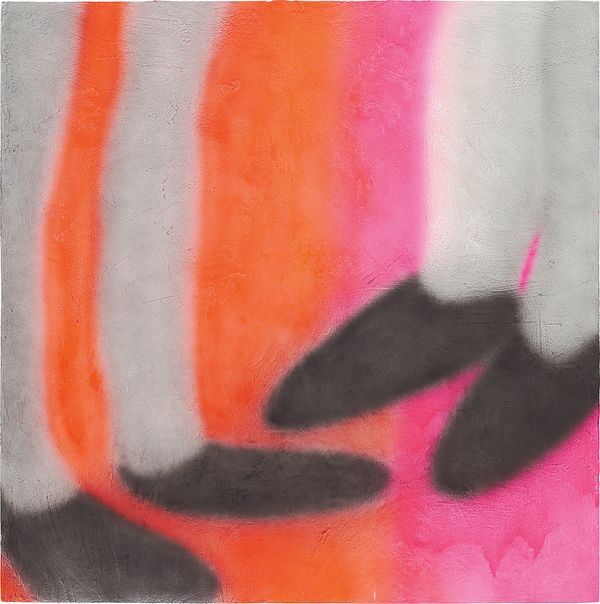 Austin Lee Meeting, 2015
Meeting is a compelling example of the playful, exuberant nature of American artist Austin Lee's instantly-identifiable practice. Evoking both the luminosity of a digital screen and the tactile nature of a color field painting on canvas, Lee's curious hybrid of digital and physical creation harnesses the positive characteristics of both mediums. Exploring virtual reality alongside other cutting-edge technological tools, Lee employs a high-tech technique to create his graphically simplistic yet vivid pieces. Concepts are experimented with and developed within computer programs before a selected version is finally applied to canvas. Despite his digital exploration, Lee insists that good work requires a transformation from the digital to the real, and his constant investigation into technique and process align elements of his contemporary approach to that of a more traditional painter.
With brilliant hues and a matte finish, the composition of this present lot pops out of the canvas. A tightly constrained frame presents the viewer with an ambiguous yet simplistic scene of two people meeting, as suggested by the title. Taking inspiration from everyday events in the world around him, Lee focuses on "creating new ways of looking and noticing." His highly-charged presentation of our world transforms it into a contemporary representation of itself – exciting but saturated with uncertainty.
Lee's work has garnered international acclaim as he has presented solo exhibitions in key galleries and museums. In the past two years, this has included KaiKai KiKi Gallery in Tokyo (2017), Carl Kostyál in London (2017), the Peres Project in Berlin (2018), and most recently at the Mine Project in Hong Kong (2019).
Hebru Brantley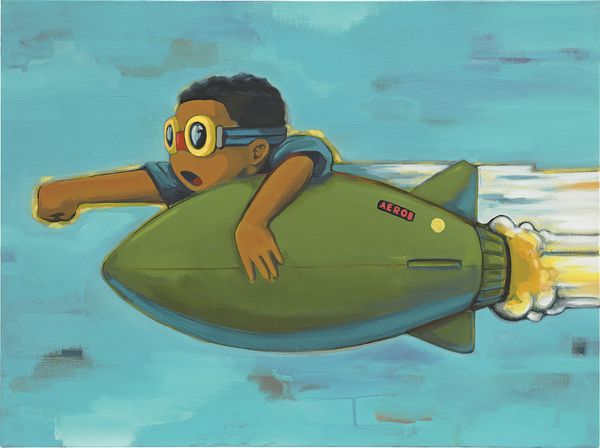 Hebru Brantley Untitled, 2017
With a distinctively graphic aesthetic, Hebru Brantley's signature Flyboy character has followed Brantley throughout his career as he transitioned from graffiti to canvas. Using an array of media and drawing from influences including hip-hop, Japanese anime and the grittiness of urban life in America, Brantley's work is now widely known and recognized. Flyboy's persona resonates on city street murals, sits in celebrities' homes, collaborates with brands such as Nike and Hublot, and is exhibited in venues including Galerie Frank Pages, Geneva (2014); Art Basel Miami Beach (2016); and Gallery Megumi Ogita, Tokyo (2019). In Chicago, construction has even begun on 'Nevermore Park'. The 6,000 square feet interactive art installation will welcome visitors to Flyboy's fictional hometown.
Masked in yellow goggles and with an outstretched clenched fist that draws from the iconography of superheroes, Flyboy nonetheless challenges their traditional interpretations. Atop a shooting missile, Flyboy pays homage to the Tuskegee Airmen, a group of African-American military aviators who fought in World War II. Brantley's presentation of an underrepresented heroic archetype addresses ideas surrounding nostalgia and hope. Ultimately, Flyboy offers the viewer an uplifting sense of empowerment in the face of marginalization.
Ronald Apriyan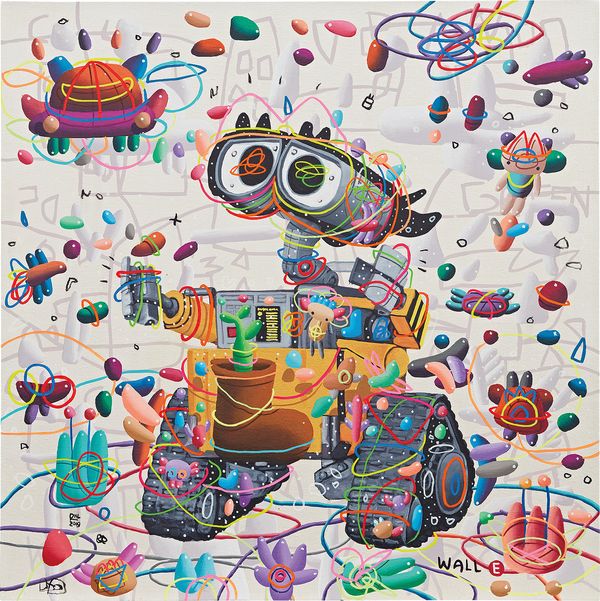 Ronald Apriyan Green Seed for the World (Wall E), 2019
Ronald Apriyan's Green Seed for the World (Wall E), created exclusively for 24/7, is an exciting debut work for the artist at international auction. Based in Yogyakarta, Indonesia, the contemporary visual artist draws inspiration from his ever-changing hometown surroundings. Reminiscing about simpler times before the landscape of Yogyakarta underwent rapid urbanization, Apriyan's playful works emanate a sense of nostalgia through their innocent, childlike motifs. Graphically real with vibrant graffiti-like brushwork, this work follows the last remaining robot who was sent by humans to clear the excesses of trash over-populating the earth. Ultimately, the plant WALL-E loyally protects is what restores the environment and thus reintroduces civilization once again. In depicting the character of WALL-E, this work conveys to the viewer a powerful sense of hope.
Apriyan's work has been exhibited nationally in Indonesia, as well as at international venues such as Element Art Space in Singapore (2018).
Alex Face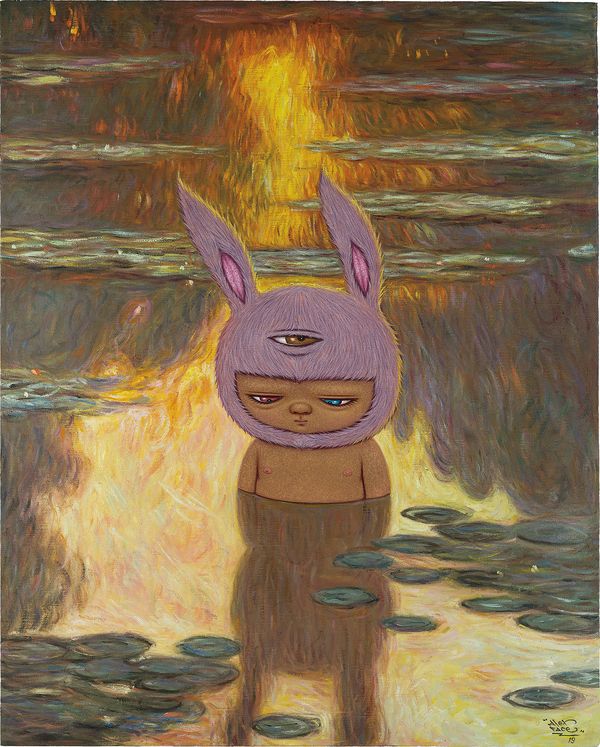 Alex Face Dippin' Dusk, 2019
Patcharapon Tangruen, better known as Alex Face, is widely recognized as Thailand's most respected and prolific street artist. Mardi, the signature three-eyed character of Alex Face who has graced street murals in Bangkok, London, Tokyo and Berlin, is translated as 'to come with good things' in Thai, and was inspired by the artist's own daughter, who was born with an angry, worried look upon her face. Her birth led Alex Face to reflect on the life she has ahead, as she and other vulnerable children confront today's world.
Drawing inspiration from Monet's famous water-lily paintings, Dippin' Dusk depicts Mardi half-sunken in a water-lily pond, pointed lilac bunny ears atop her head. Despite a beautifully reflected sunset, the child's third eye watches over her unimpressed expression. As water-lilies prefer to grow in relatively stagnant water, Alex Face uses this motif as a metaphor for his social concerns about Thailand's current state.
Heralded as the 'Banksy of Bangkok', Alex Face's work has gained recognition across the globe. As well as collaborating with high-profile brands like Mercedes Benz and COACH, the artist has recently presented solo shows at the Vertical Gallery in Chicago (2019), and Galleria Ravagnan in Venice, Italy (2019).
Online Auction: 9-18 October
On view: 9-18 October
Phillips Hong Kong Gallery
14/F St George's Building,
2 Ice House Street, Central
Enquiries: Delissa Putri Handoko, Head of Sale