Joris Laarman 'Bone' armchair, 2008
In an effort to bring together thinkers and makers from seemingly disparate disciplines, Joris Laarman and Anita Star established Joris Laarman Lab in 2004. The Lab executes works that range in scale from furniture such as the present lot to larger architectural projects. Beginning around 2006, Laarman became particularly interested in the biological processes of tree and bone growth as well as the possibilities of 3-D fabrication. These intellectual fascinations of Laarman's coalesced in his first 'Bone Chair', a precursor to the present lot.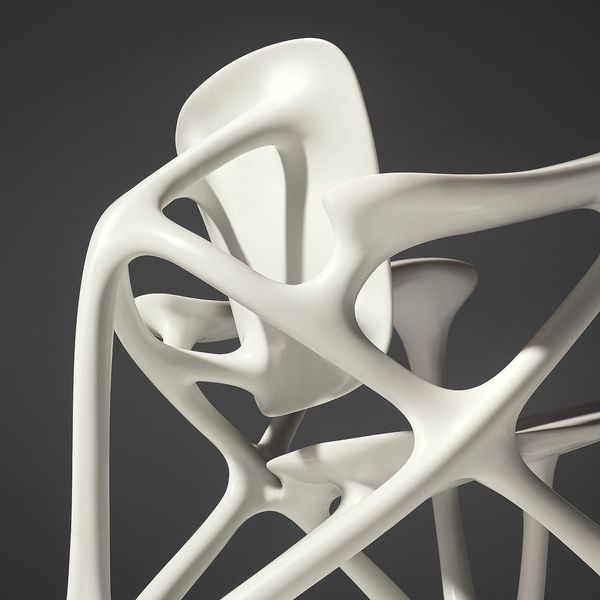 Joris Laarman 'Bone' armchair, 2008 (detail)
Describing these works, Laarman has said, "If Mother Nature wanted to create a chair, it would probably look something like [this]" (Anita Star, ed., Joris Laarman Lab, exh. cat., Cooper Hewitt, Smithsonian Design Museum). Inspired by the way in which bones grow, Laarman developed a computer algorithm that similarly minimizes mass where less support is needed. He described the algorithm by saying, "This is done by creating a virtual 3-D model and simulating the application of stress to specific points on the design. Then the algorithm takes away all of the material that isn't necessarily needed, without weakening that part" (ibid, p. 66). For the present lot, Laarman used this biologically-inspired algorithm to create a 3-D mold. He then cast the chair using a mixture of marble powder and resin. Whereas his first 'Bone Chair' was made with aluminum, the chalky and smooth quality of the marble resin has a bone-like appearance that visually reinforces Laarman's design concept.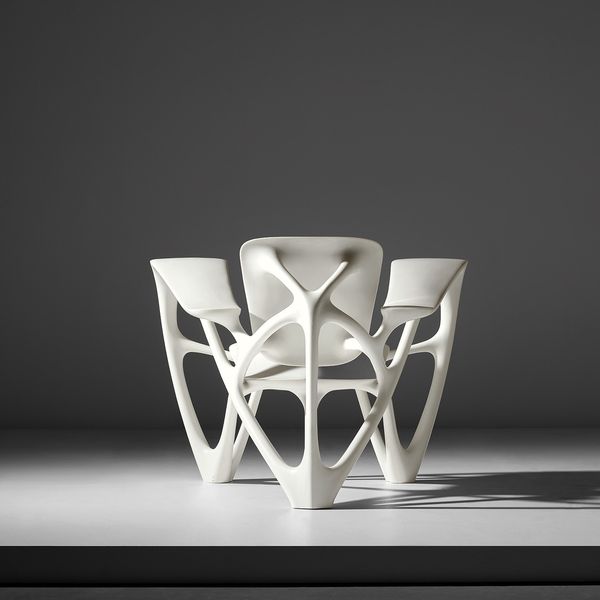 Joris Laarman 'Bone' armchair, 2008
Though this chair's conceptual undergirding and formal production mark a radical shift in the possibilities of design — from its point of inspiration to its novel use of emergent technologies — it remains grounded in the larger historical trajectory of designers creating works inspired by nature. From Art Nouveau at the turn of twentieth century to 'Biomorphic Design' of the post-World War II period, many of the most innovative designs have been inspired by the natural world.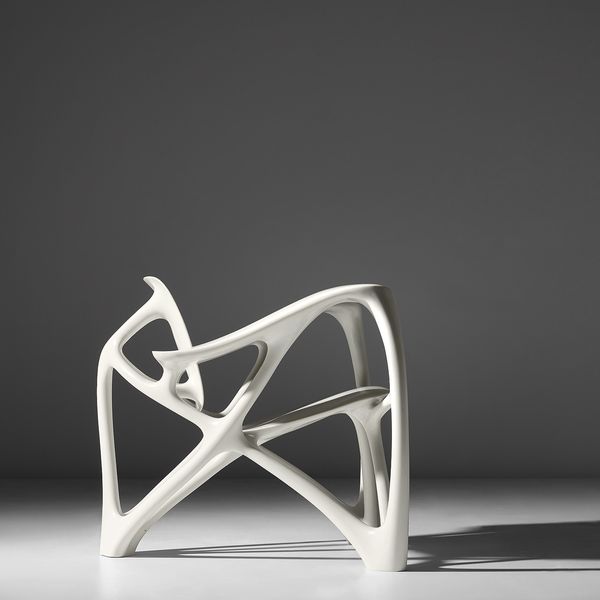 Joris Laarman 'Bone' armchair, 2008
By exploring the intersections of design, technology, and science and by expanding our very understanding of these disciplines, Laarman has become one of the most groundbreaking and innovative designers of the twenty-first century. The 'Bone Armchair' proves this point: it is theoretically complex yet straightforward, visually robust yet delicate, and aesthetically minimal yet dynamic.