Tschabalala Self Florida, 2015 (detail)
Several themes crop up in Phillips' October Evening Sale, together forming a host of poignant narratives utterly pertinent to this day and age. Rosemarie Trockel, Tschabalala Self, and Tracey Emin's respective works, coalescing myriad techniques and materials, bear an underlying common thread touching on conjoint notions of womanhood and craft. Through appropriating artistic tradition and practices dubbed inherently female, these artists offer a fresh perspective on dated subjects and media, rejuvenating their core with unrepressed individuality.
Rosemarie Trockel Assisted Lines, 2014.
With its pared-down construction consisting of countless yarn lines, Rosemarie Trockel's Assisted Lines questions the hand of the artist in the confection of warp and weft. Executed in 2014, the haptic composition belongs to Trockel's series of machine-knit wool works, which the artist commenced in the 1980s upon realizing that knitting and weaving were still considered exclusively female activities. In this immaculately conceived work, Trockel weaves an artistic cosmos that pairs well-known artistic tropes – structuralism and minimalism – with a medium departing from the traditional tools employed in painting. Her shrewd engagement with stitching, complicated by the automated process with which her works are made, is resistant to a single stylistic unity, and redolent of both male- and female-associated traditions. Held in balance between two poles, Trockel maintains a sharp distance from the comfortable and the familiar, instead bordering on the anarchic.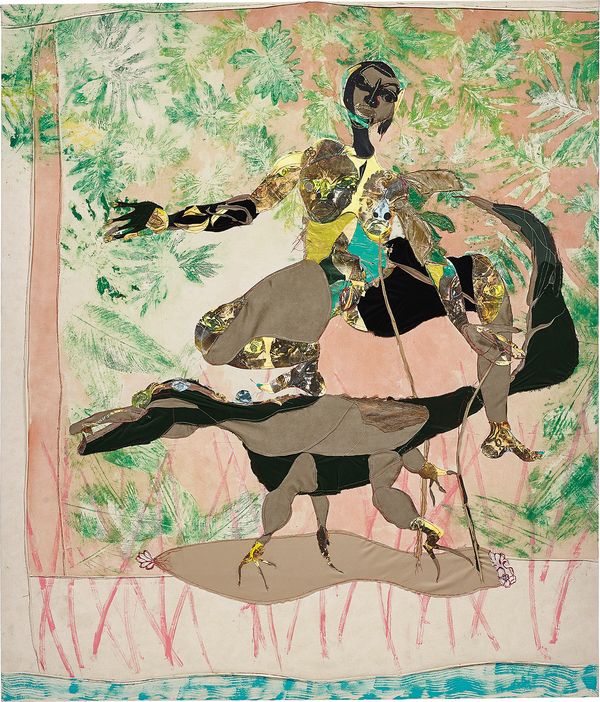 Tschabalala Self Florida, 2015.
Coming from a different background and generation, Tschabalala Self similarly balks against idealized modes of creation in painting. Florida, created with a technique that the artist honed while completing her MFA in Fine Arts at the Yale School of Art, boasts layers of collage that comprise oil, acrylic, fabric, dry leaf and canvas. The result is visually explosive: the protagonist taking center stage in the work recalls the fierce Amazon figures taking over nature through the sheer force of their bodies. With distinct prints of her face collage across her chest, the work additionally brings to mind David Hammons' groundbreaking body prints, which comparably employed aesthetics of duplication to render supernatural-looking human figures. Mixing media and imagery, Self conjures a unique visual landscape that physically transliterates the multifaceted nature of her subjects.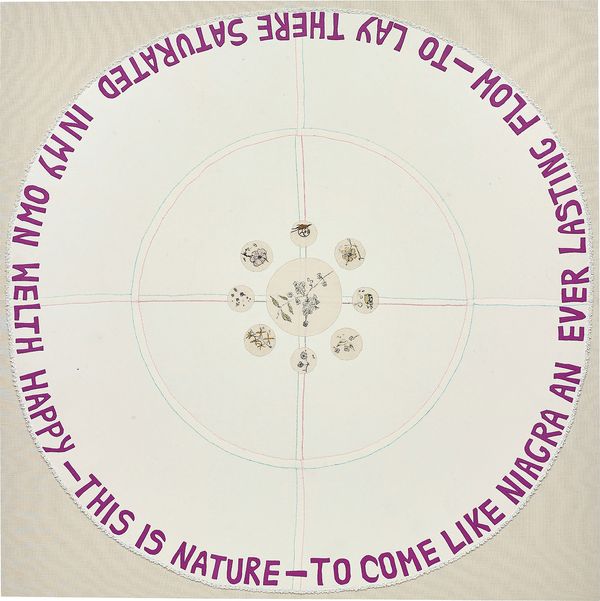 Tracey Emin Nature 1, 2001.
Finally, Nature 1 is a deeply personal manifestation of Tracey Emin's relationship to craft. Initially conceived as a large tablecloth, the work makes use of embroidery in a transformative way, dovetailing the macho and reductive associations tied to stitching. Like a number of women before her, Emin uses a language that is assumed to be hers only by virtue of her gender and fills it with unapologetic individuality. She moreover adorns the fabric with a brash, sexually charged expression reading "This is nature – to come like Niagara an everlasting flow – to lay there saturated in my own welth happy," likening the work to a kind of haptic, three-dimensional diary. As expressed by Jessica Hemmings, "Because Emin uses images of her own body and pages from her own diary, voyeurism is not the issue. This is Tracey Emin. This, in one form or another, is all of us stripped bare of the discretion which culture, language, education and family have instilled." Challenging the social and historical folds that link conventional handicraft techniques to sexist thoughts and preconceptions, Emin's textiles elucidate a new truth – her own – through imperfect surfaces, uncensored color and rudimentary language.
All bound together by the solid tie of craft, Trockel, Self and Emin shine with their most sublime artistic examples in this season's Evening Sale at Phillips. Presented alongside a number of other female artists, such as Mary Corse, Sherrie Levine, Elizabeth Peyton, Jenny Holzer and Simone Leigh, they create a refreshing narrative that sheds light on a facet of artistic creation that was long cast under the pervasive shadow of systemic, male-dominated obloquy.