David Hammons, Slauson Studio, gelatin silver print, 1974. Photograph: Bruce W. Talamon. © Bruce W. Talamon.
Rarefying his presence in the art world and only sporadically honoring the public with new artistic productions, David Hammons has, over the course of six decades, honed a distinct artistic voice that is at once unapologetically political and exquisitely poetic. His arresting series of 'body prints', representing the genesis of his international success, balances performance and self-representation, and consists of bodies — usually the artist's own — coated with a thin layer of grease or margarine, pressed against a sheet of paper. The physical result, dusted with black pigment, conveys a magical, otherworldly composition.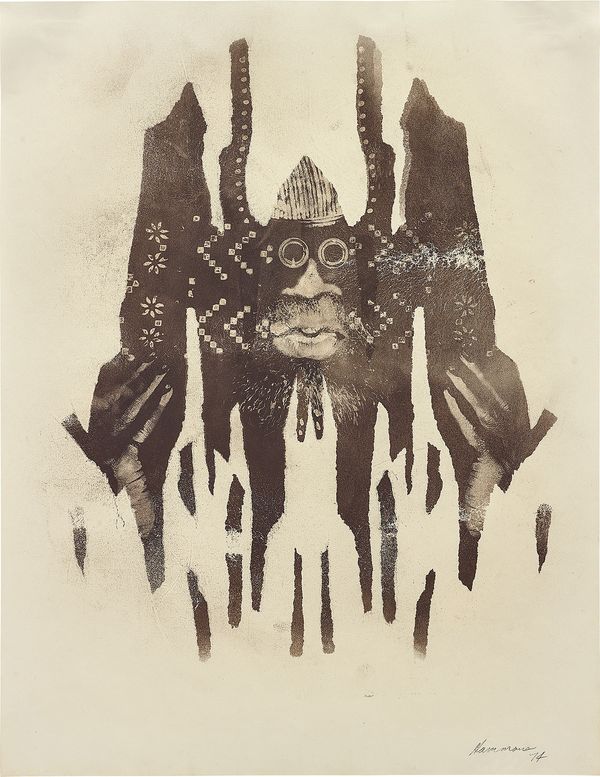 David Hammons Untitled (Body Print), 1974
Untitled (Body Print), 1974, is a wonderful example from this series and will come up for auction during our London 20th Century & Contemporary Art Evening Sale on 7 March. Enticing and visually evocative, it deftly embodies the beguiling effect and profound socio-political irreverence carried by Hammons' work. It is situated at the core of the artist's conceptual endeavors, which, according to The New York Times, rendered his oeuvre "the most stimulating and influential of the last four decades." Other examples from the series are housed in the notable collections of The Museum of Modern Art, New York, and The Museum of Contemporary Art, Los Angeles.
They call my art what it is. A lot of times I don't know what it is because I'm so close to it. I'm just in the process of trying to complete it. I think someone said all work is political the moment that last brushstroke is put on it. Then it's political, but before that it's alive and it's being made.
Straddling X-ray precision and pictorial elusiveness, Hammons' body prints are at once fleeting and deeply corporeal, emulating photographic clarity while conjuring an indefinable image. Capturing a blurry yet extremely detailed record of the artist's presence, the present work manipulates the qualities of one-to-one transfer, honing in on distinct facial features within a patterned torso while fading the upper and lower parts of the model's body. Evincing the contours of a fantastical creature, Untitled (Body Print) transcends its reflective quality and enters a surrealist realm; with large googly eyes and bold facial features, the central figure sits somewhere between bizarre figuration and imaginative abstraction.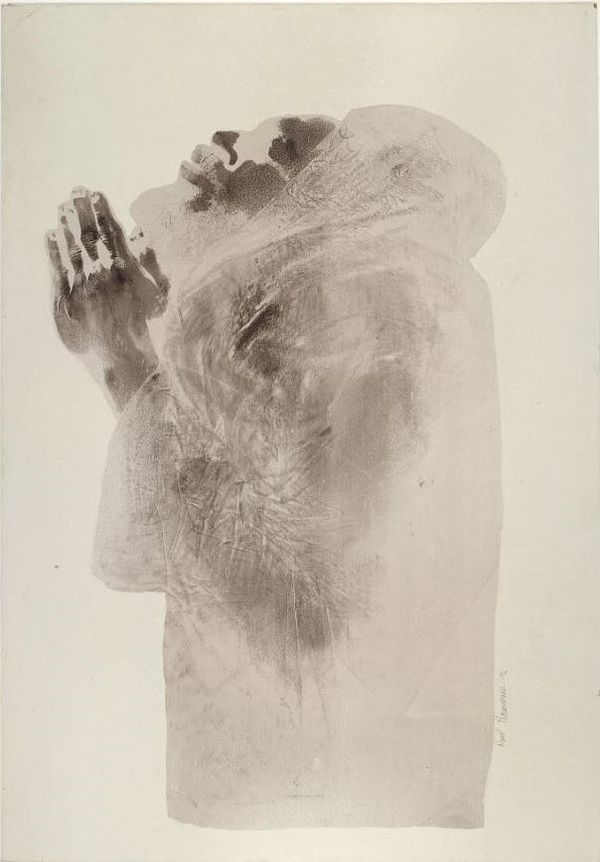 David Hammons Untitled, 1969, part of the permanent collection at MoMA
Building on the social and political dimension of the artist's body prints, Gylbert Coker of the Village Voice remarked: "Much more subtle in their identifiable element, the prints nonetheless grew from a black object—grease. How many times has your Momma told you to get yourself some grease 'cause your legs are ashy?" In this perspective, Untitled (Body Print) departs from its innocuous figurative associations. Its stylized features invoke the appropriative fetishizations imposed onto black bodies over the course of history. Taking on the appearance of a traditional African mask, the work indeed carries a particular tradition of racialized representation, evoking the quasi-talismanic quality that masks took as a symbol for blackness in the late 19th and early 20th century.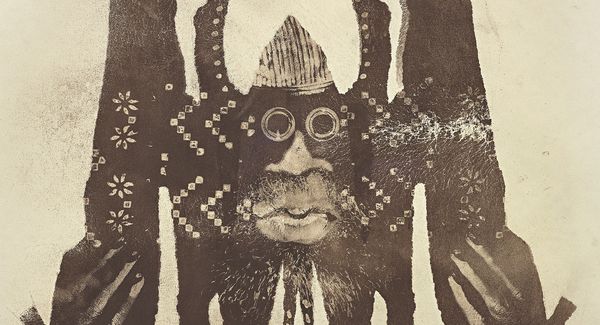 Detail from Untitled (Body Print)
Untitled (Body Print) merges diverse formal compositional elements — figurative traits, symbolic patterns — and the imperiousness of the politicized body. As such, it conjures timeless themes while being ineluctably of its time, reflecting Anthony Huberman's belief that Hammons' work is "Raw, spiritual and always politically charged, [playing] with art the way a jazz musician plays with sound — he gets inside it, bends it, twists it around and keeps it from sitting too still or getting too comfortable."