Alex Katz Blue Umbrella I, 1972.
Arrestingly cinematic, Blue Umbrella I sheds light on Alex Katz's wife Ada, whom the artist painted more than two hundred times since their marriage in 1958. The first from a series of two, this sumptuous, moody canvas exemplifies Katz's cool approach to figuration, as well as his adroit use of a theme that became a leitmotif throughout his career. With its captivating subject and alluringly sensual colors, Blue Umbrella I is an ode to Katz's timeless muse, who, despite continuous changes in American society, remained her elegant self for decades – a feat that Robert Storr dubbed the 'the mark of her musedom'.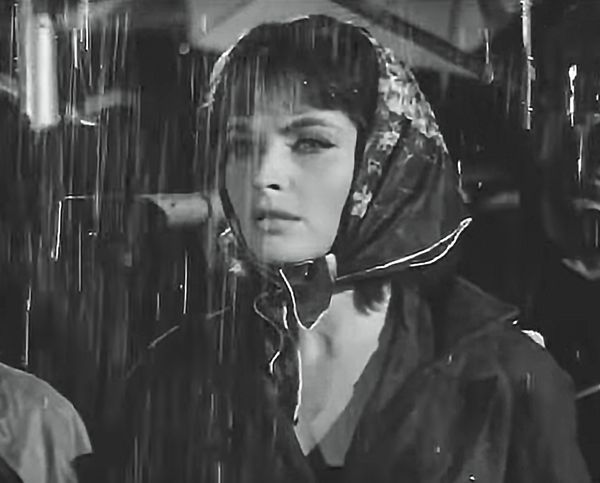 Film Still from La Dolce Vita, by Federico Fellini, 1960.
Poised amidst slanting drops of rain, Ada is portrayed tantalizingly still, crystalized in a remote time capsule from which the viewer seems to be detached. She is as much the subject of the painting as each of her features and accessories: her pristine rose lips, her almond-shaped eyes, her stylish chiffon à la française, are all presented as elements to be viewed independently. Of course, her titular umbrella is most potent in invoking a standalone theme; with it, a string of seminal painterly icons comes to mind: Claude Monet's Femme à l'ombrelle tournée vers la gauche, 1886, Gustave Caillebotte's Rue de Paris, temps de pluie, 1877, but also René Magritte's homage to the German philosopher Hegel, in Les vacances de Hegel, 1958. Furthermore, the droplets surrounding Ada serve to vivify the painting's playfulness; they mark a nod to Lichtenstein's crying female figures, Man Ray's glass tears, and Cindy Sherman's staged melancholy. Some of them are also dispatched randomly, providing an echo to Jackson Pollock's painterly splatters.
Claude Monet La plage de Trouville, 1870, oil on canvas, National Gallery, London. Image: Scala, Florence.
Ada as a painterly subject is of unmatched importance in Katz's oeuvre. She encapsulates one of the rare pictorial realms where content and form are treated in equal measure. Ada's features in Blue Umbrella I are delineated with utmost clarity and conviction; she is freshened by the sheer force of their intimacy, but also thanks to the technical developments that flourished throughout the 1960s, allowing for a filmic quality to emerge and eventually dominate Katz's work. Presented close-up and with an immaculate finish, Ada brims with a cinematic energy that signals the solidified shift of Katz's creative direction. Only adding to the painting's filmic effect, Katz has placed the tilted raindrops surrounding Ada diagonally, so that some of them appear to be running down her cheeks. As a whole, Ada represents a familiar subject tinged with an unnamable elusive quality; she is aloof, remote, disconnected from the torrential rain surrounding her, like an urban siren or a 1960s cinema star haloed by the camera's captivated lens. "Such is [Ada's] deep reserve that you can spend a very pleasant hour tête-à-tête with her and still wonder if you have ever really met," wrote Leslie Camhi. Both warm and distant, vulnerable and charismatic, Ada channels a form of painterly introversion that commands the viewer's gaze.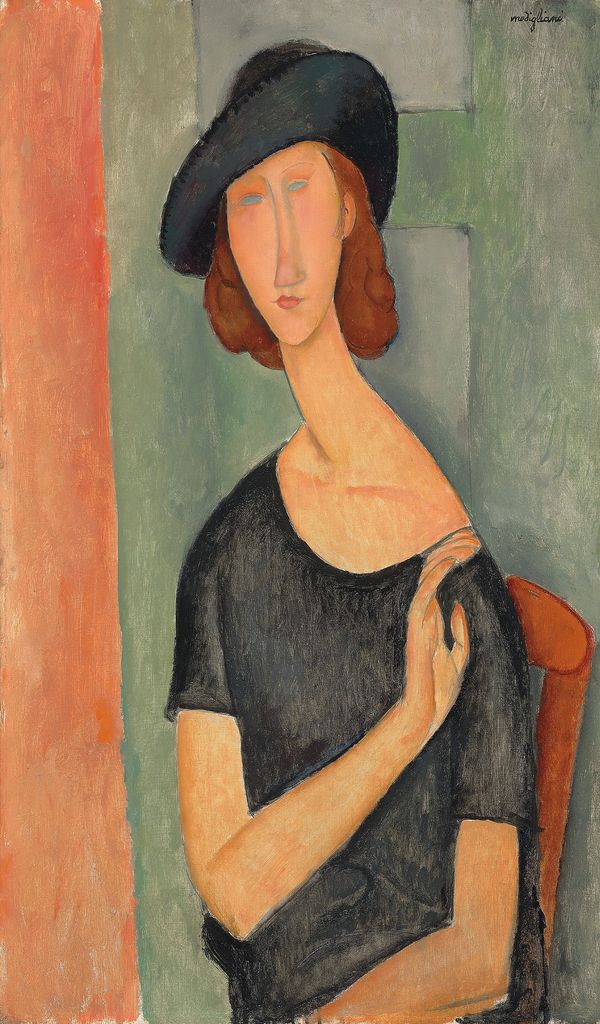 Amedeo Modigliani Jeanne Hébuterne (Au chapeau), 1919, oil on canvas, Private Collection. Image: Photo © Christie's Images / Bridgeman Images.
Ada's regal posture also invites comparison with such infamous muses as Dora Maar, captured by Picasso's enamored gaze, or Jeanne Hébuterne, lovingly rendered by Amedeo Modigliani's hand. "This guy [Alex Katz] that I was interested in was looking at my eyes, my ears, my shoulders. The whole thing was just very sensual" Ada has said. "But then it became just this thing that he did. I was sitting and he was painting, and that was it." Reflecting Hébuterne's regal silhouette in Jeanne Hébuterne (Au chapeau), 1919, Ada exudes the grace and elegance of the 'classic American beauty', whilst bringing to mind timeless European icons of the artistic canon (Alex Katz quoted in Calvin Tomkins, The New Yorker, August 2018).