Lot 111: Hannah Wilke S.O.S. Starification Object Series (Performalist Self-Portrait with Les Wollam), 1974. In addition to the print on offer, it is believed that only one other print of the image exists in this format. That print is in the collection of the Whitney Museum of American Art, New York. © Marsie, Emanuelle, Damon and Andrew Scharlatt, Hannah Wilke Collection & Archive, Los Angeles. Licensed by VAGA at Artist's Rights Society (ARS), New York, DACs, London
Photography is a medium often associated with the documentation of reality. But performance, construction and artifice have always been key components, even more so as photography began to explore feminist themes in the 1960s and beyond. This October at Phillips, we are pleased to offer two important works by women who pushed the boundaries between photography and performance: Hannah Wilke and Marina Abramović. Both are well known for their transformative contributions to the arts, and for making work that deals explicitly with the female body and women's societal roles. The present works each stem from live performances and utilize the body as a tool in the construction of a universal narrative, blurring the line between the physical and philosophical.
The moment I first stood in front of the public . . . I understood that was the only thing I want to do in life. — Marina Abramović
For over four decades, Abramović, the self-proclaimed 'Grandmother of performance art,' has vigorously devoted her life to executing commanding performances; each one manifested with a bespoke depth of tone and feeling, addressing issues that are simultaneously personal and universal. She has said, 'The moment I first stood in front of the public, . . . I understood that was the only thing I want to do in life.' Wilke once explained her own artistic origins this way: 'As an American girl born with the [surname] Butter. . . I was often confused when I heard what it was like to be used, to be spread, to feel soft, to melt in your mouth.' While the artist assumed her then-husband's name in 1960, this early identifier and fascination with transmutation and malleability of form persisted, and influenced the bold work which followed. Together with her contemporaries Judy Chicago and Annette Messager, Wilke's approach helped to usher in the crucial first wave of feminist art in the 1960s and 1970s.
In her renowned 'performalist self-portraits,' S.O.S. Starification Object Series, Wilke applied pieces of chewing gum molded and folded into vaginal forms onto her semi-nude body. S.O.S. began in 1974 as an initial group of 28 images, including the present lot, before expanding to approximately 50 images at the series' conclusion in 1982. Across S.O.S., Wilke poses against a white background and presents herself within the visual language of fashion photography, assuming both the look and attitude of high fashion models. Here, pairing a suggestive, over-the-shoulder gaze with hair curlers, Wilke begins to subvert conventional western depictions of beauty and the objectification of the female body. This subversion is fully realized by the addition of the chewing gum which she positions across her face and, in other works from the series, across her body. These forms become physical aberrations, simultaneously resembling jewels, blemishes, scars, stigmata, and vestigial vulvas. Further, these visual disruptions have also been regarded as a reference to the numeric tattoos given to Holocaust victims, causing the 'Star' in Starification to take on weighted significance.
Why should we have this mind-body male-female duality? The mind and body are one, so I tried to make art an expression of that connection.
— Hannah Wilke
Wilke's experimentation with these anthropomorphic shapes began as early as 1959 when she was a student at Temple University and continued in an array of media—sculpture, performance, and photography—throughout her career. Though initially created from molded grey erasers, she found that the material qualities of chewing gum, with its softer texture and flesh-like pink tones, better aligned with the corporal nature of the S.O.S. series. And the choice was also a sociopolitical one: 'I chose gum because it's the perfect metaphor for the American woman,' Wilke wrote, 'chew her up, get what you want out of her, throw her out and pop in a new piece.' Indeed, if the initial choice of erasers was a play on the idea of 'erasing her,' as Wilke alludes to in her letter in Art: A Woman's Sensibility, the substitution of chewed gum was its own play on the evolution of the idea: don't erase her; instead, use her for your own enjoyment and discard her. It is this blunt confrontation with the objectification of women that makes Wilke's S.O.S. series just as powerful today as it was at the time of its making.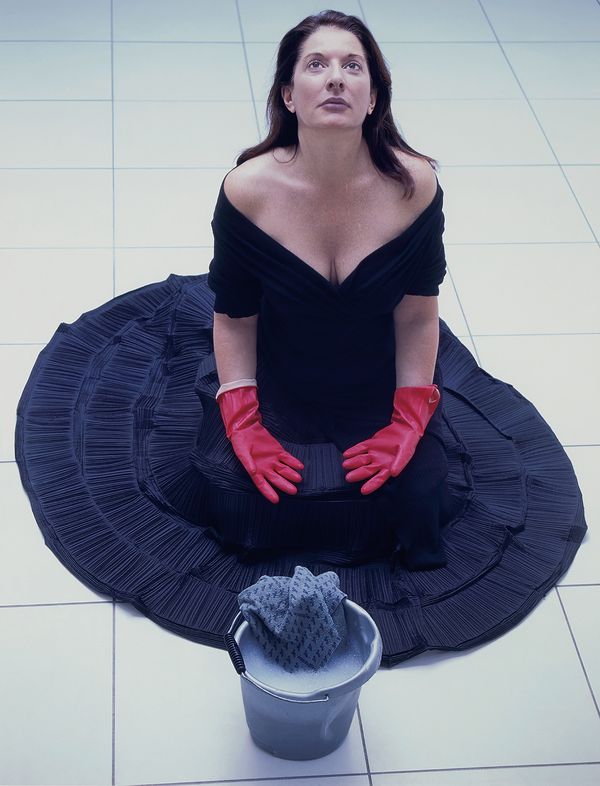 Lot 204: Marina Abramović Cleaning the Floor, 2004. This work has been privately held since it was purchased in 2005 and this is the first time this image will appear at auction. © Marina Abramović Courtesy of the Marina Abramović Archives
Perhaps more than any other living artist, Abramović has expanded the audience for performance art with her tour-de-force works, many reflective of pivotal personal moments from her life. The photograph on offer is a still from her 2004 performance, Cleaning the Floor, and eloquently eternalizes a palpable moment long after the performance's conclusion. Cleaning the Floor embodies the exploration of femininity and domesticity that became more visible in her later work. While Wilke vocally identified her work as feminist from the start, Abramović noted that early in her career she felt the need to prove herself and to substantiate the work. In Lovers: The Great Wall Walk performance in 1988, Abramović and fellow performance artist and collaborator Ulay, began on opposite ends of the Great Wall of China and walked towards each other for 90 days, the performance culminating with them meeting in the middle and ending their twelve-year relationship. Following that project, the closure and independence she felt marked a turning point in her career where she was emboldened to entwine and explore femininity in her work, 'After I finish this Chinese Wall I didn't need to prove to anybody anything anymore. That was a really turning point for me. . .' Indeed, if Lovers marked the end of one chapter of her career, Cleaning the Floor marks the apex of yet another; a performance that speaks to the inherent contradictions in what is expected of women. They must look the part of the screen siren while performing the chores of the domestic servant.
This image from Cleaning the Floor was featured on the cover of ARTnews 'The Feminist Evolution' December 2009 issue in celebration of her highly-anticipated performance The Artist is Present, which debuted alongside a retrospective of her work at the Museum of Modern Art, New York in 2010.
Abramović's ever-evolving work continues to be at the forefront of the art world. Another retrospective opened in 2018 at the Bundeskunsthalle Museum in Germany, and images and videos of Abramović's work are held in private and public institutions worldwide. Wilke passed away in 1993 following a battle with lymphoma. Her work, however, has lived on. Her critically acclaimed 1994 posthumous show Intra-Venus documented the artist's personal confrontation with death, and spurred major institutions like the Museum of Modern Art and the Tate to collect her work.
Marina Abramović and Hannah Wilke each developed their own unique approach to incorporating performance into their work, to expand the limited artistic vocabulary previously available to women and challenge accepted ideas of art. The two works in Phillips' October Photographs auction are pivotal documents from their respective oeuvres.