Ed Ruscha with a Joshua tree in the desert, California, June 1985. Photo by Evelyn Hofer/Getty Images.
While cruising down the Pacific Coast Highway, Ed Ruscha encountered the nature of mid-twentieth-century American culture through the view from his car window. Quintessentially Californian in method, Ruscha's reflections on the simplicity of life are encompassed in the artist's iconic wittiness and surrealist depictions of light. Escaping the bounds of a traditional narrative, Ruscha's High-Speed Gardening, 1989, fuses the seemingly disparate themes of fixed language and abstracted light.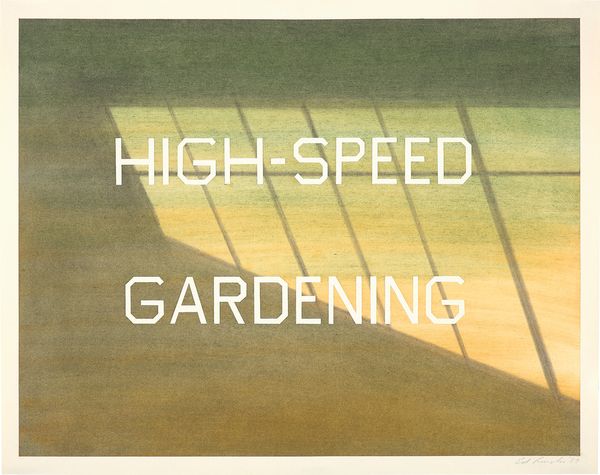 Ed Ruscha High-Speed Gardening, 1989
Moving from Oklahoma to Los Angeles in the late 1950s, Ruscha worked temporarily as a commercial sign-painter. Inspired by his previous occupation, the artist found particular interest in the use of words, the infiniteness to them and their unique ability to construct and confound meaning. Ruscha's use of language is poetically paradoxical and playfully random. The salience of the de-contextualized phrase "High-Speed Gardening" is a visual enigma for the viewers — surprisingly absent of an underlying message. His words are actually a humorous dichotomy that encapsulates a typical Los Angeles lifestyle: simultaneously bustling and tranquil. Subverting the narrative of painting, Ruscha plays with the viewers' expectations, much like the clear L.A. light that both illuminates and exists purely on the surface of things.
Sometimes I wonder whether I'm painting pictures of words or painting pictures with words.
Composed of a velvety yellow-green color gradient, the background is seamlessly interjected by the cast shadow of a windowpane. As with the use of language, these beams of light obviate a clear source. A reoccurring motif in Ruscha's oeuvre from the mid-to-late 1980s, the window (or suggestion of it) proposes "an idea about light," allowing the viewer to peer into a world far beyond the surface (Ed Ruscha quoted in Kristine McKenna, "Lightening Up the Getty, Los Angeles Times, May 24, 1998, online). There is something particularly uncanny about the imagery's cool subtlety that belies any tangible narrative.
Commenting on the under-represented aspects of everyday life, Ruscha utilizes surrealist visual themes to tie together the relevance of language and light in Los Angeles living. The artist grasps inspiration from the simplest happenings of life: his gratitude for reflected light, the daily use of language and how they each bring personal associations to the surface, both exquisitely represented in High-Speed Gardening.