Lot 120: Robert Polidori Grand Central, New York, 1998
World View: Property from a Private Collection documents the remarkable range of photography in the 20th and 21st centuries. From New York City to Long Beach, Paris to Bangkok, this collection brings together dynamic images from across the globe.
Assembled over the last twenty years, World View is full of visual and cultural juxtapositions that address universal themes and experiences. Danny Lyon's photograph of the Chicago Outlaws Motorcycle Club and Larry Clark's narrative of suburban drug use in Tulsa both investigate the counterculture of the 1960s and 1970s. Nan Goldin's photographs from Bangkok explore contemporary trans communities while harkening back to Brassaï's observations of the risqué world of Parisian nightclubs in the 1930s. Helmut Newton's overtly sexualized depiction of nude models contrasts starkly with Diane Arbus' matter-of-fact depiction of a topless waitress, and both illustrate differing approaches to the female form in photography.
Robert Frank's covered car is the antithesis of André Kertész's bustling New York street scenes, and yet it is equally symbolic of American culture in the early to mid-20th century. Dave Heath's early work illustrates photography's capability to achieve visual poetry, while Edward Burtynsky's images call for greater awareness of human impact upon the planet.
World View: Property from a Private Collection brings together an eclectic group of photographs unified by a sense of humanity and the medium's expressive power. Here, our specialists highlight the historical importance of three exceptional works.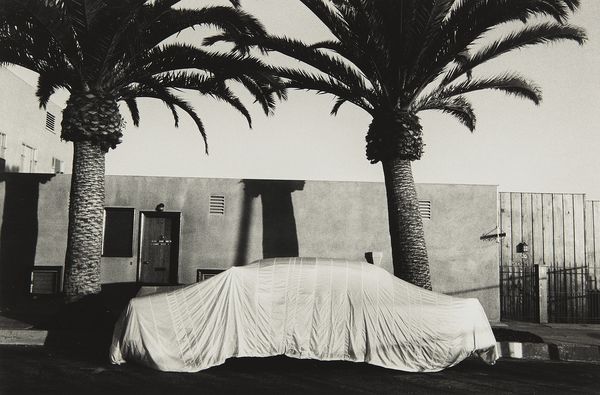 Lot 132: Robert Frank Covered Car— Long Beach, California, 1955-1956.
The American automobile was a source of fascination for Robert Frank, and cars—specifically the gleaming boxy models that were Detroit's pride during the post-World War II years—appear as a repeating motif throughout Robert Frank's seminal book, The Americans, and more broadly in the other work he created during that time (see lots 73 and 74). Covered Car—Long Beach, California, is perhaps Frank's most iconic car image, albeit one in which the car is hidden by its protective cover. The tonal values of this photograph, ranging from the shimmering white of the cover's fabric to the absolute black of the shadows, give the image an otherworldly, almost surreal, quality. Within the sequential context of The Americans, this composition foreshadows the illustration which comes directly after, of the covered subject of Car Accident—U.S. 66, Between Winslow and Flagstaff, Arizona.

Car culture was a novelty to Frank, whose Swiss upbringing did not prepare him for the love and attention Americans lavished upon the automobile. Many Californians had arrived in the state in the broken-down cars so memorably depicted in the photographs of Dorothea Lange. Two decades later, in 1950s California, Frank discovered that the automobile had undergone a remarkable transformation from a frequently unreliable jalopy into a fetish object. Jack Kerouac, in his freewheeling introduction to The Americans, comments on the irony so aptly captured by Frank in this photograph: "Car shrouded in fancy expensive designed tarpolian to keep soots of no-soot Malibu from falling on new simonize job as owner who is two-dollar-an-hour carpenter snoozes in house with wife, and TV, all under palm trees for nothing, in the cemeterial California night."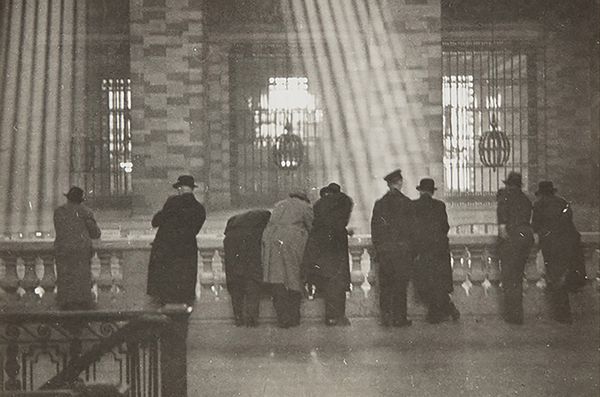 Lot 135: André Kertész The 1974 André Kertész Guggenheim Set, 1930s. A unique set of ten gelatin silver prints.
The ten photographs on offer as lot 135 were originally submitted by André Kertész with his 1973 application for the prestigious John Simon Guggenheim Foundation Fellowship. These images all date from the late 1930s and were taken shortly after his 1936 arrival in New York from Paris. Although neglected at the time of their making, Kertész's early New York images show him absorbing his new surroundings and performing the photographic alchemy that was uniquely his.

By 1973, Kertész had retired from commercial work and was slowly beginning to achieve the broader recognition for his photography that had eluded him since he left Paris. He was encouraged by his friend Brendan Gill, the New Yorker magazine writer, to apply for the Guggenheim Fellowship, which would provide needed funds to continue his work. In addition to Gill, Kertész's application listed an impressive roster of references: MoMA photography curator John Szarkowski; New York Times art critic Hilton Kramer; and editor and publisher Nicolas Ducrot.

In Kertész's application statement he wrote that one use of Fellowship funds would be "to complete the printing of my negatives on N. Y. C., since 1936." The selection of images that Kertész sent with his application—scenes of the city's street life, images of children at play, and the ever-bustling sidewalks of his new home—clearly demonstrated to the Guggenheim Foundation that this work deserved further attention. On the strength of the images in this lot, and the recommendations of his references, Kertész was awarded the sum of $15,000 in 1974.
'World View' brings together an eclectic group of photographs unified by a sense of humanity and the medium's expressive power.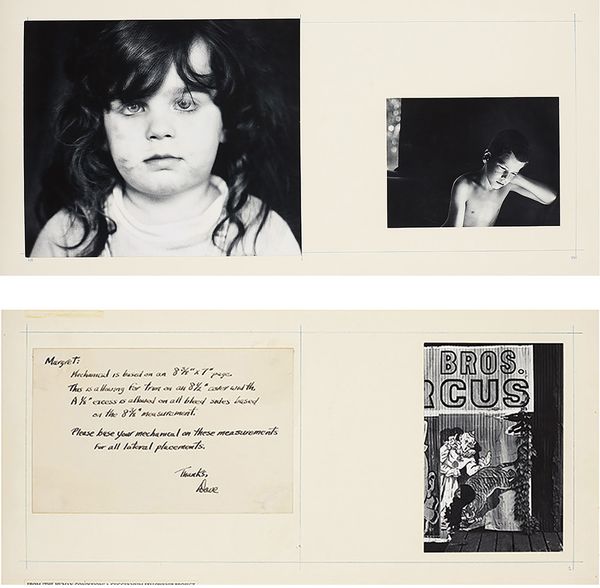 Lot 139: Dave Heath Maquette for Contemporary Photographer, 1963. Twenty-one gelatin silver prints on twelve mounts.
The twenty-one mounted photographs in this lot comprise a unique maquette provided by Dave Heath to Contemporary Photographer magazine in which they were published, exactly as prescribed by Heath, in the Winter 1964 issue. Heath's layout of the photographs on twelve mounts is meticulous, as is his sequencing. He indicated full bleeds (illustrations extending to the edges of a page) for four images, and partial bleeds for several others; he intentionally inserted blank pages into the sequence; and the size and position of each image on a spread was precisely calibrated. While the maquette was designed for reproduction, the original objects give insight into Heath's talents, not only as a photographer and printer, but as an editor and designer.

In 1963, Heath received a Guggenheim Fellowship—another would follow in 1964—which freed him to pursue his photographic work. This maquette of images all made in 1963 is a direct result of this, as indicated by the printed label on the first spread of the layout which reads, From 'The Human Condition,' A Guggenheim Fellowship Project. This was also the title of a limited edition portfolio Heath produced during this period which includes a nearly identical selection of images.

Editing and sequencing had been Heath's practice since his earliest involvement with photography in the 1950s. Inspired by the layouts he saw in LIFE and other picture magazines of the day, Heath produced several sophisticated maquettes in book form. In the suite offered here, he creates a poetic non-linear photographic narrative including a number of his well-known images as well as his portrait of teacher and mentor W. Eugene Smith. The photograph on the maquette's final spread is paired with a printed quote by James Agee. This maquette, and its appearance in Contemporary Photographer, predates Heath's seminal first book, A Dialogue With Solitude, published in 1965.
Heath's photograph on the maquette's final spread is paired with a printed quote by James Agee
Contemporary Photographer magazine, published in Oberlin, Ohio, from 1960 to 1970, showcased the work of photographers as varied as Robert Capa, Ray K. Metzker, Ralph Eugene Meatyard, Duane Michals, Carl Chiarenza and Jerry Uelsmann, among many others. That the magazine would surrender layout control to a young and relatively unknown photographer such as Heath is remarkable. Heath's note to the magazine's art director, Margaret Powell, outlines his precise instructions: "Margaret: Mechanical is based on an 8 3/8" by 7" page. This is allowing for trim on an 8 1/2" cover width. A 1/8" excess is allowed on all bleed sides based on the 8 3/8" measurement. Please base your mechanical on these measurements for all lateral placements. Thanks, Dave." The magazine's published layout adheres precisely to these details, preserving all the nuance, rhythm and poetry of Heath's conception.