Louise Nevelson Mirror-Shadow I, 1985 (detail)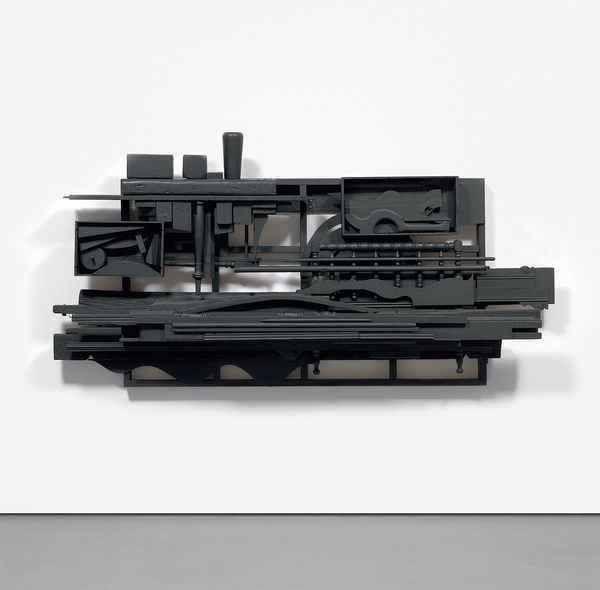 Louise Nevelson Mirror-Shadow I, 1985
Louise Nevelson dreamt of building her own empire, glamorously imposing in its presence. Her unwavering confidence in this pursuit resulted in exuberant sculptures symbolic of her personality: bold and dramatic in presence, yet delicate and feminine in theme. Coated in the artist's preferred color, a rich black pigment, Frozen Laces-Two, 1976-1980, and Mirror-Shadow I, 1985, strikingly embody the themes of architectural fragmentation that define Nevelson's oeuvre. Cloaked in her trademark hue, the works' intricate details meld beautifully into grand installations; sharply opposing elements of delicate details and arresting strength are harmoniously interlocked within these works' smooth, solidified pigment to present something elegantly extravagant.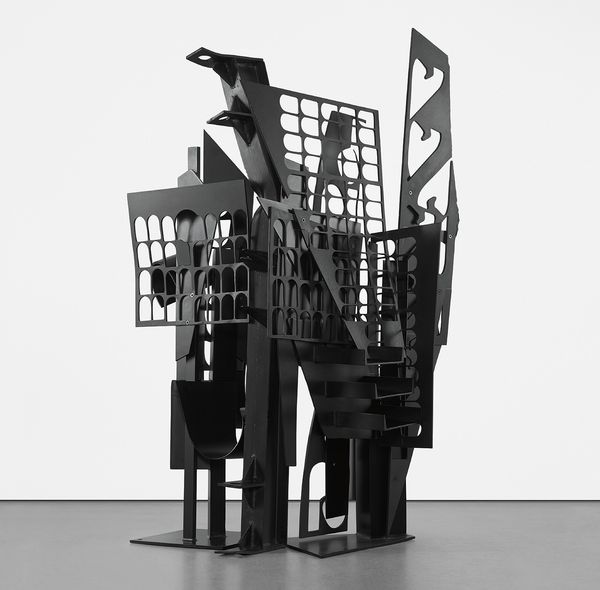 Louise Nevelson Frozen Laces-Two, 1976-1980
Frozen Laces-Two is composed of several slim metal elements that, in their totality, project an immediate vitality. Permitting her work to speak for itself, Nevelson proclaimed "I want to be a sculptor, I don't want color to help me" (Louise Nevelson, quoted in Louise Nevelson: Black and White, exhibition catalogue, Pace Gallery, New York, 2018). The fervor in her relinquishment of color is expertly evoked through the authority asserted by this tower as it stands confidently erect. However, once discerning the careful latticework, one experiences the subtle uniqueness of its intricate curves and arches at every angle. Made salient by the uniform color, the piece communicates a more complex narrative.
My work is delicate; it may look strong, but it is delicate. True strength is delicate. My whole life is in it, and my whole life is feminine, and I work from an entirely different point of view.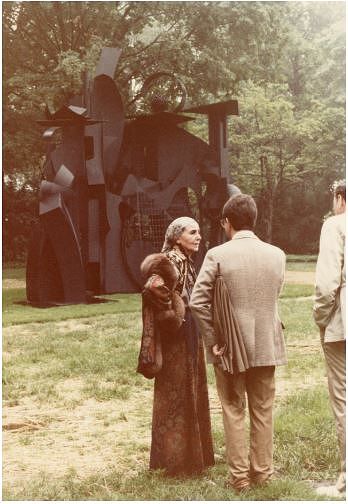 Louise Nevelson in front of City on the High Mountain (1983) at the Storm King Art Center opening of Louise Nevelson: Outdoor Sculptures, 1971–1983. Frozen Laces–Two was featured in this same exhibition. © Storm King Art Center Archives; © Storm King Art Center, Mountainville, New York; © 2019 Estate of Louise Nevelson/Artists Rights Society (ARS)
Uniquely appreciative of art in urban spaces and everyday objects, Nevelson compiled found fragments of moldings, dowels, chair parts and architectural ornamentation in Mirror-Shadow I. When pieced together as a puzzle of wooden components, there is a beautiful intricacy of each element's inconsistencies that would expectedly create diverse shapes and shadows. Defying this assumption, Nevelson again encapsulates the fragmented assemblage in a monochromatic black that morphs the tangle of objects into a robust, unified object.