Lot 112: Annette Messager Mes Ouvrages (Possession), 1998.
When Helen Kornblum first conceived of her collection over 40 years ago, many female photographers synonymous with the medium today were not internationally known nor critically discussed. In fact, despite women actively participating in photography since its inception in the mid-19th century, their work was not widely recognized nor celebrated within the canon. It was with this in mind that Kornblum embarked on her collecting journey with a conscious effort to shift the public's attention to what had been heretofore ignored.
Kornblum's investigation as a collector culminated in the groundbreaking 1997 exhibition and publication with The Saint Louis Art Museum, Defining Eye: Women Photographers of the 20th Century, Selections from the Helen Kornblum Collection. Thanks to the devoted efforts of Kornblum, curators, museums, gallerists and writers, including Dr. Naomi Rosenblum whose 1994 book, A History of Women Photographers, was the first publication focused solely on women's contributions to photography, there is today a growing awareness of the cultural and institutional blind spots that limit us from the full spectrum of who creates art.
The Feminist Thread: Photographs from the Collection of Helen Kornblum contains classic images by luminaries in the history of photography such as Berenice Abbott, Diane Arbus and Lisette Model as well as pioneering works by critically acclaimed contemporary artists including Annette Messager, Cindy Sherman, Hannah Wilke, Catherine Opie, Lauren Greenfield and Nan Goldin.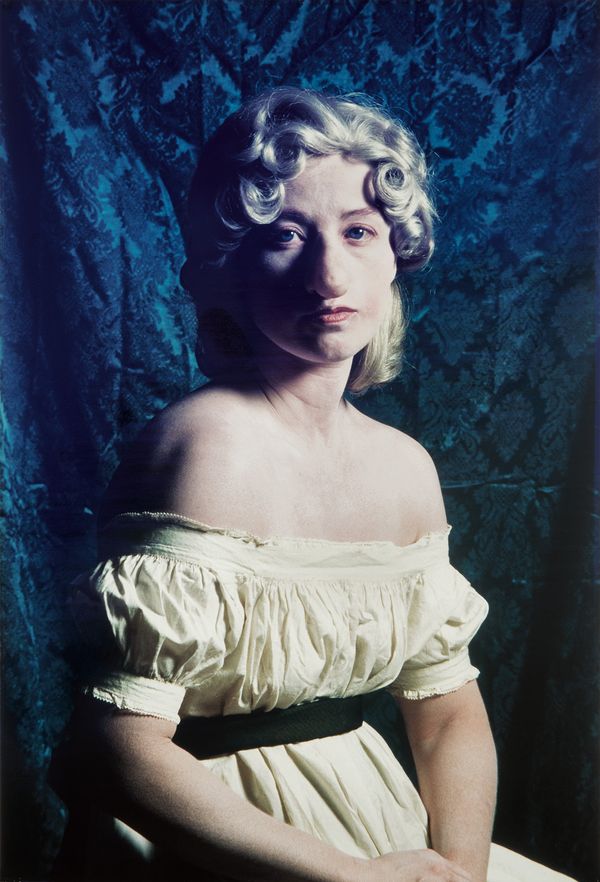 Lot 118: Cindy Sherman Untitled #197, 1989.
Cindy Sherman's Untitled #197 is exemplary of the challenging and visually complex imagery Kornblum gravitated to. By the time Cindy Sherman embarked on her History Portraits in 1988, she had long perfected the art of shape-shifting; transforming and re-presenting herself as an array of characters alluding to female archetypes as seen in film and magazines. With this series, Sherman expanded her cultural touchpoints to include art history.
Untitled #197 from 1989 is one of the earliest images from History Portraits and was inspired by the bicentennial of the French revolution. In it, Sherman dons a makeshift period costume, not unlike the central figure in Eugene Delacroix's famous painting of the revolution, Liberty Leading the People, with her wig, the blue patterned fabric background and classical three-quarter seated pose completing the tableau.
In visualizing and creating the series, Sherman notes, "Even when I was doing those history pictures, I was living in Rome but never went to the churches and museums there. I worked out of books, with reproductions. It's an aspect of photography I appreciate: the idea that images can be reproduced and seen anytime, anywhere, by anyone." This practice of recreating the reproduction provides a separation that Sherman takes even further with her use of prosthetics, noticeably seen here in her augmented nose. The resulting photographs, with their playful idiosyncrasies, possess a levity that stands in contrast to the staid respectability of Old Masters portraits. While some photographs from the series reference specific paintings, Untitled #197 does not; instead alluding to a more generic tradition within art history and thus perfectly illustrating Sherman's masterful ability to engage with an artistic or cultural genre while simultaneously subverting it.
Wholly committed to maintaining the aesthetic feel of the reference, Sherman presents the series in the same size as original Old Masters portraits and places them within the type of museum-style frames seen encasing classical portraits in museums throughout the world. Another print of this image is in the collection of the Museum of Modern Art, New York.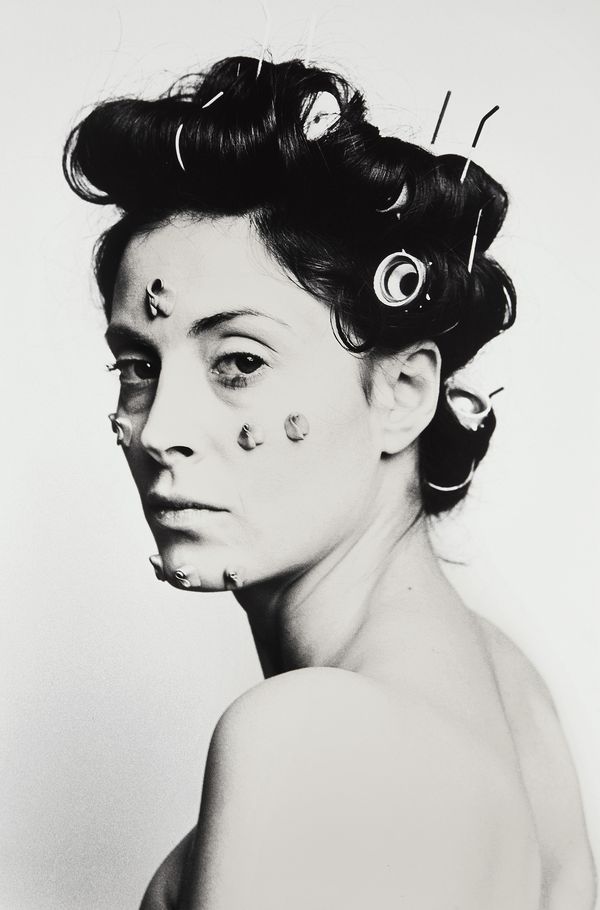 Lot 111: Hannah Wilke S.O.S. Starification Object Series (Performalist Self-Portrait with Les Wollam), 1974. Referenced in the title of this print is Les Wollam who worked with Wilke and took the photographs of her performance. © Marsie, Emanuelle, Damon and Andrew Scharlatt, Hannah Wilke Collection & Archive, Los Angeles. Licensed by VAGA at Artist's Rights Society (ARS), New York, DACs, London.
Hannah Wilke's pioneering work is widely recognized today for being an integral contributor to the first wave of feminist art in the 1960s and 1970s, and for its vast exploration of sexuality, feminism, consumption and desire, of which the present lot is among the finest examples.
In her renowned 'performalist self-portraits,' S.O.S. Starification Object Series, Wilke applied pieces of chewing gum molded and folded into vaginal forms onto her semi-nude body. Across S.O.S., Wilke poses against a white background and presents herself within the visual language of fashion photography, assuming both the look and attitude of high fashion models. Here, pairing a suggestive, over-the-shoulder gaze with hair curlers, Wilke begins to subvert conventional western depictions of beauty and the objectification of the female body. This subversion is fully realized by the addition of the chewing gum which she positions across her face and, in other works from the series, across her body. These forms become physical aberrations, simultaneously resembling jewels, blemishes, scars, stigmata, and vestigial vulvas.
Though initially created from molded grey erasers, she found that the material qualities of chewing gum, with its softer texture and flesh-like pink tones, better aligned with the corporal nature of the S.O.S. series. And the choice was also a sociopolitical one: "I chose gum because it's the perfect metaphor for the American woman," Wilke wrote, '"chew her up, get what you want out of her, throw her out and pop in a new piece." It is this blunt confrontation with the objectification of women that makes Wilke's S.O.S. series just as powerful today as it was at the time of its making.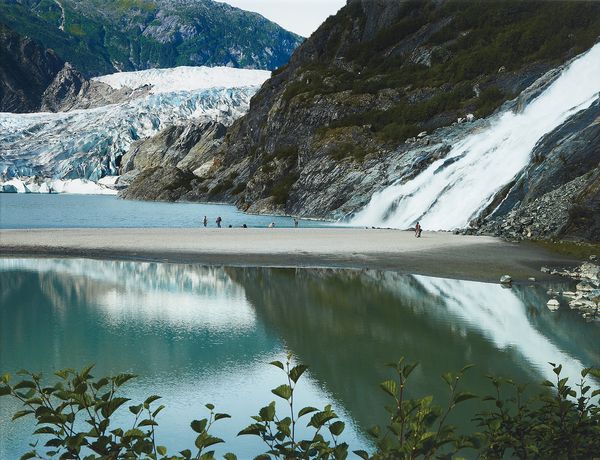 Lot 117: Catherine Opie Mendenhall Glacier and Waterfall, 2007.
From the time she emerged onto the art scene in the 1990s, Catherine Opie's photographs have explored myriad concepts of identity and community throughout the country. While her landscape images may at first appear a stark departure from this theme, they are, in fact, a critical part of the conversation—the backdrop against which both identity and community are formed.
Mendenhall Glacier and Waterfall, made in Alaska in 2007, reflects upon the long tradition of American landscape photography by Ansel Adams, Brett Weston (who created his own classic image of the glacier in 1973), and others. Opie updates the form for the 21st Century, presenting this image in her signature large color format. Opie has commented that her Alaska series is a reference to the passage of time and the perilous effects of global warming on the natural world. With a body of work that so poignantly weaves between portraiture and landscape, what becomes increasingly apparent is their interconnectivity and the notion that the health of the land depends on the community and the health of the community depends on the land.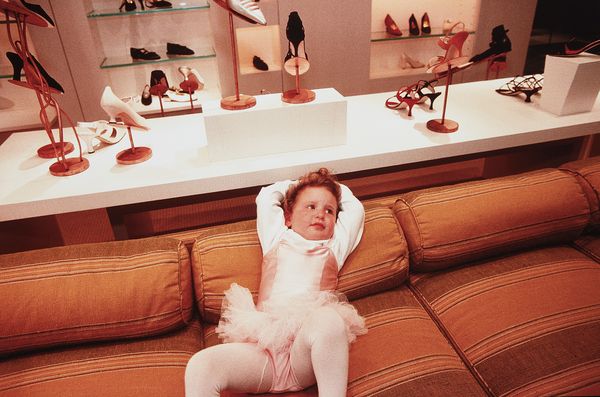 Lot 116: Lauren Greenfield Phoebe, 3, at the VIP opening of Barney's Department Store, Beverly Hills, 1994.
Lauren Greenfield is a photographer, writer and documentary filmmaker. For over twenty-five years, Greenfield's work has explored the global fascination with wealth and all its external indicators, from sprawling mansions to luxury cars and designer clothes. Some of her earliest work includes the photographic series Survivors of the French Revolution, about the modern-day French aristocracy, and the film Once You're In... about undocumented Irish immigrants living in Boston.
In Phoebe, 3, Greenfield captures an image of a child at an exclusive VIP store opening, highlighting the extent to which the epidemic of materialism may be passed from one generation to the next. This image was included in one of Greenfield's best-known works, a book of color photographs entitled Fast Forward: Growing Up in the Shadow of Hollywood.
Intellectual and visually exciting, Helen Kornblum's collection sets forth a wide range of photographers, each approaching the medium in their own way, and each with their own message to convey. Assembled with a sense of a mission decades ago, the Helen Kornblum collection remains strikingly relevant today.