Works from our Evening & Day Editions auction on view at 30 Berkeley Square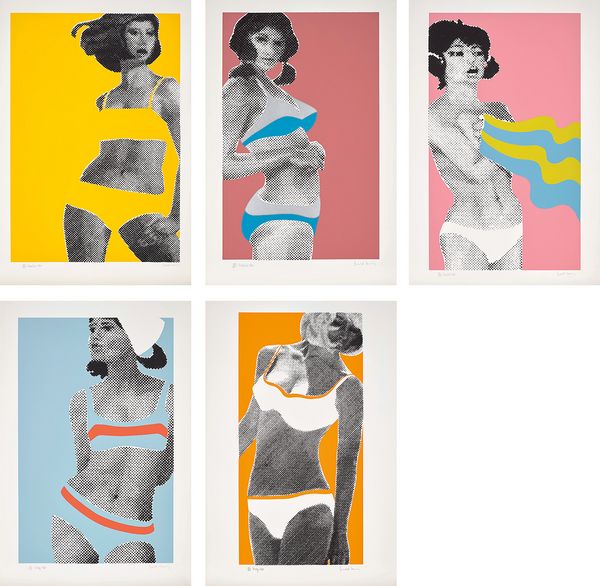 Rebecca Tooby-Desmond, Specialist, Head of Sale
It's 1968 and I'm off to the beach. I'm young, I'm beautiful, I barely exist but I'm here for the season and I'm living without permission. My name's Starlet and I'm gonna be one: maybe, baby. My name's Stacy and I'm the lead singer: groovy baby. It's a hot girl summer laced with nostalgia — Gerald Laing's cherry-pick of happy days magazine images, of unworldly perfection and the iconography of attraction. Formed by Laing's wife, Galina, and some of her friends, Baby Baby Wild Things was a fantastically unsuccessful all-girl rock group, whose only proficient musician played the French horn: wild, baby. Self-absorbed, inaccessible and mysterious, Laing's Wild Things are as relatable as they are unavailable. My name's Francine and I'm an influencer, baby. My name's Sandra and it's not real, baby. It's candy colors at their tastiest, half-tone dots at their most seductive, it's aspirational, it's almost attainable, it's silly, filly, Brit-Poptastic. It's 1968: here come the girls.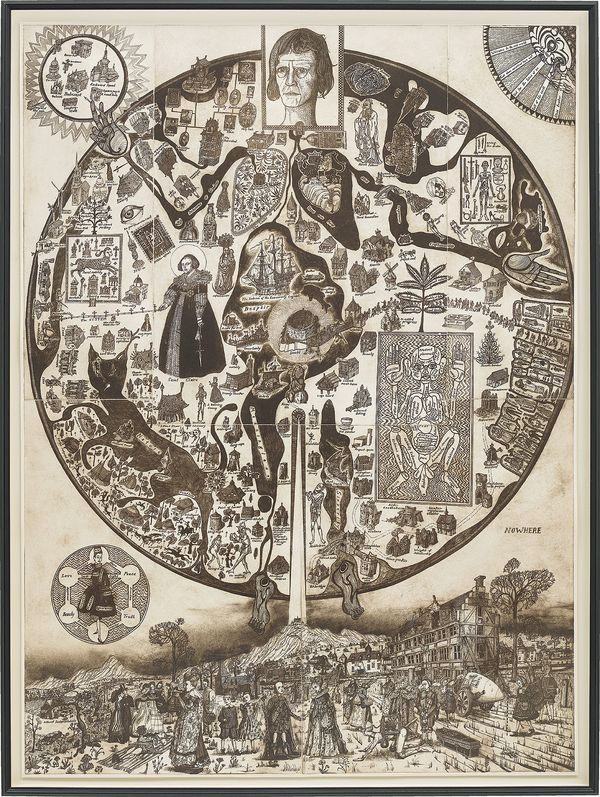 Amelia Wooding, Administrator
Based on a traditional Mappa Mundi, Map of Nowhere continues the Pre-Columbian custom of both educating its audience and creating a decorative and illustrative piece of art. In line with this heritage, Perry has avoided creating a too-perfect printed image in order to conjure thoughts of the charm and heritage of the antique maps of old; he achieves this by leaving excess ink on the plate during the printing process. Hence it is only when we look closer at the details of the map that we notice the contemporary characters that appear throughout—most noticeably, the omission of Jesus as the figurehead and his replacement with Perry himself. Traditionally, Jesus would be displayed as the body of the world, with his head, hands and feet marking four equidistant points around the world with Jerusalem in the center. But here we are taken on a journey through Perry's world with interruptions of social commentary, and 'Despair' right in the center. A clear satire with areas of humor and others of reflection, Perry assumes a medieval-style muddle of scale and proportion. Beginning in the upper left corner, Perry allowed his thoughts to flow freely across the plate, notably giving his alter ego Claire sainthood, and depicting people praying at the churches of global corporations such as Microsoft, Starbucks and Tesco. Each time I look at Map of Nowhere, I notice something different, providing an always interesting artwork that constantly provokes new thoughts and reactions.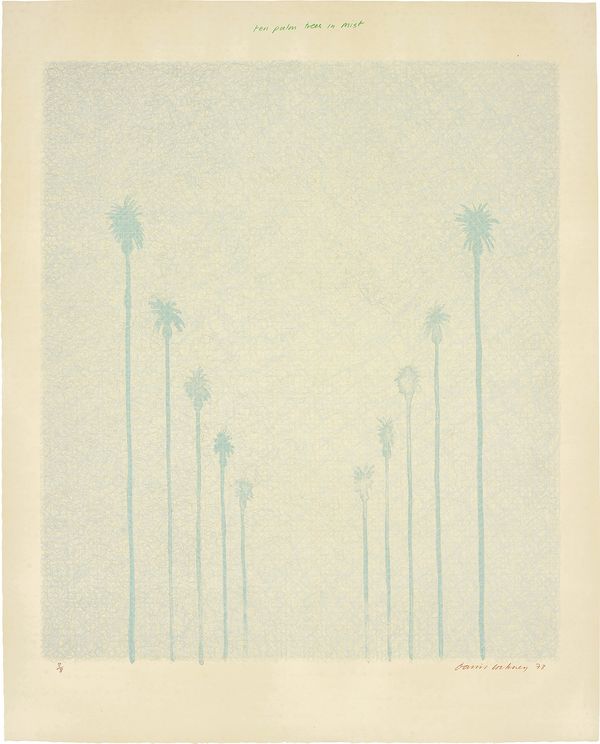 Louisa Earl, Cataloguer
The time is early, most people asleep, sun hints at the horizon, just a little peek.
You step outside, the chill hits your skin, dew melts beneath you, excitement grows within.
The promise of heat lurks behind the midst, it feels familiar, something you can't resist.
You can almost hear it, a crackling sound, the rays move closer, the moisture is drowned.
Sunhat, suncream, cozy in hand, you hear the call of the sun, sea and sand.
The top is down, salt fills the air, the drive is easy, the feel of laissez-faire.
One, two, three trees, four… you know the number exactly, counting them since you were small.
They don't feel as tall, now that you're grown, but their message is clear: Line up! Line up! The summer is here.
The palms never falter, staying true to the dream, "follow us to the sunshine," the allure of ice cream.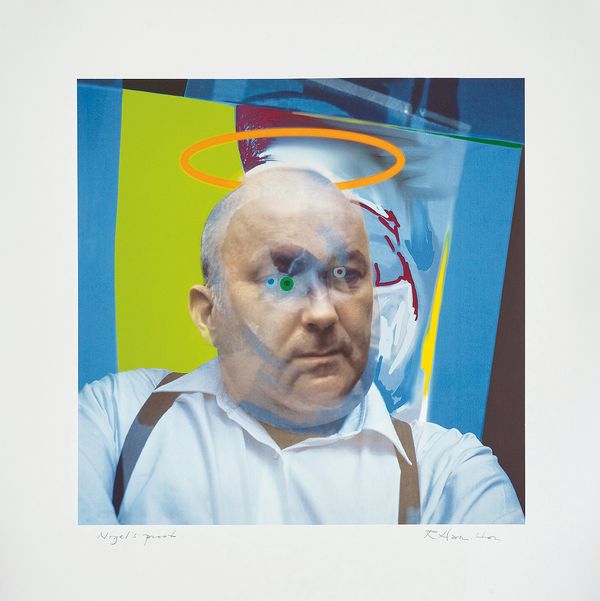 Robert Kennan, Head of Editions, Europe
My pick is Hamilton's quirky portrait of one of the quirkiest artists of the twentieth and twenty-first centuries, Dieter Roth, an immensely creative artist who pushed boundaries working with everything from chocolate to sea urchins. One of my favorite works is his bunny sculpture made from rabbit manure. Hamilton never got his hands dirty producing this striking portrait though, it was created exclusively by computer, utilizing the most advanced inkjet printers of the time and light-fast inks. Hamilton and Roth met in 1961 and developed a close friendship and working relationship. One of their most memorable collaborations was a series of 30 triptych portraits called INTERFACEs, 1977/78; the present portrait comes from photographs not used from the series and was made shortly after Roth's death. Hamilton fittingly places a halo over the head, a sign of sainthood, a lament for the passing of the close friend. A pair of horns for such a mischievous artist would not have been out of place either though!