Ana Khouri at the opening of her 2018 exhibition at Phillips New York
PHILLIPS: You partnered with Phillips for an exhibition in New York back in 2018. What can we expect to change this time around in London?
ANA KHOURI: London is the cultural center for arts and creativity, so I am honored and humbled to have the opportunity to exhibit here. I lived in London a decade ago and being back in the city with this exhibition is a particular thrill.
This exhibition will be completely different from any past exhibition we have had. This full retrospective of my work is the first show of its kind ever held in London, comprising more than 65 pieces. Each time I present new works, I create a special installation for the occasion. Because of my background in fine arts, I am personally designing the entire installation for the London exhibition.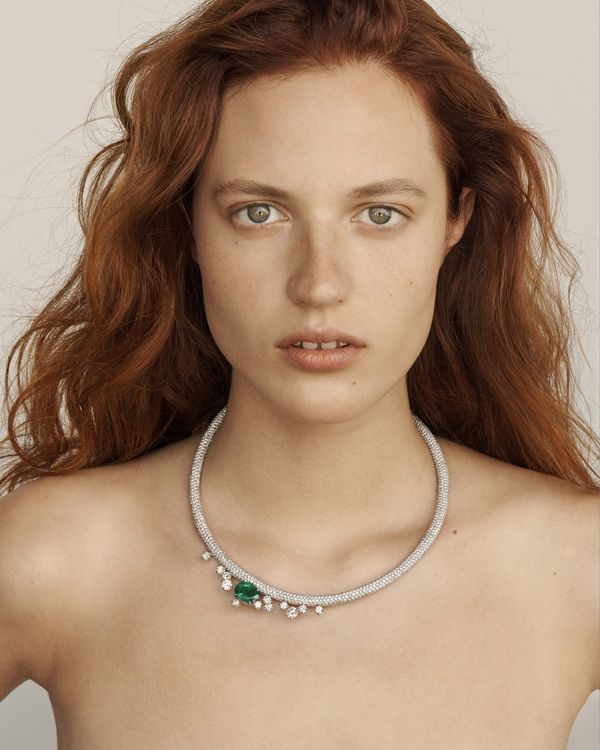 Ana Khouri A Diamond and Emerald 'Eva' Necklace
I was focused on designing the jewelry, along with creating all jewelry displays that will be showcased in the exhibition. The sculptures that we will present are the studies that I used for making the jewelry. For this Phillips exhibition, I have filmed a short video illustrating my thought process, and I have worked on a bespoke installation to bring visual, sensorial and tactile sensations to the fore.
My intention is always to present my work in jewelry as a whole experience⁠—creating a holistic way of seeing the work as an installation concept. Being seen as an artist and being given this space to create where people can fully experience my work is what makes me most excited.
P: Tell us more about the show's title, 'Ana Khouri: Jewels as Art'.
AK: As a jewelry designer, you must find a way to accentuate the natural elegance of what are arguably the most beautiful materials found on earth. The work should have an eternal quality, but one must also aspire to imbue the pieces with another essence that, for me, is much more consequential: I want my work to be ethereal.
I do not simply want these pieces to adorn, or to stand alone as beautiful objects. I want my designs to evoke their connection to space—its vastness, its majesty and its superlative form.
The feeling I want to impart is one of radiance, in every sense: That of light, of emotion, of energy and, of course, that of beauty.
My goal is to spin these precious materials into something that is much more than an extravagant accessory. Jewelry is my medium and to make it, by nature, is to be mindful of its techniques and the value of such fine materials. But this is secondary. The feeling I want to impart is one of radiance, in every sense: That of light, of emotion, of energy and, of course, that of beauty.
As I mentioned above, I am not only working on designing the jewelry. I have also designed the jewelry displays, a short video and a special installation for the space. It is about the experience in a holistic way.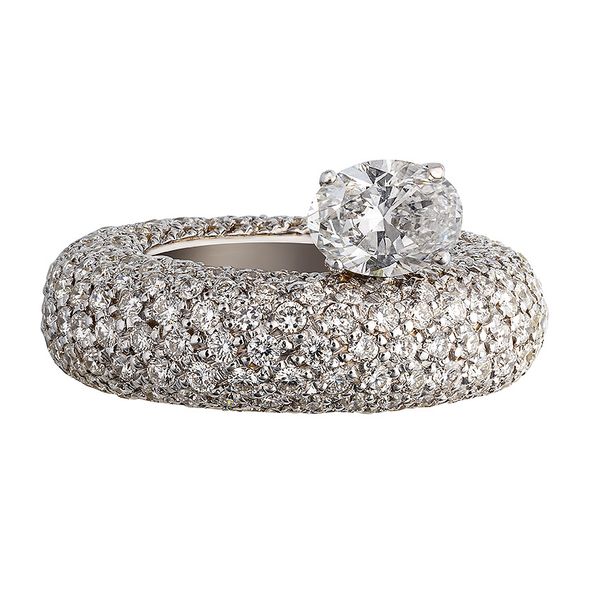 Ana Khouri A Diamond 'Phillipa' Ring with Oval Diamond
As for the new pieces we will present, one of my latest design obsessions is volume. It is hard to add volume and continue to balance weight, but I really wanted a new challenge. It took months to perfect the effect in my Paris workshop, but the result — immaculate tubes of hollow white gold set with pavé diamonds that wrap around the ear, finger or neck — create impact without weighing down the wearer.
We will be showcasing works from different stages of my career, some works from Harmony Presentation, Essence Presentation and Ethereal Presentation among other highlights and brand-new pieces designed especially for the occasion.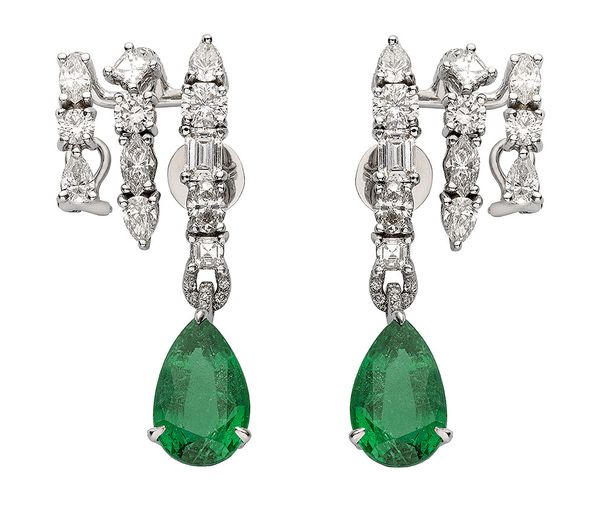 Ana Khouri A Pair of Diamond and Emerald 'Daphne' Earrings
P: What type of curation process was necessary for this show, and how did you decide which works to put on view?
I have worked along with Susan [Abeles, Head of Jewels, Americas, and Senior International Specialist] in curating the pieces that best represent my career so far, my work and the evolution of my designs. This show is a retrospective of my work to date and new pieces specially designed for this show.
P: How and where is your jewelry meant to be worn? Who do you imagine as the 'Ana Khouri' woman?
AK: Lightness and movement are always paramount when creating jewelry. That is how a woman should wear jewelry; otherwise, it wears her. The Ana Khouri woman has an artistic, natural, gentle, strong, inspirational and independent quality to her.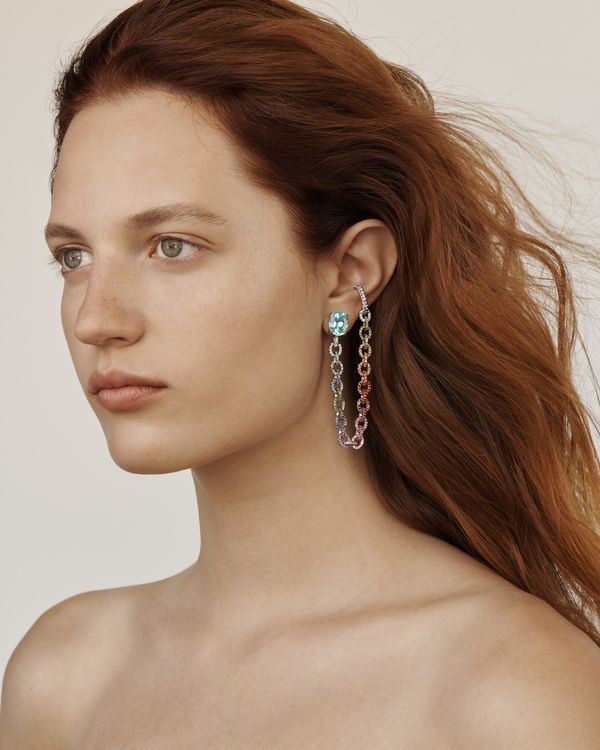 Ana Khouri A Blue Tourmaline Paraiba, Sapphire and Diamond 'Missy' Ear Piece
P: How has your design practice evolved in the last few years?
AK: In all dimensions of my work I sought to reimagine the creative possibilities of both sculpture and jewelry, toeing the line between the two. They speak to my inspired pursuit for simplicity and purity, as well as for my steadfast devotion to experiment in the liminal space between the traditional and the contemporary.
My creative process as a jeweler is one of constant evolution. I am always trying to improve on what I have done before. I believe my background as a painter and sculptor led to my distinctive approach to jewelry design. When I am working on a piece, I am constantly thinking about how it will mold to the body. Indeed, my pieces come to life when worn.
An example of what you will see on this show is a signature earring design reimagined with a rainbow of multi-colored sapphire links swinging from an electric-blue Paraiba tourmaline. My goal is to evolve in my own practice, an evolution within my own path.